XTB Review
XTB or X-Trade Brokers was originally founded in 2002 and is an online forex and CFD broker based in Europe. The company has offices in 13 European countries including the UK, Poland, Germany, France, Turkey, Romania and the Czech Republic to name a few. XTB is highly ranked among brokers, earning a number of awards including best broker in its class for Eastern Europe. XTB is regulated by some of the world's leading supervisory authorities including the FCA, BaFin, CMB and KNF. XTB's official website is located at www.XTB.com.
XTB does not presently accept clients from the United States.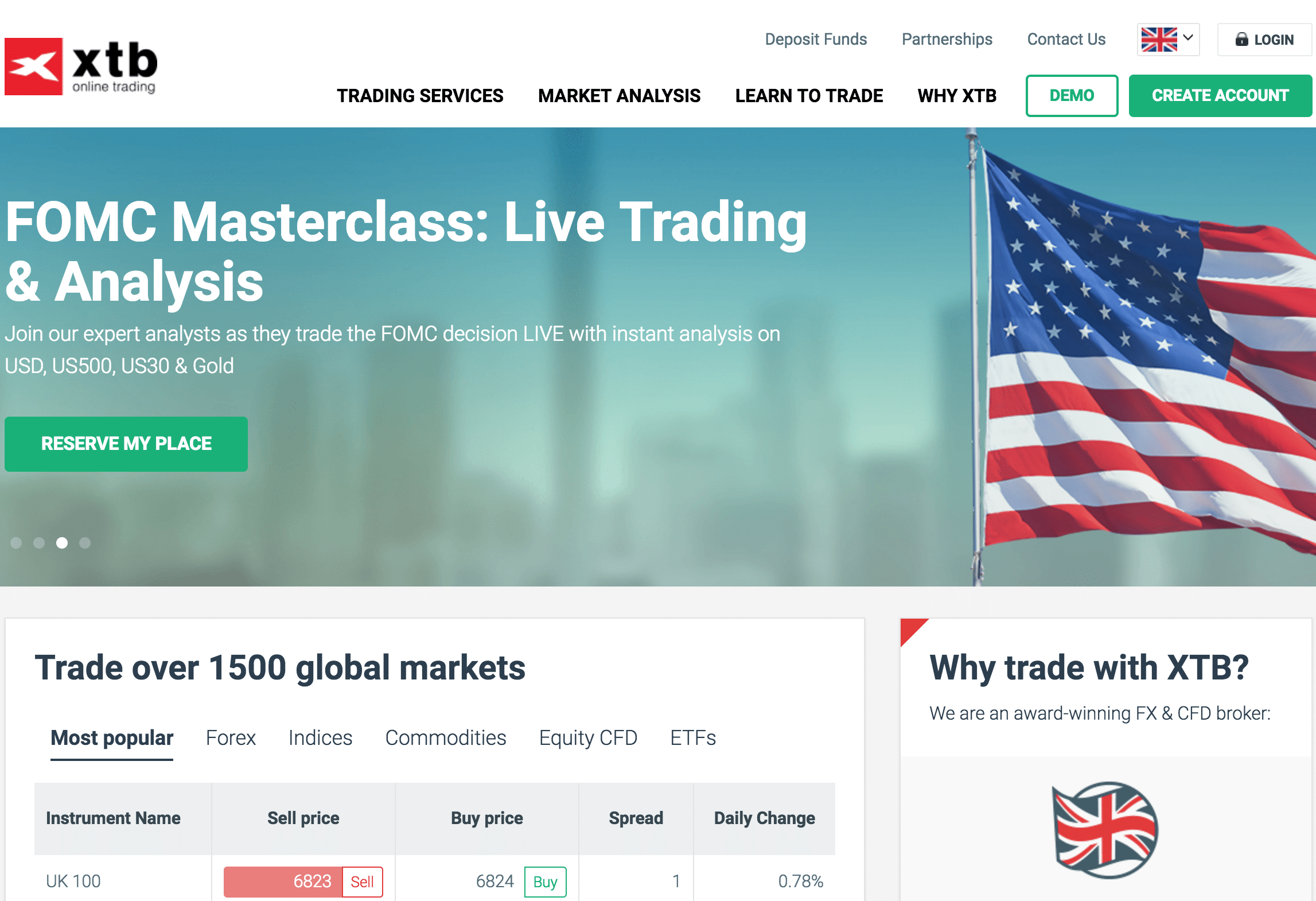 Unique Features of Trading with XTB
Trading forex at XTB typically means the trader has access to a fast deal execution service in over 50 currency pairs with available leverage ratios of up to 30 to 1.  Order slippage on stop losses is generally minimal, and execution at your entered stop loss order level is even guaranteed by the broker if they are triggered during market hours.
Dealing spreads seem especially competitive at this broker, although they depend on the type of trading account the client opens. Basic and Standard accounts are available to best suit a trader's skill level, with support for micro lot trading available to Basic account holders. Only Pro account holders are charged a modest per trade commission since they get pass through access to fully professional forex market pricing.
XTB publishes a list of target dealing spreads for each forex currency pair available for trading using its supported electronic platforms. The spread width depends on the type of account a client is trading in. For example, the targeted spread in the EUR/USD currency pair is two pips wide for a Basic (fix) account, 0.9 of a pip wide for a Standard (float) account, and 0.3 of a pip wide for a Pro (STP) account.
A trader can also open a functional demo account to try out the broker's xStation trading platform. Support for the popular MetaTrader trading platform and mobile trading apps are also available.
As of August 1st 2018 new ESMA regulations will affect leverage:
1:30 for major currency pairs
1:20 for non-major currency pairs, gold and major indices
1:10 for commodities other than gold and non-major equity indices
1:5 for individual equities and other reference values
1:2 for cryptocurrencies
Trading Software
XTB caters to just about every type of forex trader by offering support for the industry standard MetaTrader 4 dealing platform, as well as providing apps for mobile trading on the most popular mobile devices.
These professional quality electronic trading platforms provide forex traders with access to a trade execution facility in over 50 currency pairs, as well as a variety of other trading instruments, including stock indices, ETFs and commodities
Furthermore, the broker's supported trading platforms each offer various analytical tools, technical indicators and real time charts. Support for web based trading is also available via this broker.
In addition to MetaTrader, XTB also offers its own proprietary trading platform known as xStation. This fully customizable platform offers advanced charting, abilities and real time price feeds.
Deposits and Withdrawals
The minimum initial deposit requirement to open an account with XTB is $250 USD, €250 EUR or £250 GBP. After the first deposit, there is no minimum deposit amount. The maximum leverage for all account types at XTB is 200:1. Always remember that the higher the leverage, the higher the potential risk.
Deposits can be made free of charge through a bank transfer in U.S. Dollars, Euros, British Pounds or Hungarian Florins. MasterCard, Visa and Maestro credit cards can be used with deposits in Sterling and Euros free of charge, while U.S. Dollar deposits on credit cards are charged at the rate of 2% of the deposited amount.
Deposits made through e-wallets are accepted in Euros, U.S. Dollars, Sterling and Hungarian Florins and are subject to the following fees: for PayPal, 2% of the deposited amount; for Neteller, 4% of the deposited amount, and for Paysafe (formerly Skrill), 2% of the deposited amount.
For withdrawals, for UK Pounds, withdrawals can be processed the same day if the request is made before 1PM GMT. If the request is made after 1PM, it is processed on the next business day. For withdrawals in Euros, requests are processed on the next business day before 1PM GMT with requests received after 1PM, processed within two business days.
For domestic withdrawals in Hungarian Florins, requests are processed the same day before 1PM GMT and processed on the next business day for requests made after 1PM. All other withdrawals are processed with three business days.
Beginner Support
XTB's Trading Academy offers new traders a vast array of features and tools geared towards helping novices trade successfully. The academy offers trading courses, video tutorials and articles on trading designed to enhance the trader's skills at all levels.
In addition to introductory material on trading in the forex market and technical and fundamental analysis, XTB's Trading Academy offers tutorials on MT4 and xStation, the company's proprietary trading platform. Other material covered in the academy includes an introduction to CFD trading and risk management.
Besides English, XTB has a multi-lingual website and also offers in-person customer support in Portuguese and Chinese. Access to the customer support feature can be made through email, telephone and live chat. XTB offers local telephone support in 17 countries, which include most of the EU nations and Eastern Europe.
Safety
XTB offers its clients protection through being regulated by the UK Financial Conduct Authority or FCA. The FCA's rules and regulations have the company hold all client money in segregated accounts which are ring fenced apart from the company's funds. Being ring fenced signifies that the client accounts are held in trust with XTB clients as the beneficiaries and are not mixed with the company's operating funds.
Access to personal accounts is done through a password and username unique to each customer and stored on secure servers. Payment details are encrypted through Ingrain devices providing tamper-proof protection of cryptographic keys that ensure encrypted data is kept secure and private.
Client funds are protected up to GBP 50,000 through the FCA's Financial Services Compensation Scheme or FSCS in the unlikely event of XTB's insolvency.
Other Services
In addition to its Trading Academy and XTB's security features, XTB offers clients a market news section on its breaking news portal, Tradebeat. The feature gives traders a large selection of market relevant news that could present excellent trading opportunities.
Also, XTB offers live market commentary and a comprehensive economic calendar covering over 50 spot forex currency pairs. Furthermore, the company's CFD trading feature covers over 20 indexes from around the world, offering low spreads and high liquidity.
Conclusion
XTB is an award winning broker that has been widely recognized within the forex trading industry for its fast deal execution service.  The broker offers competitive dealing spreads, a wide variety of trading instruments, and minimal order slippage that should please most forex traders.
In addition, the broker offers clients respectable oversight by the FCA and other watchdog agencies, as well as segregation of funds to help assure the safety of their clients' deposits. XTB not only offers its own fully functional trading platform xStation, but it also provides strong support for Metatrader and mobile trading.
Given its different account types designed to suit all levels of trader experience and interest, XTB seems a very suitable choice for a forex trading partner. You can try out this competitive forex broker's trading platform and its customer support services at no cost by opening a demo account with them today.

Please be advised that certain products and/or multiplier levels may not be available for traders from EEA countries due to legal restrictions.