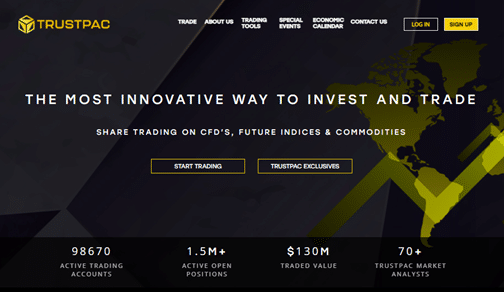 As an advanced online CFD and crypto platform, Trustpac offers traders a client-centric service provided by a team of financial experts and support professionals. The service aims to optimise the trading experience with retail traders of all experience levels in mind.
Trustpac grants traders access to many different CFD instruments based on stocks, crypto, currency pairs, indices, commodities, and futures contracts, with attractive trading costs and flexible margins.
As a brand, Trustpac has put considerable effort into providing traders with an environment that includes many trading benefits. Among these benefits are its cutting-edge trading platform, expert market analysis, educational resources, fast execution, exclusive positions, 24/6 customer support, and one-on-one sessions with trading experts.
As can be seen in the information provided by Trustpac on its official website, the broker offers trading services to customers who reside outside of the EU, provided that local regulations in their country of residence support online trading.
We live in times of increased market volatility and a rise in the demand for online trading services, and so Trustpac aims to position itself to be among the top choices for beginning and experienced traders alike, with its broad offering of trading features and tools that provide traders with easy access, competitive conditions and fast execution abilities.
Broker Summary
To ensure ease of use, Trustpac has developed a web-based solution that is compatible with any type of device and allows traders the freedom and flexibility that they need to trade in the financial markets. The platform provides traders with a simple, user-friendly interface that is packed full of useful features, tools and functionalities, and provides an even user experience across different platforms.
With Trustpac, traders can choose to diversify their portfolio with various different asset classes. There is a multitude of CFDs to choose from, such as FX trading, allowing traders to access FX CFDs based on majors, minors and exotic pairs; take advantage of popular pairs such as GBPUSD and EURUSD; and also less-traded pairs such as NZDCHF and GBPC.
Aside from the FX trading offer, traders are able to diversify their assets with CFDs based on more than 20 different types of cryptocurrencies, popular stock market indices, shares, commodities, and futures contracts. If you are interested to learn more about the specific assets that can be traded with this broker, then we suggest that you visit the company website.
Trustpac's offering also includes a mobile-friendly trading solution, educational resources, competitive trading costs, the latest economic and market updates, customer support from Monday to Saturday, access to exclusive reports, and fast trading execution.
Platform & Tools
Trustpac's trading platform is at the heart of its trading ecosystem. This browser-based solution was developed with a customer-centric approach that focuses on creating a unique trading experience for users. While this proprietary platform doesn't resemble other popular software solutions in the market, it still manages to deliver a user-friendly and intuitive trading experience that will be liked and appreciated by many online traders.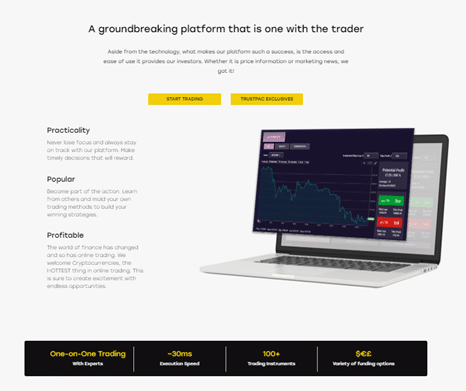 One of the primary features of the online trading platform offered by Trustpac is the advanced charting feature powered by TradingView. This allows users to trade with an advanced feature set that includes technical analysis tools that are meant to assist them in finding new and better trading opportunities.
Other features offered by the platform include a market news section; the ability to make deposits, edit personal details, and configure settings; and a My Trades section that functions as a favourites list. The platform can be accessed from any device without limitations, regardless of functionality or screen size, so users can trade from their smartphone, tablet, laptop or desktop, at home or on the go.
Trustpac's service offer and trading platform give traders an opportunity to participate in the online trading world with cutting-edge features and the best conditions, and also from one of the most reactive platforms in the industry today, which is easily accessible from any device.
Trustpac doesn't cut corners when it comes to security and uses the same SSL security protocols used by the banking sector to guarantee the safety of its clients' personal funds and data. Trustpac remains committed to full transparency and privacy, and abides by Know Your Customer (KYC) policies. This makes Trustpac a safe platform to be considered by any trader who wishes to benefit from the optimal trading conditions offered by this broker.
Commissions & Fees
With Trustpac, funding an account is both easy and convenient. Payment methods available include credit cards, debit cards and bank wire transfers. Traders will be happy to learn that with this broker, the payment method used for making deposits will be the same payment method used for withdrawal – this serves two purposes, allowing traders to use one payment option for all transactions as well as providing account security to prevent unauthorised financial transactions.
Every trader must be aware of the KYC regulations in their country of residence before trading online. Due to the KYC requirements, Trustpac requires all customers to verify their identity by providing identification documents before submitting requests for withdrawals. The withdrawal fees are 3.5% for either credit or debit card transactions, and $20 for transactions involving bank wire transfer.
Withdrawal requests will take up to three business days to process, after which the funds should be deposited in the client's account in a maximum of seven business days. The amount of time that it takes for a deposit to be completed may vary depending on the client's country of residence and the bank used by the client.
Education
Trustpac enables traders to take advantage of many features and services. It believes in helping traders to gain knowledge and insights in order to improve their trading abilities. As part of this, its service offer includes educational resources such as trading guides, an education centre, and access to exclusive reports and one-to-one sessions with trading experts.
Furthermore, Trustpac provides monthly expert analysis that is designed to help traders gain insight into future market prospects, to enable them to make better trading decisions. These resources are crafted by Trustpac's team of expert traders, who have many years of experience in the online trading world. Additionally, Trustpac offers special events and bonuses for its registered customers.
Customer Service
Trustpac is fully aware that in times of increased market volatility, customers often need dedicated support. For this reason, Trustpac provides its clients with access to 24/6 online support and several trading features such as trading guides, market news and updates, and one-on-one sessions with trading experts, all meant to enhance their trading abilities and help them make better trading decisions.
Trustpac's customer-centric approach means that its service offering is relevant to traders of all levels of experience, from beginners to experts, and provides them with a wide range of resources that are fit for their needs.
Final Thoughts
Considering all the trading features and resources that are available as part of Trustpac's service offer that have been covered in this review, the broker seems to offer a cutting-edge and user-friendly online trading platform that's packed full of useful trading features designed with traders in mind, to help take advantage of market conditions. Trustpac's offering covers many different CFD asset classes, ensuring that diversification is possible for traders who are interested in maintaining a diverse asset portfolio.
Traders who choose to do business with Trustpac can rest assured that the company views their education and learning as a matter of the utmost importance and has placed educational resources at their disposal (for registered clients only) to help them grow. It also places an emphasis on account security, transparency and customer service, by providing 24/6 customer support, complying with KYC regulations, and allowing traders to conduct transactions using some of the most reliable and popular payment methods in the market.
All of this information indicates that Trustpac is a brand that traders can trust.
Please be advised that certain products and/or multiplier levels may not be available for traders from EEA countries due to legal restrictions.
---
---