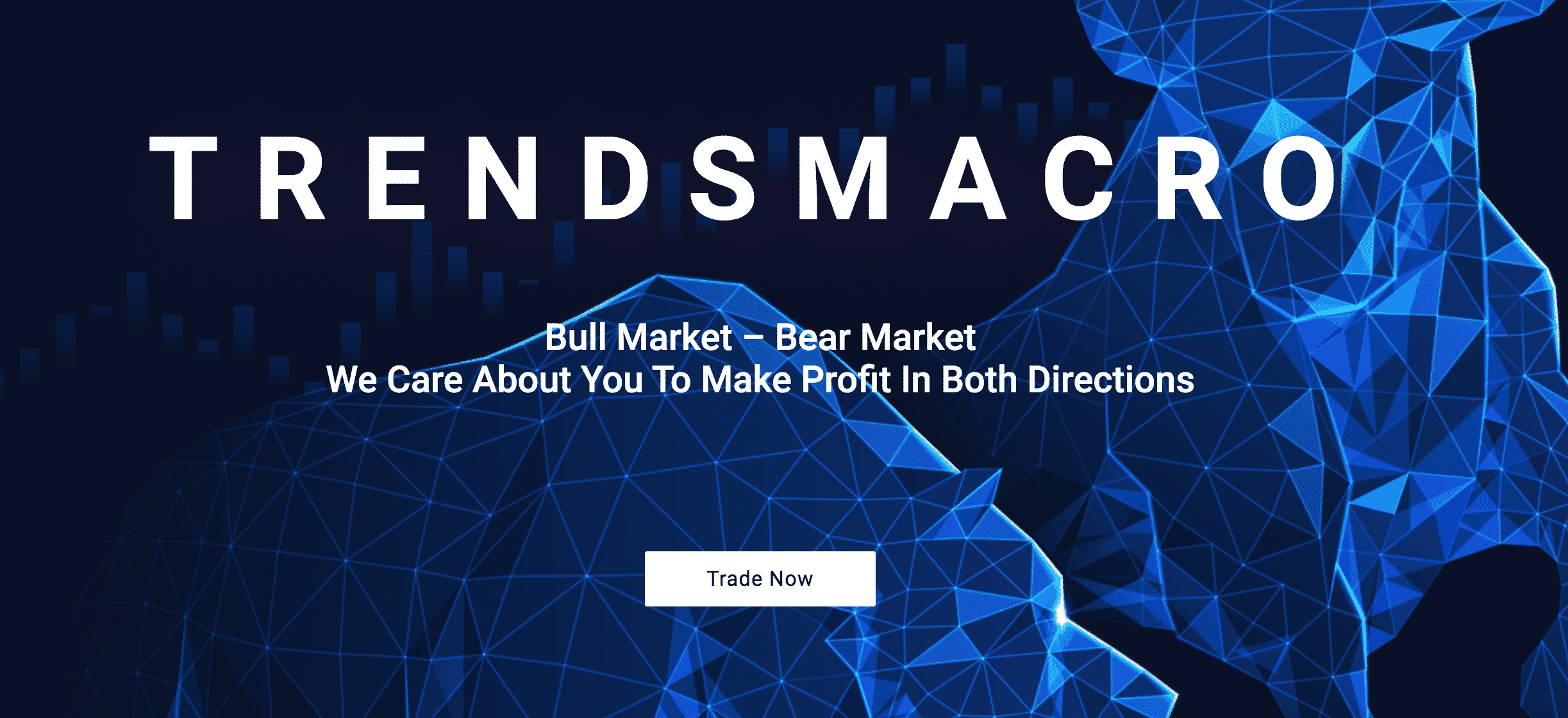 There's no way of predicting in advance how any trader's experience with TRENDSMACRO – or, indeed, any other broker – will play out. However, there are some early signs that TRENDSMACRO has plenty to enrich the experience of traders who sign up to join its ranks. It has around 50 foreign exchange currency pairs available, for example, while it also provides various other financial instruments for traders to speculate on – including commodities such as oil and gas.
There's plenty of leverage available here for those who want to spread their capital as far as possible and rely on margins trading to expand their deposits, though the exact amount that a trader can bank on is dependent on the account type they select – and those who go for lower-end accounts may soon find that leverage rates such as 1:100 are not enough.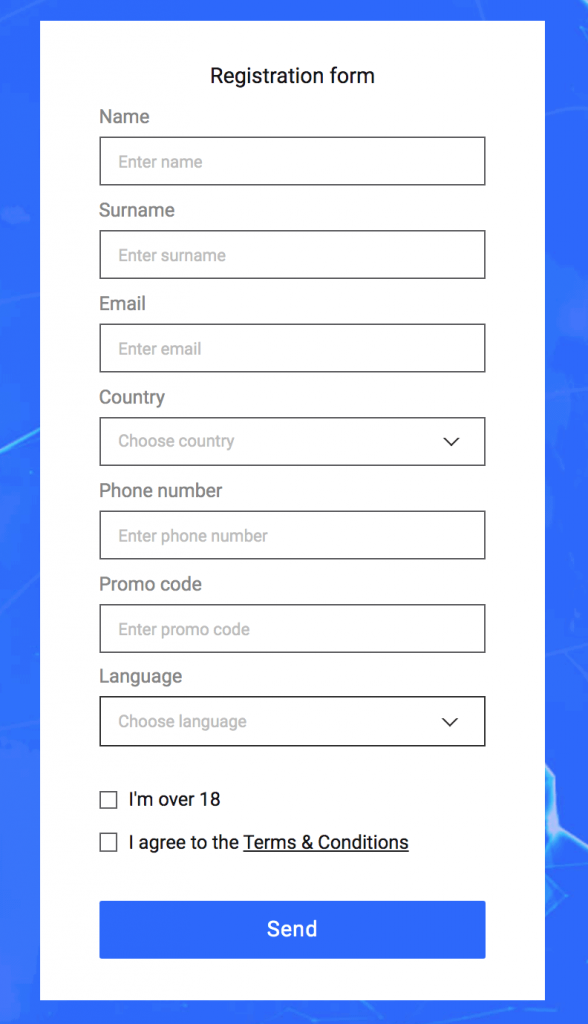 In terms of trustworthiness, traders should be aware that there is no information displayed on major parts of the broker's site (such as in the footer) regarding the regulation (or otherwise) of the firm and broker brand. For many traders, this lack of major information will be something of a warning signal, as it is commonly advised that traders should only opt for brokers that are upfront about the regulatory framework in which they operate. Usually, brokers will make it as clear as possible as to which regulator oversees them.
That said, the broker clearly does take at least some of its responsibilities under the law (and to regulators) seriously. It displays a list of policies at the bottom of its homepage, and many of these indicate a strong understanding of trader protection rules – such as a risk warnings document. Risk warnings are also provided at the base of every page, reminding traders that contracts for difference are far from risk-free and could pose the chance of causing losses to trading capital.
Traders could check in with the broker to find out more information – for instance, by sending an email. In the end, it is up to the individual customer to decide whether or not TRENDSMACRO suits their requirements and is safe enough for them to take the risk of using.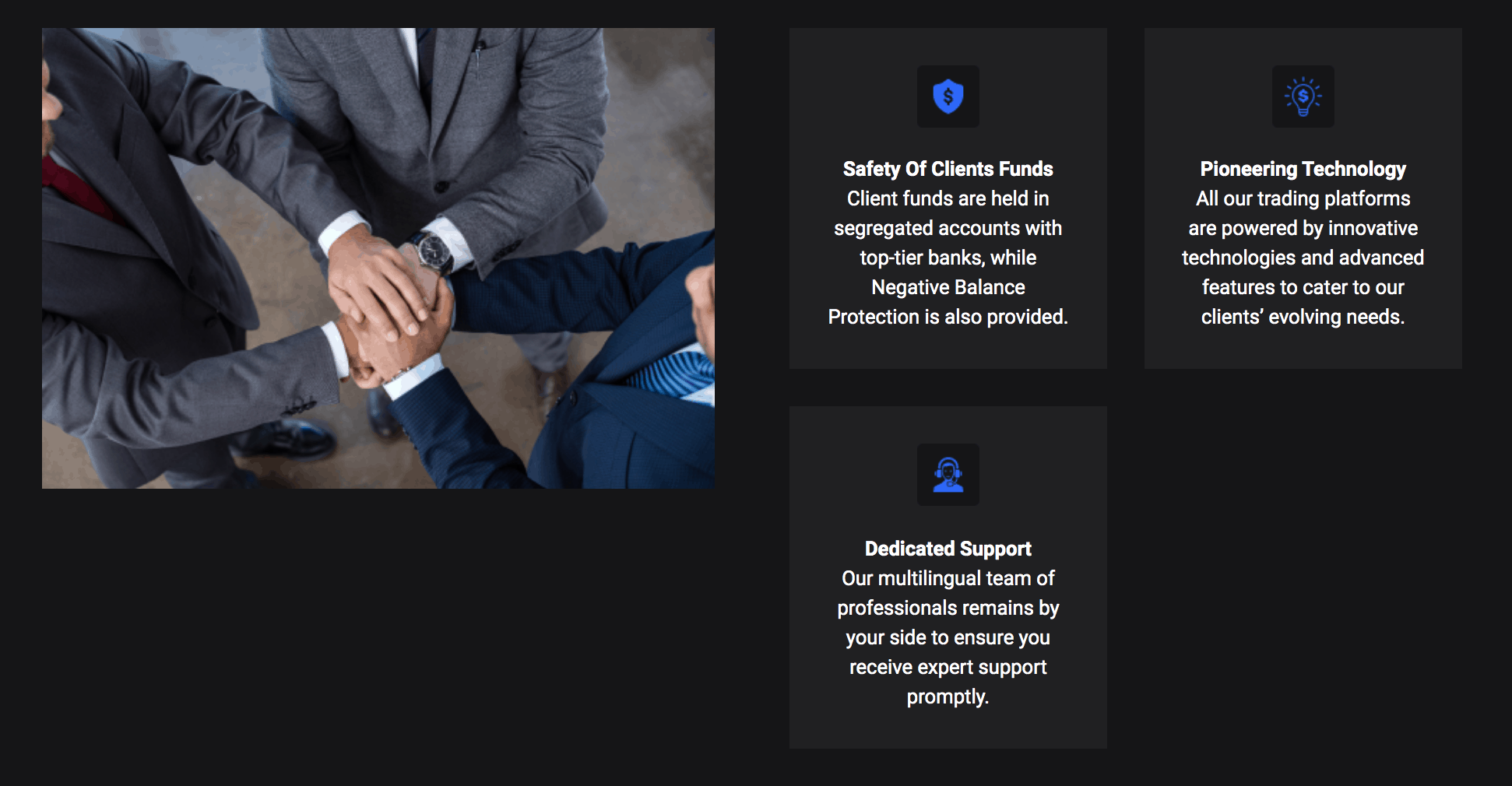 Broker Summary
TRENDSMACRO is an okay broker with plenty of services to offer traders of all backgrounds. Traders at this broker will find everything from forex currency pairs to commodities, and there's also a range of other asset classes available. MetaTrader 4, a leading technology provider, is also available. The comparatively low amount of educational content is a drawback, and some traders may be concerned by the apparent lack of regulatory information.
Broker Introduction
TRENDSMACRO is a relatively new broker owned by Ascana Group Ltd. It was founded in 2020 and it is based in the Republic of the Marshall Islands.
TRENDSMACRO is a multi-asset broker with a strong commitment to its customers. The brand has clearly put a lot of its efforts into offering a tech-fuelled service, and it states that its managers have been operating in the industry for over two decades. On its website, it describes its services as "100% secure" – though it does not go into further detail about what this might entail.
Spreads & Leverage
As is common at brokers of this size and in this digital environment, TRENDSMACRO focuses on spreads as its method of making money. The 'spread', in this context, is the gap between the buy price and the sell price: as a business providing brokerage services, TRENDSMACRO is entitled to take a defined proportion of this as revenue.
The method of calculating the spread fees that you'll pay, however, depends on your account type and individual trading situation. The broker specifies an amount for each of the four different account types, though this is a minimum only – and it can in some circumstances be higher. Spread fees for the lower-end accounts at this broker are quite high, and could cause traders to lose out. The lowest-end account, Bronze, has spread fees starting at 2.8 pips – meaning that the amount taken on each trade is likely to be significant. The Silver account type sees a minimum of 2.5 pips. Gold accounts charge 1.5 pips. From there, there is quite a large drop in spread fees down to the Platinum account, which has spread fees of 0.1 pips.
It's also worth bearing in mind that each of these different account types comes with a different minimum deposit level – so while Bronze account holders have to place relatively small deposits, Platinum accounts can only be opened (and hence those competitive spreads can only be accessed) with a very high minimum deposit. The cost-benefit calculation here is dependent on each trader's own circumstances, risk tolerance, and access to capital – and if you're in any doubt, it's prudent to pay a visit to a financial advisor, who can speak further to what makes the most sense for you.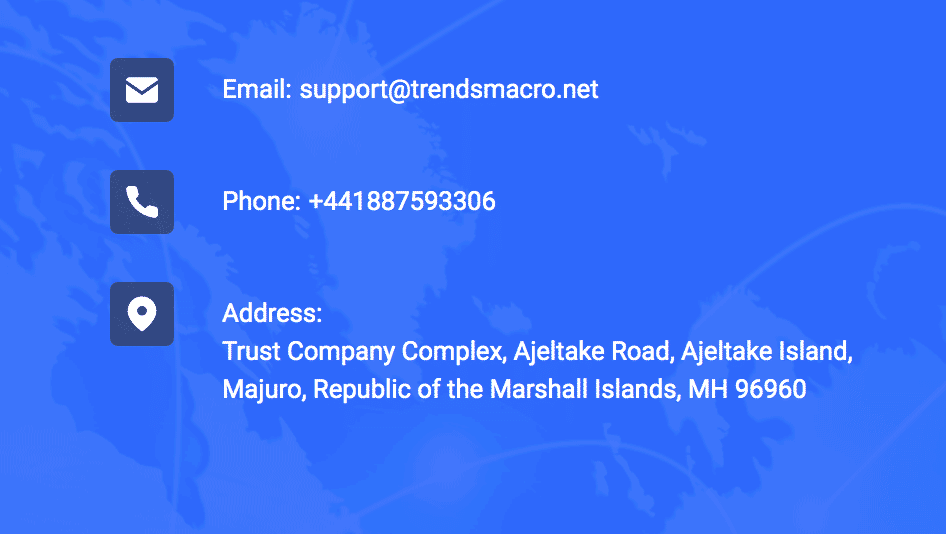 If spreads are one side of the financial coin at a broker, the other side is leverage. Leverage refers to the amount of 'margin trading' that a trader has access to – or, in short, the amount of 'credit' that brokers put against your deposit to raise its value. Leverage tends to be calculated as a ratio to demonstrate how much of the trade will come from your capital and how much will come from the margin extended by the broker: a ratio of 1:50, for example, would indicate that for every one portion you put forward, the broker will amplify it 50 times. This raises the potential profit, but it also magnifies the potential loss – a fact that all traders should be aware of before opening an account with TRENDSMACRO.
Leverage once again varies across the account types at TRENDSMACRO. Bronze account holders can have access to a decent enough level of leverage, at 1:100. It rises as the account tiers are scaled. Silver account holders will benefit from 1:200 in terms of margins. Gold account holders can access a maximum of 1:300, but it's Platinum account holders who have the best ratios – at 1:400. Again, it's up to the trader to decide whether the other trading conditions – such as the minimum deposits – are worth it for this sort of high leverage.
Platform & Tools
The platform available at this broker is MetaTrader 4. There is no in-house platform offered, though for many traders, this will be an advantage given that MetaTrader 4 is a widely used platform that most traders will have experienced before. MetaTrader 4 comes with a large number of trader-friendly features. These include a choice of several timeframes for user-friendly analysis of value fluctuations, as well as 30 technical indicators.

MetaTrader 5, however, is not on offer at this broker, which is a shame. This could hit traders who want to use the most innovative version of the platform: traders in this situation will have to look elsewhere, as there are no obvious plans for TRENDSMACRO to begin offering this anytime soon. It's also important to say that MetaTrader 5 has improved features compared to MetaTrader 4: these include the right to pursue strategies such as netting and the capacity to transfer money internally between accounts. In short, traders will need to be sure that they are happy to sacrifice these features before they proceed with opening an account with this broker.

TRENDSMACRO has a clear commitment to multi-device trading given that it offers MetaTrader 4 for various environments and operating systems. It offers strong mobile trading apps, for example. Unusually, TRENDSMACRO also emphasises that it has a version of its MetaTrader 4-powered platform available for Mac, meaning that those who use this Apple operating system are made to feel more included.
Commissions & Fees
As explained earlier in this review, the way that TRENDSMACRO makes money is the common one for online brokers like this: by charging a fee on the difference between the sale price and the purchase price. This means that commissions are not charged at this broker. This is, on the whole, a good thing, as it means that the trader does not get charged twice (once by the spread fee and once by the commission fee) for their trading.
It may be trickier for those who are buying and selling positions that have large values associated with them. For those traders, a commission-based model in which the commission is a flat fee could be useful, rather than having to pay a proportionate spread fee, even if that spread is tight (as it is at TRENDSMACRO for the high-end accounts).
Also, there does not appear to be much in the way of account fees charged at TRENDSMACRO. There is no fee for taking money out of an account via a credit card, for example – which is the sort of fee that frequently appears at other brokers in this sector. There is no obvious rule about deposit fees.

Education
The education section (or, to be accurate, lack thereof) on the TRENDSMACRO website is one of its real downfalls, and one that may well put off traders. There isn't a clear education section to speak of, and the only apparent offer is a guide to the use of MetaTrader 4.
While this guide is comprehensive, it only focuses on a small part of the trading experience – and a highly technical one at that. Many traders are likely to want to read more about other aspects of trading at this broker or in general, such as what effect leverage can have on your investment. Improving the education section, then, is a learning point for this broker.
Customer Service
Getting in touch with TRENDSMACRO is possible via a series of routes, and the exact content details for each of these are located further down the page in the 'Contacts' section.
The broker accepts customer service requests via post, email and telephone. On the broker's 'Deposit' page, there is a reference to a live chat service, though this does not appear to be in use or available anywhere else.
While the broker doesn't stipulate how long it will take for the customer to get a reply once they've submitted a request, the fact that the help desk is open all day and all night during the week suggests that there are some near-instant answers on offer.
Final Thoughts
Overall, TRENDSMACRO appears to be far from a bad broker. It has got plenty going for it, not least the offer of major platforms such as MetaTrader 4 as well as the significant number of asset classes and instruments that can be traded. In terms of drawbacks, the TRENDSMACRO team would be advised to improve its offer when it comes to education – and also to ensure proper regulatory oversight and more visibility on that front.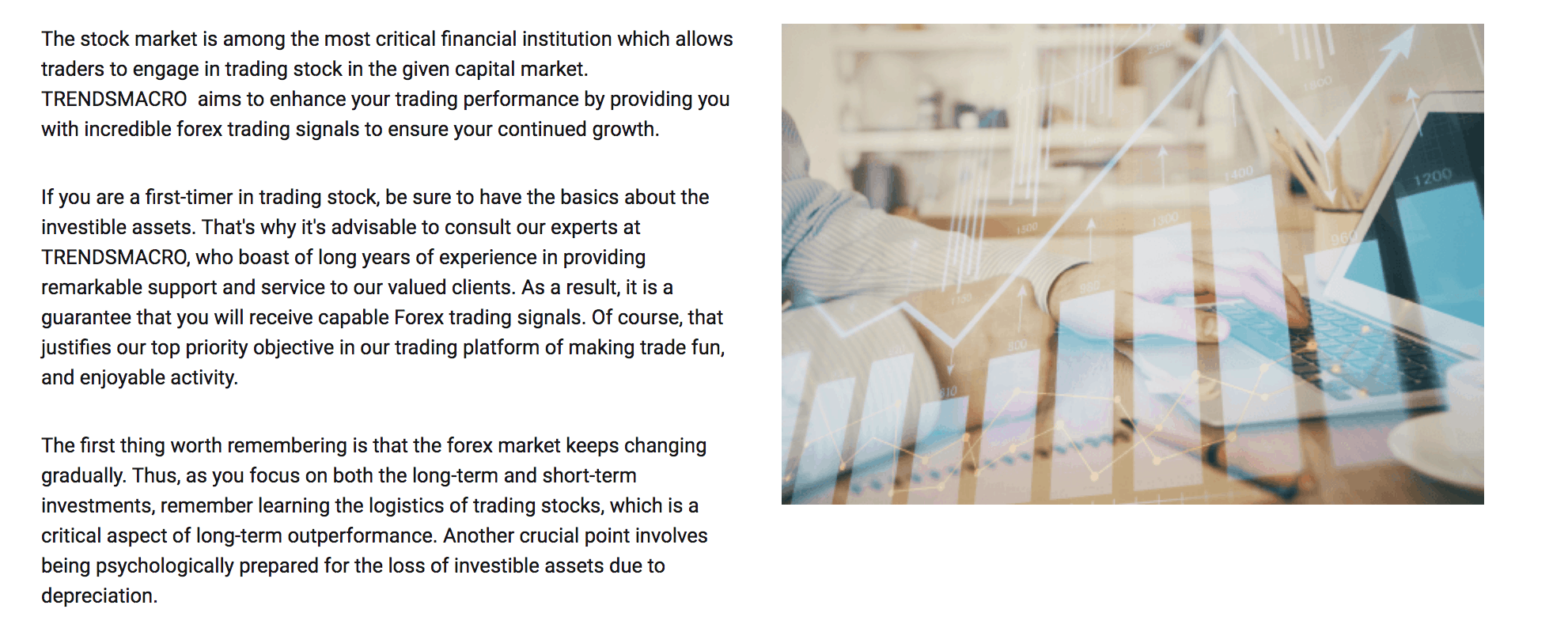 Broker Details
Although the broker is known publicly as TRENDSMACRO, it is owned by another firm called Ascana Group Ltd. TRENDSMACRO is a young broker compared to some others in the industry: it was set up in 2020. It's based in the Republic of the Marshall Islands, and it is important to note that it does not accept customers who are based in the US.
The broker states on its 'About us' page that it puts client deposits into bank accounts that are segregated from its own. This is a common practice at brokerages, and one that is advisable as a mode of protecting clients' money.
Contacts
As explained in the 'Customer Service' section earlier in this TRENDSMACRO review, there are several different ways for a customer to get in touch with the broker.
By far the easiest way for a customer to get an answer to their question, whatever it might be, is to send an email request to support@trendsmacro.net. There is also a contact form on the broker's contact page, which may easier for those who do not wish to use email.
Sending a letter is also possible – however, depending where you are based, this may not be a time-friendly endeavour. The relevant address here is Trust Company Complex, Ajeltake Road, Ajeltake Island, Majuro, Republic of the Marshall Islands, MH 96960.
Many traders like to be able to speak to their broker over the phone, or at least have the option to do so in case something goes wrong in the future. A UK phone number is provided for this purpose, and it is +441887593306.
FAQ
How can I open an account with TRENDSMACRO?
Opening an account at TRENDSMACRO is a simple process. Traders can do so by clicking on the 'Registration' link in the top right-hand corner of the website. This link will then ask them to enter information such as their name, last name, email address and more.
Is TRENDSMACRO a regulated broker?
Unfortunately, there is no obvious information about this published on the broker's website. This may be enough for some traders to avoid using the broker, though they can, of course, speak to the broker directly to find out whether there is indeed any regulatory oversight in place.
What are the deposit options for TRENDSMACRO?
Customers who wish to make a deposit at TRENDSMACRO can do so by opening an account. Once they have done so, they can then make a deposit either by using a credit card or debit card or by sending cash in a wire transfer. Traders who wish to use the latter route ought to be aware that they will need to secure bank detail information from the broker via email.
What bonus terms does TRENDSMACRO offer?
At the present moment, TRENDSMACRO does not have any bonuses running. If a trader wishes to use a broker with regular bonuses and competitions, then they can either get in touch with TRENDSMACRO directly to ask when the next competition might be taking place – or simply opt to use another broker.
Please be advised that certain products and/or multiplier levels may not be available for traders from EEA countries due to legal restrictions.
---
---