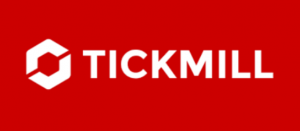 Tickmill continues to grow from strength to strength by offering traders just what they need to be successful in the markets.
This secure framework acts as a base for some of lowest cost trading in the market with trade execution backed up by some very impressive behind the scenes infrastructure designed to offer the best access to the financial markets.
Read the full review of Tickmill
ForexFraud.com does not recommend
Super-Five
. To see our recommended brokers
click here
.

Expert Summary: Our
Super-Five Review
Super-Five is a cryptocurrency trading brand owned and operated by PivoTech Global Ltd. The brand aims to reach out to a global audience via its trading offer, stating that its primary interest is cryptocurrency trading.
Clients working with this brand will gain access to tens of different crypto instruments, a significant advantage, which many other well-known brands have not yet adopted.
All products are accessible via the WebTrader, a proprietary platform developed by Super-Five. It integrates multiple trading features and tools, such as TradingView charts, price alerts, customer support via live chat, the ability to make deposits, risk management tools, and others.
When signing up with the platform you can choose from multiple deposit/withdrawal options, including credit/debit cards, wire transfers, or cryptocurrency.
For withdrawals, it is essential to mention that passing the verification process is mandatory due to the KYC/AML Policy. As a client, you will need to provide an ID, proof of residence, and proof of payment, in case you deposited via a credit/debit card.
The product range, when it comes to crypto, is very diverse at Super-Five. The platform covers; Bitcoin, Ether, Litecoin, ZCash, XRP, Cardano, Neo, Dash, Monero, IOTA, Ethereum Classic, Stellar, Tron, and tens of other cryptocurrency instruments denominated in Tether, Bitcoin, or Ether. Super-Five, therefore, provides access to some of the most liquid cryptocurrency instruments in the market, enabling clients to benefit from reduced trading costs.
The Super-Five platform provides a convenient and affordable solution for traders all around the world, as well as the option to become involved in the crypto market without major limitations and by working with a brand that has a customer-oriented approach.
Unique Trading Features at Super-Five
What stands out when we look at Super-Five is its WebTrader, a platform designed to perform at its peak for the cryptocurrency market. By integrating the latest trading technologies, the platform is ideal for technical analysis and keeping track of the latest market news (provided by CNBC).
Simple, yet highly versatile, the WebTrader can be used on desktop, laptop, or any mobile device (smartphone or tablet). As long as they have an internet connection, Super-Five enables its client to stay in close touch with the market from any location at any time.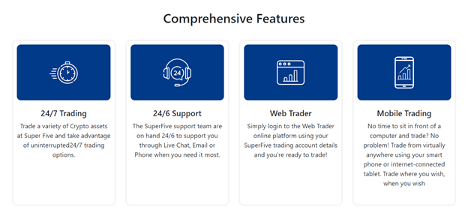 Affordability is another crucial aspect to mention about the brand. Opening an account is uncomplicated and no large initial deposits are required. All clients have access to equal trading conditions, with no one being favoured. The Super-Five registration process takes less than a minute. An essential requirement for a brand that aims to quickly grow its customer base.
Regarding the platform itself and the overall trading experience, Super-Five made everything simple, so any individual, with or without trading experience, can start with ease. Even when issues arise, the customer support service is there to help, via email, phone, or live chat.
All trading features available with the brand work symbiotically and ensure a smooth experience, no matter what happens in the market.
Super-Five Trading Software
Beginners and experienced traders will find WebTrader a trusted trading platform with which to work. Its customisation and flexible structure can adapt to any environment and with five different languages available such barriers are no longer an issue.
TradingView charts provide access to a broad range of technical analysis tools. With CNBC news, price alerts, the ability to make deposits, and to see the risers and fallers for the day, you will benefit from a full pack of tools to identify trading opportunities when they arise.

Although the Super-Five WebTrader is the only platform available, it is versatile and integrates enough resources to satisfy different types of traders.
Super-Five Deposits and Withdrawals
Funding an account is straightforward as Super-Five accepts deposits via credit/debit cards, wire transfers, and cryptocurrencies. The same methods are used for withdrawals after the verification process has been passed.
Super-Five pays close attention to KYC/AML compliance. Therefore, all clients must provide identification documents, including ID, proof of residence, and proof of payment (in case the deposit was made via credit/debit card), before being able to make a withdrawal. The brand manually processes all requests to ensure that a withdrawal to an unauthorised party cannot be made.
Is Super-Five Safe to Use?
As a trading brand that announces it is fully committed to maintaining safety, Super-Five relies on effective security solutions. It uses the latest technologies to ensure that client funds are kept safe all the time. All accounts are protected with multiple layers of security, and with KYC/AML requirements in place, nobody will be able to make unauthorised financial transactions from any trading account.
With all those measures in place, working with Super-Five means that all the security responsibility falls on the broker's shoulders, leaving traders to focus on the trading process. Super-Five continually looks for methods to enhance security features and has a flexible approach in adjusting its trading infrastructure accordingly.
Super-Five Customer Support
Existing customers or any individual that is interested in finding out more about the services provided can use the email address or the live chat features, as well as to request a call-back to talk with a representative. It is also important to note the service is available 24/6, considering that cryptocurrency trading is available 24/7.
Super-Five Review Conclusion
With many different competitive trading conditions designed for the crypto market, Super-Five is a great contender to be a trading partner for traders. The brand can assist clients in their first steps towards cryptocurrency trading by currently supporting a wide range of instruments and by promising to constantly adjust its offer depending on market developments.
Beginners and more experienced traders will find the Super-Five ecosystem appealing, thanks to the broad range of trading tools available. Both simple and practical, the WebTrader is the optimal platform to work within an environment where volatility and sudden market reactions represent the new normal.
Please be advised that certain products and/or multiplier levels may not be available for traders from EEA countries due to legal restrictions.
---
---