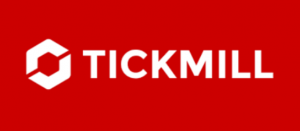 Tickmill continues to grow from strength to strength by offering traders just what they need to be successful in the markets.
This secure framework acts as a base for some of lowest cost trading in the market with trade execution backed up by some very impressive behind the scenes infrastructure designed to offer the best access to the financial markets.
Read the full review of Tickmill
ForexFraud.com does not recommend
TradeFred
. To see our recommended brokers
click here
.
That's exactly what tradefred.com says right above its footer, though there's little mention of this – rather important- bit of "trivia" anywhere else on the site. Belonging to the BetFred Group certainly lends the operation quite a bit of extra credibility and prestige, especially when considering its regulatory status. Do not get us wrong: TradeFred are indeed regulated and licensed, it's just that their regulatory authority used to be the VFSC (the Vanuatu Financial Services Commission). While we have nothing against the VFSC whatsoever, we have to note that it is not exactly a very prestigious organization when it comes to the licensing and regulation of financial activities of the sort offered by TradeFred.
Fortunately, the operator has made recent strides in this regard: a little while ago, it picked up its CySEC license, so it is now MiFID compliant, and as such, it can theoretically offer investment services throughout the countries of the EEA(European Economic Area).
With the above in mind, it is not surprising that TradeFred have a presence in Vanuatu, at SIP Building, PO Box 3010, Rue Pasteur, Port Vila, though their headquarters are located at 6th Floor Steam Packet House, Cross Street, Manchester, United Kingdom, M2 4JG. The corporate entity behind the operation is MagicPath Capital Ltd, and it apparently conducts business in Europe, from the above mentioned Manchester base. TradeFred are also regulated by ASIC in Australia.
The list of TradeFred's currently restricted jurisdictions includes the US, Australia, New Zealand and Japan.
TradeFred observe rather strict KYC and AML policies, which may indeed complicate deposit/withdrawal procedures for their clients.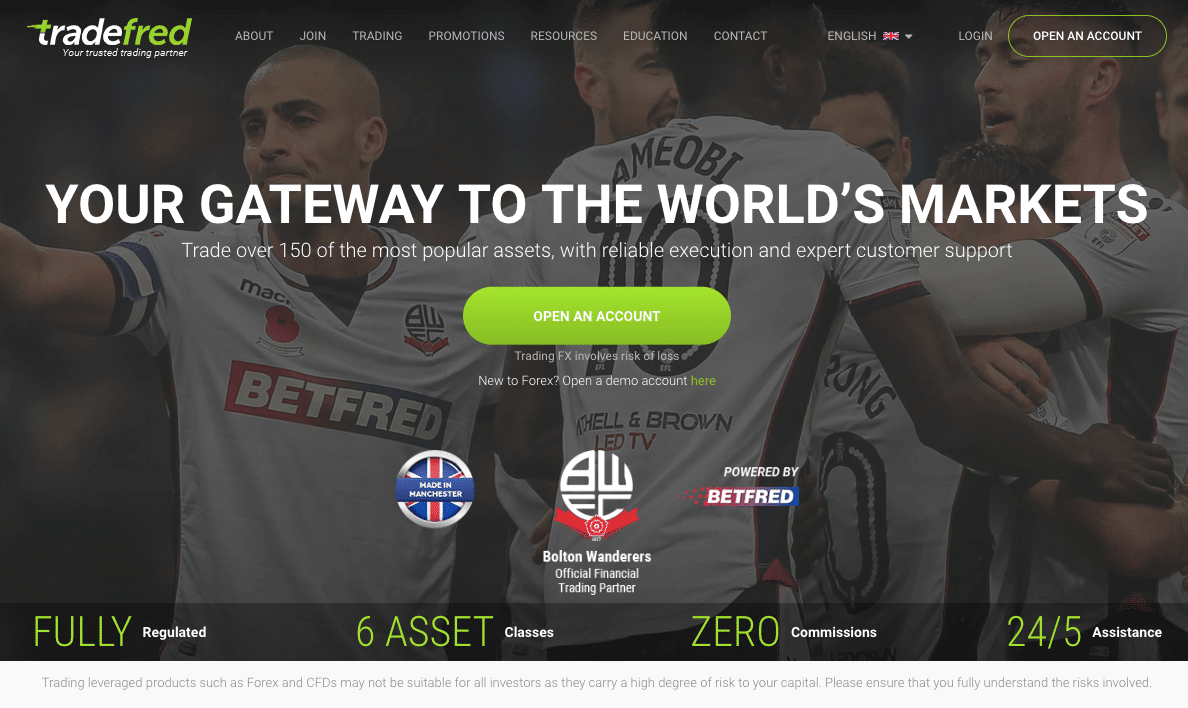 TradeFred's Products
TradeFred are focused on the trading of Forex and CFDs. They cover a more than decent range of markets, with almost 50 currency pairs included in the Forex section alone.
Forex trading execution is apparently great, and while the site touts very competitive spreads, we have to point out that TradeFred's spreads are fixed. The maximum possible leverage on Forex pairs is 1:500.
The stocks section boasts "fantastic execution" as well, coupled with great spreads and great market coverage. The maximum leverage on this product category is just 1:10 though.
The Indices section covers markets from 6 continents, and it too offers competitive spreads. The maximum leverage is somewhat lower than normal for this category too: it has been set to 1:25.
Precious metals like Gold, Silver and Platinum, are always popular with traders. At TradeFred, users will be able to trade such metals with good spreads and a maximum leverage of 1:25.
The Energies section of the TradeFred product offer gives traders the possibility to diversify into physical assets. The trading conditions on the products belonging to this category are rather similar to the above described though. The maximum leverage is 1:25 in this instance, too.
The Agricultural Asset section is a special commodity-category, which covers assets like Cotton, Sugar and Corn. The maximum allowed leverage is 1:25 on this product category as well.
The TradeFred website features a special page describing the trading conditions featured on various assets, but the only information that's available there, that has not been covered above, concerns the contract sizes and the trading hours, which tend to be the same for most of the assets.
TradeFred Platforms
As every proper and serious brokerage, TradeFred use MT4 as the centerpiece of their platform offer. The most powerful platform offered by TradeFred is the MT4 Desktop trader, which comes with the complete suite of charting solutions and technical analysis tools that MT4 offers.
Charts can be displayed using an impressive selection of time frames, they can be customized and chart templates can be saved, so traders can re-use them later. As far as technical analysis is concerned, some 50 indicators come pre-installed with the platform. Obviously, traders can choose to install still more indicators, that they acquire for free or buy. Users can also create their own indicators.
One of MT4's strengths resides in its EAs (Expert Advisors) which traders can use for automatic trading.
In addition to all the above, TradeFred's MT4 allows for the trading of Forex and CFDs on the same screen, it offers expert client support, as well as access to expert market analysis and educational materials.
MT4 can be downloaded directly from the TradeFred website, for free.
Those who do not wish to download and install anything, can opt for the TradeFred Webtrader, which is compatible with most of the major browsers out there, and which delivers the benefits of MT4 to any computer traders gain access to, anywhere in the world.
This platform comes with expert market analysis and reports as well. The Webtrader platform can be launched directly from the TradeFred website.
The Mobile Trader is for those looking to take advantage of the features of MT4, on the go. The Mobile platform apps can be downloaded for free from the Appstore or the Google Playstore. They work with all Android- and iOS-based mobile devices.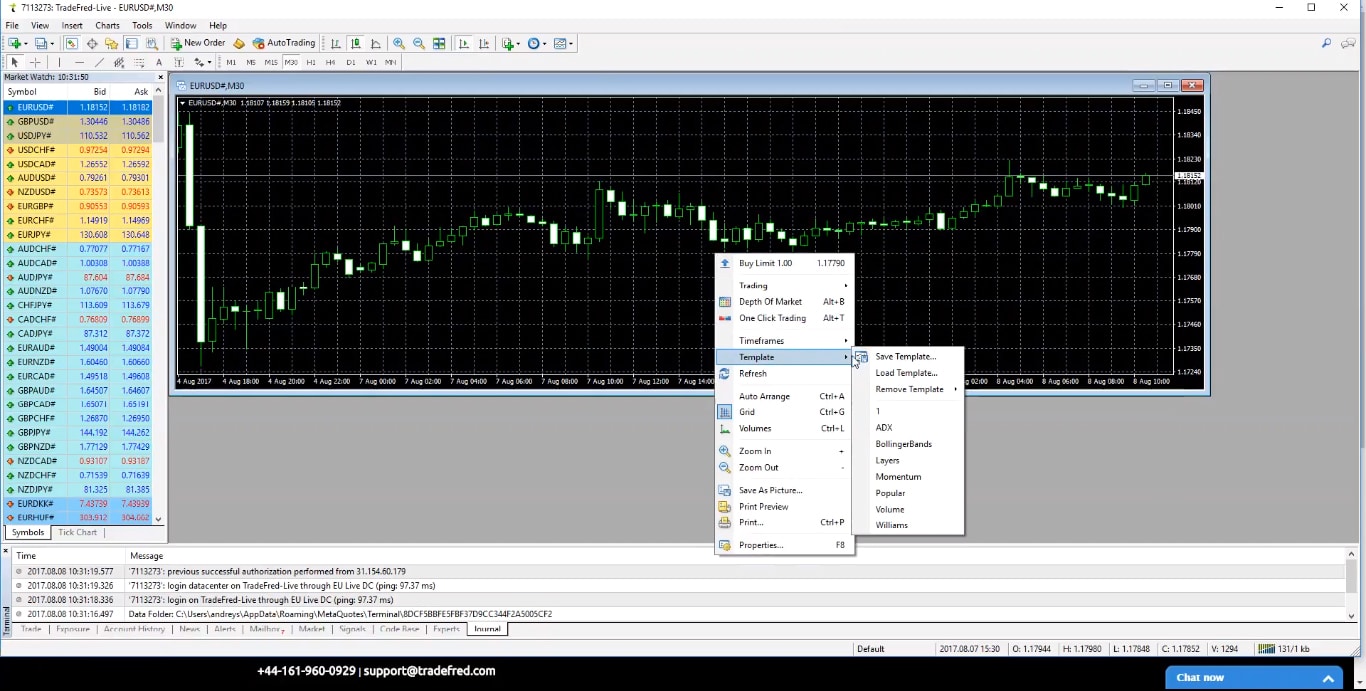 Account Types
TradeFred offers a handy Demo account, through which traders can take the platform/system on a risk-free test-spin. The Demo Account comes with $10,000 in virtual funds, as well as a trove of educational material. The account can be used for 14 days, after which it simply expires.
The Basic Account is quite possibly the best option for beginners/first-time traders. The minimum required deposit on this account is just $260 and the maximum leverage is 1:50. The account features a dedicated manager as well as one business-day withdrawals.
The Standard account is also well within the reach of most traders, beginners and advanced. The required minimum deposit is $500, and the maximum leverage is 1:50 on this account as well. The only extra feature the Standard account has over the Basic one is the market analysis it also offers.
The Advanced Account requires a minimum deposit of $1,000. The trading conditions are the above detailed ones, but the account features trading signals too, delivered directly to traders' mobile phones.
With a minimum deposit of $5,000, the Pro Account takes the game out of the reach of rank-and-file traders. Market analysis helps clients who fall into this account category, and the spreads are lower for Pro Account traders.
The Premium Account is at the top of the account ladder: the minimum deposit on this one is $10,000. While the trading conditions are mostly the same as above, this account is essentially a Zero-swap account.
Another option for a Zero-swap account is the special Islamic trading account, only available for those of the Islamic faith. This account is also commission-free and it comes with an Islamic account manager.
Conclusion
TradeFred is a good trading destination, featuring solid trading platforms and a decent product selection. Its regulatory status used to be cause for worry until recently, but these days, a massive step forward has been accomplished in this regard. The operation is now CySEC-regulated, so it can indeed peddle its services to most European clients.
Whether or not TradeFred will move towards MiFID II compliance in the future, remains to be seen. For the time being though, they have whipped their regulatory status into shape. It has to be re-iterated that TradeFred is probably the trading-focused offshoot of the BetFred Group.
Please be advised that certain products and/or multiplier levels may not be available for traders from EEA countries due to legal restrictions.
---
---
Olympic Legend Usain Bolt Lost $12m in Savings Scam
24.01.2023
Usain Bolt loses $12m in an alleged investment scam Jamaican officials and the FBI are investigating investment manager Stocks and Securities Ltd Others are feared caught by the scheme Jamaican Olympic sprinter Usain Bolt has had a $12m savings and investment account he set up for his retirement wiped out.
Read more
Phoney Pastors Caught Running $28m Church-Based Ponzi Scheme
17.01.2023
Churchgoers targeted by scammers posing as pastors A total of $28m fraudulently taken from largely immigrant community Promises of 'financial freedom through God' undone by the fact the project was a massive Ponzi scheme Deception, distraction, and abuse of trust are standard tools of fraudsters.
Read more