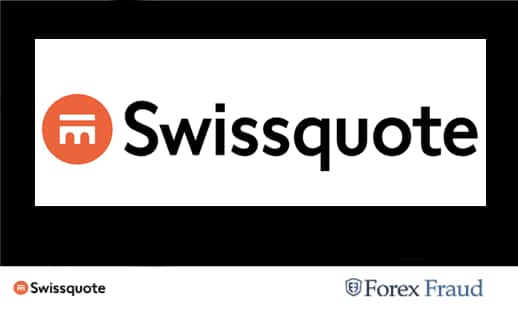 Swissquote Pros
Swissquote Cons
Market leading regulatory framework
Minimum balance requirements
Trader focused site design
Not available in some countries
Track record of over 20 years
Reliable and cost-effective trading platform
Extensive range of markets on offer
Experts Viewpoint
Trading service Swissquote, formerly named AC Markets, is owned by Swiss Swissquote Bank Ltd. as part of Swissquote Group Holding Ltd. (banking group) is one of the leaders in the field of financial and network trading services in its region.
Swissquote has been providing services since 2000 and was listed on the SIX Swiss Exchange (SQN) in Bern. This is one of not many brokers whose head office is located in Switzerland. The company's services are used by more than 200,000 institutional clients, which indicates reliability, but the broker does not accept US clients. Management companies are regulated in many countries such as Switzerland, the United Kingdom, the UAE and Hong Kong.
The broker provides its customers with not many ways to deposit funds: bank transfer, Visa, MasterCard. The client can issue a withdrawal of funds only through bank transfer, and the commission is $10.
Swissquote broker has a wide selection of trading instruments and markets: access to about 60 stock exchanges around the world, more than 70 currency pairs, about 13,000 mutual funds, bonds, futures, and about five cryptocurrencies are also available (trading without leverage).
Opening an account with Swissquote will take no more than 5 minutes, you need to visit the site and fill out the registration form. However, in order to pass the verification, it is necessary to provide personal documents proving the identity and also the place of residence, the procedure will take no more than 48 hours. Next, you need to replenish your deposit in the amount of the minimum allowable amount of $1000; it depends on the type of account that the client wants to choose.
Trading account "standard" – deposit: from $1,000 to $25,000, spreads start at 1.8 pips.
Premium trading account – deposit: from $25,000 to $100,000, spreads start at 1.6 pips.
Prime trading account – deposit: over $100,000, spreads start at 1.3 points; however, for exotic currency pairs, the spread can reach 0.6 points on this account.
The company's website has an education section, where a lot of videos are presented that can provide a knowledge base for starting a trade, and the company also holds regular webinars on various trading topics. In addition, the company provides a demo account, so that newcomers try their hand at trading, and more experienced traders try their new strategies.
Like many brokers, Swissquote offers its customers MetaTrader 4 and MetaTrader 5 platforms, an independent trading platform designed to trade currency, goods and other products, and one of the most advanced and easy to use platforms. MT4, can be used for mobile trading on iPhone, iPad, Multi-Terminal and on all Android devices.
In addition, the company provides its own developed trading platform Advanced Trader, which is a new modern exchange, which is a powerful trading system. In addition, it allows you to work on a computer or on a mobile device. However, since it is a large network and regulated in several countries, Swissquote Ltd regulated by the FCA does not offer this platform for trading.
Swissquote Group Holding Ltd is an international banking group, so do not doubt its reliability. The company is regulated in many countries. The broker provides several varieties of trading platforms and a huge selection of financial instruments, which is a big plus for any trader.

Free Demo Account
No Purchase Necessary
About Swissquote
Swissquote has been operating in the financial markets for over twenty years. Over this time it has developed its offering into a much sought after package. Now supporting over 230,000 clients the platform is Switzerland's largest financial portal. Even so, the firm could possibly have even more traders on its books but instead is quite selective over who can trade there. Not all traders will have sufficient funds to hold an account with Swissquote and the firm is a stickler for compliance. Those traders who are fortunate enough to clear those hurdles can then settle back and enjoy the benefits of the Swissquote service. Markets covered include equities, forex, funds, bonds, warrants, ETF's, crypto, options and futures. Leverage can be set to individual preference and trading can be carried out using the in-house system or market leading MetaTrader MT4 and MT5 platforms.
The Swissquote approach emphasises quality over quantity and provides a well thought out trading experience.
The firm holds licenses with top grade regulators and offers a wide range of markets. It is publicly listed on the SIX Swiss Exchange which means it has to comply with all the public disclosure conditions of that exchange.  Swissquote Ltd is a subsidiary of Swissquote Bank, and is based in London, where is regulated by the Financial Conduct Authority (FCA). The company also has offices in Zurich, Bern, Dubai, Malta, London and Hong Kong.
Who Does Swissquote Appeal to?
Swissquote is a multi-asset broker with a strong reputation and an appetite to offer its clients neat software tools, some of which are unique. Its target market is traders and investors from the UK and other European countries. Whilst nothing is ever certain, particularly in the financial markets, many traders and investors will be drawn to the firm's strong regulatory framework and banking background.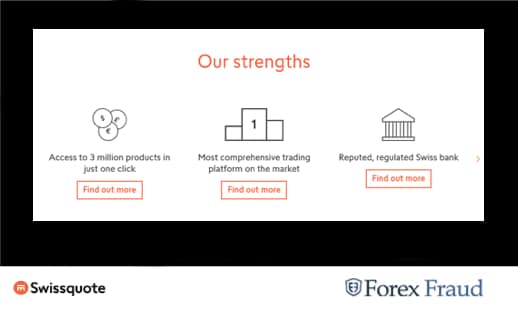 Beginners will enjoy the relaxed and supportive tone of the site. A wide range of educational materials are easy to access and each of the markets which are available has literature, videos and webinars on hand to offer guidance. More experienced traders are also catered for with some research covering more advanced topics and the MetaTrader trading platform being famed for providing powerful software tools with which to analyse, back test strategies and execute in the markets.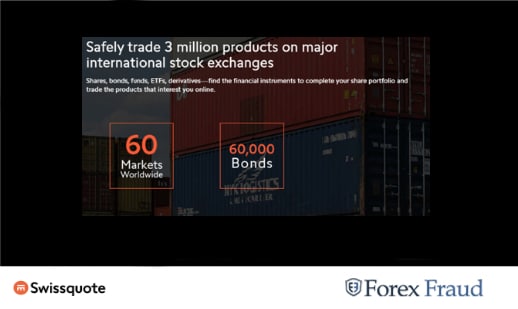 The firm adopts a very transparent approach to pricing and terms and conditions. This is especially helpful because the account terms very from domicile to domicile. Minimum account balance requirements are higher than the market average so those looking to open an account will need upwards of EUR 1,000 to trade with Swissquote.
The demo version is free to use and offers traders of all type the opportunity to try the service before scaling up with real capital.
Account Types Offered by Swissquote
Swissquote clients in Switzerland and EU are offered three main account types: Premium, Prime and Elite. There is a minimum balance requirement of EUR1,000 in order to open a Premium trading account. Prime accounts require a minimum balance of EUR 5,000 and Elite have a minimum of EUR 10,000.
There are differences in the spreads, leverage and margin requirements for different account holders, and slightly different features and benefits will apply. The minimum and maximum transaction sizes, however, are the same for all account holders, and all account holders will find they incur no extra fees for withdrawing funds, allowing an account to become inactive, or closing an account.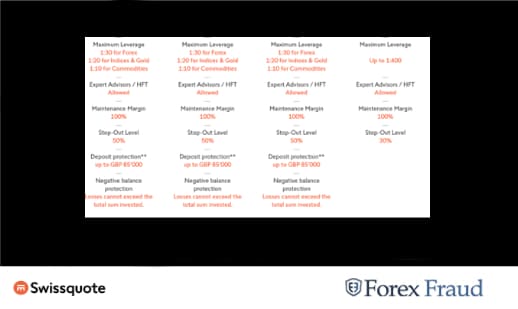 The demo account is very realistic and a good way for traders to familiarise themselves with the platform but is only available for 30 days. The firm resists the temptation to over-promise in terms of time taken to deposit and withdraw funds and instead suggests 3 working days is the general rule for cash transfers.

Start Your Trading Journey
Simple Set Up Process
Swissquote Markets and Territories 
Trading is global markets is offered on a 24/5 basis.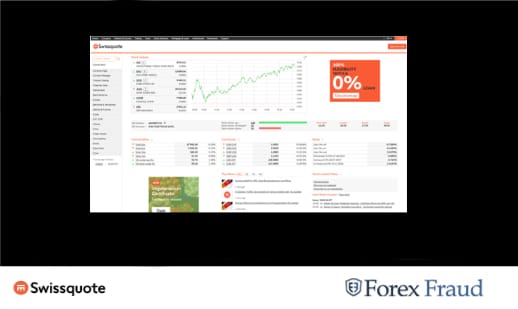 The parent company of the group is Swissquote Group Holding Ltd, based in Gland, Switzerland, which operates Swissquote Bank Ltd, also based in Gland. Swissquote Bank Ltd has three main subsidiaries: Swissquote Ltd in London, Swissquote MEA Ltd, in Dubai, and Swissquote Asia Ltd, based in Hong Kong. Swissquote Financial Service (Malta) Ltd is based in Mriehel, Malta. Each branch of the company is regulated, so the London-based Swissquote Ltd, for example, is authorised and regulated by the Financial Conduct Authority.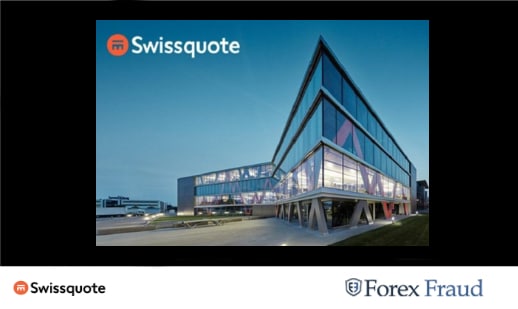 Swissquote Instruments and Spreads
There is a wide range of markets available to trade. These include equities, forex, funds, bonds, warrants, ETF's, crypto, options and futures. There may not be the deepest selection of markets in some asset types but offering exposure to derivative style instruments and longer term investments allows clients to hold a balanced portfolio in one place.
There are almost 80 currency pairs which is near the top end of what is available, around 20 commodity pairs. Terms and conditions can vary according to domicile but the detail of what is possible where is clearly laid out here (https://en.swissquote.eu/forex/pricing) and it would be hard to imagine anyone feeling short changed by the extensive range on offer.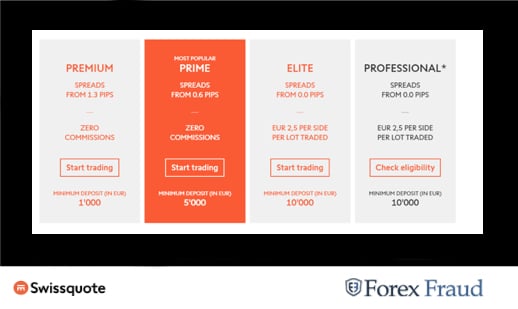 Spreads are variable and will vary with account type. Minimum quoted spreads start at 1.3 pips for an entry level account. Clients that move up the scale will see the spread move in to 0.6 pips for Prime accounts and 0.0 pips for the Elite.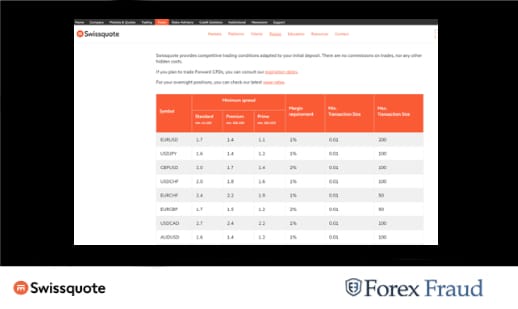 To help traders make an informed decisions the site hosts areas where trading terms on each tradeable asset can observed. The financing rates on overnight positions are better than average possibly suggesting the platform intends to attract traders with slightly longer holding periods.
Swissquote Fees and Commissions
Swissquote runs on a no-commission model for Premium and Prime accounts. The Elite account charges EUR 2.5 per side.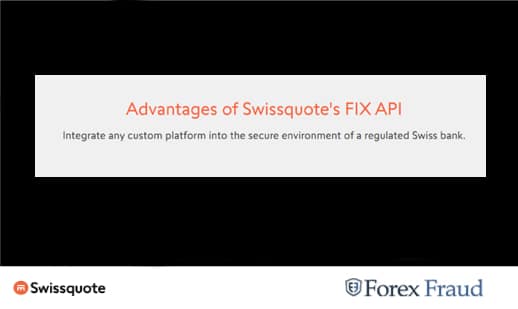 Swissquote does not generally charge deposit or withdrawal fees, although third parties such as bank or credit card companies may well do so. Inactivity feeds do not apply.
Trading is not all about costs and the option to use the firms API is something that will appeal to those traders who monitor the quality of execution as much as they do the price.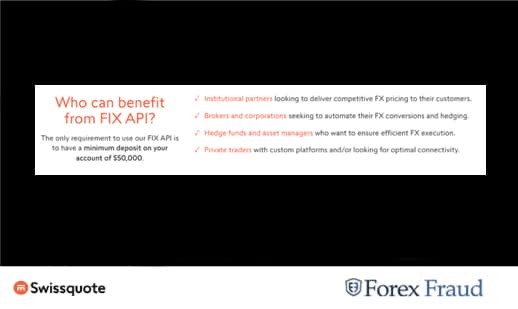 Review of the Swissquote Trading Platform
Swissquote has been providing top quality trading services for over twenty years, time enough to establish a first class trade analysis and execution platform. The bulk of trading activity is supported by the well-respected MetaTrader platforms MT4 and MT5. What instruments those two platforms fail to cover are catered for by the proprietary platform Advanced Trader which offers markets in options, bonds, futures and warrants.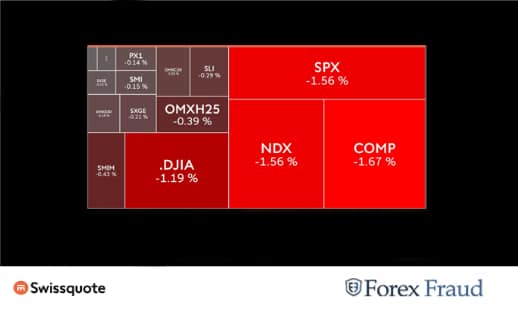 MetaTrader is the most popular retail trading platform in the world. Its many fans are drawn to the host of advanced features including a variety of integrated technical indicators and clean, precise display.  It offers a lot but the trading dashboard is stripped back to allow traders to focus on what is important at the time. The additional services such as back testing and External Advisors are powerful tools but are also kept to one side to ensure they don't get in the way of day to day trading.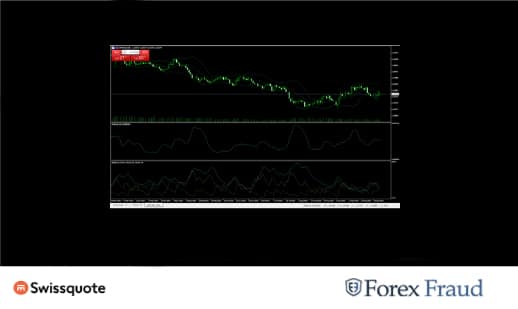 The in-house system, Advanced Trader offers a wide range of markets and presents them in a simple and easy to use format. It is exceptionally user-friendly and provides a means to accessing instruments other brokers don't support. Customisation is limited but it dovetails well with the MetaTrader platforms.

Free Demo Account
No Purchase Necessary
Swissquote Mobile Trading
Swissquote provide a free app for iPhone and Android mobile and tablet devices. The mobile functionality is in line with the desk-top version and from a trading perspective benefits from keeping things simple. There are some neat features which support users choosing to trade off a hand-held device; these include one-click functionality which allows price moves to be viewed in percentage point or price terms and a fairly comprehensive newsfeed service. As well as this the basic account administration tasks are easy to perform.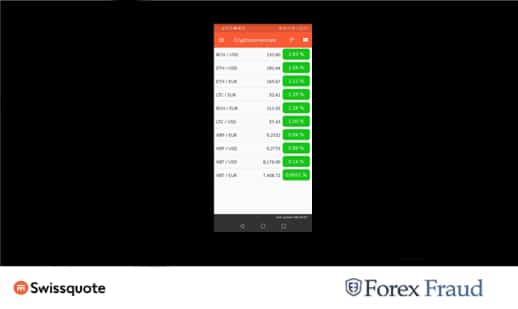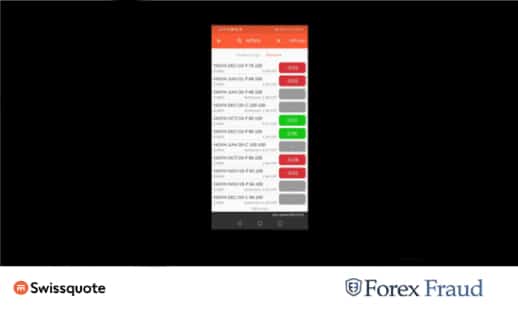 The Pulse social trading service is supported on the mobile platform and a particularly strong feature is that warrant, options and futures markets are covered in great detail. Another positive is that it's possible to use fingerprint technology to log-in which can aid both convenience and security.
There is also the option of trading using the market standard MT4 and MT5 mobile apps. These are very much the industry standard and offer clients the opportunity to take advantage of the powerful MetaTrader analytical software.
Social Trading and Copy Trading with Swissquote
Swissquote clients can choose from a range of social and copy trading options.
Pulse allows traders to discuss the latest trading ideas and financial news. Catering to beginner and pro traders there is something for everyone and social trading is possible in a good spread of languages.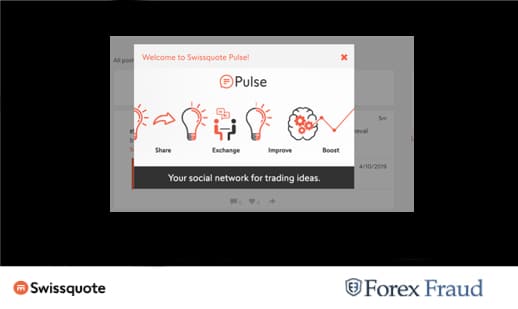 The Robo Advisor service is a market leading automated investment manager designed to create a bespoke investment portfolio for traders looking to take a more hands off approach to investment. It was launched in 2010 and by doing so Swissquote became the first Swiss firm to introduce and electronic wealth manager.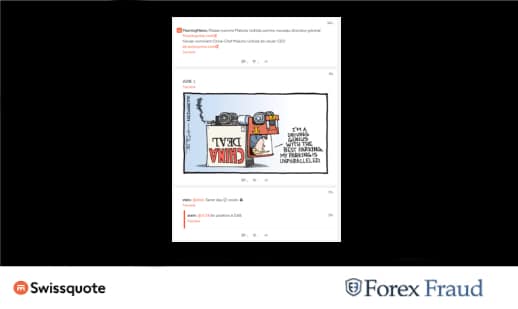 AutoChartist opens the door to automated algorithmic trading. The service is well regarded in the trading community and allows strategies to be developed using a range of tools. Whilst some of the techniques are quite standard in nature (such as Fibonacci Patterns) the site is easy to navigate and helps analysts and traders add colour to their ideas.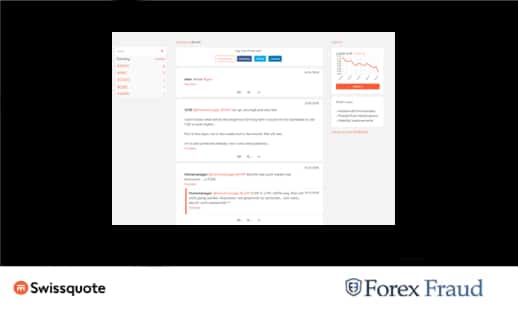 Swissquote clients can also take advantage of the MetaTrader Expert Advisors service which allows automated trading based off the signals of others. The MetaTrader community is vast and there is a wide range of ways to engage with other traders on the platform.
Crypto Trading with Swissquote
Swissquote have done well to expand their offering of crypto markets. The platform has moved from being somewhat 'behind the curve' to adopting some of the latest features.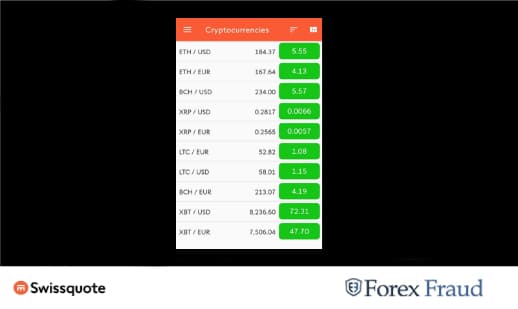 Clients in some regions are now able to make transfers between their Swissquote Bank account and their external cryptocurrency wallets. It's also possible to trade all the major cryptos and whist the range of instruments isn't market leading it is in line with its peer group.

Start Trading Crypto Today
Make a trade in minutes
Swissquote Charting and Tools
The Advanced Trader platform supports only basic charting functionality but the MetaTrader and AutoChartist services are hard to beat. Both of the latter platforms support advanced data analysis and back testing.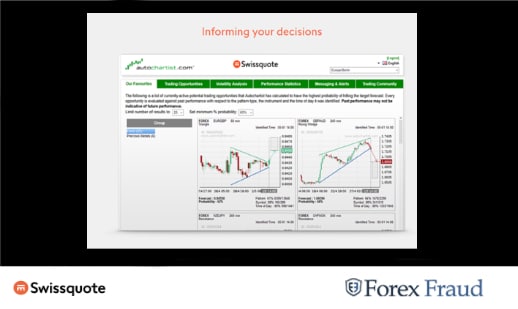 They also come with an extensive range of analytical tools which help traders optimize their strategies and minimise their risk. The basic range of tools is pretty powerful but those looking to try something different can also bolt-on to third party services.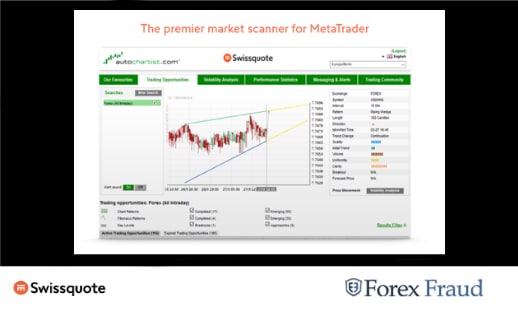 Learn to Trade with Swissquote
Clients of Swissquote will benefit from a wide and easy to use range of educational and learning resources. They can access training videos, eBooks, written reports and webinars. Attention is paid to guiding clients towards getting the most out of the Advanced Trader and MetaTrader trading platforms and making them more aware of the risks as well as the opportunities associated with trading. The materials cater to all grades of trader which is welcome considering a lot of other brokers focus solely on beginners.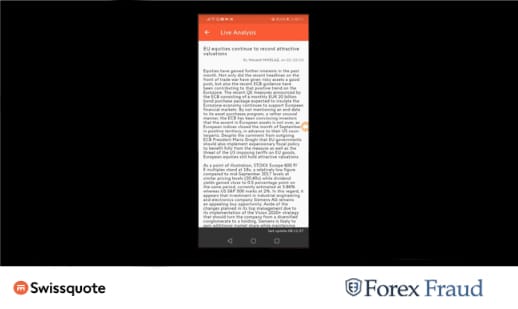 Webinars help traders keep up to date with current trends and are offered in both live and on-demand format. With reference to their heritage the firm offers webinars in a variety of languages and not just English.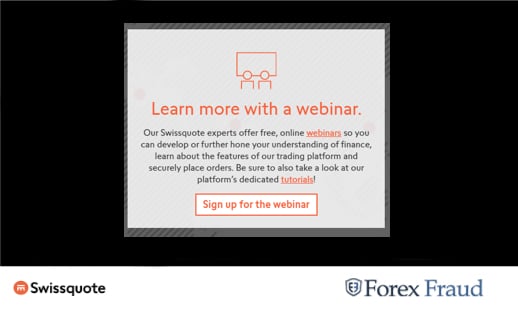 Traders can opt to pick through the most recently released reports or consider one topic at a time. It's possible to select one subject, such as Forex and dig down to a granular detail. More generic subjects such as 'how to trade' or 'risk management' are also covered.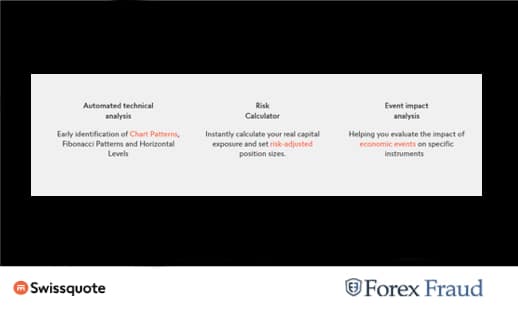 Credit goes to the firm for offering a full guide to trading conditions at the broker. There is particular transparency when it comes to the sharing of information relating to the finer details such as spreads, leverage, financing costs and margin. Swissquote provide a comprehensive range of research and education tools. There is certainly something for all types of traders but probably not everything for any particular one.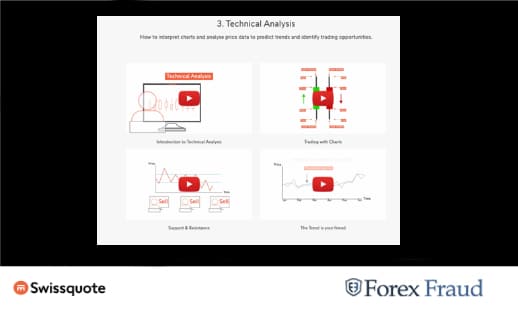 Learn To Trade With A Demo Account
No Purchase Necessary
Swissquote Trader Protections by Territory
The Swissquote corporate framework shows the different entities in the group report to a host of well-regarded regulators. Swissquote Ltd is based in the UK and is authorised and regulated by the Financial Conduct Authority (FCA). Other entities hold licenses with:
FINMA – Swiss Federal Financial Market Supervisory Authority
DFSA – Dubai Financial Services Authority
SFC – Securities and Futures Commission
MFSA – Malta Financial Services Authority
FCA – Financial Conduct Authority
Swissquote Bank Ltd is a member of the Swiss Bankers Association and the parent company Swissquote Group Holding Ltd is listed on the SIX Swiss Exchange. Traders with Swissquote Ltd are protected by the Financial Services Compensation Scheme (FCSC), meaning clients may be entitled to compensation in the event of insolvency, up to a limit of £50,000 per account.
Potential clients should consider signing up with a Swissquote entity which has a Negative Balance Protection scheme. These programs aim to ensure that even in the most volatile markets, traders can't lose more than their initial capital outlay.
How to Open a Swissquote Account
The amount of time taken to open a Demo or Live account at Swissquote is in line with the rest of the peer group. The firm stringently adheres to the regulatory obligations it operates under so there is some small print to work through but this can be taken as a sign that they take seriously the obligations they have to their clients. The minimum opening balance is EUR 1,000 which is higher than the market norm but the firm appears to be successful enough with this barrier in place. It's preference appearing to be to support a smaller number of more liquid clients.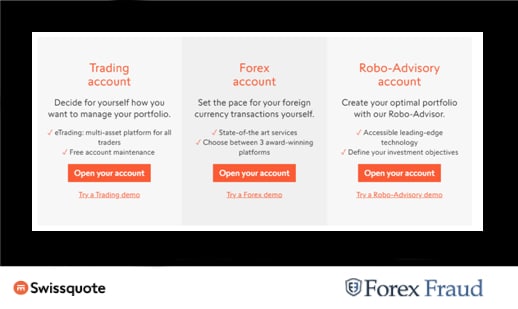 There are four account types to choose from, though due to the minimum cash required to open each rising up to EUR 10,000 some applicants may find the account chooses them.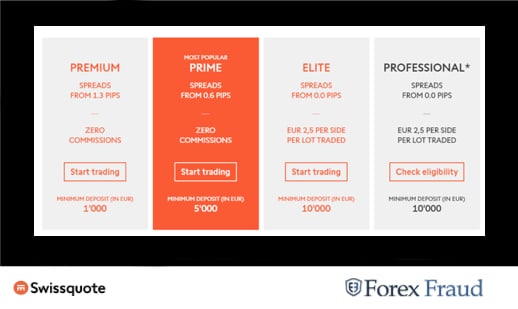 Clients in the UK benefit from something of a 'fast-track' service. Swissquote Ltd is the London branch of Swissquote Group Holding and is held 100% by Swissquote Bank. London is one of the most important financial hub in the world and as the competition is very high Swissquote decided to reserve to that branch better conditions and a quicker account opening process. In fact, the request to open a trading account can be completed entirely online and in a couple of steps.
Please complete the form present here, please remind to indicate the tax code requested  (TIN)
Please provide us one document from the list A) and one from the list B) as ID and POA:
(a)    ID Verification (Non Expired)
Passport; or
Photocard Driving Licence; or
National ID Card
(b)     Address Verification (pdf allowed)
Bank Statement; or
Credit Card Statement; or
Utility Bill (gas, water, electric, landline telephone);
Deposits via credit card are free in Swissquote, via bank transfer depends on your bank's cost scheme. Withdrawals are available via bank transfer, Swissquote Ltd won't charge any fees.
There's no minimum amount for withdrawals and neither no restrictions about the frequency.
Swissquote Ltd doesn't apply any inactivity fee, opening or closure account fee.
Traders in different domiciles will engage with different entities of the Swissquote group but generally speaking, for trading purposes, trading accounts are registered with the London-based Swissquote Ltd. All potential clients of Swissquote (and indeed any other broker) should prioritise carrying out due diligence on account terms and corporate structuring.
Funding can be done using GBP, EUR, CHF, AUD, JPY, PLN, CZK, HUF and USD. Swissquote only works with banks with a minimum AA credit rating.
Swissquote trading accounts are available in the UK, all European countries, and many other countries worldwide. Traders in the USA, Canada and Japan might be disappointed to learn they are currently illegible to trade through the platform.

Open Your Account
Fully Regulated Broker
Swissquote Customer Support
Swissquote customer support can be easily accessed by phone email and live chat. During testing response times were better than average for the sector and staff appeared to be giving undivided attention to the test scenarios.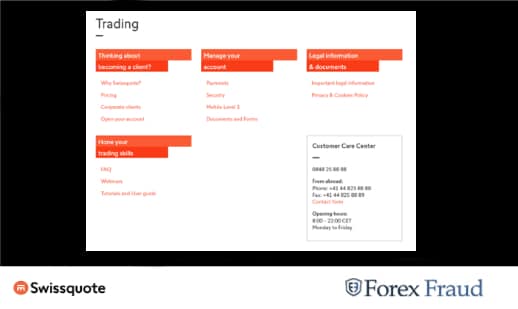 Issues were resolved quickly and efficiently. The time saving here was a big plus point for the service. Also of note is that the support team are very willing to take and 'own' any issues. We found staff willing to offer to call to discuss or send through back up literature to help resolve issues. Contact names and numbers were offered in case we required any follow up from a dedicated member of their team.
One draw-back is that general customer support is only available during business hours, Monday to Friday. Support outside of these hours is provided by the Trading desk which operates 24 hours a day from Sunday 23.00 to Friday 23:00 CET. It's reassuring to have access to a trading desk but this service is only likely to be called upon for emergency position management.
Swissquote Review Conclusion
Swissquote have been operating for more than twenty years and can be proud of their success in a fast changing and ultra-competitive environment. The regulatory structure and professional customer support demonstrate the firm knows how important it is to provide a quality service. Some of the spreads are not as tight as at brokers who mainly compete solely on price but Swissquote terms are in line with their peer group and their business model appears to focus on those looking for a more rounded service.
Despite being something of an established player the firm continues to introduce innovative tools and services. The range of instruments is also particularly impressive. An example of how these two functions combine is that it is for example possible to trade single stock warrants, futures and options on a mobile device.
The minimum balance requirement might be a hurdle for some but the firm has 231,000 clients which shows many traders are willing and able to do whatever it takes to sign up to the service. It's easy to see why.

Open Your Swissquote Account
Bonus Offer For Forexfraud Visitors
Please be advised that certain products and/or multiplier levels may not be available for traders from EEA countries due to legal restrictions.
---
---
Safest Forest Brokers 2020
Forex Fraud Certified Brokers
Stay up to date with the latest Forex scam alerts
Sign up to receive our up-to-date broker reviews, new fraud warnings and special offers direct to your inbox