| | |
| --- | --- |
| Pros: | Cons: |
| Market-leading regulatory framework | Minimum balance requirements |
| Trader focused site design | Not available in some countries |
| Track record of over 20 years | |
| Reliable and cost-effective trading platform | |
| Extensive range of markets on offer | |
Swissquote has been providing its services since 2000 and offers one of the most comprehensive trading facilities in the market. It's a high-end platform packed full of innovative and customer-friendly features.
With a head office in Switzerland and a listing on the SIX Swiss Exchange (SQN) in Bern, the broker has all the trappings of a secure place to do business. It is a safe option for investors, and thanks to its dynamic approach, it has grown to become Switzerland's largest financial portal. More than 230,000 clients now use the company's services across the globe.
Beginners will enjoy the relaxed and supportive tone of the site. A wide range of educational materials are easy to access and each of the markets available has literature, videos and webinars on hand to offer guidance.
Experienced traders are also catered for with some research covering more advanced topics. There is also the MetaTrader trading platform that is famous for providing powerful software tools to analyse and backtest strategies and execute trades in the markets.
Rating Overview
| | |
| --- | --- |
| Overall rating | |
| Regulation | |
| Fees | |
| Range of Markets | |
| Platforms | |
Swissquote has done well to build and offer a multi-asset platform which means all of your investments are in one place, making it easy to keep track of your positions.
Broker Summary
Online broker Swissquote, formerly named AC Markets, is owned by Swiss Swissquote Bank Ltd. It is a part of Swissquote Group Holding Ltd (banking group), one of the leaders in financial and network trading services in its region.
The Swissquote group of companies is regulated by Tier-1 authorities in various countries, including Switzerland, the United Kingdom, the UAE, and Hong Kong. Swissquote is considered a safe broker due to the length of time it has been operating, its stable customer base and the fact that it is regulated by the following authorities:
FINMA – Swiss Federal Financial Market Supervisory Authority
DFSA – Dubai Financial Services Authority
SFC – Securities and Futures Commission
MFSA – Malta Financial Services Authority
FCA – Financial Conduct Authority (UK)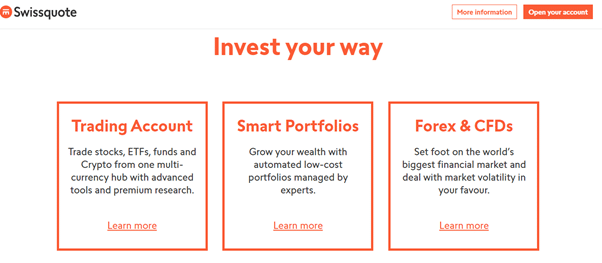 Broker Introduction
Opening an account with Swissquote is a straightforward process that takes no more than five minutes to complete. Registration is all done online and can be started by visiting here. In line with standard market practice, new clients must provide personal documentation and answer a range of questions to ensure the broker complies with Know Your Client (KYC) regulations. The funding of accounts is equally straightforward.
Swissquote offers a premium service, so the minimum initial account balance requirement is set at $1,000 or the equivalent in other currencies.
Trading account "standard" – deposit: from $1,000 to $25,000
Premium trading account – deposit: from $25,000 to $100,000
Prime trading account – deposit: over $100,000
Traders in different countries will engage with their dedicated part of the Swissquote group but generally speaking, for trading purposes, trading accounts are registered with the London-based Swissquote Ltd. All potential clients of Swissquote (and indeed any other broker) should prioritise carrying out due diligence on account terms and corporate structuring.
Funding can be completed using GBP, EUR, CHF, AUD, JPY, PLN, CZK, HUF and USD. Swissquote only works with banks with a minimum AA credit rating.
Swissquote trading accounts are available in the UK, all the European countries, and many others worldwide. Traders in the USA, Canada and Japan might be disappointed to learn they are currently illegible to trade through the platform.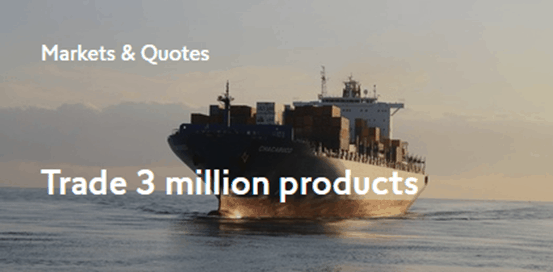 The firm claims to support trading in an incredibly high number of markets, more than three million to be exact. The net result is that the range of asset groups on offer far exceeds the market average. As well as stocks, forex, commodities, crypto and indices, it is also possible to trade options, warrants, futures, ETFs, ETPs, mutual funds and bonds, RoboAdvisory and Smart Portfolios.
The geographical range of the coverage is also groundbreaking and extends from options markets in Swedish stocks to micro-futures in the US Russell 2000 index.

Spreads & Leverage
There are differences in the spreads, leverage and margin requirements for different account holders, and slightly varied features and benefits will apply. Minimum quoted spreads start at 1.3 pips for an entry-level account. Clients that move up the scale will see the spread move into 0.6 pips for Prime accounts and 0.0 pips for the Elite.
Trading account "standard"– spreads start at 1.8 pips.
Premium trading account– spreads start at 1.6 pips.
Prime trading account– spreads start at 1.3 points; however, for exotic currency pairs, the spread can reach 0.6 points on this account.
The minimum and maximum transaction sizes are the same for all account holders. All will find they incur no extra fees for withdrawing funds, allowing an account to become inactive, or closing one down.

Platform & Tools
Swissquote has provided top-quality trading services for over 20 years, time enough to establish a first-class trade analysis and execution platform. The in-house platform is an impressive facility that combines powerful software tools with user-friendly functionality and appealing aesthetics.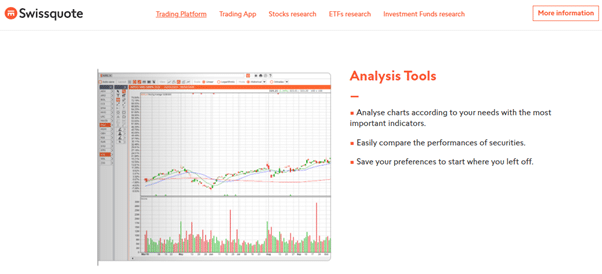 There is an extensive range of analytical tools to help traders optimise their strategies and minimise their risk.

MetaTrader
Currency traders who open a Forex Account at Swissquote can access the market favourite MetaTrader4 and MetaTrader5 platforms. These are the most popular retail forex platforms in the world, so their inclusion makes perfect sense.
Fans of the MT platforms are drawn to the host of advanced features, including various integrated technical indicators and the clean, precise display.  It offers a lot, but the trading dashboard is stripped back to allow traders to focus on what is important at the time. The additional services such as backtesting and External Advisors are powerful tools but are also kept to one side to ensure they don't get in the way of day-to-day trading.
Compare Swissquote with other approved brokers
| | | | | |
| --- | --- | --- | --- | --- |
| | | | | |
| Regulation | FINMA, DFSA, MFSA, SFC FCA (Swissquote LTD, only EU traders) | FCS, CySEC, FSC | FCA, CySEC, ASIC, FinCEN, Seychelles FSAS, | ASIC, MiFID, FSA, FSCA |
| Customer Support | email, phone, live chat | email, phone, live chat | email, phone | email, phone, live chat |
| Trading Platforms | WebTrader, Mobile Apps | MT4, MT5 | desktop and mobile via brokers own platform | MT4, MT5, Mobile App |
| Minimum Deposit | 1000 EUR | $10 | $200 | $100 |
| Leverage | 1:100 1:30 (EU traders) | Flexible | From 1:2 to 1:30 | 400:1 |
| Total Markets | 10000+ | 252 | 2368 | 1260 |
| Total Currency Pairs | 80 | 62 | 49 | 55 |
| Total Cryptocurrencies | 30 | 4 | 37 | 17 |
The in-house system, Advanced Trader, offers a wide range of markets and presents them in a simple and easy to use format. It is exceptionally user-friendly and provides a means to access instruments other brokers don't support. Customisation is limited, but it dovetails nicely with the MetaTrader platforms.
RoboAdvisor
The Robo Advisor service is a market-leading automated investment manager designed to create a bespoke investment portfolio for traders looking to take a more hands-off approach to investment. It was launched in 2010, and by doing so, Swissquote became the first Swiss firm to introduce an electronic wealth manager.
Mobile Trading
Swissquote provides a free app for iPhone and Android mobile and tablet devices. The mobile functionality is in line with the desktop version and, from a trading perspective, benefits from keeping things simple.
Some neat features support users choosing to trade using a hand-held device; they include one-click functionality, allowing price moves to be viewed in percentage point or price terms. There is also a reasonably comprehensive newsfeed service. In general, the basic account administration tasks are easy to perform.
Commissions & Fees
To help traders make an informed decision, the site hosts areas where trading terms on each tradeable asset can be observed.
Pros:
Deposits are via bank transfer. Swissquote Ltd doesn't charge any inactivity fees or fees for account opening or closure.
Another plus point is that with 21 base currency options for your trading account, there is minimal risk of incurring frictional charges associated with converting from one currency to another.
Fees on Fund products are very competitive. Those on the RoboAdvisory products start at 1.25% p.a. and taper off as account size grows.
The financing rates on overnight positions are better than average, possibly suggesting the platform intends to attract traders with slightly longer holding periods.
Cons:
There is a $10 charge on cash withdrawals, but there is no minimum withdrawal amount and nor is there a limit on how frequently you can withdraw funds.
One potential charge to keep in mind is the margin fees on longer-term investments like ETFs. These can be worked around by buying the product outright rather than by using leverage.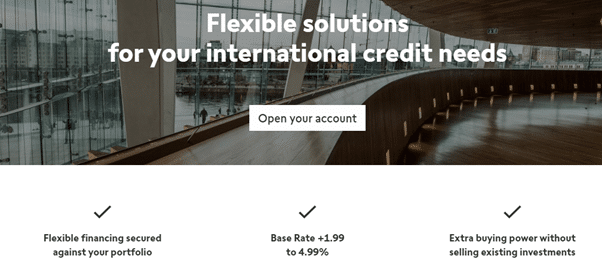 One highly innovative way that Swissquote helps with their client's cash flow is to allow them to take out personal loans secured against their investment portfolio. That removes the need to liquidate positions for short-term cash flow problems and is a very useful additional feature that would appeal to many users.
Education
Clients of Swissquote benefit from a broad and easy to use range of educational and learning resources. They can access training videos, eBooks, written reports and webinars. Attention is paid to guiding clients towards getting the most out of the proprietary trading platform and making them more aware of the risks and the opportunities associated with trading.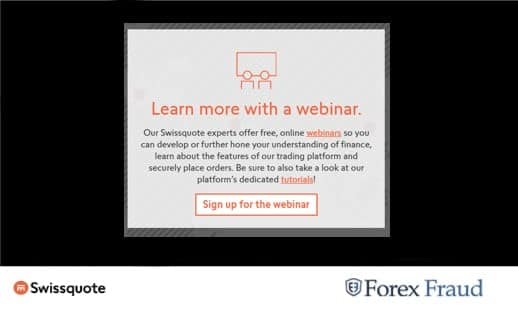 The materials cater to all trader experience levels, which is welcome, considering many other brokers focus solely on beginners.
There are Webinars to help traders keep up to date with current trends offered in both live and on-demand format. With reference to their heritage, the firm provides webinars in several languages, not just English.
Traders can opt to pick through the most recently released reports or consider one topic at a time. It's possible to select one subject, such as forex and dig down to granular detail. More generic subjects, such as 'how to trade' or 'risk management', are also covered.
Credit goes to the firm for offering a complete guide to trading conditions at the broker. There is particular transparency regarding the sharing of information relating to the finer details such as spreads, leverage, financing costs and margin. Swissquote provides a comprehensive range of research and education tools. There is certainly something for all types of traders but probably not everything for any particular one.
Customer Service
Swissquote customer support can be easily accessed by phone, email and live chat. During testing, response times were better than average for the sector and staff appeared to be giving undivided attention to the test scenarios.
Issues were resolved quickly and efficiently. The time saving here was a big plus point for the service. Of note is that the support team are very willing to take and 'own' any issues. We found staff were ready to call to discuss a topic or send through literature to help resolve any problems. Contact names and numbers were offered in case we required any follow up from a dedicated member of the team.
The Swissquote customer services team are about quality, not quantity. One drawback is that general customer support is only available during business hours, Monday to Friday. Help is available outside those hours being provided by the trading desk, which operates 24 hours a day from Sunday 23.00 to Friday 23:00 CET. It's reassuring to have direct access to a trading desk in emergencies, but it does mean some administrative tasks can only be addressed during business hours.
Final Thoughts
Swissquote has been operating for more than 20 years and can be proud of its success in a fast-changing and ultra-competitive environment. The regulatory structure and professional customer support demonstrate that the firm knows how important it is to provide a quality service.
Some of the spreads are not as tight as with brokers that compete solely on price; however, Swissquote's terms are in line with their peer group. The business model appears to focus on those looking for a more comprehensive service with a broker offering value-added support.
Despite being something of an established player, the firm continues to introduce innovative tools and services. The range of instruments is also particularly impressive. An example of how these two functions combine is that it is, for example, possible to trade single stock warrants, futures and options on a mobile device.
Swissquote offers reliable, high-quality service and, despite setting a high-bar to new entrants, it has still managed to acquire more than 230,000 clients. The $1,000 minimum balance requirement may put some off, but those who can dedicate that amount of funds are treated to a premium-grade service.
Broker Details
Swissquote has bricks-and-mortar offices situated across the globe, including in Gland (Headquarters) Zurich, London, Dubai, Hong Kong, Malta, Singapore and Luxembourg.
Clients of Swissquote Ltd are protected by the Financial Services Compensation Scheme (FCSC), meaning they may be entitled to compensation in the event of insolvency, up to a limit of £85,000 per account.
Contacts
Swissquote Ltd is a UK company registered in England and Wales under number 07710095. VAT number 133445531. The firm's registered office is at Boston House, 63-64 New Broad Street, London, EC2M 1JJ.
The Customer Care direct line is: +44 (0) 20 7186 2600
Contact details for private clients and partners are:
t: +41 44 825 87 77
e: [email protected]
FAQs
How can I open a Demo account with Swissquote?
The Swissquote Demo account is free to use and easy to sign up for. It opens the door to a very impressive trading experience and can be found here.
Is Swissquote a regulated broker?
Yes. Swissquote operates under licence from some of the most highly regarded regulatory bodies in the world.
What are the deposit options for Swissquote?
Funds can be paid into Swissquote using standard banking protocols such as wire transfer and debit and credit card. It does pay to check out the T&Cs to make sure you choose an option that doesn't incur admin charges.
Please be advised that certain products and/or multiplier levels may not be available for traders from EEA countries due to legal restrictions.
---
---