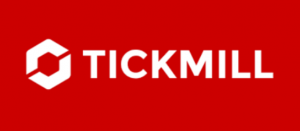 Tickmill continues to grow from strength to strength by offering traders just what they need to be successful in the markets.
This secure framework acts as a base for some of lowest cost trading in the market with trade execution backed up by some very impressive behind the scenes infrastructure designed to offer the best access to the financial markets.
Read the full review of Tickmill


Expert viewpoint
StormGain is a legitimate and trustworthy cryptocurrency exchange and trading platform. This platform appears to be a trusted brand given the extensive mainstream media coverage and the fact that it is the official sleeve partner of Newcastle United. When compared to popular exchanges including Huobi, Binance, BitMEX, and Kraken, this platform ranks top in various areas.
The platform is easy to use for all types of users, including complete beginners. Platforms such as BitMEX and Binance have similar features but more sophisticated user interfaces. Moreover, users do not have to go through the tedious KYC process to register and use StormGain. Most crypto exchanges, including BitMEX, require users to upload personal documents such as ID and a utility bill for identity and proof of address verification. This process can take up to 24 hours.
Rating Overview
| | |
| --- | --- |
| Overall rating | |
| Regulation | |
| Fees | |
| Range of Markets | |
| Platforms | |
Another great thing about StormGain is that it provides both the traditional and instant exchanges. Instant exchanges are more convenient for inexperienced users, given that they eliminate all the hassles associated with the conventional exchange process. Through instant exchange services, users can exchange one crypto to any other in less than five minutes. The traditional exchange process, on the other hand, is tedious and can take up to 24 hours for some cryptos.
Moreover, StormGain allows users to buy crypto with debit and credit cards. The buying process is simple and secure. Most leading exchanges do not allow users to buy crypto through these methods. StormGain allows crypto investors to earn a guaranteed interest of 10% PA on their savings when they deposit between 100 and 50,000 USDT. The interest is calculated and compounded daily based on the sum of the total remaining balance of the investor's account.
Crypto traders who choose StormGain enjoy margin trading with a multiplier of up to 1:200. This is better than most top exchanges, including Kraken 1:5, Huobi 1:3, and Binance 1:20. High leverage magnifies returns and is highly recommended for experienced traders. StormGain allows beginner traders to define the level of leverage that works best for them.
Regarding trading platforms, StormGain provides a web-trader and desktop and mobile apps. The web-trader is accessible through all major browsers. Moreover, the desktop app can be installed on Windows and Linux devices, while the mobile apps are for Android and iOS devices. StormGain provides a highly intuitive demo account and a wide range of educational resources to help users navigate through the platform.

Free Demo Account
No Deposit Required
Broker summary
StormGain provides crypto exchange and margin trading services. This platform was founded in 2019 and has grown tremendously to become a huge brand name. StormGain is an official sponsor of Newcastle United and has widely been covered in mainstream media including Yahoo Finance, Finance Magnate, and Business Wire. In 2019, the platform was nominated by Finance Magnate to participate in the Awards for Best Multi-Asset Trading Platform and Best Emerging Fintech Startup.
StormGain is the platform for you if you are looking for a crypto trading or investment platform. For the record, crypto trading involves buying and selling cryptos for short term profit, with a focus on volatility. Crypto investment, on the other hand, involves buying for long-term gains through prices increase. In crypto trading, it is possible to generate a return from falling prices through strategies such as short-selling. Crypto investors, on the other hand, only make profits through price appreciation.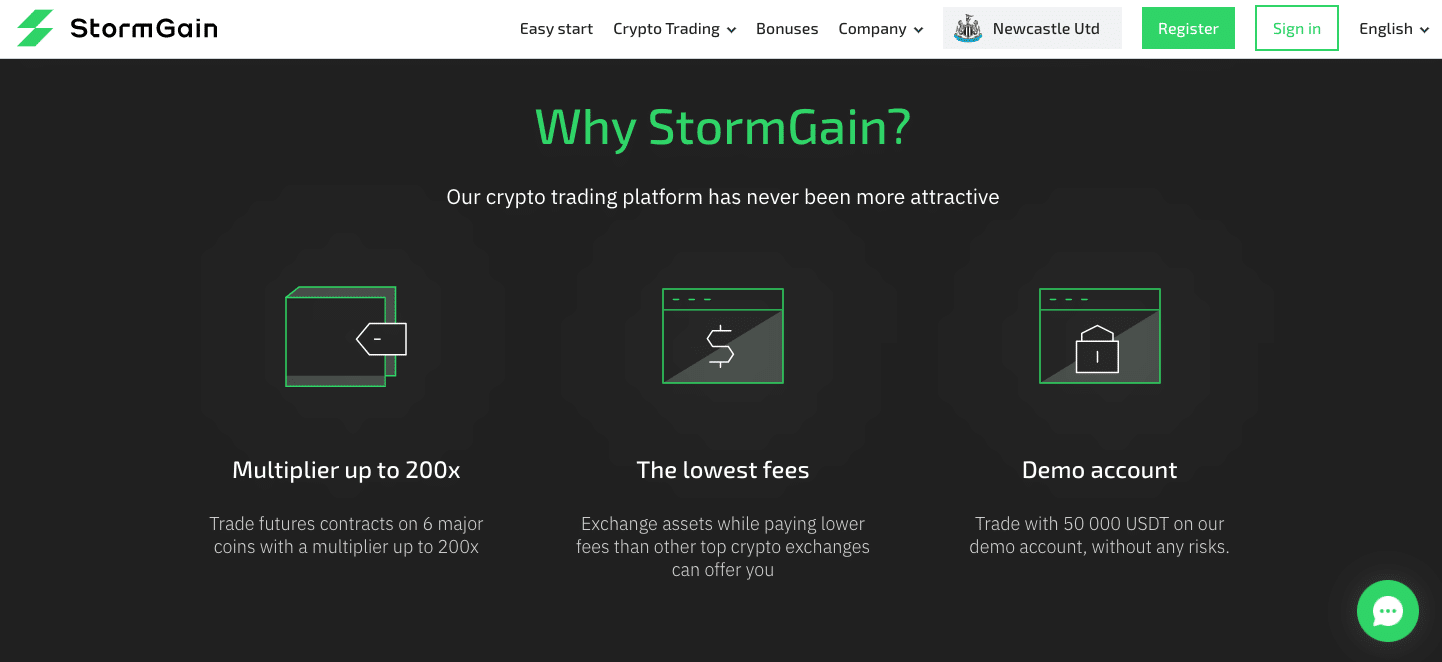 Regarding crypto trading, StormGain provides up to 17 crypto futures based on six cryptos, namely BTC, BCH, ETH, XRP, LTC, and USDT. The USDT is the main currency used for transactions on the StormGain ecosystem and is the best choice given its stability when compared to other cryptos. Tether (USDT) is hedged on the USD at a rate of 1:1. StormGain provides margin trading at a multiplier of up to 200 times. Moreover, it has a minimum trading size of 10 USDT, which can be leveraged to 2,000 USDT worth of cryptocurrency.
Regarding trading fees, StormGain charges a commission of between 0.15% and 0.25% depending on the crypto pair traded. Major offerings such as BTCUSDT, ETHUSDT, LTCUSDT, BCHUSDT, and XRPUSDT attract a commission of 0.15%. The likes of ETHBTC, BCHBTC, LTCBTC, and DSHBTC attract a commission of 0.25%.
Instant exchange fees range between 0.08% and 0.25%. StormGain does not charge any deposit fees. However, a withdrawal fee of 0.1% is applicable for USDT, BTC, BCH, ETH, LTC, and XRP.
StormGain Review: Introduction
StormGain is a platform that provides crypto exchange and leveraged crypto trading services. It was founded in 2019 and is headquartered in London, England. StormGain main target markets include some parts of the UK, Asia, South America, Middle East, and Africa. The platform is not available in the US, Japan, Canada, Syria, Tunisia, Iran, Uganda, Vanuatu, Ethiopia, North Korea, Yemen, Afghanistan, and a few others. StormGain is the official sleeve partner of Newcastle United.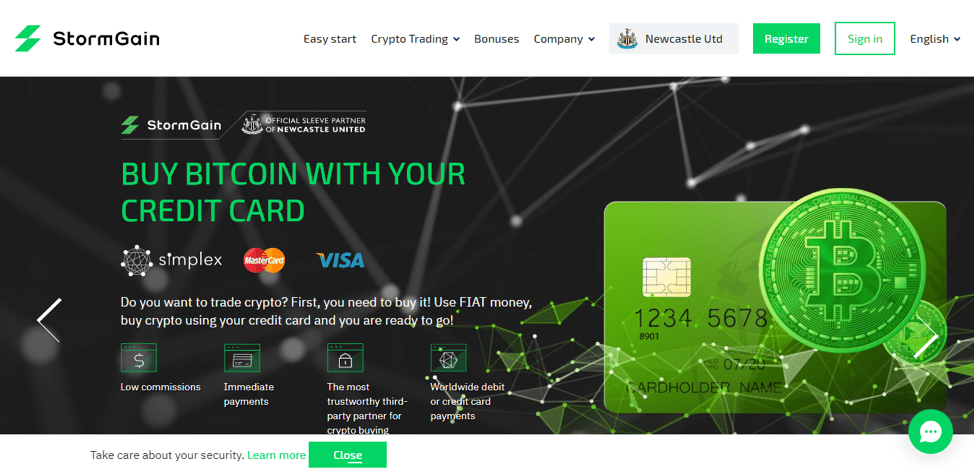 This platform is suitable for those looking to profit from the day to day crypto volatility and those with long-term investment goals. Those interested in margin trading get to enjoy leverage with a multiplier of up to 200 times. This magnifies profits but can also increase the potential of making significant losses. Trading with StormGain involves speculating on short term prices direction. This means that you can profit from both the rising and falling crypto prices.
StormGain provides up to 17 cryptocurrency futures contracts based on six coins. These include BTC, BCH, ETH, XRP, LTC, and USDT. The platform's main currency of operation is Tether (USDT). This means that profits, losses, margin requirements, and account balances are denominated in this currency. USDT makes a good case for a medium of exchange given that it is more stable than BTC, ETH, and many other cryptos. The USDT is tied to the USD in a ratio of 1:1.
Long term investment, on the other hand, involves buying crypto to hold it to realise a capital gain when the prices rise. StormGain provides both the regular and instant crypto exchange services and a multi-currency crypto wallet. Regular crypto exchanges hold assets for the user while the instant ones help users retain custody of their funds by depositing them directly into their wallet. The instant exchanges are considered to be safer than the custodial ones.
StormGain is highly recommended for beginner and experienced traders, given its wide range of trading resources. Even better, users can purchase cryptocurrencies easily from StormGain Exchange using major credit cards. Also, the signup process with this platform is secure and straightforward. StormGain provides an entirely intuitive demo account that is accessible before deposit. Also available are trading signals to help traders follow the latest developments in the market and identify tradable opportunities.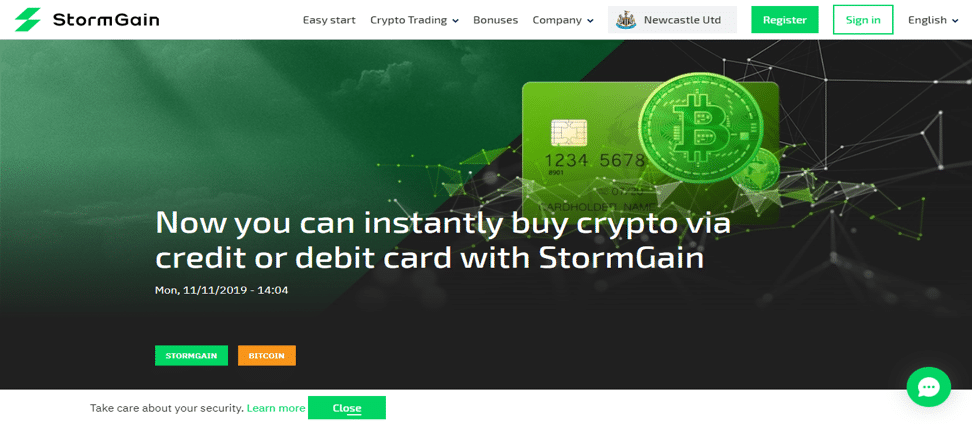 As we will see later in this review, StormGain trading platform is available on the web and also as a desktop and a mobile app. The minimum deposit required to trade with this platform is $50. StormGain provides deposit bonus depending on the type of account. The VIP account of 18% and requires a minimum deposit of 9,999 USDT. Traders with a deposit of below 499 USDT trade with the Standard Account type and do not enjoy any deposit bonus.
Furthermore, StormGain provides 100% liquidity by allowing 24/7 trading on every instrument offered.

25% Bonus Offer For Forexfraud Visitors
Terms And Conditions Apply
Spreads and leverage
As mentioned above, StormGain provides leveraged crypto trading. With this platform, you can trade up to 17 crypto futures at a multiplier of 1:200. This level of leverage is the best in the industry when compared to what other leading crypto trading platforms offer. Case in point, Kraken provides a maximum multiplier of 1:5, Huobi 1:3, and Binance 1:20. These three are the largest crypto exchanges across the globe.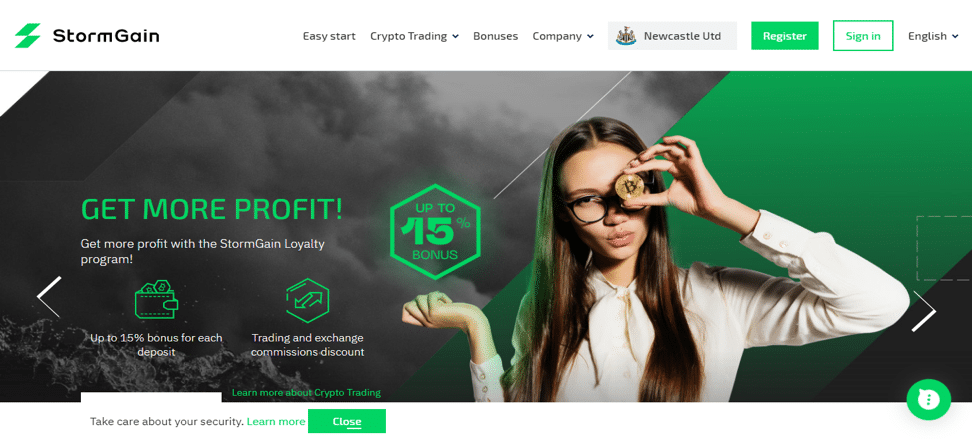 Trading with a multiplier or leverage means that you can use borrowed money to increase the size of your trades. Leverage of 1:200 implies that the platform lends you up to $200 for every $1 worth of capital. While high leverage magnifies profits, it also increases risk by increasing the size of losses. StormGain applies risk management features such as 'stop loss' and 'take profit' to minimise the risk of blowing up a trading account.
A stop-loss feature enables the trader to define the level of risk they are willing to take. This means that they cannot incur losses below the specified level. A take-profit feature, on the other hand, allows traders to determine the level of profit at which trades should be closed. The 'stop-loss' and 'take-profit' features help minimise human emotion in trading hence improving decision making.
Trading platforms
StormGain has a proprietary trading platform that comes in web, desktop, and mobile versions. The web version is accessible from all major browsers while the desktop version is compatible with Windows, Mac, and Linux operating systems. Traders need not worry about StormGain apps since they are lightweight and hence do not require a lot of computing resources to run.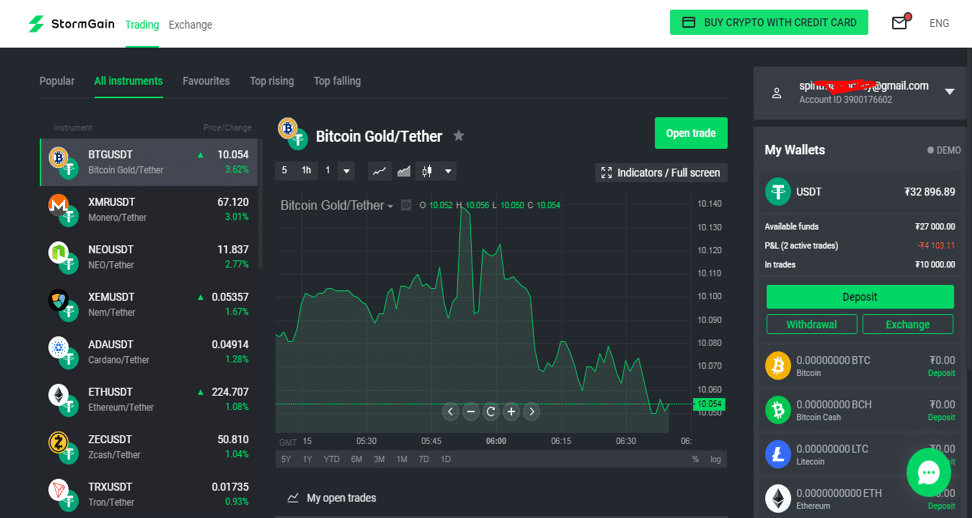 StormGain mobile apps are available on Google Store and the Apple App Store for free. They come with all the functions found in the desktop and web traders. Most of the reviews we have come across indicate that the platforms are highly intuitive and beginner-friendly. This is unlike significant competitors such as Binance, Kraken, and BitMEX.
StormGain provides a wide variety of trading tools. These include indicators, trading signals, and risk management features. The broker provides built-in sentiment indicators to help traders determine how the market perceives certain conditions and make informed choices. Regarding trading signals, this platform relies on a pool of specialists that depend on cutting edge technologies in artificial intelligence to generate tradable insights.
Risk management features include 'stop-loss' and 'take-profit' functionalities. These features enable users to define the level of risk they are willing to take per trade. By doing so, they eliminate human emotions in trading hence improving decision making.
Commissions and Fees
When compared to what most platforms offer, StormGain can be considered as a low-cost trading and exchange platform. The commissions and fees charged depend on the type of account. StormGain provides five types of accounts, namely Standard, Gold, Platinum, Diamond, and VIP. As mentioned above, each account type has a distinct minimum balance requirement and exchange fees.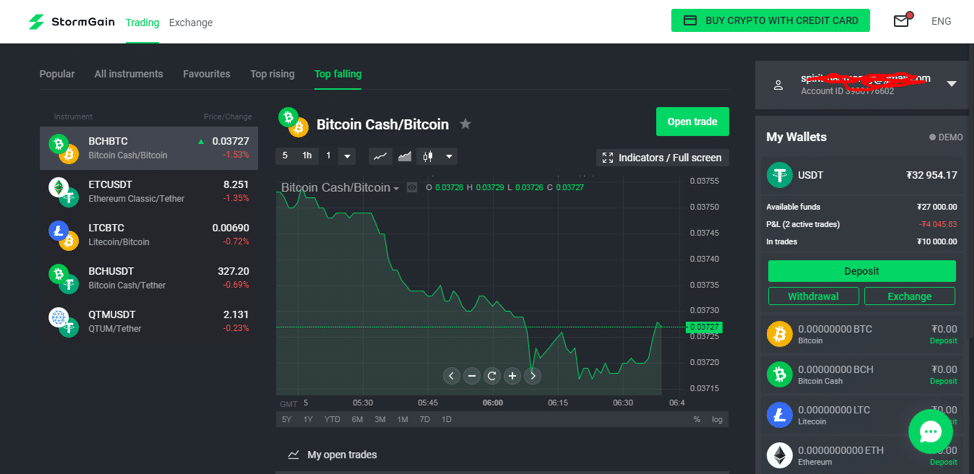 The Standard and Gold accounts have a minimum deposit of <499 USDT and 500–1,499 USDT respectively and attract an exchange commission of 0.08%. The Platinum, Diamond, and VIP account types, on the other hand, attract an exchange commission of 0.07%. However, each of the three account types has a distinct deposit bonus and minimum account balance requirement. The VIP account has the best trading terms but requires a higher minimum deposit of 9,999 USDT, which is equivalent to $9,999. This platform does charge bank deposit commissions and withdrawal fees. A commission of 5% is applicable for all deposits made through debit and credit cards. The deposit commission paid must be 10 (EUR, USD) and above. StormGain accepts a minimum of 50 USDT and a maximum of 20,000 USDT for debit and credit cards deposits. There are no charges for all crypto deposits. A fee of 0.1% applies to all withdrawals made on the platform. StormGain does not provide fiat currency withdrawals.
Final thoughts
StormGain is a fast-growing crypto exchange and leveraged crypto trading platform founded in 2019. The platform has gained popularity since launch and is currently the official sleeve partner of the Newcastle United football club. StormGain has widely been featured in mainstream media including Yahoo finance and the Finance Magnate.
Moreover, the platform has excellent user ratings on independent review sites, including TrustPilot. Most users appear satisfied with its ease of use, trading conditions, and excellent customer service. StormGain has the best pricing when compared to competitors such as Binance and BitMEX.
Compare Stormgain with other approved brokers
| | | | | |
| --- | --- | --- | --- | --- |
| | | | | |
| Regulation | N/A | FCS, CySEC, FSC | ASIC, MiFID, FSA, FSCA | FCA, CySEC, ASIC, Seychelles FSAS, |
| Customer Support | email, phone, live chat | email, phone, live chat | email, phone, live chat | email |
| Trading Platforms | WebTrader, Mobile Apps | MT4, MT5 | MT4, MT5, Mobile App | desktop and mobile via brokers own platform |
| Minimum Deposit | 50 | $10 | $100 | $50 (varying by Country) |
| Leverage | up to 1:300 | Flexible | 400:1 | From 1:2 to 1:30 |
| Total Markets | 60 | 252 | 1260 | 2368 |
| Total Currency Pairs | 0 | 62 | 55 | 49 |
| Total Cryptocurrencies | 60 | 4 | 17 | 37 |
Creating a trading account with StormGain is a walk in the park. Unlike most exchanges, this platform does not require users to go through the tedious and time-consuming KYC process. Moreover, the registration process with this platform is secure. StormGain adheres to strict data protection measures such as the EU General Data Protection Regulation (GDPR).
The only downside with StormGain is that it is not regulated. However, the platform seems committed to operating in high transparency, given that it is among the few exchanges that make full disclosure on its fee mechanism. As mentioned earlier, StormGain's partnership with Newcastle united is enough proof that it is open to public scrutiny.
FAQs
How can I open a demo account with StormGain?
You only need to go through the registration process to access the StormGain demo account. Visit its website and use the registration form displayed on the left upper corner to create an account.
Is StormGain a regulated broker?
StormGain is a crypto exchange and crypto trading platform. It does not fall under the mandate of any broker regulatory body. However, this is not to mean that it is not trustworthy. This review confirms that this platform operates in full transparency.
What are the deposit options for StormGain?
StormGain accepts deposits through crypto wallets and also major debit and credit cards. All deposits through crypto are free, but those made through bank cards attract a charge of 5%.
How do I withdraw from StormGain?
StormGain allows users to withdraw whenever they want. Withdrawal fees apply and depend on the crypto used. This platform does not enable fiat withdrawals.

Open Your Stormgain Account
Trusted Forexfraud Broker
Please be advised that certain products and/or multiplier levels may not be available for traders from EEA countries due to legal restrictions.
---
---