Expert's Summary
With roots stretching all the way back to 1996—which is practically ancient in an industry as young and dynamic as the online trading industry is—Oanda is amongst a select group of highly established brands in the forex trading industry. In fact, Oanda was one of the earliest entrants into this market, and helped to pioneer online trading in the early days.
Being an early adopter of online trading technology allowed Oanda to leverage this position and establish themselves as one of the most recognizable brands in the industry. But with so many new entrants bursting onto the scene in recent years, have Oanda been able to maintain their reputation?
Rating Overview
| | |
| --- | --- |
| Overall rating | |
| Regulation | |
| Fees | |
| Range of Markets | |
| Platforms | |
Through a consortium of forex trading related companies, Oanda have a presence in a range of different sectors in this space, which includes retail forex trading, basic rate quote streaming services, money transfer processing, hedge consulting, and a range of other trading related services. This gives them an unparalleled presence across the online trading space. In terms of what this means for your average retail trader, it means Oanda is certainly a name you can put a lot of trust in.
In terms of how the actual trading experience compares to some of the big-name platforms out there, Oanda performs similarly well. They offer a range of asset classes and instruments, although their focus is primarily on forex trading. This includes major, minor, and exotic currency pairs, as well as CFDs on commodities, metals, bonds, and stock indices.
The trading conditions on offer are generally quite competitive, particularly when compared to similarly-sized platforms. Oanda has one account type of offer, and although it would be nice to see a tiered benefit structure as we see elsewhere, having one basic account type does mean that the trading experience is a lot more streamlined. Spreads are generally very competitive, although this will vary across asset classes.
Another major benefit to using the Oanda platform is that execution speeds are generally incredibly quick. As they handle one of the highest trading volumes in the industry, they had to develop a robust network architecture to support this. This means that execution speeds are very quick, with 98% of all transactions completed in less than 0.057 seconds—which has a lot of added benefits in terms of pricing accuracy.
Users of the platform have a number of different platforms open to them, which includes both the classic MT4—MetaTrader 4—platform, as well as their own proprietary 'Oanda Trade' trading platform. As one of the first online, retail trading platforms, Oanda have had a lot of time to perfect it. The result is that the Oanda Trade platform is robust, easy to use, and packed full of features.
With all that said, having over two decades of experience to their name is clearly paying dividends in terms of the trading experience offered by Oanda. And with a nearly 20% market share of the retail froex trading space, Oanda have clearly struck upon a working formula. Regardless of whether you are a novice or advanced trader, there is something for you on the Oanda trading platform!
You will be hard pressed to find a more highly respected forex and CFD broker in the market than OANDA . The firm, established in 1996, was one of the original pioneers that toiled to make retail  trading a reality for the general public and quickly leveraged its early successes to become an industry powerhouse. Through its now global consortium of forex and CFD-related corporations, it provides a diverse range of currency solutions, ranging from trading to exchange rate data and information. It serves its ever-expanding global customer base with subsidiaries in the U.S., the UK, Japan, Singapore, and Australia, in addition to its headquarters in Toronto, Canada, and complies with regulatory oversight in each of its office jurisdictions. Along the way, OANDA has garnered many industry awards, such as "Best Customer Service" and "Best FX Retail Platform" in 2018. The firm also accepts U.S. clients, but limits their trading to forex.
If you are looking for currency pairings that you cannot find elsewhere, then OANDA may be the one for you. They offer over 70+ major, minor, and exotic forex pairs to choose from, along with CFDs for precious metals, commodities, bonds, and stock indices. If your country does not recognize CFDs as tradable instruments, then you may not be able to access them, but you will still have excess to an extensive library of educational materials, videos, and streaming webinars, fit for all levels of trader. There is no escalating benefit structure tied to your account balance. OANDA does not discriminate in that manner. It has one standard account category, supplemented with a free demo for practice trading. You do have two options when it comes to trading platforms. You can go with their web-based proprietary version, "OANDA Trade", or elect to go with the highly popular Metatrader4 family of product offerings. Mobile trading is also supported for each platform protocol choice.
OANDA's fxTrade platform was actually the first online, fully automated, retail forex trading platform to hit the market. It provides access to the firm's market making, trading desk back office and has been scaled up over the years to handle the largest volumes in the industry at peak efficiency. A recent report stated that, for the year ended in August 2015, 98% of all transactions were completed in less than 0.057 seconds. Other industry sources estimate that the OANDA servers process over one million transactions a day and account for nearly 20% of all industry traffic, quite an accomplished over the past fifteen years. Customer service personnel and support materials rank on the highest end of the scale, and peace of mind is assured by consistent regulatory compliance across the globe with several key oversight agencies. All client deposits are also maintained separately in Top-Tier bank accounts and subject to various national investor protection schemes. OANDA has it all and then some.
Features of Oanda
Why trade with Oanda.com? The firm lists these reasons:
Founded in 1996, with headquarters in Toronto, Canada;
Five other subsidiaries in the U.S., the UK, Japan, Singapore, and Australia;
Regulatory compliance in each of six corporate locations;
All client deposits segregated from operating capital in Top-Tier international bank accounts;
One standard account for all clients comes equipped with a free demo account for practice trading;
No minimum deposit or minimum trade amount;
Over 70+ currency pairs offered, including major, minor, and exotic pairings;
Over 30 CFDs offered in indices, bonds, commodities, and precious metals (check website to see if your local law permits trading in these instruments);
Spreads are competitive (as low as one pip for EUR/USD) – website posts market spreads on all assets in real time;
Leverage is 50:1 for major pairs and 20:1 for all others – Leverage on CFDs varies by asset – see website for details;
Extensive learning academy, support materials, and ongoing webinars;
Multi-lingual "24X5" customer service support available during all market hours.
Oanda Leverage and Spreads
Spread offerings are competitive. For currency pairs, the EUR/USD pair can be as low as 1 pip. Spreads for CFDs vary by asset choice. OANDA also provides an online tab on its website that details the prevailing spreads on all assets offered, each changing in real time. As for leverage, the standard of 50:1 for majors and 20:1 for exotics applies to currency pairings, while leverage for CFDs may vary widely, depending on the sector of the market. Check the website for details.
Oanda Online Trading Platform
The flagship of the OANDA enterprise is its proprietary trading platform, "OANDA Trade". It takes the honor of being the first online, retail forex trading platform to hit the market. From 2001, fxTrade has been continually upgraded and has led the market in new innovative features. It has always been web-based and capable of handling heavy volume through put. If you, however, prefer to use the family of Metatrader4 offerings, then you will not be disappointed. OANDA supports MT4, as well, and all of its systems have a mobile app to permit trading from anywhere, as long as your device can access the Internet. All trading activity and personal identity data are encrypted using the latest technology for security purposes.
Deposits and Withdrawals with Oanda
Checks, credit cards, debit cards or wire transfers may be used to fund your trading account with OANDA. Withdrawals will always follow a similar path, as required by international law. All withdrawal requests will receive quick processing, as long as your personal identity information, again as required by international law, is current, on file, and in order.
Beginner Traders and Oanda Customer Support
Bilingual customer support representatives are professionally trained to assist you with any query that you might have. You can access them via live chat, email, fax, or via phone. There are also eight global offices to add an additional layer of convenience to serve you on a regional basis. Support is available every market day across the globe, on a "24X5" basis. Training materials are also extensive at OANDA, with premium webinars and commentary that will appeal to all traders scheduled daily to prepare you for each day's action and to ensure a favorable trading experience.
Compare Oanda with other approved brokers
| | | | | |
| --- | --- | --- | --- | --- |
| | | | | |
| Regulation | FCA, ASIC, MAS, IIROC | ASIC, MiFID, FSA, FSCA | FCA, CySEC, ASIC, FinCEN, Seychelles FSAS, | FCA, CySEC, DFSA, BaFIN, SCB, CMA & ASIC |
| Customer Support | email, phone | email, phone, live chat | email, phone | email, phone, live chat |
| Trading Platforms | MT4 | MT4, MT5, Mobile App | desktop and mobile via brokers own platform | MT4, MT5, cTrader, TradingView |
| Minimum Deposit | None | $100 | $200 | $200 |
| Leverage | 1:30 | 400:1 | From 1:2 to 1:30 | 1:30 |
| Total Markets | 124 | 1260 | 2368 | 1200 |
| Total Currency Pairs | 69 | 55 | 49 | 62 |
| Total Cryptocurrencies | 2 | 17 | 37 | 18 |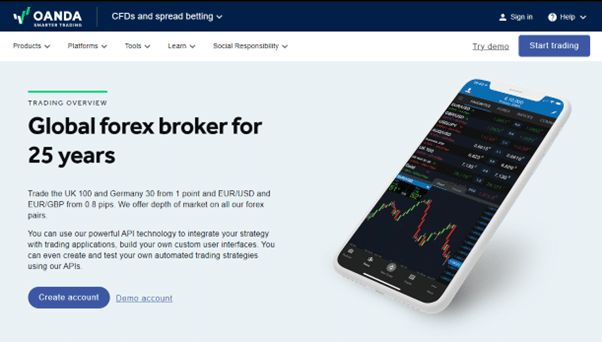 Opening an Account
OANDA offers a range of high-end services as well as CFD and spread betting products. Accessing the brokerage platform's 'sign up' page simply involves heading to that service from the homepage.
After clicking on the 'Start Trading' button, new users are taken through a range of bullet point style questions which ensure clients comply with rules and regulations relating to their place of domicile.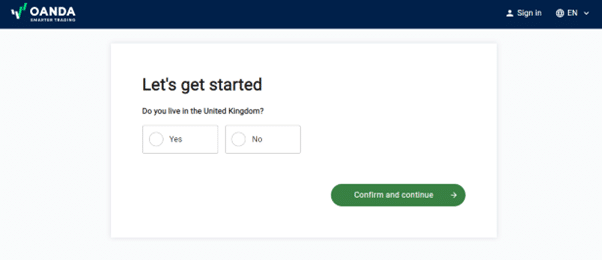 The Key Information Documents and the Tariff of Prices and Charges can be easily accessed at this stage – allowing users to get a full breakdown of what to expect from the service.
New clients then have to advise on their nationality and provide KYC (Know Your Client) style information so that the broker can set up an accurate profile.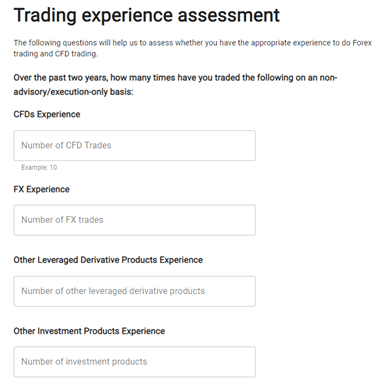 This aligns with standard market practice and is a sign that the broker is well-regulated. OANDA has been operating for more than 25 years, and the process was as straightforward as one would expect from a firm as well established as that.
There aren't necessarily any right or wrong answers to the questions about trading experience and knowledge of the markets. The questions are asked according to regulatory protocols and are a convenient way for traders to re-evaluate their investment aims.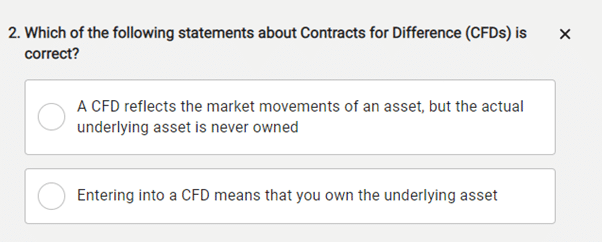 Making a Deposit
New clients then need to click on the verification link sent to their email account, but during the short time interval while OANDA processes the application, it is still possible to fund your account.
To transfer funds to your new OANDA account, you must create a Bank Account Profile (BAP). It involves providing a copy of a recent bank statement and other account information. This process helps OANDA stand out from the crowd and makes future payments an easy and convenient procedure. While it adds a small amount of time to the onboarding process, it is another nod to OANDA being a well-run and legitimate broker.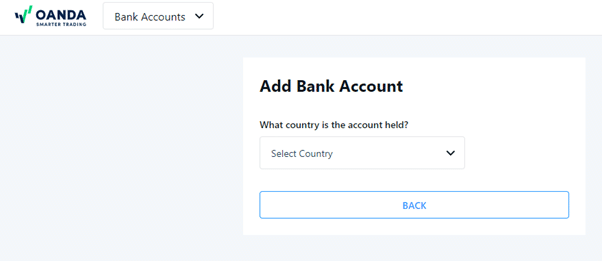 The range of payment options is relatively streamlined. Funds can be sent via bank transfer, debit or credit cards, SWIFT, or PayPal; if withdrawing funds, payments must be sent to the account which made the original transaction. That helps OANDA comply with Anti Money-Laundering (AML) protocols and offers clients an added layer of security – funds can't be sent to a third party from your OANDA account.

Placing a Trade
OANDA offers the basic MetaTrader MT4 trading platform and an in-house OANDA Web platform. The version of MT4 that OANDA offers is an upgrade on the standard MT4 trading platform. It allows traders to access a full range of instruments and services they have come to expect from market-leading MT4, with the additional benefit of OANDA pricing terms, enhanced trading signals and indicators.

One of the neat features of the OANDA service is how it supports those looking to run automated trading strategies. To test the service, we booked manual trades in a variety of forex markets using the OANDA Web platform. Trade execution was immediate and reliable, with our positions reflected in the portfolio section of the screen.

When closing out positions, the platform provides a neat double-check. It asks traders to confirm their intention before executing.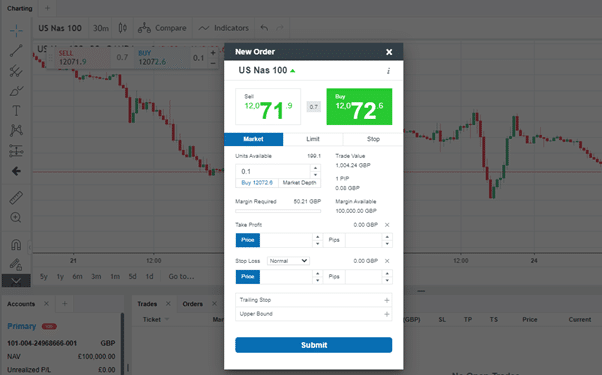 Contacting Customer Support
To ensure clients receive the best possible support, users who contact customer support must confirm the country in which they are based.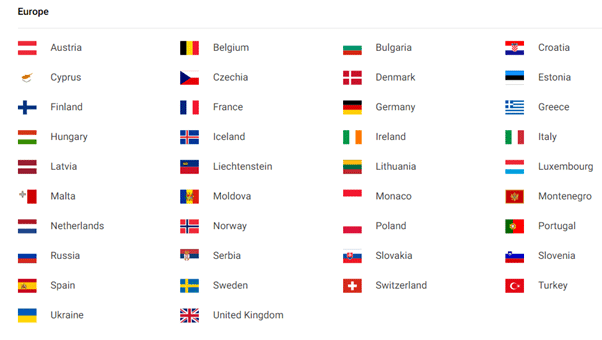 The next stage of the process involves using the well-laid-out FAQs or activating an automated messenger system which supports six different languages. These are both user-friendly and can help resolve queries on subjects from how to set up 2FA (Two Factor Verification) to how to book a trade.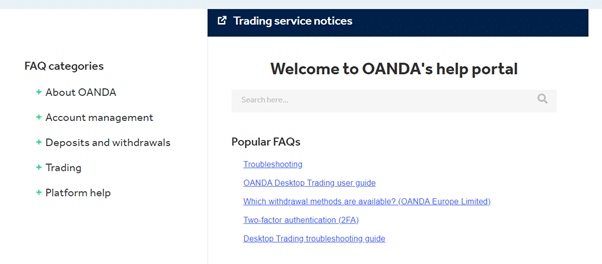 When using the Live Chat service, we found that the chatbot failed to address some of our questions and did not direct us to a human agent.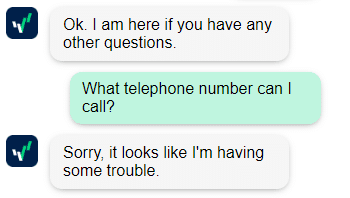 More in-depth queries, such as those relating to details of a trade, are dealt with by the OANDA support team contactable by email. There are clear procedures about what information is required, helping ensure issues can be resolved quickly.
Oanda Review Conclusion
As stated above, OANDA has it all and then some. The firm has been there since the beginning, and it shows. They have won many industry awards for excellence in all facets of the business and are best known for their early trailblazing efforts in providing conversion rates for the public and then leveraging those experiences to produce the first online, fully automated, retail forex trading platform. Over the course of the last two decades, OANDA has amassed nearly a 20% share of the retail forex trading market and continues to grow and prosper. Size does have its advantages in this business, as do long-term relationships with major global liquidity providers and with major regulatory bodies. The management team's commitment on its website says it all: "We're dedicated to your success. OANDA is flexible enough to appeal to any trader." The choice is yours.
Your capital is at risk. Losses can exceed investment. Leverage trading is high risk and not for everyone

Please be advised that certain products and/or multiplier levels may not be available for traders from EEA countries due to legal restrictions.
---
---