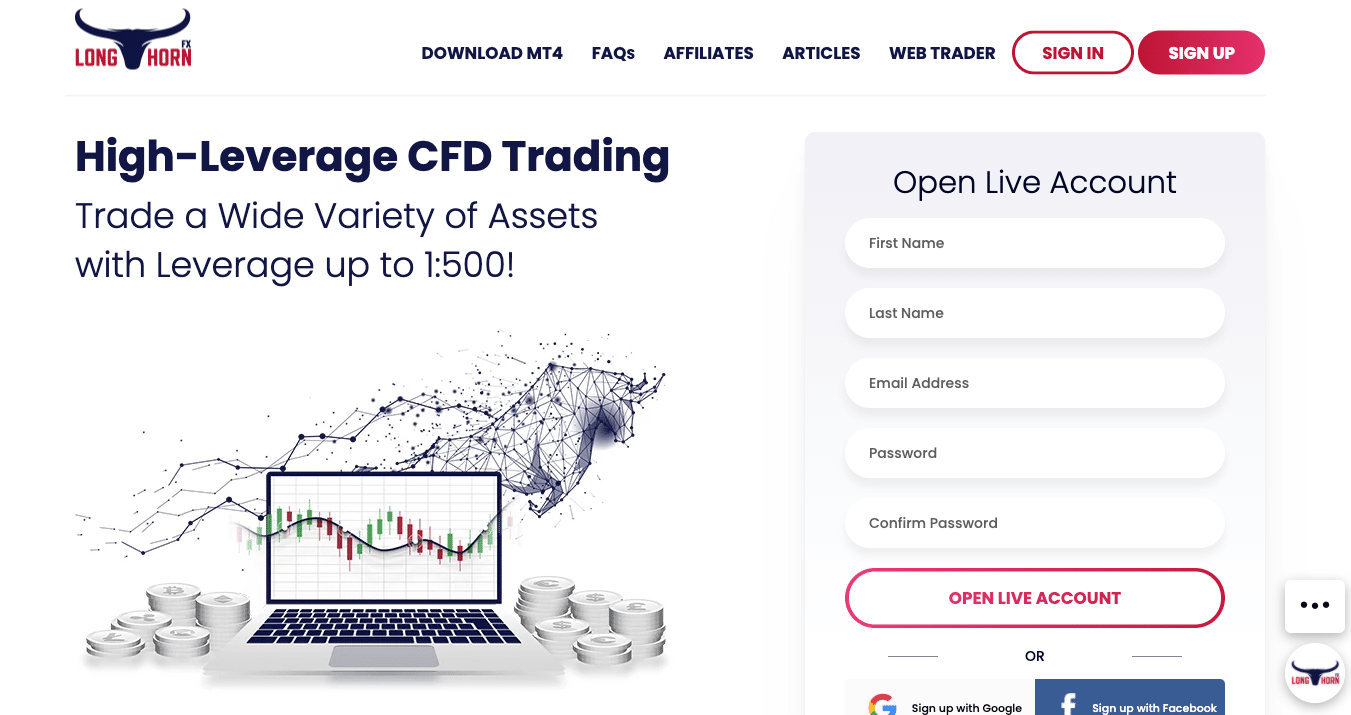 Expert's Viewpoint
With so many brokers launching in recent years, it can often be difficult to keep pace with all the new developments in that space. With that said, Longhorn FX is one of a new crop of online brokerages that are looking to make a name for themselves in an increasingly crowded market.
Founded in 2020 in Saint Vincent and the Grenadines, Longhorn FX is a broker that places a lot of emphasis on openness, transparency and offering users of the platform favourable trading conditions delivered in a stable, easy-to-use package.
Does the broker live up to this promise?
With 150 tradeable assets on offer – including 35 cryptocurrency pairs, 55 currency pairs, 64 stocks, 11 indices, and various commodities – Longhorn FX does not necessarily have the widest selection out there, even for a broker of its size. As such, the Longhorn FX stock trading platform is probably best suited to the beginner or intermediate trader looking to trade the main assets and markets. Having said this, the spreads on offer are generally competitive, which makes this broker a solid choice for traders of all experience levels.
Withdrawals and deposits to the platform are made using bitcoin, and there is a flat fee for all withdrawals no matter the size of the transaction. If you don't have ready access to bitcoin when making your initial deposit, Longhorn FX does provide access to a third-party bitcoin provider where you can purchase bitcoin using major credit or debit cards. Bitcoin transfers are the preferred payment method for Longhorn FX as the transactions can be processed incredibly quickly.
In terms of the overall package on offer, although not necessarily offering any particularly innovative features, Longhorn FX has nevertheless put together a really solid package. The spreads on offer are competitive and the trading conditions are generally very favourable. Although more experienced traders might prefer a bigger selection of assets to trade, for new and intermediate traders, there is plenty of choice on offer.
In terms of the features, they scored highly in this Longhorn FX brokerage review, and we were particularly impressed by the cold storage system in place. This stores client funds that aren't being actively traded in a secure, off-site, offline vault, which means that they are fully protected from misappropriation or mismanagement.
Generally speaking, Longhorn FX seems to be a relatively trustworthy broker. However, users should note that as it is a relatively new broker, having only been founded in 2020, it still has some improvements to make in terms of its regulatory status.
Longhorn FX Review Introduction
Longhorn FX is one of the many new online brokers that have burst onto the scene in recent years. Founded in 2020 with a view to offering users an exceptional trading experience based on transparency, innovation and efficiency, Longhorn FX has quickly started to build a name for itself.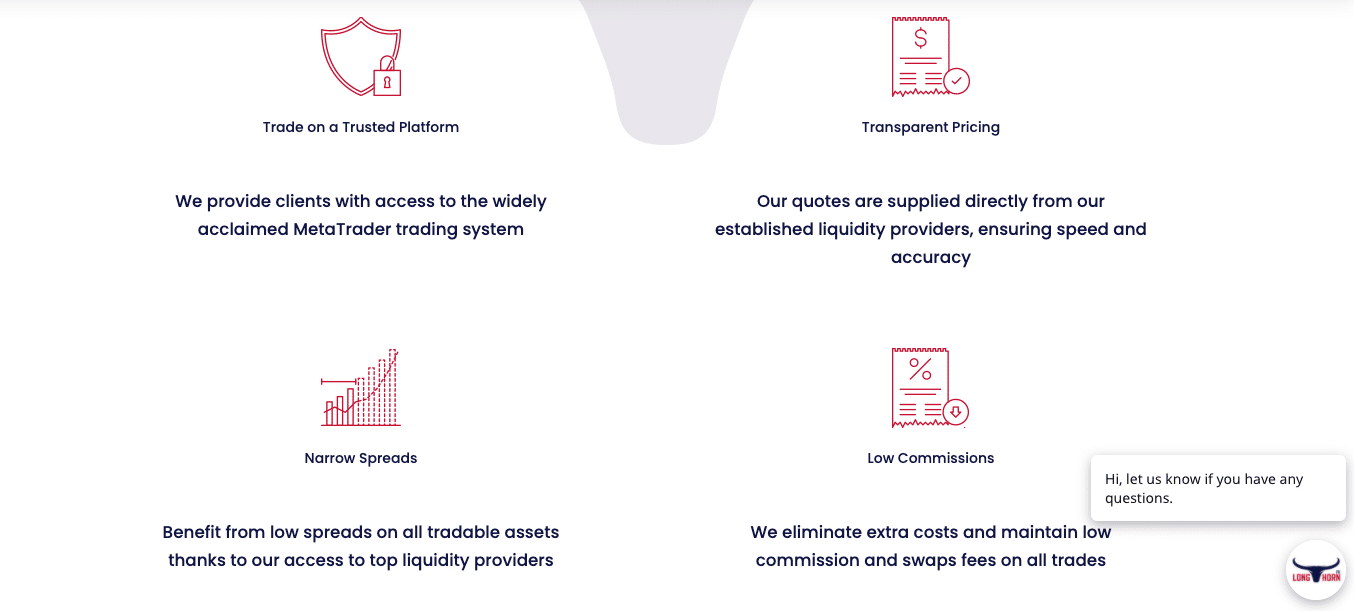 With so many new brokers appearing in recent years, however, this is no easy task – and in this increasingly crowded environment, it has become more difficult than ever to establish your name and to build up a solid user base with so much competition out there. With that said, in this review of Longhorn FX, we will give you a full breakdown so that you can get a better sense of how it stacks up against the competition.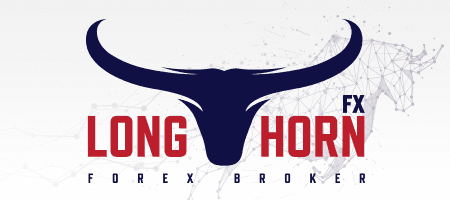 Open Your Account Now
Simple Sign Up Process
Longhorn FX is a financial service provider dedicated to delivering a superior trading experience and providing traders with a high quality-trading experience no matter their level of experience or skill. The broker looks to deliver transparent pricing, fast and accurate order execution, and high levels of user trust. As an ECN STP broker, Longhorn FX can receive and offer quotes directly from liquidity providers, meaning that the trading conditions on offer are incredibly competitive.
Is Longhorn FX worth trying out, or are there simply better brokers out there? Keep reading this Longhorn FX brokerage review to find out the definitive answer to this question!
Spreads & Leverage
In terms of the assets you can trade on the Longhorn FX platform, users are given instant access to over 150 tradable assets. These include 35 cryptocurrency pairs, 55 FX currency pairs, 64 stocks, 11 indices, and commodities such as oil and metals. Although this is not necessarily the widest variety of tradeable assets we have seen, it nevertheless covers all the major tradeable assets. For this reason, the Longhorn FX platform is better suited to beginner or intermediate traders looking to trade the most liquid markets.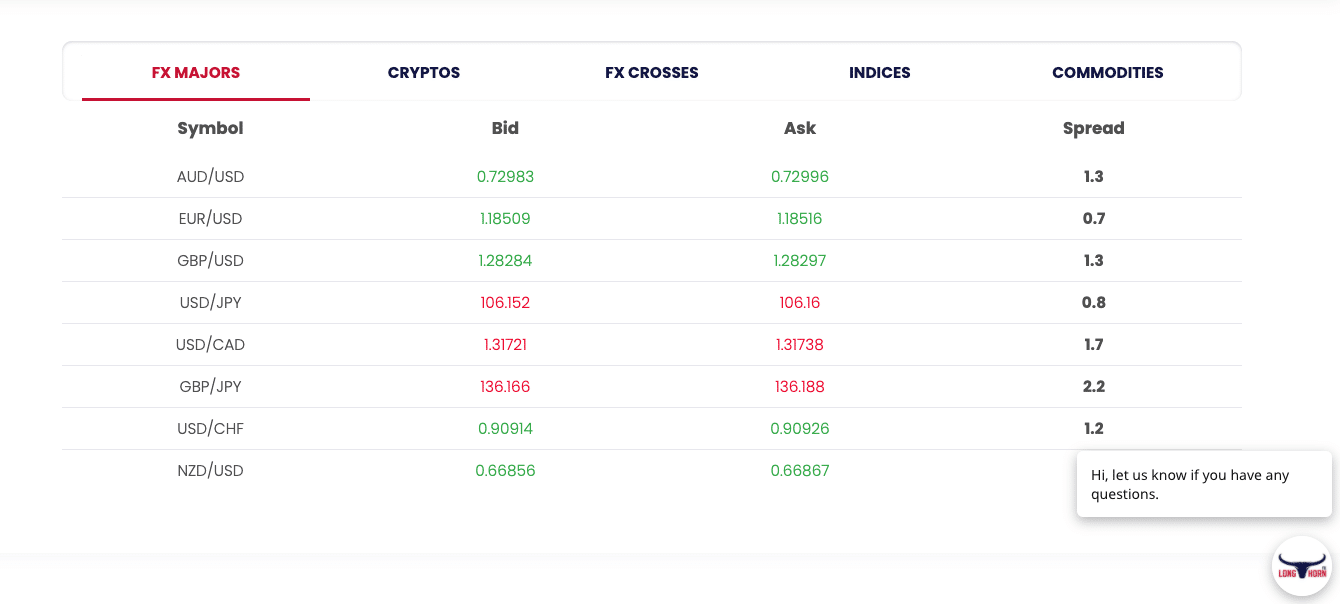 The spreads on offer will depend on the asset you are looking to trade, though on major FX currency pairs, this could be anywhere from 0.9 on EUR/USD to 1.8 on USD/CAD. On cryptos, a spread on BTC/USD could be around 23.60000. Generally speaking, these are quite competitive, though not necessarily market-leading. It is also important to note that the spreads quoted here are just indicative – the actual spreads offered fluctuate up and down over the course of the day depending on the trading conditions at that moment. The access to liquidity that Longhorn FX has, however, ensures that the spreads are always quite competitive.
Those of you looking to trade using leverage will be happy to note that Longhorn FX offers a maximum leverage of up to 1:500 – which is pretty much as high as the vast majority of online brokers tend to offer.
You should note, however, that the maximum leverage offered will depend on the instrument you are looking to trade. Currently, the maximum leverage available for each asset class is as follows:
Forex: 1:500
Metals: 1:500
Indices: 1:200
Energy: 1:200
Crypto: 1:100
Stocks: 1:20
As stated at the beginning of this review of Longhorn FX, it is an ECN STP broker, which means that it can offer incredibly accurate quotes based on cutting-edge market data. Having access to established liquidity providers in this manner means that quotes will be provided with unparalleled speed and accuracy. For those of you looking to do some Longhorn FX stock trading, this is a great sign.
Platform & Tools
As with the vast majority of platforms around these days, trading on the Longhorn FX platform is delivered through the MetaTrader 4 (MT4) platform. If you have ever used an online trading broker before, then you are more than likely familiar with the MT4 platform, given that it is by far the most popular choice among online brokerages these days.

The MT4 platform has become an industry standard for a reason. Not only is it customisable to all skill and experiences levels, but it is also one of the easiest-to-use platforms and offers an incredibly stable trading environment. The MT4 platform comes readily compatible in both Windows and Mac OS versions, and there is also a cross-compatible web-trader version. The MT4 web-trader is a great option if you don't want to download any dedicated software or you are accessing your account on the go.
While it would be good to see Longhorn FX offer MetaTrader 5 access, the industry has generally been quite slow to switch to the new version, so we can't really fault the broker for that. Having said that, this is something that we would like to see in the near future.
If you want to try out the platform and get a feel for how usable it is, Longhorn FX provides a full-featured demo account for new users. Simply sign up for an account and get trading in a risk-free environment that exactly mimics real-time trading conditions.
Additionally, for those of you looking to take your trading on the go, Longhorn FX offers a full-featured mobile trading experience that allows you to access your account on the move. The MT4 platform comes fully equipped with a mobile trading platform that is available on PC, iOS, Android, and through your browser.
The only thing that we would critique Longhorn FX on is the lack of advanced trading features such as dedicated social or copy trading, or other types of advanced research and technical analysis tools. Having said that, Longhorn FX is a relatively new broker, so there is plenty of time for it to implement some of these more advanced features in the near future.
Commissions & Fees
As was mentioned at the start of this review of Longhorn FX, the Longhorn FX trading platform was founded with a view towards offering users a transparent pricing structure that eliminates extra costs – but does the broker live up to this promise?
Generally speaking, Longhorn FX is very open and transparent when it comes to setting out all the various costs and fees associated with trading on the platform.
As such, Longhorn FX does seem to be making an effort to maintain low commission and swap fees on all trade types. How does this compare with other similarly sized brokers though? While not offering the lowest fees we have seen, with some of the larger brokers out there offering zero commissions and swap fees on trades, the pricing structure on the Longhorn FX platform is generally quite low.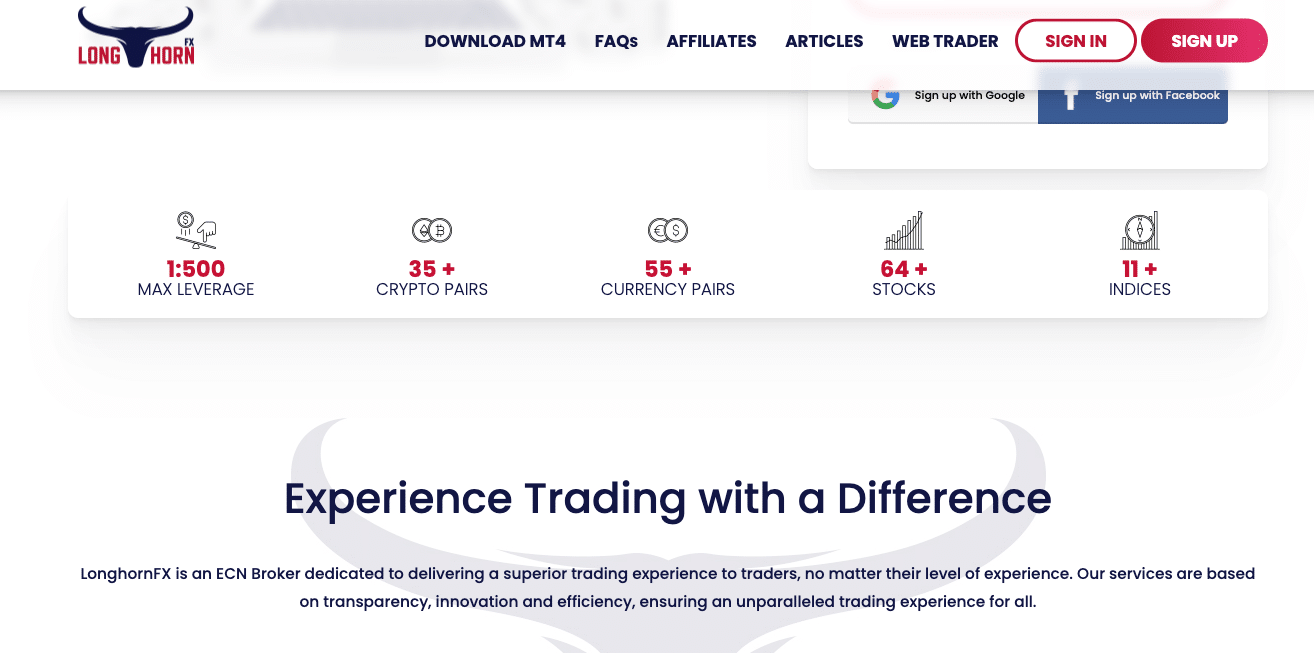 We also need to remember that low fees aren't the only thing that you should look out for when choosing a broker to trade with, as it is quite common for trading platforms to promise zero commission trades, which they make up for by offering less competitive spreads. With that in mind, while Longhorn FX does charge some fees and commissions, they are generally quite low, and the competitive spreads offered by the broker do balance this out in the long run. Being an ECN STP dealer means that Longhorn FX can offer very accurate prices, which helps to keep the spreads competitive.
The main fee that Longhorn FX will charge is on each lot traded, which currently stands at $6/£6/€6. If a smaller lot – also known as a micro-lot – is traded, then this will be charged at a percentage of a full lot. There are also fees charged for withdrawals from the platform – this is currently a flat fee set at 0.0005BTC.
Education
In terms of the educational materials and resources available on the platform, Longhorn FX does not have a huge amount on offer. There does not appear to be any dedicated education and learning section where users can brush up on their fundamental skills and technical analysis techniques.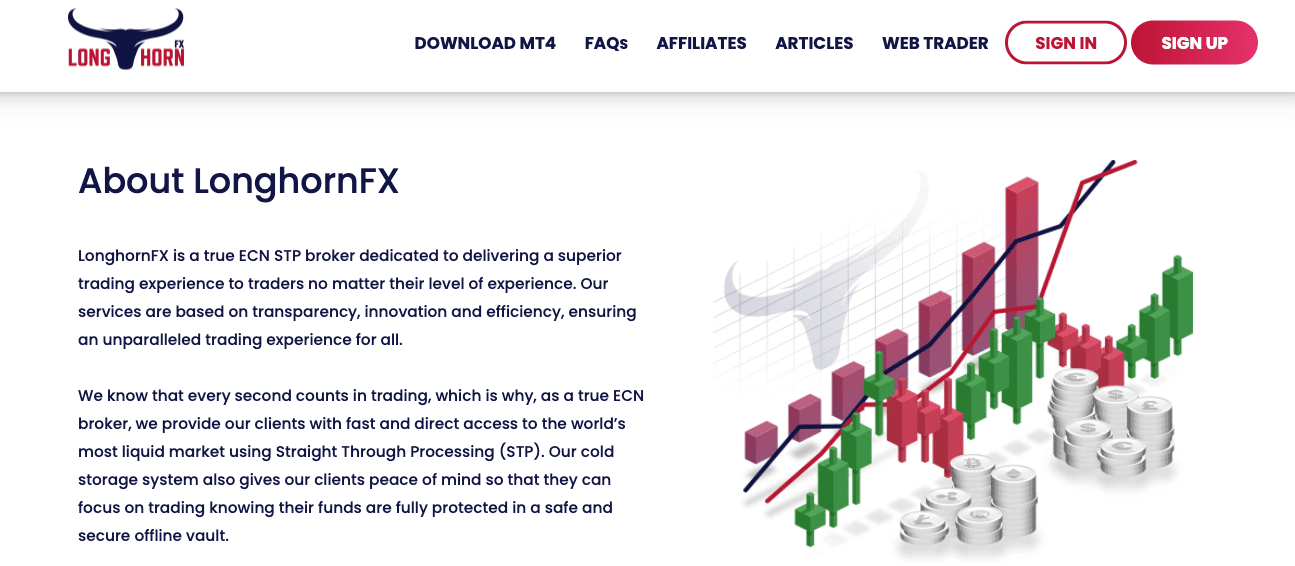 The broker does have a well-resourced 'Articles' section on its website, however, which provides in-depth pieces on a variety of topics related to crypto trading and the FX markets. This section includes a number of guides to various aspects of trading on the Longhorn FX platform – these are a great way to build up your knowledge.
As Longhorn FX is a trading platform that is mainly aimed at the intermediate trading demographic, it would be good to see slightly more options available in terms of educational materials. Having said that, Longhorn FX is a relatively young trading platform, so there are plenty of opportunities to expand the existing selection in the near future.
Customer Service
The level of customer support on offer is one of the most important features of any online brokerage or trading platform. As online brokers deal with highly sensitive customer information, there is always a risk that this might be misused in some way.
Additionally, when you are dealing with something as important as financial trading where small mistakes could cost you financially, it is incredibly important to not only have a trustworthy broker, but to also have one that can efficiently deal with any issues that arise. For this reason, in this review of Longhorn FX, we have put a lot of emphasis on how its customer support team stacks up against the competition.
In terms of what we look for when rating the customer support on offer in a broker review, generally speaking we will look for the number of contact options available, the effectiveness of the advice offered, and the efficiency of the response times.
Thankfully, having conducted thorough research for this review of Longhorn FX, we can safely say that Longhorn FX scores highly on all fronts.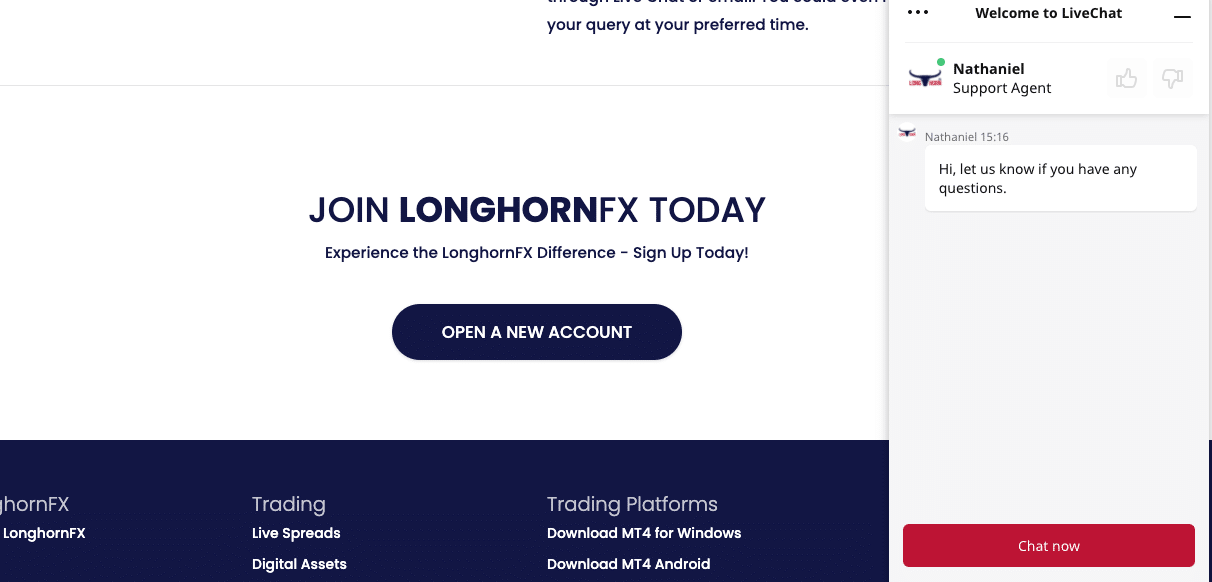 Any problems related to your Longhorn FX brokerage account can be directed to the customer service and support team. Users of the platform can submit any queries to the team using a live chat feature built into the website, or via phone and email. Response times on all of these are usually pretty fast, with most responses coming in well under an hour. Additionally, there is also a comprehensive FAQs section on the Longhorn FX website that covers many of the common issues that you might run into. The customer support team is available 24/7 through the live chat box on the website.
The Longhorn FX stock trading platform also allows you to request a call-back from a member of the customer support team, which is a feature that we have not seen on many other trading platforms. This allows you to fill in a form with some brief details about the nature of your query, and to request that a member of the support team calls you back directly by phone. This is a useful feature as it saves you the hassle of trying to get through to a member of the customer support team, particularly when the phone lines might be busy.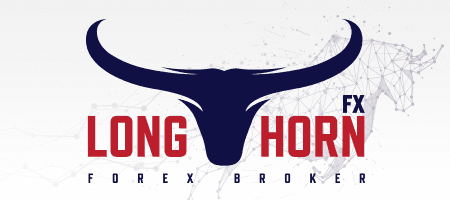 Open Your Account Now
Simple Sign Up Process
Final Thoughts: Longhorn FX Review Conclusion
We were particularly impressed by the same-day withdrawals that Longhorn FX commits to, which make it very easy to access your funds.
With a minimum deposit of only $10, Longhorn FX is a great brokerage for newer traders who might not be ready to commit more significant funds to the platform. Additionally, the full-featured demo account gives you the chance to try the platform before making an initial deposit.
Although Longhorn FX has put together a trading package that is pretty good all round, it isn't necessary packed full of unique features, as some of the other larger trading platforms are. Having said that, the features that it does offer are executed very well – such as the affiliate programme, which offers users of the platforms an opportunity to make some additional cash by inviting new users to the platform and earning a commission on each trade they make.
With all that said, if you are a novice or an intermediate trader looking for a platform that offers a scaled down, but very well-executed, trading package, then Longhorn FX could be just the platform for you. Although lacking a few of the advanced features we might like to see, ultimately the trading conditions on offer are very favourable.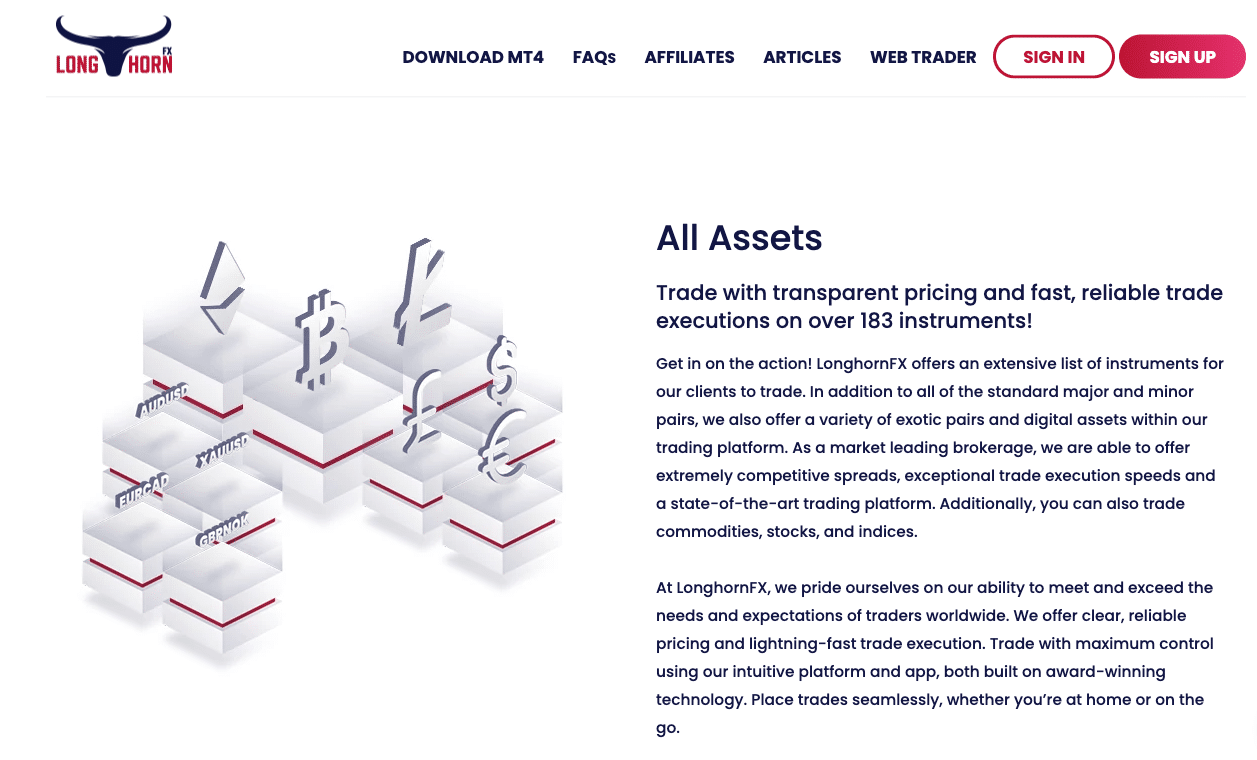 We were particularly impressed by the quick execution speeds and the accurate price data, which makes trading with Longhorn FX a seamless experience. Although advanced users might find the platform slightly lacking in certain respects, if you fall into the new or intermediate bracket, then Longhorn FX could be the platform for you!
FAQs
How can I open a demo account with Longhorn FX?
To open a demo trading account with Longhorn FX, simply register for a new account and verify your account as instructed. Once completed, you will be given the option to open a demo trading account on the platform. From here, you can use this demo account to get a taste of what it is like to trade with the Longhorn FX platform. Demo accounts can be used through the web-trader platform on the Longhorn FX website.
Is Longhorn FX a regulated broker?
Longhorn FX is currently registered as 'Longhorn LLC' and its address is: Longhorn LLC, First Floor, First St Vincent Bank Building, James Street, Kingstown, Saint Vincent and the Grenadines. Having been registered in Saint Vincent and the Grenadines, it is currently regulated by the Financial Services Authority. Additionally, it is fully compliant with a number of anti-money laundering regulations and directives.
What are the deposit options for Longhorn FX?
The main deposit option for users of Longhorn FX is bitcoin. Traders can also make deposits using credit/debit cards from a third-party payments provider, though when you select credit/debit card, you will be redirected to a third party that will provide you with access to purchase bitcoin instantly. Once you have deposited bitcoin to your account, you will be able to trade with these funds. As bitcoin transactions can be processed instantly, there will be little delay in getting started trading compared to traditional deposit methods.
What bonus terms does Longhorn FX offer?
Longhorn FX does not generally offer any specific welcome bonuses or other ad-hoc promotional schemes. However, it does have an affiliate programme in place that allows you to earn a commission made by referring new users to the platform. Full details of the affiliate scheme are available through the Longhorn FX website.
How do I withdraw money from Longhorn FX?
To make a withdrawal from the Longhorn FX platform, simply submit a withdrawal request to the payments team through the account management and payments section. Once the withdrawal request has been submitted, it will get reviewed by a member of the payments team on the same day of submission. Once approved, your withdrawal will be made using bitcoin, with the withdrawal typically taking under one hour to full process. Bitcoin withdrawals carry a 0.0005BTC fee, as is required by the network. This is a fixed fee and will not change regardless of the amount withdrawn. The minimum deposit you can make is BTC=$10.
Please be advised that certain products and/or multiplier levels may not be available for traders from EEA countries due to legal restrictions.
---
---
Looking Forward To An Uncertain Few Months
24.05.2022
If the bad news is that major global equity markets are heading towards forming a bear market, then the even worse news is that the increased price volatility looks set to be the dominant theme for the next few months.
Read more