Expert's viewpoint
When it initially launched in 2005, Liteforex required only a $1 deposit. Although this has since risen to $50, it remains one of the most affordable brokers for the average person to start trading with. Its fees are comparatively low, it offers a demo account, and its social trading facility gives traders the option of copying the actions of successful traders rather than making decisions independently, which is particularly appealing to beginners and to those who don't have much time to devote to trading. All these factors make it an attractive place to start out trading.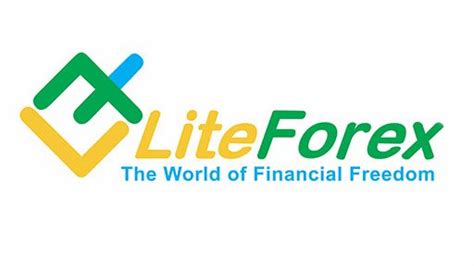 Open Your Account Now
Simple Sign Up Process
If one thing stands out about Liteforex when compared to other brokers, it's that its website, educational materials and trading tools are very well organised. This makes it much easier for you to find what you're looking for at speed. In general, it's very user-friendly. Its compatibility with MetaTrader 4 (MT4) and MetaTrader 5 (MT5) adds to this appeal, making it quick and easy to get up to speed with Liteforex if you're already used to trading with other popular brokers.
The trading tools are also simple to use but no less effective for it. The variety of perspectives available on changing markets will be helpful for inexperienced traders. The presence of independent analysis is a reassuring touch that more brokers should consider.
Rating Overview
| | |
| --- | --- |
| Overall rating | |
| Regulation | |
| Fees | |
| Range of Markets | |
| Platforms | |
24-hour telephone support on trading days and award-winning live chat, both available in multiple languages, mean that it's easy to get support when needed. There's also a helpful FAQ section.
On the minus side, the absence of protection from any major regulatory body for clients outside the EU and UAE is likely to be off-putting for a lot of traders. Other important issues around security are unclear – for instance, the broker states that its client funds are stored in top-tier banks but does not name them. It does, however, offer a thorough approach to client verification, so you can be confident that thieves will find it difficult to access your account.
All in all, Liteforex is a refreshingly straightforward option. It doesn't have the best range of assets out there, and it needs to do more to reassure traders that it's properly run in every jurisdiction where it operates, but it has quite a few plus points and many traders will feel that on balance, it's a good fit for them.
Broker summary
Headquartered in the Marshall Islands with branches across the world, Liteforex is an easy-access broker with a practical approach to serving its clients. It requires a low deposit of just $50 and offers highly competitive leverage.
Alongside currency trading, it offers forex on metals, oils, cryptocurrencies and global stock indices, as well as CFDs on the NYSE and NASDAQ. Within these categories, the overall range is smaller than that offered by most of the better-known brokers, but many traders will still be satisfied with what's available. It doesn't offer futures or bonds, so you may not want to make it your sole broker over the long term if you're trying to diversify and balance your trading.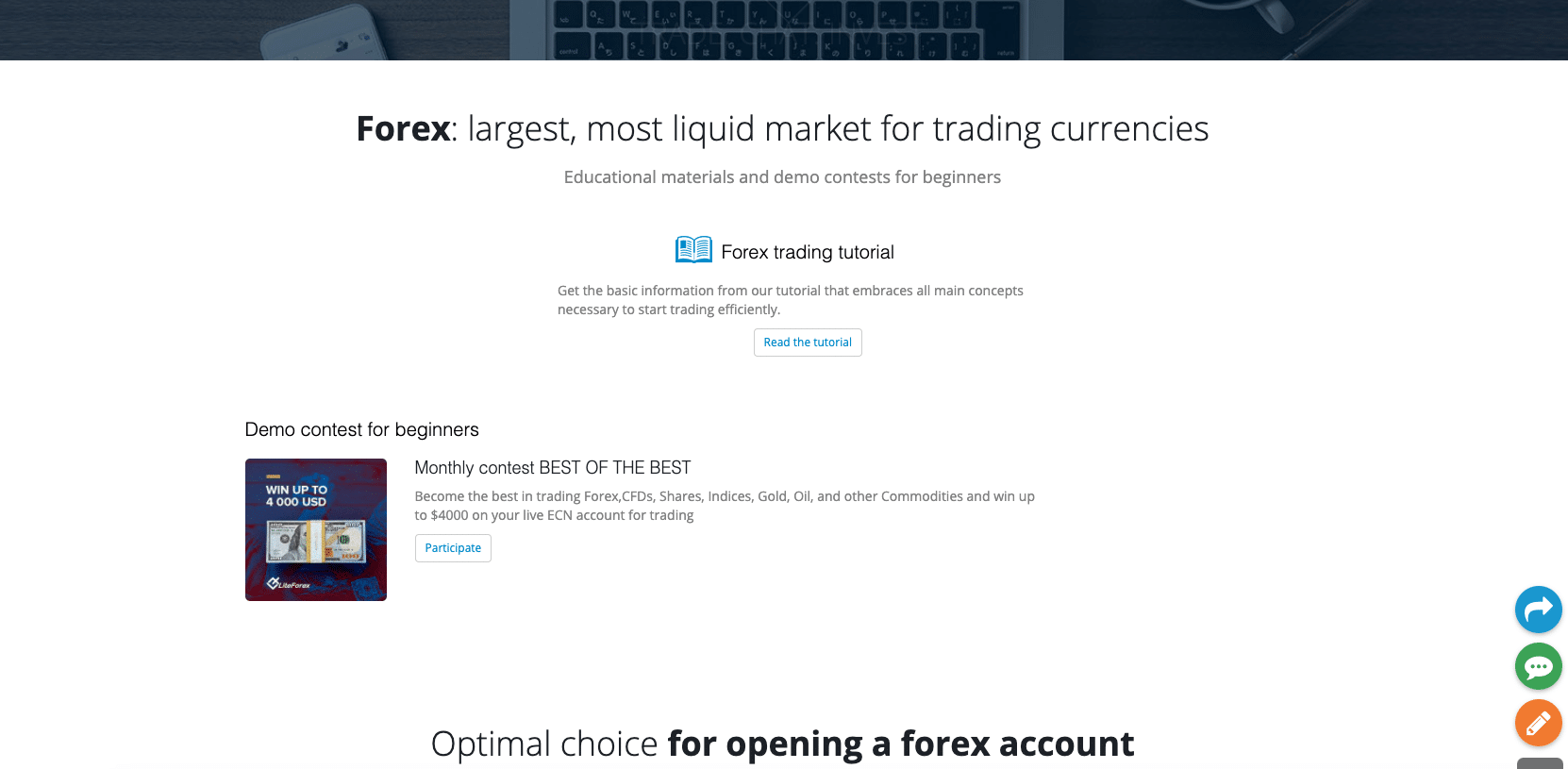 The educational resources available through Liteforex are first rate. It also provides directions to independent sources of learning. Users are continually encouraged to find out more and to improve their understanding of the trading process, rather than simply being persuaded to spend more money on Liteforex.
Broker introduction
Founded in 2005, Liteforex has grown to the point where it now serves over one and a half million clients. It has won multiple awards and been included on World Finance magazine's 'World Finance 100' international list.
A Classic account and an ECN account are available. If you choose to open a new account in order to access different options, it's easy to transfer funds across to it from the account you were previously using. There's also a demo account that you can use to learn the ropes.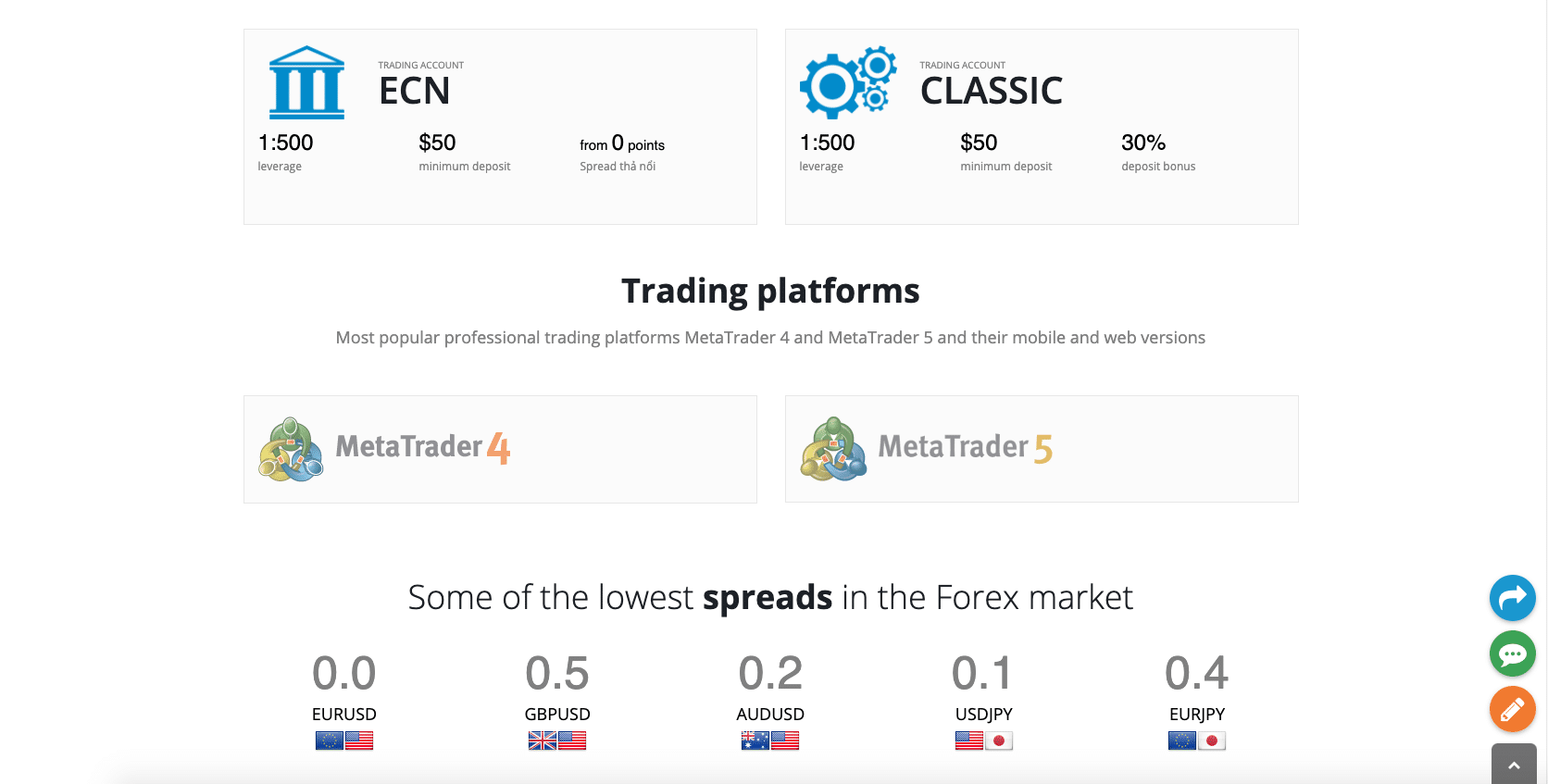 Liteforex uses MT4 and MT5, so it's easy to get started. There's also a mobile app. Auto trading is available, and the broker's social trading facility, which uses a bespoke app, means that you can copy other people's trades.
Negative balance protection ensures that when market volatility is unusually high, Liteforex clients are protected from losses exceeding the value of their initial investments.
Spreads & leverage
Liteforex doesn't offer the tightest spreads out there, but they compare fairly well with what you'll find available from most similar brokers, and in light of the costs associated with trading, they offer reasonable value for money.
The Liteforex Classic account offers leverage at 1:1 to 1:500. According to the main section of the broker's website, the ECN account offers leverage at 1:1 to 1:500, but there's a discrepancy in the FAQ section, which says it's available at 1:1000.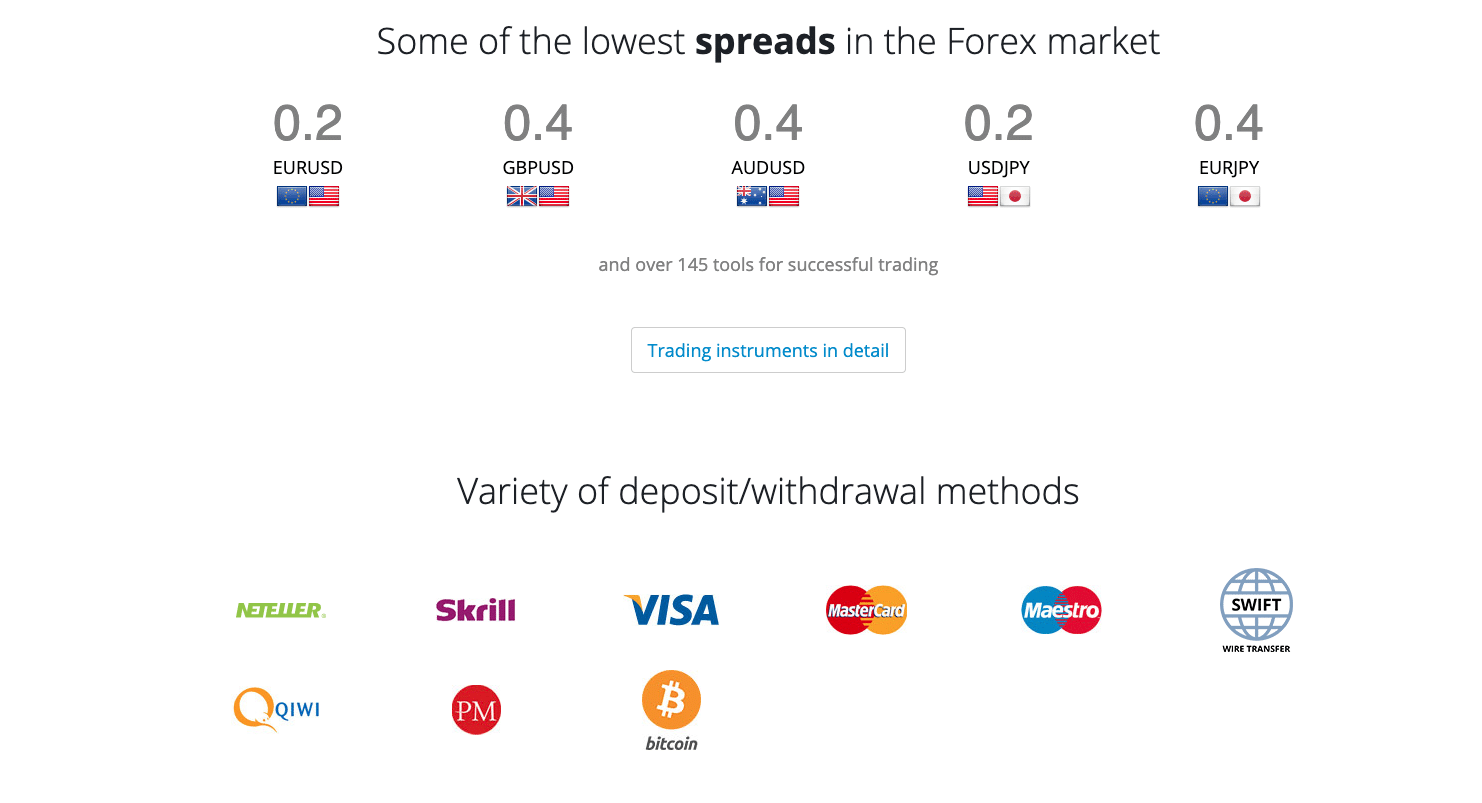 The amount of leverage you use is established when you initially set up your account. It's possible to change it later without having to close your open or pending orders first.
As always, you should be aware that trading with high leverage places you at risk of sustaining very heavy losses. It's important to be fully aware of the risks before you trade. 
Platforms & tools
Liteforex can be accessed through the popular MT4 or MT5 platforms, and download links for both of these are available on the website, keeping things simple for beginners. The broker also offers a web terminal that can be used on a desktop computer or on a mobile device powered by Android. This is also compatible with iPhones and iPads.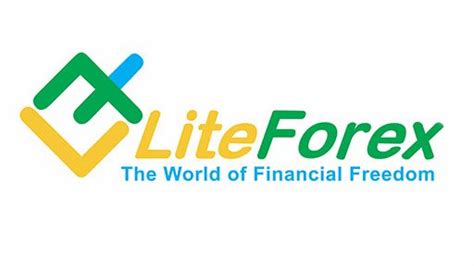 Open Your Account Now
Simple Sign Up Process
MT4 and MT5 are widely considered to be intuitive and easy to use. They're by far the most popular platforms with forex traders. If you've used previous versions of MetaTrader, then you'll find them easy to adapt to because most things are arranged in the same way.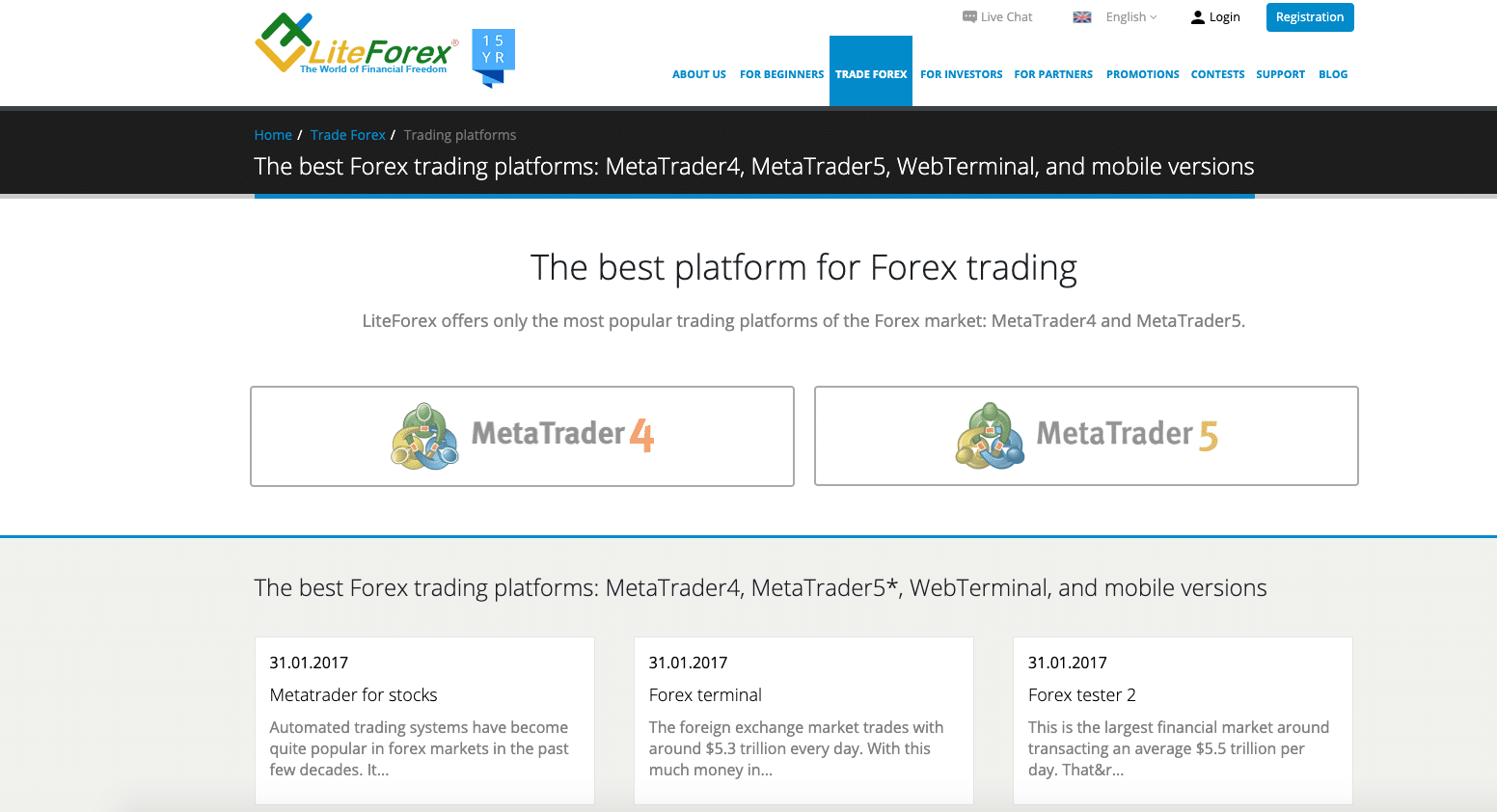 Liteforex offers an impressive and well-organised array of tools. These include an economic calendar to help traders keep track of big market events, a traders' calculator, and a Fibonacci calculator designed expressly for use with forex. It also provides information on currency rates, as you would expect. It offers a regular economic news feed and its own market analysis, as well as up-to-date analysis carried out by independent experts. All of this is easy to access and is coded in a way that means that it doesn't use much computing power – even if you have several tools in use at once, you shouldn't experience any slowing down of your ability to take actions on trades. 
Commissions & fees
No commissions are charged on the Classic account, but the ECN account has a minimum $5 commission fee per lot. This is higher than the equivalent fee charged by most competitors but is balanced out by lower-than-average fees associated with other aspects of trading.
A fee is charged for holding a position open overnight or over the weekend to account for the change in comparative currency interest rates over this period. If you have an Islamic account, you will not have the option of keeping positions open like this, so you will not incur these fees.
Unlike most brokers, Liteforex does not charge inactivity fees – accounts are archived after three months of inactivity but can be recovered.
Liteforex charges fees starting at $15 per month for the use of its virtual private server (VPS). If you have a fast internet connection everywhere that you trade from, then you're unlikely to need this – however, it's worth noting that some brokers provide it free of charge.
No commission is charged for topping up your funds, so you can do it as often as you wish. Multiple means of transferring money into your account are available. These include credit card payments (Visa or Mastercard), bank transfers, electronic transfers (though Neteller, Skrill 1-Tap, WebMoney, AdvCash, M-Pesa Kenya, M-Pesa Tanzania, The Yandex.Dengi, Boleto Bancario, AliPay, Africa Mobile Money, QIWI or Perfect Money) and crypto transfers using Monero (XMR), Litecoin, Bitcoin Gold (BTG), Bitcoin Cash (BCH), Ethereum (ETH) or Bitcoin.
Liteforex has a client loyalty programme under which it will pay back fees charged by most major payment systems for depositing money in your account.
When you wish to withdraw money, you must do so using the same method used to deposit it, and it must go into the same account. This reduces the risk of your money being stolen by a third party. Different levels of verification are required depending on the size of the amount being withdrawn.
Education
A tutorial is provided for beginners. Clients can opt to attend webinars in order to learn more about Liteforex and forex trading more generally. Archived webinars can be found through the website and constitute a good resource for beginners trying to get to grips with the basics.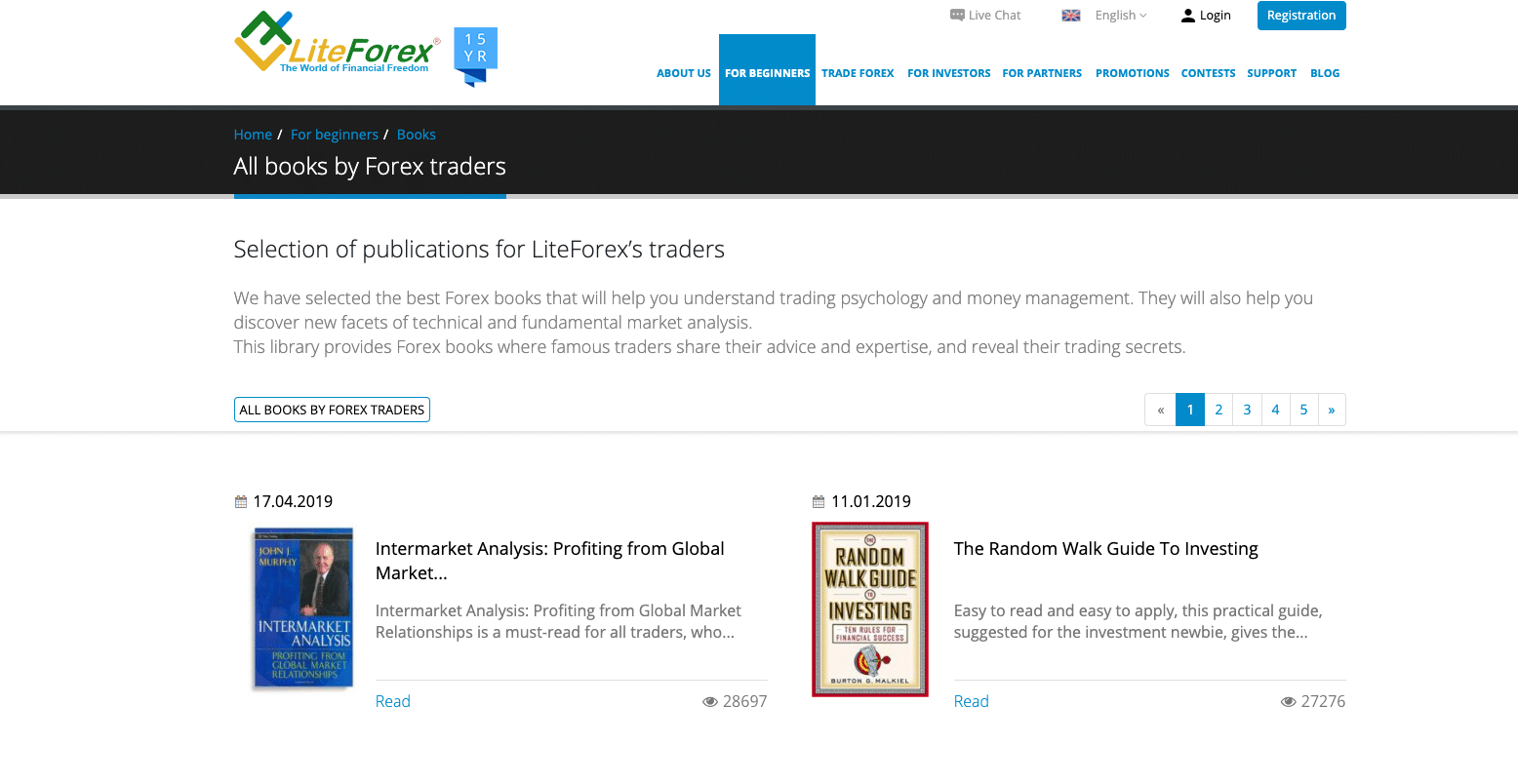 There's an extensive set of guides on different forex trading strategies. These are explained in simple language with helpful diagrams and expert advice. A similar set of guides exists explaining what different trading indicators signify. New traders can use the demo account to test the strategies they read about.
There's a useful (and substantial) guide to books about forex, with short reviews of each one. Liteforex doesn't provide or connect to a platform where you can buy these books, however, so if any of them interest you, you'll need to note the details and make your purchase on another site.
A helpful glossary of terms commonly used in forex trading is a great first point of reference for beginners who get confused by what they read elsewhere on the site. 
Customer service
A 24-hour customer service helpline is available from Monday to Friday. Liteforex promises to provide support for customers in their native languages, though it's not clear quite which or how many languages this service is available in. The website, however, is available in Arabic, Chinese, English, French, German, Indonesian, Italian, Malay, Polish, Portuguese, Russian, Spanish and Thai, which may provide some indication.
Compare Liteforex with other approved brokers
| | | | | |
| --- | --- | --- | --- | --- |
| | | | | |
| Regulation | Marshall Islands | FCS, CySEC, FSC | FSPR | FCA, CySEC, FSCA, Seychelles FSA, Labuan FSA |
| Customer Support | email, live chat | email, phone, live chat | email, phone, live chat | email, phone, live chat |
| Trading Platforms | MT4, WebTrader, Mobile Apps | MT4, MT5 | MT4, MT5, WebTrader, Mobile Apps | MT4, MT5, WebTrader |
| Minimum Deposit | $50 | $10 | $200 | $100 |
| Leverage | | Flexible | 1:500 | Tickmill Ltd 1:500, Tickmill Europe 1:30 (retail) & 1:300 (pro), Tickmill UK 1:30 (retail) |
| Total Markets | 200+ | 252 | 182 | 637 |
| Total Currency Pairs | 50+ | 62 | 72 | 62 |
| Total Cryptocurrencies | 50+ | 4 | 0 | 9 (* CFD Crypto trading is available only to Professional Clients under Tickmill UK.) |
A live chat facility is available on the website. This also offers support in multiple languages. The response time is impressively quick.
A FAQ section on the website aims to provide answers to common questions. This is impressively well organised compared to what other brokers offer. In addition to advice on using the broker itself, it provides an extensive amount of technical support to help clients resolve problems with their own computers that may be affecting their ability to trade.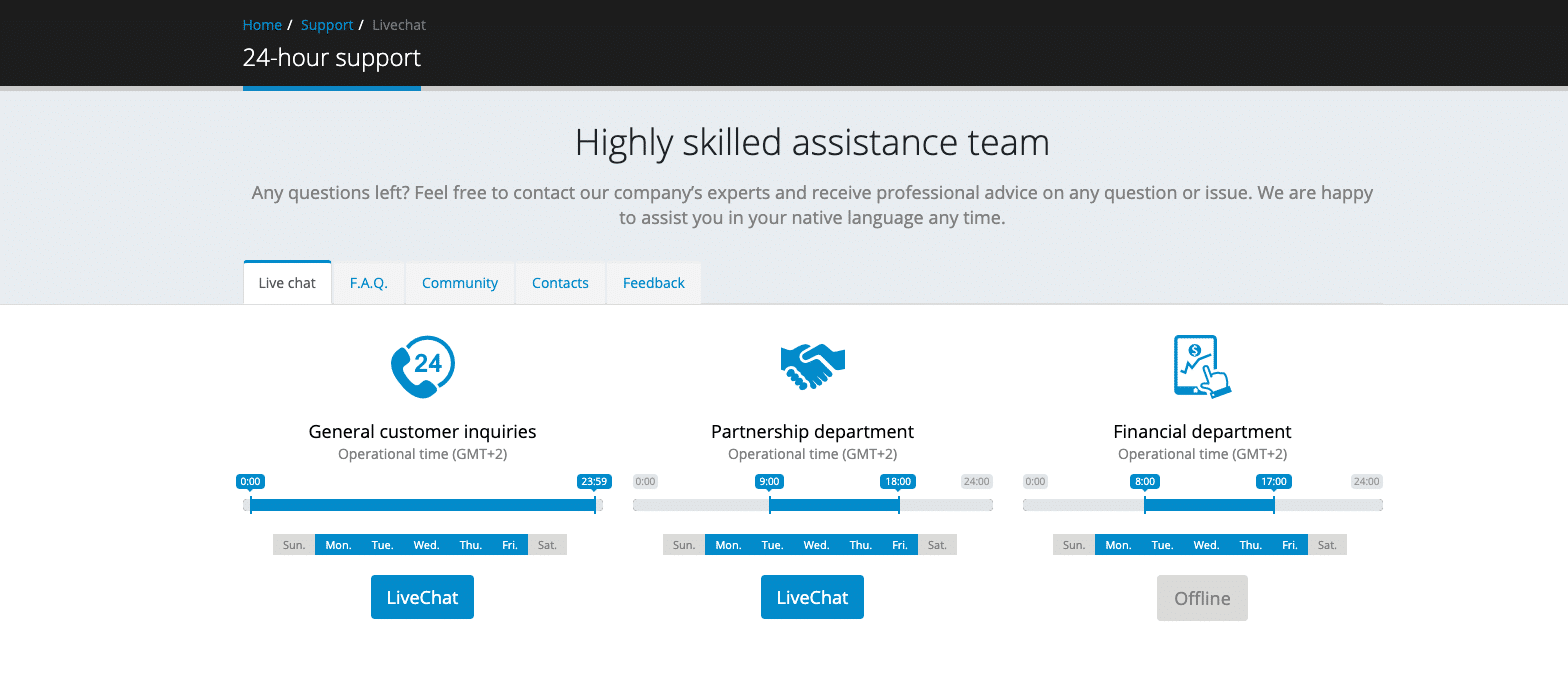 Liteforex provides a social trading system, but beyond this, it does not have a forum of its own. It does, however, maintain a presence on Facebook, Twitter, Instagram and LinkedIn. Clients can use all these social media platforms to communicate with the broker and with one another.
Final thoughts
The biggest factor recommending Liteforex is its ease of use, and although the assets it offers are merely average, this is quite sufficient to encourage many people to make it their broker of choice. It also offers unusually good educational resources, giving it a lot of appeal to beginners. It supplies all the tools you would expect, and its traders also benefit from independent analysis. If you're looking for a basic package that is easy to get to grips with, then it's a fairly good choice.
The biggest concern around this broker relates to its regulatory framework. If it is to break through to join the big league, it will have to do more to make people feel safe about trading there.
FAQ
How can I open an account with Liteforex?
Registering an account with Liteforex is fairly simple. A dropdown menu on the front page of the website takes you to the registration page. This consists of a simple form where you can enter your name and contact details. There's a link to the terms and conditions that you should read before you confirm. You will then be contacted with further information.
Does Liteforex offer an Islamic account?
Yes, so that Muslim traders can use this broker without paying or receiving interest, in compliance with Sharia law. If you want to use this account type, you'll need to open a standard account first (with no obligation to use it) and then submit an application.
What are the deposit options for Liteforex?
Deposits can be made using credit card payments, bank transfers, electronic transfers (through Neteller, Skrill 1-Tap, WebMoney, AdvCash, M-Pesa Kenya, M-Pesa Tanzania, The Yandex.Dengi, Boleto Bancario, AliPay, Africa Mobile Money, QIWI, or Perfect Money) or crypto transfers (using Monero (XMR), Litecoin, Bitcoin Gold (BTG), Bitcoin Cash (BCH), Ethereum (ETH) or Bitcoin).
How do I withdraw money from Liteforex?
If you want to withdraw funds from your Liteforex account, you will need to do so using the same system that you used to fund the account in the first place. If you have added money using multiple systems, you can use any one of them to withdraw it.
How to trade with Liteforex: https://www.youtube.com/watch?v=HS4YS01tkbU
Please be advised that certain products and/or multiplier levels may not be available for traders from EEA countries due to legal restrictions.
---
---