Expert's Summary
Founded in 1997, and falling under the global trading brand Indication Investments Ltd, Libertex is one of the more established names on the forex trading scene. And with a customer base now in the millions and spread across twenty-seven different countries, Libertex can also make a claim to being one of the most popular brokers. But with all that said, how do Libertex actually stack up against the competition?
In terms of the trading options they have on offer, Libertex gives users access to a fairly familiar spread of asset classes. This includes in and around 150 different asset classes, which includes major, minor, and exotic currency pairs, big-name equities, commodities, stock indices, and cryptocurrencies.
Rating Overview
| | |
| --- | --- |
| Overall rating | |
| Regulation | |
| Fees | |
| Range of Markets | |
| Platforms | |
The trading conditions are quite favourable too, with reasonably quick execution speeds and leverage of up to 30:1 for retail trading clients, and 600:1 for professional clients. When it comes to prices and commissions, it's important to note that Libertex does charge a commission on each transaction. This will vary across asset classes, but the EUR/USD, for example, is pegged at 0.011% of the monetary value of the trade. Whilst this might seem like a lot, particularly when other brokers boast commission-free trades, you should keep in mind that Libertex does provide access to the prevailing mid-market prices. This means that they can offer lower spreads than other brokers offering commission-free trading.
Commissions will vary across asset classes and types, with cryptocurrencies carrying the highest commission at around 1% of the value of the trade. This is the same for all users as Libertex only make one type of trading account available in addition to the demo account.
Libertex provides users with access to a number of different trading platforms, which includes their own proprietary one. Although not as feature-rich as the likes of MetaTrader 4, the Libertex trading platform makes a nice change of pace. It is a web-based platform and places emphasis on user-friendliness and ease of use, making it the perfect platform for beginners just getting used to trading online. It also comes in a mobile variation for those of you looking to take your trades on the go!
When it comes to customer protection and safety, this is something that is clearly something Libertex take very seriously. As they are registered in Cyprus, they fall under the jurisdiction of the CySEC regulator, which means users of the CySEC platform will benefit from both local Cypriot protections in addition to European Union-wide protections, including the EU wide MiFID.
Overall, Libertex provides users with all-around solid trading experience. Although not as feature-packed as some of the big-name platforms out there, Libertex nevertheless provide a decent range of assets to trade, favourable trading conditions, and a proprietary trading platform that is easy to use. Although the commissions might put some users off, when compared to the spreads offered on other platforms, Libertex provides very competitive trading conditions, particularly for those looking to trade the major markets. With that said, the option of a free demo account makes Libertex easily worth trying out.
Libertex is the brand for the trading platform and brokerage service for Indication Investments Ltd, a part of the Forex Club Group, which is based in the Russian Federation. Forex Club Group was founded in 1997 and now offers clients online broking services for forex, precious metals, indexes, soft and energy commodities, cryptocurrencies, and stocks.
Libertex presently has 2.2 million customers trading from 27 countries around the world. The company employs about 700 people that staff the company's offices, which are in Cyprus, the Russian Federation and Belarus. Also, the company runs a unit in St. Vincent and the Grenadines.
Libertex has garnered 30 international awards. Its latest award was in 2016 when the company was awarded Best Trading Application for the European Union by Global Banking and Finance Review. Also, the company won the award for Best Trading Platform by FinEXPO.
Libertex's official home page, which is located at www.libertex.com.
Be aware that Libertex does not accept U.S. clients. If you are based in the United States, you must find another broker.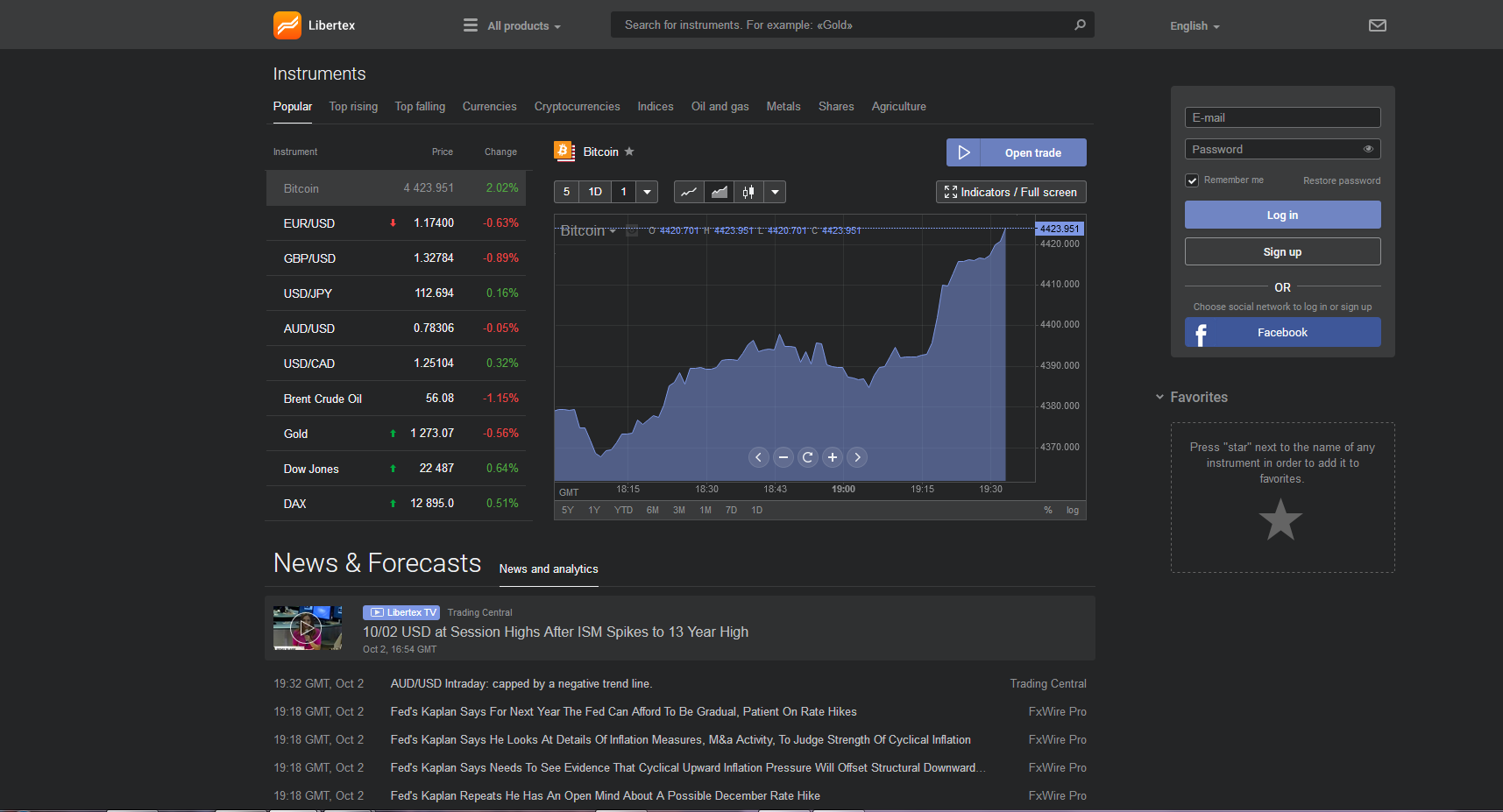 Unique Features of Trading with Libertex
The company makes 150 different asset classes available to its clients for trading, which include 44 major, minor and exotic currency pairs; world stocks including Google, Apple Inc. and Rio Tinto; cryptocurrencies including Bitcoin, BitcoinCash and Litecoin; commodities such as coffee, cocoa, corn, wheat and soybeans; and 17 of the world's most actively traded stock indexes.
Before opening a Libertex live account, a trader should consider several key issues with the company. The first is that the company charges a commission on every transaction. For example, if the trader wanted to buy or sell EUR/USD, Libertex would charge a commission of 0.011% on the monetary value of the trade. This is compensated for by deal execution taking place at the prevailing mid-market price.
Libertex's tradable assets all carry a similar fee that varies significantly depending on the asset.  The lowest commission in forex is for EUR/USD among the major currency pairs, while the most expensive commission on currencies is charged for transactions in USD/RUB, which has a commission of 0.41% per transaction. The second highest is EUR/RUB, which has a charge of 0.386%. The highest commissions at Libertex are for cryptocurrency trades, with charges of 1.02% on Litecoin, 1.0% on Bitcoin, and 0.91% on BitcoinCash.
The second matter concerns the company's use of a "multiplier" instead of a set leverage figure such as 200 to 1, for example. All Libertex trades can be leveraged with the multiplier, and it varies significantly for the different tradable assets. For example, the highest multiplier in forex is for EUR/USD at 500, which translates to leverage of 500 to 1, while the multiplier for USD/RUB is 10, which means that the maximum leverage for a USD/RUB trade is 10 to 1.
Libertex only offers one type of live trading account and a demo account. The two account types feature the company's award-winning trading platform.
Trading Software
Libertex employs its own proprietary trading platform. This web-based platform is extremely user-friendly and easy to navigate. Once the live account has been opened, the trader can pick an asset type, choose the quantity of funds to commit on the trade, and then decide whether the market will rise or fall.
Due to the nature of the account, the use of the unique multiplier, and the lack of dealer spreads; variables such as margin, leverage and dealing spreads are inconsequential, thereby making for a more efficient execution. Libertex's platform comes complete with a technical analysis component that features indicators divided into Volatility, Trend and Oscillator types. Also, the platform comes with a section on fundamental analysis, and it lets the trader change the time frame of charts from one minute to one month.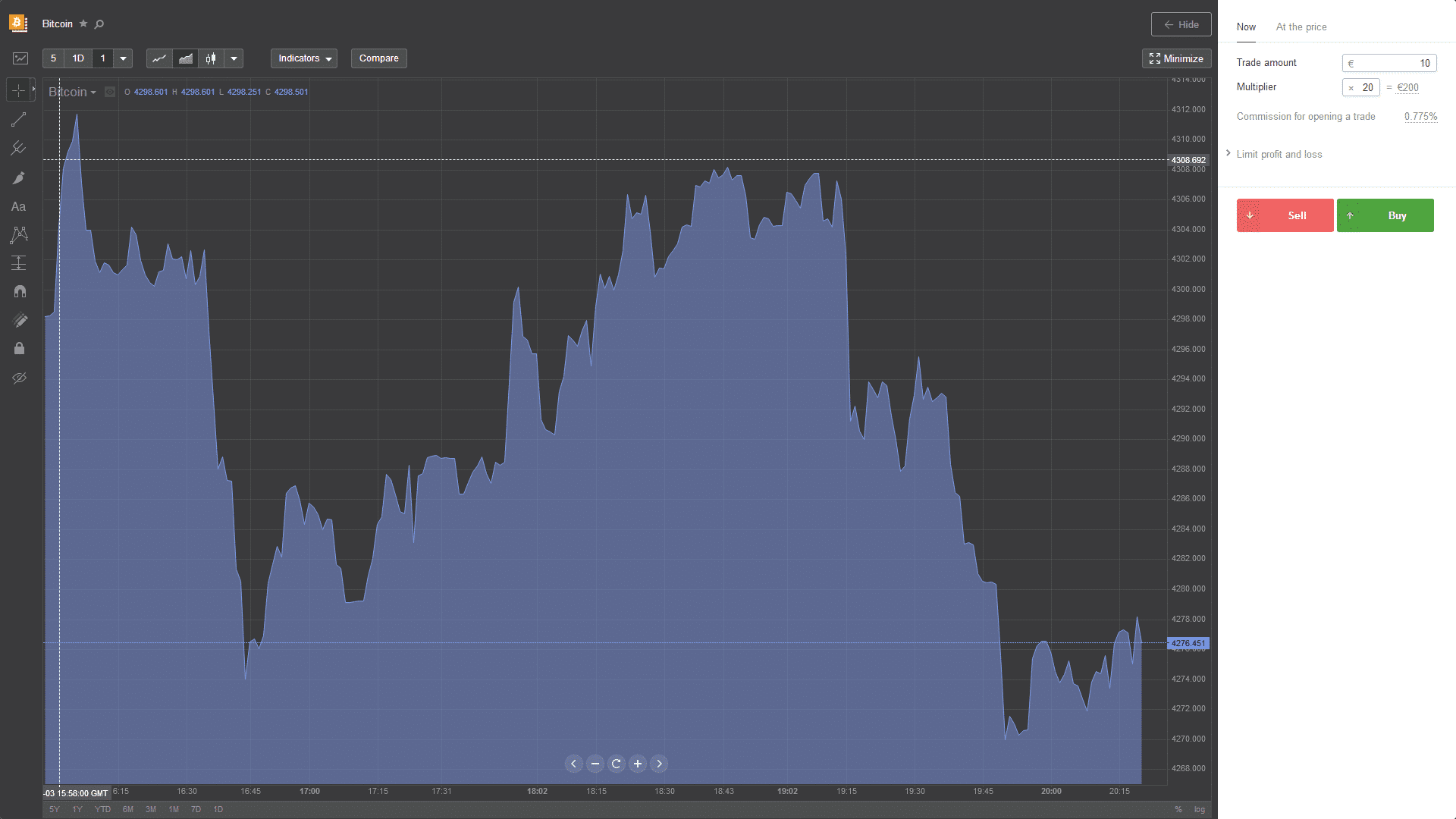 Deposits and Withdrawals
To make deposits and to fund a Libertex account, funds are accepted via credit and debit cards, through bank wire transfers, and via Single Euro Payments Area or SEPA transfers. Libertex accepts other types of deposits at their discretion; however, Libertex does not guarantee that all methods for transferring funds are available in the client's country of origin.
An initial minimum deposit of $250 is required to open a Libertex live account.  Proper identification along with proof of a physical address is expected from the prospective client.  Initial and subsequent deposits are typically processed within one day of the transfer clearing Libertex's bank account.
To withdraw funds, the client must submit their request by 1:00PM CET. The necessary transfer instructions and the account details of where the funds originated are required for a withdrawal to be made. The customer's identity is then verified, as well as the valid access codes that are generated by the withdrawal request.  The client is fully responsible for any third-party charges for a withdrawal.
Beginner Support
Libertex's customer support is apparently limited to a live chat button on their website. This reviewer could not locate a web page, email address, fax or telephone number for customer support on their website. In addition, no educational material was found on their website.
Safety
Libertex's parent company, Indication Investments Limited, is based in Limassol, Cyprus where the company is registered as a Cyprus Investment Firm or CIF under license number 164/12 and regulated by the Cyprus Securities and Exchange Commission or CySEC. Libertex's registration number under Cyprus' Companies Law is HE 251168. The company's physical address is registered as 134 Agia Fylaxeos & Amisou, Anissa Court, 4thFloor, 3087, Limassol, Cyprus.
Compare Libertex with other approved brokers
| | | | | |
| --- | --- | --- | --- | --- |
| | | | | |
| Regulation | CySEC, FCA | FCA, CySEC, FSCA, Seychelles FSA, Labuan FSA | FCA, CySEC, DFSA, BaFIN, SCB, CMA & ASIC | FSPR |
| Customer Support | email, phone, live chat | email, phone, live chat | email, phone, live chat | email, phone, live chat |
| Trading Platforms | MT4, MT5, WebTrader, Mobile Apps | MT4, MT5, WebTrader | MT4, MT5, cTrader, TradingView | MT4, MT5, WebTrader, Mobile Apps |
| Minimum Deposit | $100 | $100 | $200 | $200 |
| Leverage | 1:30 | Tickmill Ltd 1:500, Tickmill Europe 1:30 (retail) & 1:300 (pro), Tickmill UK 1:30 (retail) | 1:30 | 1:500 |
| Total Markets | 400+ | 637 | 1200 | 182 |
| Total Currency Pairs | 50+ | 62 | 62 | 72 |
| Total Cryptocurrencies | 70 | 9 (* CFD Crypto trading is available only to Professional Clients under Tickmill UK.) | 18 | 0 |
Libertex adheres to the EU's MiFID or Markets in Financial Instruments Directive and complies with all local and European regulations due to its CySEC oversight. Also, the company must comply with Law 144(1)/2007 or the Investment Services and Activities and Regulated Markets Law of 2007 of the European Union.
Other Services:
The only other services provided by Libertex is mobile trading. The company's proprietary trading platform is available for Android and iOS and the app can be downloaded from their website.
Conclusion
Libertex appears to be an efficient forex broker that is regulated by CySEC, which helps ensure the safety of client funds, which are kept in segregated accounts under its regulation by CySEC. Another advantage is the company's award-winning trading platform, its excellent news feed, and the company's limits on client risk exposure.
On the downside, the lack of support for MetaTrader4 is a deal breaker for many traders, especially those who want to automate trading plans, run EAs or create custom indicators. The lack of substantial customer support and educational resources is another disadvantage, particularly for novice traders. Nevertheless, its fixed commission schedule and multiplier could be an advantage or a disadvantage, depending on the trader.
Please be advised that certain products and/or multiplier levels may not be available for traders from EEA countries due to legal restrictions.
---
---