LegacyFX Review
Last Updated: September, 2019.
LegacyFX is an online broker which has been offering a signal service for years. The people behind this service were known within the LegacyFX community as Peter Visser and Mark Shawzin and – as with any signal service – some of their traders ended up with a bitter taste and a decimated balance.
The overall reputation of the brokerage is not a bad one. Traders generally appreciate the services delivered by the broker. Most of the complaints are indeed focused on the above said signal service, but even in this regard, there are quite a few dissenting opinions.
Some people actually like the service and some say that for them, it has been the only profitable signal service ever. Let us just say that in this regard, we can't really cast judgment, though the service seems to have failed some official reviewer tests too, so there's that to consider…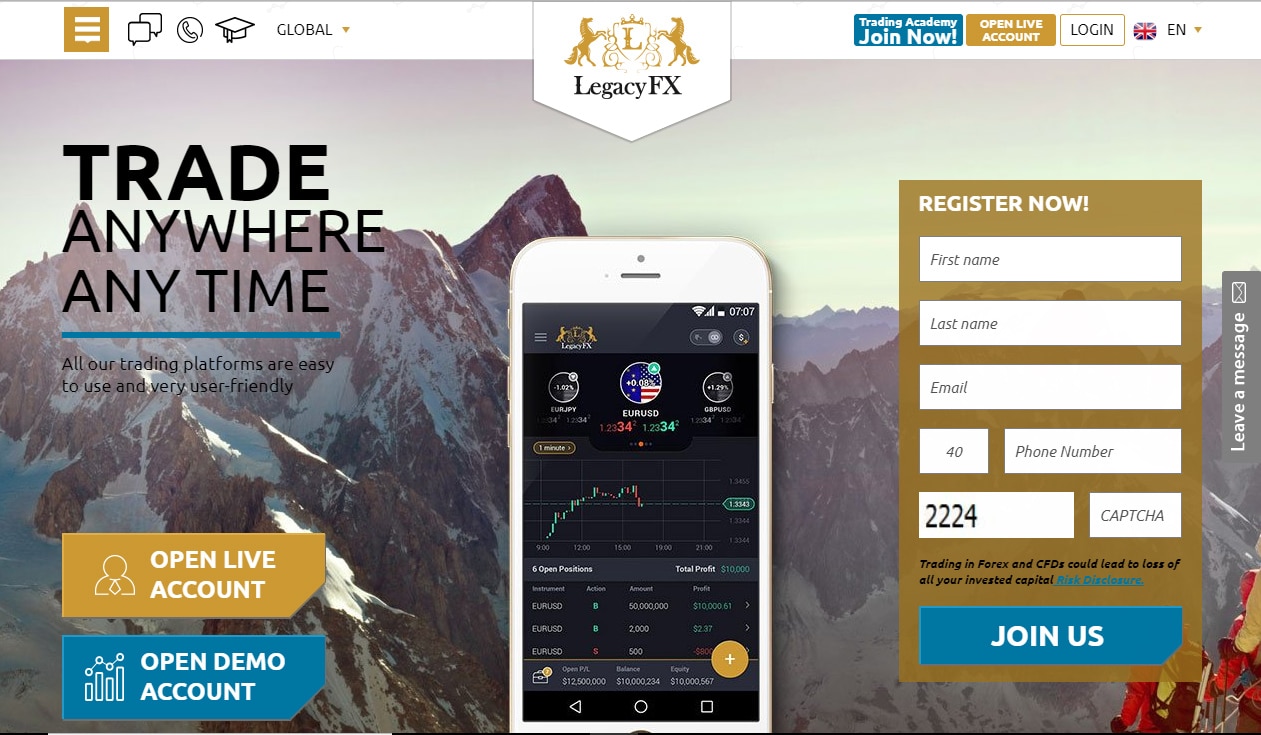 LegacyFX was launched way back in 2012, and with that in mind, it is safe to conclude that its user feedback score is not a bad one indeed. Since then, it has indeed had plenty of time to accrue user reviews – good and bad – but as said above, the negative feedback is mostly limited to its rather controversial signal service.
The corporate operator behind the LegacyFX brand is A.N. Allnew Investments limited. The deal with this company is, that it is a registered CIF (Cyprus Investment Firm) which means that it is a member of the investor compensation scheme and obviously: that it is playing by the legal book in every regard.
The actual address of the brokerage is Q Tower, 5th floor, Ioanni Kondylaki 47, 6042, Larnaca, Cyprus​.
LegacyFX is obviously regulated as well. The provider of its main regulatory umbrella is CySEC. Its license number is 344/17 – a license issued last year, which raises the question: since when exactly has the brokerage been regulated? Whatever the answer to that question is, one thing is certain: it is indeed regulated now.
The CySEC license means several things. First of all: the operator is compliant with MiFID, which gives it the theoretical right to peddle its financial services all through the EEA. On a practical level though, the broker actually took its time to go through most of the national regulatory agencies of the EEA and to register with them.
That said, the broker cannot actually accept traders from all over the EEA and it pretty much goes without saying that traders from the US and Canada are not accepted either.
Knowing all the above, why would you – a trader – want to move your business to LegacyFX?
The broker prides itself on the low trading costs it offers, as well as the peerless liquidity to which it has access. All this has to be taken with a grain of salt though: while the trading conditions are indeed very competitive, they are so only on the higher-tier account types. Those with the cheapest accounts cannot really expect to trade under industry-best conditions.
That takes us to:
LegacyFX Account Types
The broker features a total of 3 account types, covering most of the needs of every trader category that may register.
The most accessible trader account is the Silver one, which features a minimum deposit requirement of just $500. For some, this may indeed seem a bit steep (especially when compared to the minimum deposit requirements some of the other brokers feature) but the truth is that any trader serious about making an actual effort towards profits, needs to deposit at least this much.
The Silver account is surprisingly generous when it comes to features: it covers everything higher-tier accounts do, with the exception of 1-on-1 support, Dealing Room direct line and advanced analysis.
All accounts types are 0-swap ones, and the Silver account offers access to all the trading platforms made available by the broker. Educational bonuses and technical analysis are also parts of the Silver package.
The maximum available leverage on this account is 1:30.
Those who want to register for the (allegedly) most popular account option of the broker, will have to cough up at least $5,000. The Gold Account takes the trading game to an entirely new level, offering 1-on-1 support, Dealing Room hotline and analysis insights as well, in addition to everything else delivered by the Silver account.
That's not where the real difference between the two account-types is made though. While Silver account holders see their spreads starting from 2.4 pips (not at all impressive indeed), for Gold account holders, the spreads start from 1.5 pips.
The maximum available leverage  is 1:30 on the Gold account as well.
To further improve the trading conditions, traders can resort to the Platinum account, which drives spreads as low as 0.8 pips.
The other trading conditions (such as the maximum leverage) remain the same, and it goes without saying that all the possible perks and features are included in this "VIP" package. To get such attractive trading conditions though, traders need to cough up some $25,000.
LegacyFX Trading Platforms
The trading platforms supported by the operator cover a Web-trader, a Mobile trader, as well as MT4. In a word: everything an advanced trader could ever need in this regard.
The main advantage of the web trader is obviously that it does not have to be downloaded and installed and that it can be accessed at the click of a button.
That considered, the charting capabilities of the platform are even more impressive. In addition to the different chart-types, time frames and technical indicators it supports, it also offers live support and a news-feed.
MT4 is without a doubt the world's most advanced trading platform. It excels in every regard and it offers features that cannot be matched by any of its competitors.
Its charting capabilities are simply superb. It covers a massive range of time frames, chart types and technical indicators. MT4 is what's called a fully customizable trading environment. What this means – among other things -is that in addition to the 50+ technical indicators that come pre-installed with the downloadable platform, traders are free to install their own, acquired from 3rd party creators. What's more, traders can even create their own technical indicators through the MT4 platform.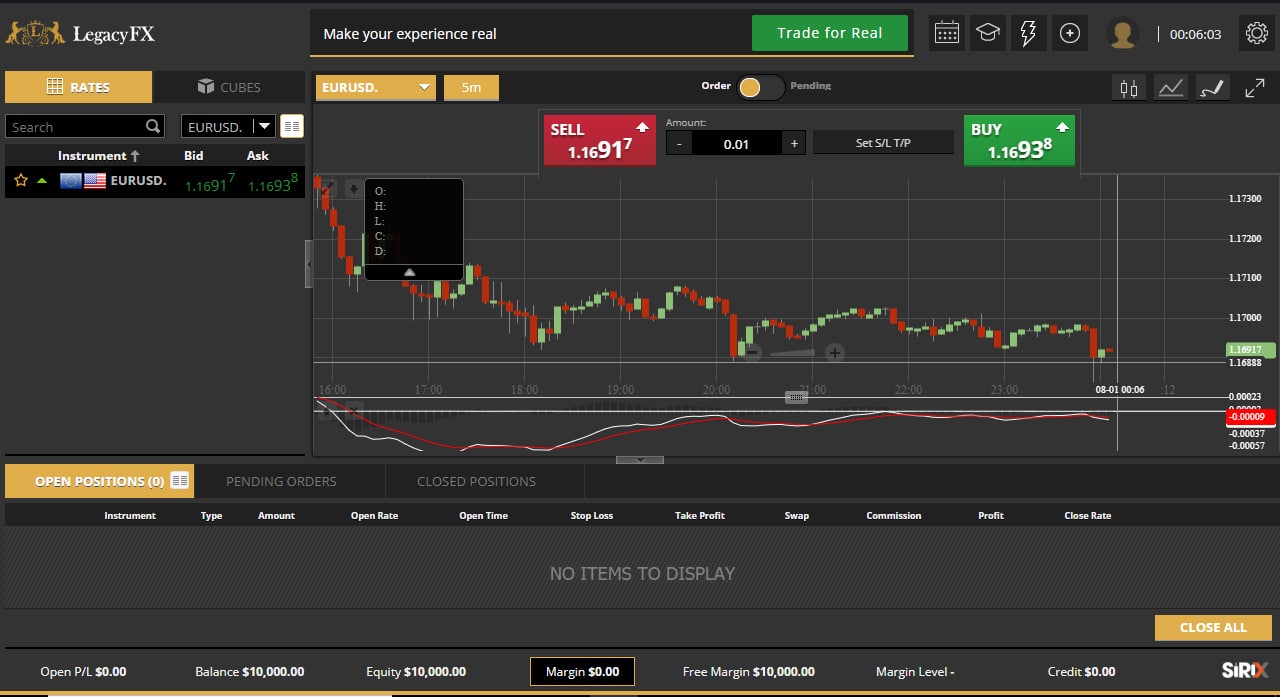 The same goes for EAs – some of the most appreciated assets of MT4. Through such Expert Advisors and custom scripts, traders can automate the trading process to a degree where their direct intervention is barely required. Mind you, EAs have nothing in common with auto-trading scams that used to be the rage a year or two ago. They simply execute strategies defined by traders, in a manner defined by traders, without outside intervention.
MT4 also supports multiple order-types, such as market orders, trailing stops and Stop limits.
Conclusion
Everything considered, LegacyFX is a very decent trading destination. Its signal-service related reputation issues notwithstanding, it offers its traders decent options account type-wise as well as trading platform-wise.
In regards to tradable asset-selection, it features a fairly impressive range of markets too.
The broker is regulated and it is registered with an impressive number of national regulatory agencies. Its activity is transparent, as required by the MiFID directives to which it adheres.
Please be advised that certain products and/or multiplier levels may not be available for traders from EEA countries due to legal restrictions.