Expert's summary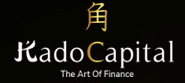 With over 25 years of experience in Fintech and Brokerage, the team at Kadocapital strive to offer clients one of the best crypto trading and investing experiences available by allowing users to choose from a wide range of assets, accounts, and educational resources. Beginners and experienced traders can take their first steps or gain even more knowledge with the help of Kadocapital's highly-intuitive platform and the professional customer service that's available 24/6.
Except for those in the United States, with Kadocapital people worldwide can trade and invest within a regulated environment that cares for the safety and security of clients. It offers numerous features and services to its customers and allows them to perform quick and easy actions directly from the platform or the mobile trading app.
Kadocapital is all about safe and efficient trading, which is why its entire policy is very transparent. The team can provide you with all the necessary details concerning any possible risks that you may be exposed to when trading.
With over 800 cryptocurrency pairs and ICOs, a highly-professional customer service, a large number of assets to access, six different account types to choose from, and its many educational resources and services, Kadocapital could become your crypto trading ally.
Features of Kadocapital
With its many features, Kadocapital can offer you:
Over 25 years of experience in the Fintech and Brokerage domains.
More than 800 crypto pairs and ICOs.
Assets that include crypto, indices, forex, commodities, and shares.
Six different account types suited for everyone's needs, from beginners to the experienced.
The ability to make deposits directly from the platform (minimum $250).
Variable spreads from 0.1 pip.
Access to daily market news.
Professional account leverage of 1:400.
Online chat support available 24/6.
A user-friendly mobile trading app.
A web-based trading platform.
Free market research and analysis, advanced charting, order types.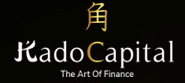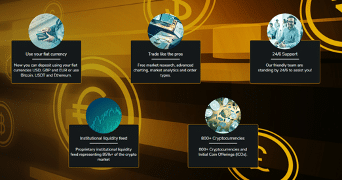 Trading platform
The Kadocapital platform is undoubtedly one of its strongest points. It's extremely easy to use, doesn't require downloading or installing, and you can use it directly from your web browser, both on a Mac or Windows operating system. With a user-friendly interface and everything you need clearly displayed, the web trader makes it quick and easy for everyone to start trading and investing.
Some of its handy features include the ability to make direct deposits, without intermediaries, access to instant buy and sell operations and real-time updates and prices, and the possibility to manage and open pending orders and to also set limits.
As for Kadocapital's mobile trading app – it's fast, has an interactive and intuitive interface, and makes it super easy for you to perform your tasks as long as your internet connection is reliable. The mobile app also has interactive currency charts, real-time profit, and loss viewings, and gives users the possibility to open and close new positions instantly.
Leverage and spreads
On Kadocapital, regardless of which of the Basic, Silver, Gold, Platinum, VIP, or Algo Fund accounts you choose, you will benefit from professional account leverage of 1:400 and variable spreads from 0.1 pip. If you want to know more about each account type, they are detailed on the official website.
Deposits and withdrawals
Another positive that might attract people to Kadocapital is the fact that you can make deposits directly from the platform using your credit or debit card or even crypto. The minimum amount is $250, but the platform suggests funding your account with at least $1.000 to ensure you enjoy the full experience of trading.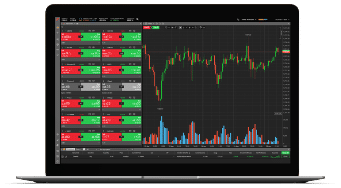 As for withdrawals, Kadocapital prioritises the security of its customers and their personal data, which is why you will be required to provide proof of identity, address, and payment when setting up your account. Those will be taken into consideration when you are making withdrawals. To do so, you will only have to fill in a withdrawal form. It will take about three business days for it to be processed and about five business days for the money to reach your account.
Is it safe to use Kadocapital?
That is a common question concerning any trading platform. We would answer that Kadocapital is safe to use because we have no evidence to suggest otherwise. The team is transparent when it comes to the risks of trading, and you can even check out the Terms and Conditions page as well as the AML, CFT, and KYC and Risk Disclaimer policies on the official website.
Nobody can assure you that crypto trading is not risky in any way, shape, or form, but it's up to you to prove the correct personal details and up to the broker to keep their customers' data safe. So yes, Kadocapital is safe to use as long as you read all of the policies and disclaimers to grasp a better understanding of the involved risks.
Customer support
Kadocapital has probably one of the best customer support teams out there. The team of professionals is available 24/6 to answer all of your questions via live chat, e-mail, or phone. Moreover, you can also choose to benefit from one on one training with an expert if you are just now starting on this trading journey. You don't want to take any risks or make any grave mistakes so Kadocapital's team will be there to guide you every step of the way.
Conclusion
Kadocapital is one of those brokers that has everything plus some to offer to its clients. From its multitude of features and services to the highly-professional and helpful support team and education resources, Kadocapital can become a massive name in the industry. The potential is there as well as the willingness to help each client follow their dream through the number of benefits and helpful services provided. Should you choose Kadocapital? That entirely depends on your requirements.
Please be advised that certain products and/or multiplier levels may not be available for traders from EEA countries due to legal restrictions.
---
---