Expert Summary
IQ Option is a multi-functional trading platform that provides its users with a wide selection of tools for trading.
Founded in 2013 and managed by IQ option Ltd, based in Cyprus and regulated by CySec, it welcomes traders from more than 210 countries, with the exception of users from the USA, Japan, Israel, Turkey, Belgium, the Russian Federation, Australia, Canada, Germany, Italy, Netherlands, Romania and Spain.
Registration will take no more than three minutes, you need to go to the site and fill out the registration form, IQ option also offers its customers to register using Facebook, Google. After entering your details and creating a password, you can continue.
After that, the client can immediately use a demo account or replenish a real account before moving on to real trading.
Initially, IQ Option began its activities as a binary options broker; however, now it allows its customers to trade CFDs on stocks, cryptocurrencies, ETFs and Forex. Since the beginning of its activity, the company has significantly expanded the range of tools offered.
The company offers its customers several options of accounts:
Standard account: minimum deposit of 10 dollars. Offers access to over 350 trading assets. Twenty-four hours withdrawal processing is also available with a basic account. Clients outside the EU gain access to various trading competitions that are regularly held on the platform.
VIP: available to traders with a deposit of $ 1900 or more over two days. This account has many benefits, such as a personal manager, monthly reports and an additional 3% profit. Unfortunately, VIP accounts are available only to traders who are outside the EEA.
The company's website also provides several short educational videos on how to use the platform, which can help in obtaining necessary knowledge.
Also, new customers can test their strength on a demo account for free.
IQ Option provides its customers with its own platform specifically designed to meet their trading needs. The same platform is used for CFDs and for binary options trading.
IQOption offers customers the opportunity to trade options and CFDs using the same mobile application. The mobile application runs on the Android and Apple iOS operating systems. It is available for download through the Apple Store or on Google Play.
One of the top representatives of the binary option trading industry, over the last few years, IQ Option have realized that they needed to diversify product-selection-wise. Binary options have never really been known as particularly trust-inspiring and the business model on which they are based, is plagued by a rather obvious conflict of interest. This combination ended up creating a bit of a toxic reputation for the brokerage, a reputation which they have managed to set right for the most part, over the last couple of years. The brokerage has branched out into proper Forex trading, CFDs, ETFs and crypto currencies, and apparently this was pretty much what the doctor had ordered reputation-wise.
IQ Option were always known in the trading community for their accessibility and their attractive trading conditions, traits that they have managed to retain to this day. Even back when most of their peers required minimum deposits of $200-$500, they offered  binary option accounts for as little as $10. The spreads on their Forex and CFD products are some of the best in the trading industry, to this day.
With the above in mind, it is not exactly surprising that the brokerage grew by leaps and bounds, even when the going was tough reputation-wise. From about 950,000 accounts in 2014, IQ Option have grown to more than 14 million accounts in 2016. From around 200,000 trades per day in 2014, they now handle more than 3 million. From a monthly trading volume of $10 million in 2014, more than $11 billion flows through the brokerage on a monthly basis, right now.
Perhaps the most spectacular metric regarding the growth of IQ Option is the geographic coverage of the operation. From a handful of countries in 2014, the services of the brokerage are now available in no fewer than 178 countries.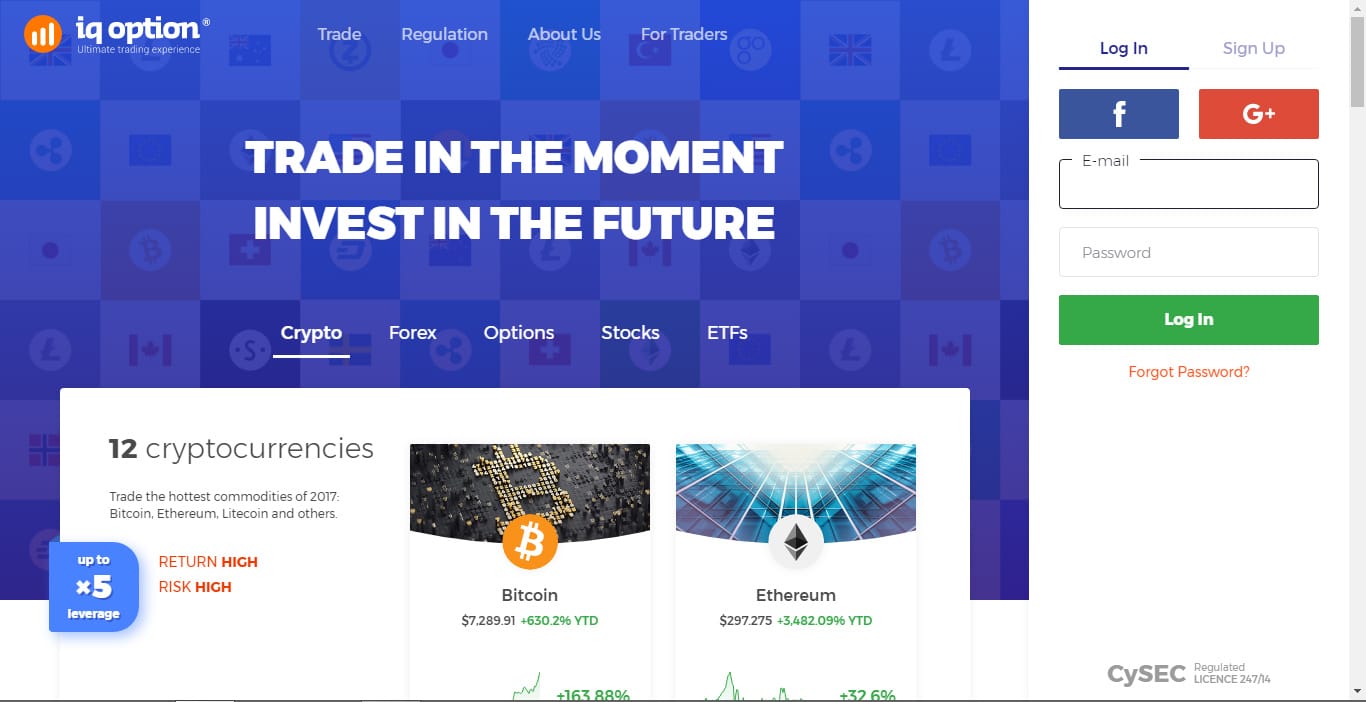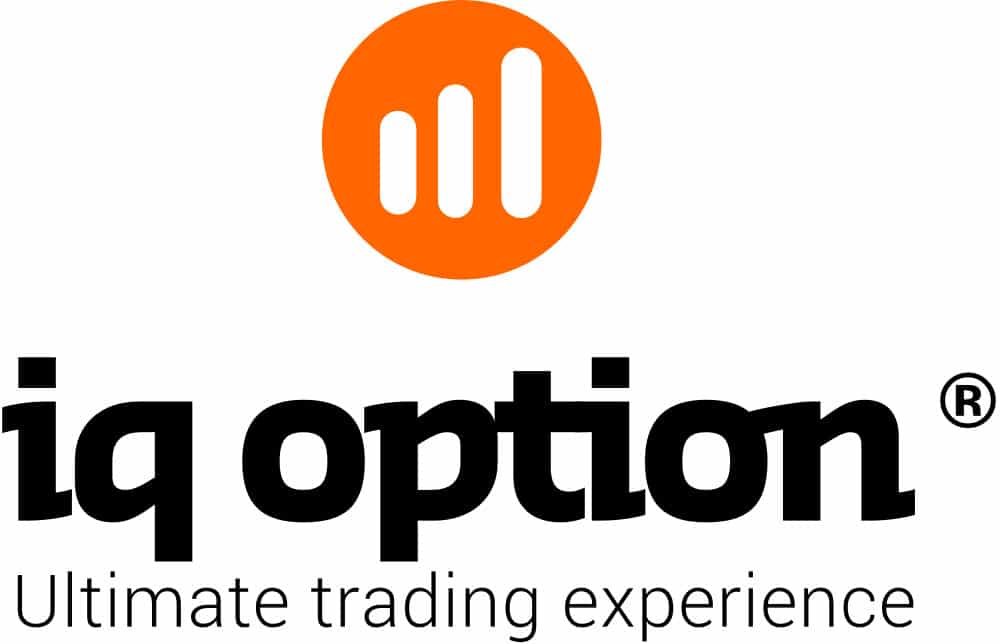 Free Demo Account
No Deposit Required
The IQ Option Trading Platform
Unlike most of their industry peers, IQ Option have not jumped onboard a mainstream trading platform such as MT4. They still have their own, in-house developed platform, which is doing a rather good job trading mechanics-wise, though it does indeed lack a little in the analysis/charting options department.
The trading platform features an attractive interface, and it is available in web-based as well as downloadable formats. Unfortunately, the downloadable version of the software is in essence a replica of the web-based trading platform, with the same features and shortcomings.
That said, trading through the IQ Option platform is in fact quite enjoyable. The charts are visually pleasing and one can indeed trade directly from the charts. Different time frames can be applied and no fewer than 9 charts can be displayed at the same time.
In addition to the features focused on the actual opening/closing of positions, the IQ Option platform offers an overview of one's open positions, as well as a Trading History section. There's a Chat and Blogs section featured too, which is where the social side of the brokerage comes into play.
Through the trading interface, IQ Option clients can also access an impressive number of video tutorials, detailing various analysis methods and offering tips on the inner workings of the platform itself.
The charting tool selection lets traders choose from Area Charts, Line Charts, Candle Charts and Bar Charts. These are obviously useful for the spotting of various chart patterns. To this end, a number of graphical tools are provided too. These include the Fibonacci Lines, Trend lines, horizontal lines and the simple line. A total of 12 technical indicators are available (and it is probably not up to traders to install more). These include the Bollinger bands, the MACD, the MA, the RSI, the Parabolic SAR and obviously, the Stochastic Oscillator.
As an IQ Option trader, you should bear in mind though that many of the "classic" technical analysis methods simply do not work in the cryptocurrency vertical, as this new asset-class has a way of its own of evolving its prices.
The bottom line regarding the platform is that while it may not be on the cutting edge charting- and analysis-wise, it offers traders a very attractive and functional way to go about their business and to interact with the community.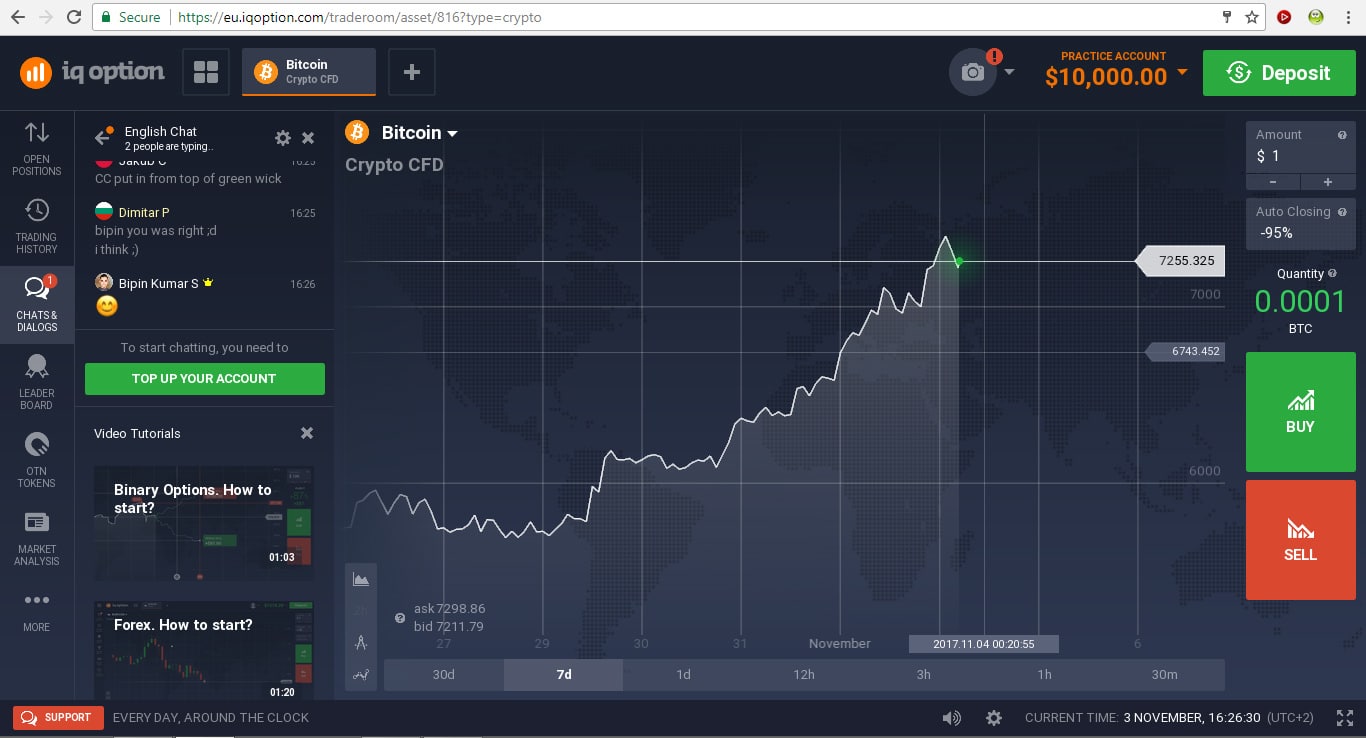 IQ Option Trading Products
IQ Option have recently expanded their product offering quite radically. While they have retained their binary option offering, their focus seems to have shifted to the crypto vertical. We have to note the fact though that while the IQ Option website does mention something about clients actually buying crypto currencies, the trading platform only supports cryptocurrency-based CFDs.
There's a separate section for the Crypto CFDs, which features 13 assets. Most of the top market-cap cryptocurrencies are supported, starting with Bitcoin and Bitcoin Cash, and wrapping up with IOTA, Dash and Monero.
The CFD section is mostly focused on cryptocurrencies as well. While in the crypto sections, all virtual currencies are paired with the US, in the CFD section, crypto/crypto pairs, like LTC/BTC and ETH/BTC are available as well.
The Forex product category is the largest of the broker. It features 22 currency pairs, from the most traded, right down to exotics.
The binary options section is simply called "options" these days, and it brings 23 tradable assets to the table. This asset selection mostly covers currency pairs, but there are a few indices, commodities and equities included too. The return percentages on these options are said to be in the neighborhood of 95%, but in practice, they are usually somewhat lower, covering the 85-95% range, and yes, that goes for popular currency pairs like the EUR/USD too.
Digital Options are special options which offer return percentages of up to 900%. This section of the product selection covers currency pairs exclusively.
IQ Option Regulation and Safety
Yes, IQ Option have always been regulated. They acquired their CySEC license back in 2014. Their license number is 247/14. What all this means is that the operation has been considered MiFID compliant by the Cyprus Securities and Exchange Commission. That makes it clear that IQ Option are free to peddle their financial services all over the EEA (European Economic Area). The brokerage is registered with most of the bigger European regulatory entities, such as Italy's Consob, Germanys BaFIN and France's Regafi.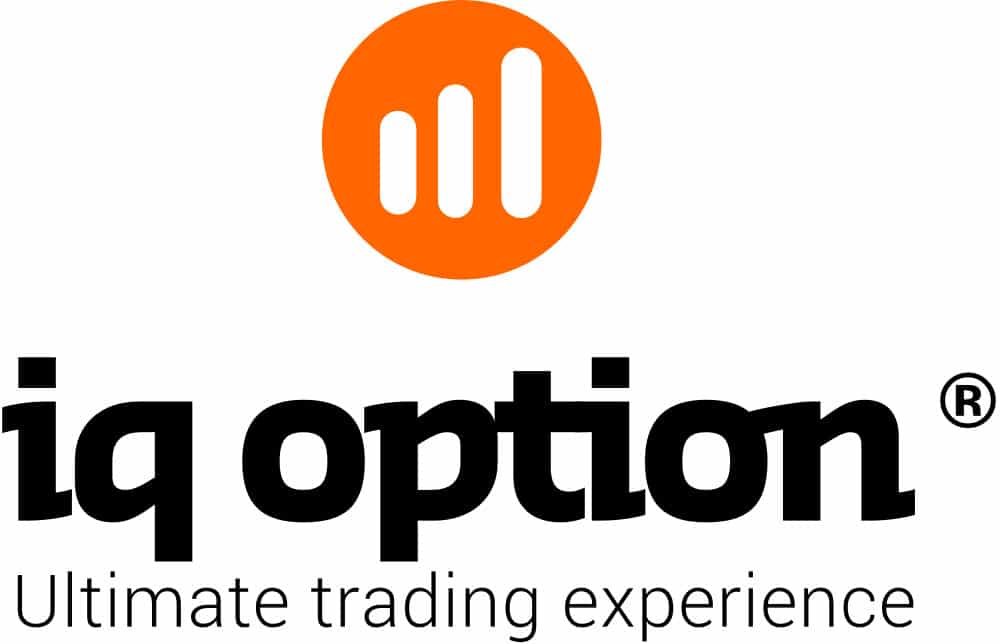 Start Trading Safely
Forexfraud Trusted Broker
Trading Tools IQ Option Trading Platform
Besides the trading tools that can be accessed directly from the trading platform, as detailed above, IQ Option have apparently also attempted to provide their clients with a sort of economic news section, meant to highlight trading opportunities. The reason we're calling this a mere "attempt" is that this news section does not appear to be properly and regularly updated.
The sub-section dealing with cryptocurrencies is the most up-to-date one, once again underlining the operator's focus on this new financial vehicle.
IQ Option Customer Support
IQ Option support can be reached through a plethora of toll-free regional phone numbers. Clients can even email the CEO and CAO of the operation directly. The IQ Option headquarters are located at Yiannis Nicolaides Business Center, Agiou Athanasiou Avenue 33, 4102, Agios Athanasios, Limassol, Cyprus. The general support email is [email protected]
IQ Option Review Conclusion
IQ Option is once again a top destination for the trading of cryptocurrency-based CFDs as well as Forex. The trading conditions are outstanding on all their products.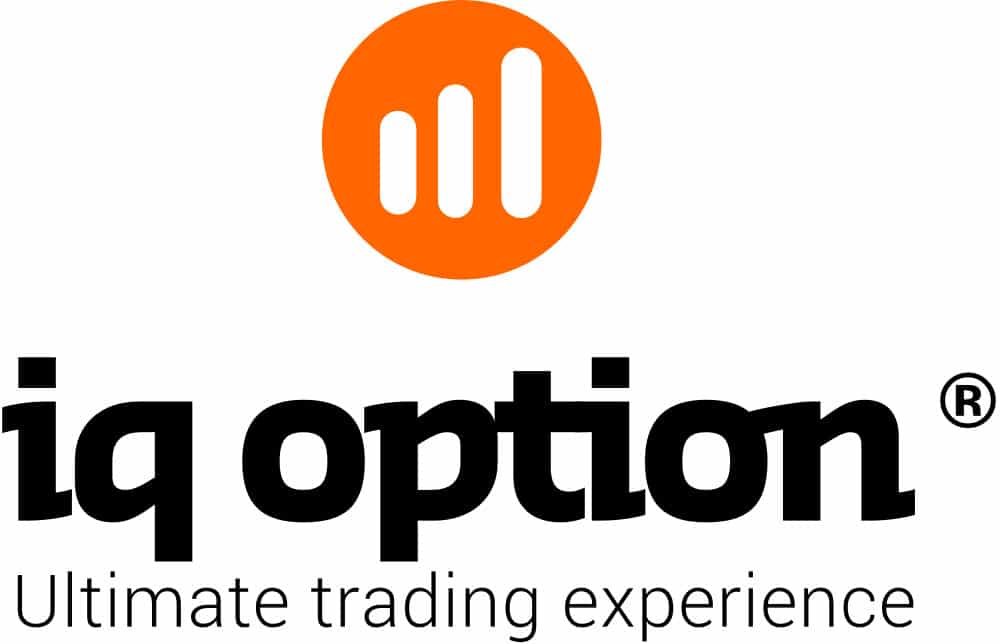 Start Your Trading Journey
Low Minimum Deposit Of Just $10
Please be advised that certain products and/or multiplier levels may not be available for traders from EEA countries due to legal restrictions.
---
---