As a CFD broker, InvestingCrypto's focus is on giving traders access to the highest-quality crypto trading services, as well as providing traders with diversification options, which is why it also covers several other leading asset classes, including shares, FX, commodities and indices.
InvestingCrypto's offering is backed by cutting-edge technology that provides advanced security options to ensure that traders can enjoy a secure and transparent trading experience. As part of this effort, InvestingCrypto partners only with well-known international banking institutions, and spares no expense in providing a quality trading experience that is both pleasant and rewarding for its clients.
InvestingCrypto puts traders at the core of its service offering and allows them to trade CFDs on an optimised platform with competitive costs.
As a global trading brand, InvestingCrypto's service offer is relevant to many retail traders from around the world. While the broker primarily works with traders in Australia and the UK, traders from many other countries are welcome to enjoy the cutting-edge features and high-quality service provided by InvestingCrypto.
InvestingCrypto's offer is in line with the financial market developments that have taken place over the past year, which is why cryptocurrencies are the leading asset class with this broker. This also explains the many different crypto instruments covered by its offering. Traders who wish to diversify their asset classes can also trade shares and indices, as well as commodities and FX.
InvestingCrypto has made the safety and security of clients' funds one of its main priorities, and offers the safest trading conditions, transparency and strict security protocols that are in play daily. Furthermore, the company takes it one step further and uses segregated accounts to store client funds and works closely with reputable international banks.
The proprietary software used by InvestingCrypto is tailored for traders who wish to take part in the crypto market and are willing to face increased volatility for a prolonged period of time. As a CFD broker, InvestingCrypto ensures that traders do not need to worry about the risk of asset-holding, which leaves them free to make a profit from bullish and bearish markets alike without actually having to buy the underlying instruments.
As our review suggests, InvestingCrypto seems to be a safe option that is compliant with the latest trading regulations and standards that apply to international brokerage houses.
 Broker Summary
InvestingCrypto covers a wide range of cryptocurrencies from the better-known Bitcoin to the lesser-known altcoins. It has proven to be one of the few brands offering a high level of competitiveness in this field by providing traders access to Bitcoin, Bitcoin Cash, Binance, Dash, ARK, Ripple, Ethereum, Monero, Litecoin, Ethereum Classic, OmiseGO, Zcash, Gnosis, Augur, NEM, IOTA, Stellar, Neo, Tron, Stratis, Cardano, EOS, Yuan Chain Coin, Polkadot, Dogecoin and Tezos.
Traders who are registering for an account with InvestingCrypto have a choice between five different account levels: Basic, Standard, Gold, Platinum, or VIP. Each account level comes with a different deposit requirement and features set. The basic features that are available to all accounts include online chat support, access to all trading platforms, daily market news, and variable spreads that start at 0.1 pips.
Platform & Tools
The web platform offered by InvestingCrypto was designed to support fast execution across multiple markets and a mobile trading solution for on-the-go trading.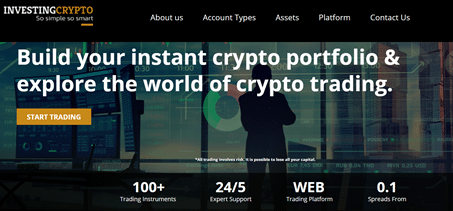 InvestingCrypto has worked hard to provide traders with a solid trading platform where they can enjoy both safety and security, as well as being able to benefit from its combined years of trading experience. The broker offers a proprietary web-based platform that integrates cutting-edge technology alongside professional trading tools that are beloved by retail traders worldwide to help them successfully navigate the financial markets.
InvestingCrypto also offers a responsive mobile solution that allows traders to conduct their trading even while on the go, from any location. This mobile solution also provides traders with full account management abilities directly from the comfort and convenience of their mobile phones, including signing up and complying with the Know Your Customer (KYC) registration process.

Commissions & Fees
InvestingCrypto accepts deposits using fiat currencies such as USD, GBP and EUR as well as Bitcoin, USDT and Ethereum. The broker accepts fiat deposits via credit cards, debit cards and wire transfers, allowing traders to choose their most convenient payment method among the common and trusted in the industry.
Traders wishing to make a withdrawal can do so utilising the same method chosen to make the initial deposit. However, traders will have to comply with KYC requirements and provide verification before being able to complete a withdrawal. Furthermore, there are minimum withdrawal amounts and service fees that will apply according to the chosen method of payment.
Education
In an effort to provide support to traders of all skill levels and expertise, InvestingCrypto offers a wide array of features aimed at providing the tools they need to trade successfully. Some of these features are dependent on the trader's account level. By upgrading their accounts to higher account levels, traders can unlock new features that are exclusive to their account level, and industry knowledge that is designed to help them improve their knowledge and conduct better trades. InvestingCrypto's professional customer support team is also available 24/5 for any client who requires assistance or information about the services provided.
Customer Service
The InvestingCrypto customer support team consists of financial experts and experts in their field, forming a professional and reliable customer service department that is available to all clients 24/5 via live chat, phone, or email.
Final Thoughts
Trading CFDs with InvestingCrypto offers numerous benefits, especially for those interested in trading cryptocurrencies. This is due to the fact that the broker's primary focus is on the crypto market, which means that traders who wish to invest in cryptocurrencies have a unique opportunity to get involved with this broker and take advantage of their service offering.
With its strict approach towards security, transparency and customer service, InvestingCrypto can be counted among the trusted brands in the online trading industry today.
While the broker primarily works with traders in Australia and the UK, traders from many other countries are welcome to enjoy the cutting-edge features and high-quality service provided by InvestingCrypto.
Please be advised that certain products and/or multiplier levels may not be available for traders from EEA countries due to legal restrictions.
---
---