Expert Summary
The company provides a wide range of services to its customers, which covers everything from the moment of opening an account to the moment of withdrawal of earned funds.
InstaForex has gained a leading position in the field of such services. This is entirely due to the fact that the company offers favourable trading conditions and a wide selection of trading instruments.
The total number of trading instruments exceeds 300 pieces. InstaForex, like all other brokers, provides access to the most popular MetaQuotes software (MT4).
It should be added that traders are given leverage. The leverage is from 1: 1 to 1: 1000. You can conduct the trading process, both with commissions and without.
The company systematically updates the available financial instruments. Clients who work with InstaForex were among the first to work with Bitcoin and one of the first to offer the opportunity to trade CFDs in global companies.
Today, the company offers not only brokerage services in the Forex and binary options market, but also other features:
• Professional training for beginners and experienced traders who wish to develop.
• ForexCopy Accounts
• PAMM accounts
• Free trading terminals with a convenient user interface
According to the ideology of the company, all the activities of the company are based on improving trading conditions and creating comfort for all customers. However, there are many dissatisfactions of former and current customers online. According to the InstaForex website, the broker received a number of awards for the best broker. However, the list of praises and praises of the website about InstaForex services and the attention paid to their customers contrasts significantly with the many forum posts about the poor service they actually provide.
The company also offers a $ 200 welcome bonus for new customers. Many online posters say they either didn't receive this bonus or claim that the company used it in fraud.
InstaForex website contains non-native English text. Despite the attractive appearance, the English text on the InstaForex website is clearly not native with obvious grammatical errors. For example, this is one of the first lines that attracts your attention on the site:
"InstaForex trading conditions are universal tools for managing funds in the Forex market."
Although this linguistic flaw is admittedly unlikely to have a big impact on your Forex trading, this is the red flag of a forex scam for a company. Essentially, if a company can afford to pay for a trendy website, at least they can make the text on it written in proper English.
At first glance, if you can handle bad English, the website seems like a legitimate forex broker, even claiming to be the "best broker in Asia." Nevertheless, even this statement is worrying, because the verb "break" in the terminology of the forex market implies the action of manipulating the two sides in the trade.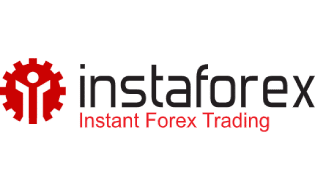 Free Demo Account
No Purchase Necessary
Broker Summary
The InstaForex website consists of a comprehensive site with a wide variety of features for a forex broker and gives a quite impressive initial visual appearance.
The website has extensive pull down menus for all types of forex participants from beginners to seasoned traders, and it has an area for Partners where you can register as a referral partner with the company. They offer four different partnership arrangements such as an Introducing Broker or a "Trade-partner" where you recommend InstaForex to your friends and family.
The website gives the overall impression of a foreign, yet professional, forex brokerage that provides many incentives for new traders to join up. One such incentive is the opportunity to win a Lotus Elise sports car and a cash bonus when opening a new account.
Also, the trading platform offered is apparently "the most dynamically developing trading platform based on MetaTrader 4 terminal." In addition, the Mobile version for Windows Mobile and MultiTerminal are offered by the broker.
Broker Introduction
According to the InstaForex website, the broker has garnered a number of awards for best broker.
Established in 2007, InstaForex is the registered trademark of the InstaForex Group. The multi-asset, multi-regulated CFD broker is headquartered in Mesa Geitonia, Cyprus and has more than 260 representative offices globally. InstaForex offers around 300 CFD instruments across forex, shares, indices, metals, oil & gas, and cryptocurrencies.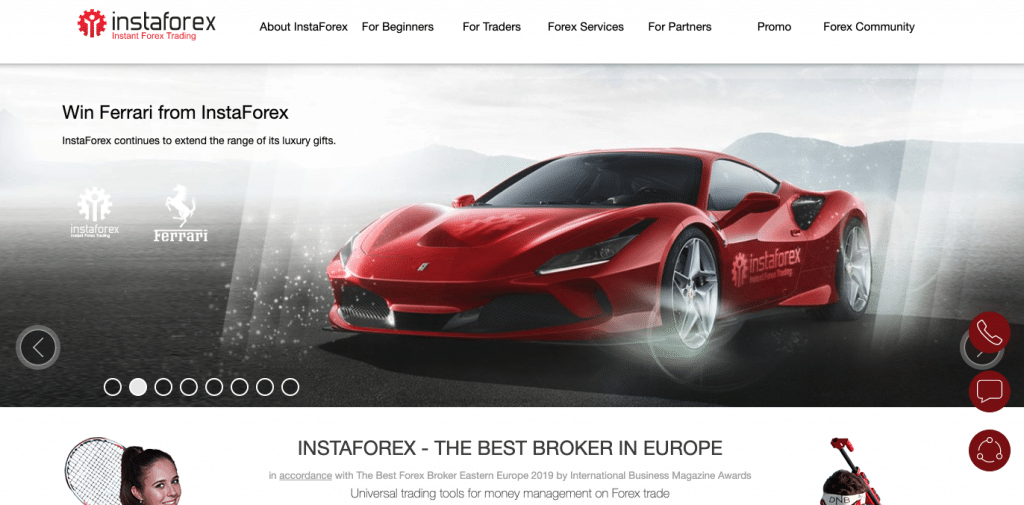 The subsidiaries include Instant Trading Ltd, Instant Trading EU Ltd, InstaVestor Ltd, Insta Service Ltd, and Insta Global Ltd. The regulators include CySEC, the British Virgin Islands Financial Services Commission, and the Central Bank of Russia. The firm provides services to global clients from its offshore-registered firm in Saint Vincent and the Grenadines.
Spreads & Leverage
You are able to sign up to the forex broker InstaForex with a deposit as small as $1.
InstaForex meets the standards and needs for traders of any kind. As for those who like to afford to take risks, so for conservative traders who prefer not to take risks. For example, a company offers trading using leverage from 1: 1 to 1: 1000.
Also, to meet the different needs of its customers, InstaForex gives them the opportunity to choose the type of their account.
Traders can open an account without a commission with classic spreads, accounts with a commission instead of spreads, cent accounts, segregated accounts or Islamic accounts. Regardless of the type of your trader, InstaForex has favourable conditions for trading.
Cent account
Minimum deposit – $ 1
Leverage 1: 1 – 1: 1000
Spreads 3 – 7 pips or 0 pips and 0.03% – 0.07% commission
Standard Accounts
Minimum deposit – $ 1
Leverage 1: 1 – 1: 1000
Spreads 3 – 7 pips or 0 pips and 0.03% – 0.07% commission
ECN accounts
The minimum deposit is $ 100 (for a standard account) and $ 1,000 (for a professional account)
Maximum Leverage 1:30
The average floating spread is 1.2 pips (for a standard account) and 0.8 pips (for a professional account)
Scalping Account:
Minimum deposit – $ 100
Maximum Leverage 1:30
1.2 pips average floating spread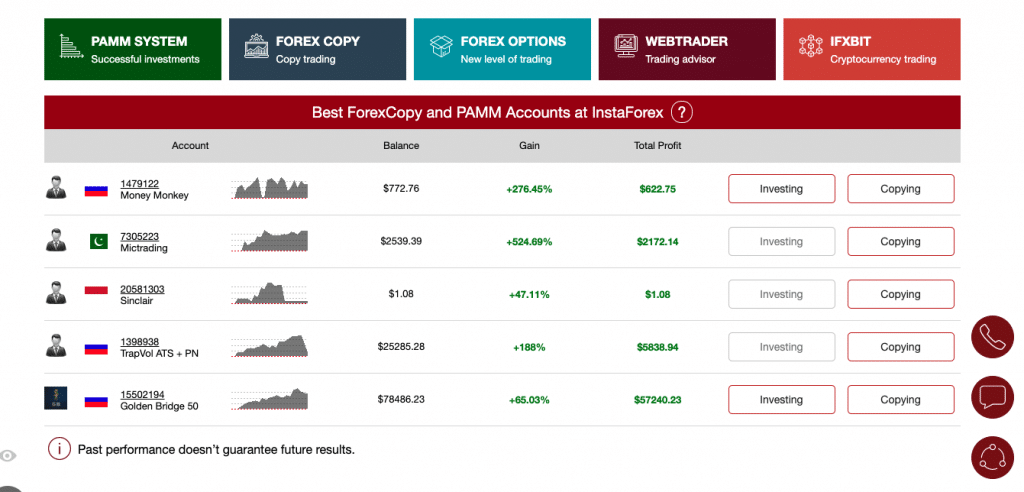 InstaForex boasts multiple resources and has won several awards in client services. InstaForex offers around 300 CFD instruments which includes: forex, shares, indices, metals, gas, cryptocurrencies and oil. As a client of InstaForex, you are able to trade in futures and binary options.
Additionally, InstaForex offers both MetaTrader 4 and 5 platforms, and these are available across web, desktop and mobile applications.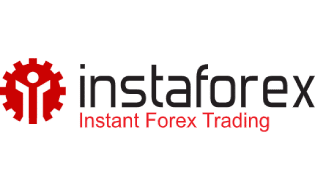 Open Your Account Today
$10 Minimum Deposit
Platforms & Tools
As mentioned above, as a trader with InstaForex, you are able to use both MetaTrader 4 and 5 platforms, which are available across web, desktop and mobile applications.
In addition to MetaTrader 4 and 5, you are able to use IFXBIT and InstaTick. MetaTrader and IFXBIT are predominantly used for CFD trading, where as InstaTick can be used for traders that want to bet on binary options.
The use of MetaTrader 4 is a user-friendly experience with an easy-to-use interface that is accessible in 39 languages.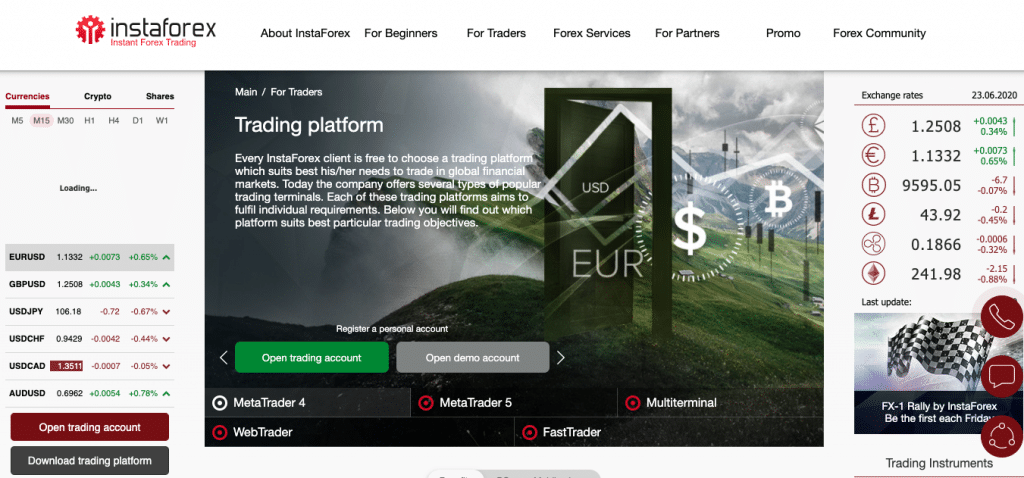 MT4 supports all browsers, including: Windows, MacOS, as well as iPhone and Android devices.
InstaTick is the binary options trading platform on InstaForex, and claims to have won over 40 international awards. You are able to sign up and deposit funds in three currencies, which are: USD, EUR and RUB. With a clear interface and accessible in ten languages, it's an easy tool to use.
Trading tools that the company offers for its traders:
Over 100 currency pairs
Over 80 popular US stocks
Gold and silver trading
Futures CFD
Options and Binary Options
Commissions & Fees
InstaForex charges the following fees:
A copy-trading fee – these are for traders that copy the strategies of professionals. This includes a commission of 0.5 pip per lot on ALL copy trades.

A swap fee – this is for holding overnight positions in any of the financial instruments on the InstaForex site.
InstaForex charges a commissions of 0.03%-0.07% on the Insta Eurica and Cent Eurica accounts, while the other two accounts available with InstaForex carry zero commissions.
Like all online brokers, InstaForex receives most of its income from spreads, which remain elevated in all comparisons and vary depending on the specific account that the client has.
As already mentioned above, the platform offers two different types of accounts: Standard and Eurica. The main difference between these accounts is as follows: standard accounts use fixed spreads starting at 2 points, while Eurica accounts use fixed commissions starting at 0.02%.
EU customers have other types of accounts, such as ECN, ECN Pro and Scalping, which are supported by a floating spread of 0.8 or 1.2 pips.
Novice traders are advised to take commissions rather than spreads to ensure efficient trading due to little experience in the financial market.
As mentioned above, commission brokers are relatively elevated. The average spread in the ECN Pro account starts at 0.8 pips, while the Insta. The Standard account comes with fixed spreads ranging from 2.0 to 7.0 pips, the rest of the accounts are listed at 1.2 pips.
Education
InstaForex does NOT have a separate education section on its website, which is most unusual for a broker. However, this does not mean that there's no resources for traders trading with InstaForex.

All you need to do to find educational an analytical resources is look under the 'For Beginners' and 'For Traders' sections.
We recommend that beginners can find all of the information required under the 'For Beginners' section and if you are an experienced trader looking for something more advanced, we recommend you look under the 'For Traders; section.
Beginner traders can get free courses to test their trading strategies. And as soon as a client opens an account and deposits real funds, a possibility is given to subscribe to the newsletter of analytical news and trading signals, which was prepared by experienced traders of the company, who spent a lot of time analysing the market.
The company also offers access to the economic calendar to study market events on their website. Moreover, the client can use the trading simulator and see repetitions of his transactions.
The client can use the latest online trading technologies to access information resources and news. This is why thousands of beginners and professional traders use InstaForex.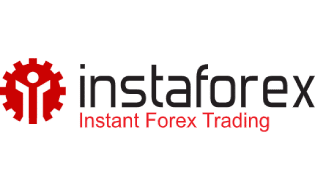 Free Demo Account
No Purchase Necessary
Customer Service
You are able to content InstaForex via LiveChat, email and callback request. Unusually, InstaForex does not provide a telephone number for individuals and clients to call, except for those that have registered in Europe.
Additionally, you can contact InstaForex through Viber, Telegram, WhatsApp, Facebook Messenger and Skype.
Final Thoughts
In conclusion, we find InstaForex an accessible and easy-to-use broker. InstaForex operates in several countries with numerous licences and has millions of customers using its world-class trading platforms.
There is an abundance of educational resources on the site, and the account opening process is simple and easy to navigate. Individuals registering with InstaForex in Europe can be sure that the safety of their funds are secure, however, the same cannot be said for international clients.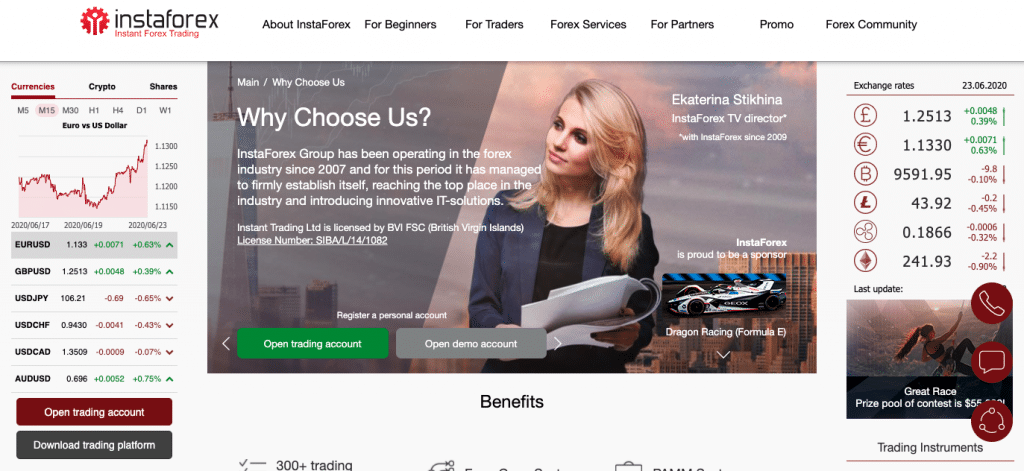 Unfortunately, the trading costs are very high, and the helpdesk system could be better. InstaForex gives you the opportunity to participate in partnership programmes, as well as contests and campaigns, so this can be seen as a bonus.
In addition, the old line of "if it is too good to be true, it probably is" comes to mind when considering the alluring InstaForex "Welcome Bonus", in addition to the supposed opportunity to win a pretty sports car.
However, we consider InstaForex to be a reliable broker, and one that provides excellent trading conditions.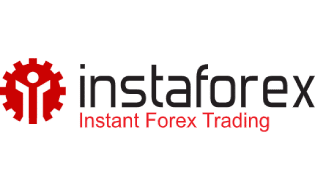 Open Your InstaForex Account
ForexFraud Trusted Broker
Contacts
Email: [email protected]
Twitter: @ifx_support
FAQ
How does InstaForex protect client funds?
According to InstaForex, the Client Cabinet is protected by a reliable SSL certificate and HTTPS technology.
Does InstaForex run contests and campaigns?
InstaForex runs contests and campaigns only for its international clients as all bonuses, contests and campaigns are not permissible under the CySEC regulations.
What kind of spread does InstaForex offer?
InstaForex offers a fixed spread on all trading instruments. However, during times of low volatility, the existing spread could be raised on some or all FX pairs.
Please be advised that certain products and/or multiplier levels may not be available for traders from EEA countries due to legal restrictions.
---
---