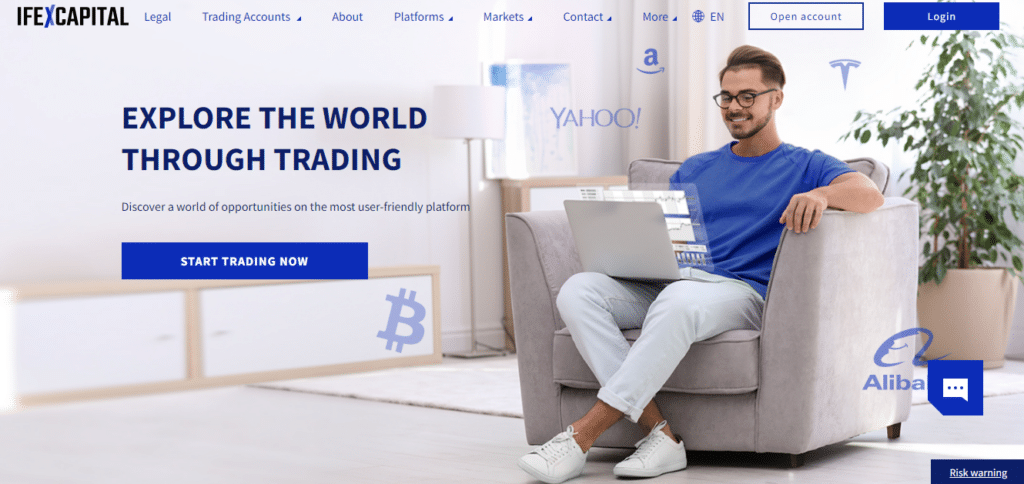 Experts Viewpoint
IFEXCapital is a relatively new broker on the CFD/Forex scene. It opened its doors in 2021, initially in Mauritius, but it has also registered to operate in Cyprus as recently as March 2023. The latter registration may indicate the management team could be serious about its undertaking and wishes to seek clients across the EU, although no licence has been issued.
Is IFEXCapital a trustworthy and reliable broker? It may be too early to render a verdict in this area. The firm still has a way to go to establish a worthy track record and a reputation for excellent service. It started in the wake of the Covid-19 pandemic and the related lockdown when many individuals began searching for other sources of income, often from remote locations. As a result, the trading volume of Forex surged, and many new traders entered the fray.
There are advantages and disadvantages when choosing a relatively new company to be your business partner. As a new firm, it will try much harder to impress new customers, so positive word of mouth will generate new online applications. Prices, spreads, and fees will be at their lowest levels to encourage usage, and bonus programs will be generous. The company will also have the latest technology and will not be weighed down by legacy software systems.
The disadvantage is that the broker's platform and network providers have not been tested under all possible business conditions. The portfolio offerings may also be limited early on but could easily be expanded as usage increases. The initial set of trading tools and educational materials may also appear very basic until the firm is up and running. Expect change to be ever-present as the management team evolves and fine-tunes its offering of products and services.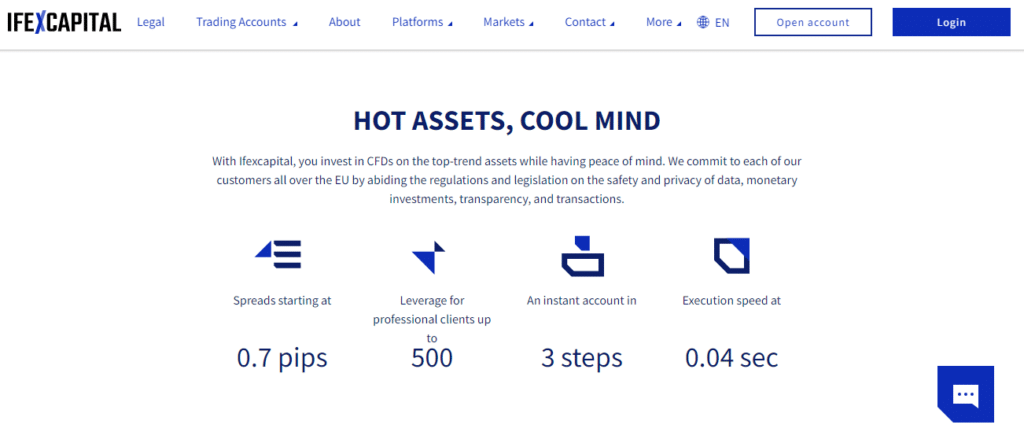 Many forex traders enjoy testing out new entrants in the online trading arena since support and attention will often be constant attributes of a startup with global ambitions. Loyalty also tends to be rewarded, but there will always be risks to be aware of, especially if any service shows signs of degrading. Stay attuned to any press reports, whether positive or negative and invest only a portion of your portfolio with the startup until you gain confidence in its ability to perform. IFEXCapital is new and could be worth the risk, but let caution be your guide.
Broker Summary
IFEXCapital was founded in Mauritius in October 2021 by Zenith Origin Holding Ltd as a full-service investment dealer, excluding underwriting. Zenith also operates a proprietary trading website under its name in Mauritius. The IFEXCapital website is also run by Tranzacta Services Limited, a registered Limited Company in Cyprus with its Director listed as Christos Loizidis and a registration date of 08/03/2023.
This broker is in its startup phase with an impressive website but an untested system and no track record. The firm has located its operation in Mauritius since the regulatory oversight regime is more flexible regarding product offerings related to online trading. For example, professional accounts can use up to "1:500" leverage.
IFEXCapital offers trading in CFDs in various markets, including forex, cryptocurrencies, metals, stocks, commodities, and indices. On its "About" page, the broker touts a selection of 250+ assets, but a sign of early growth is that, on its Webtrader page, the portfolio has already been expanded to include 300+ assets to choose from in the middle of the page, yet 350+ at the bottom. Such discrepancies occur when a website is new, and a company is adapting quickly to an ever-growing customer base.
Opening an account with IFEXCapital is a simple 3-step process – Register, Deposit, and Trade. KYC and AML laws require the submission of identity documentation. It is part of the registration phase, which all global brokers must comply with, but if there is an issue, the broker will help you resolve it quickly. As with many other brokers, IFEXCapital offers a series of accounts – Silver, Gold, and Platinum. Each is designed to cater to the newcomer, intermediate or advanced trader. Professional traders can open a special VIP account, and an Islamic account is also available.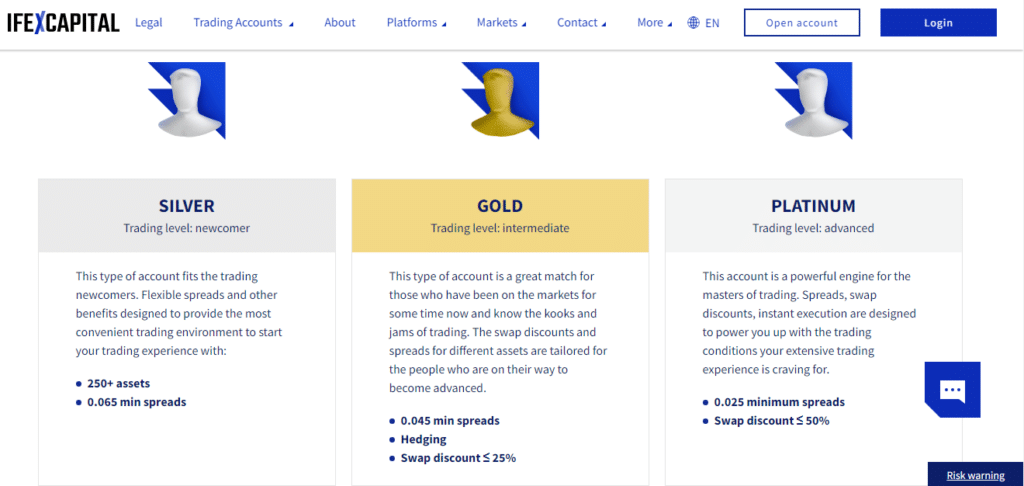 Spreads start at a fraction of a pip and vary by asset choice and time of trading. There are zero commissions and no hidden fees, although inactivity fees after 60 days can be severe. The management team has also partnered with Match-Trade Technologies and offers its Webtrader and Mobile app platforms, which have won several industry awards in 2022. Execution speeds clock below 0.04 seconds, and CFD spreads start as low as 0.03 pips.
Spreads & Leverage
IFEXCapital offers trading in CFDs in foreign exchange pairs, cryptocurrencies, metals, commodities, shares, and indices. Spreads and leverage can vary by asset and time of day, but the website does list its asset listings on an item-by-item basis. Since the firm operates out of Mauritius, it is not constrained by the restrictive covenants in the EU, the UK, or the USA.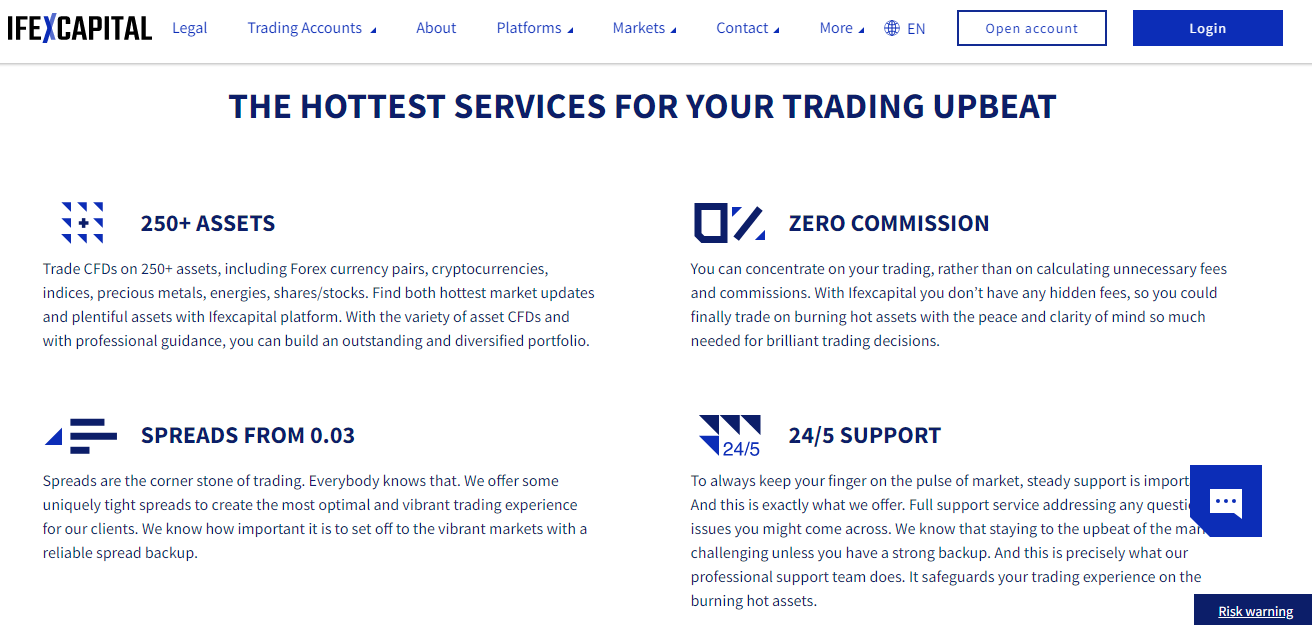 Leverage can exceed levels established in those jurisdictions, but the website only discloses the upper limit of leverage and average spreads for a Professional account. Here are a few examples from the website, which are limited to pro accounts only:
Forex: 45+ currency pairs, zero commission, leverage up to 1:500 for professionals, and the spread for the "EURUSD" pair starts at 0.6 pips (pro account only)
Cryptocurrencies: 30+ crypto assets, zero commission, zero spread (pro account only), and leverage for professionals is typically 1:1, but can be 1:2 for Litecoin
Commodities: 14 soft commodities, zero commission, leverage up to 1:125 for professionals, and spreads from as low as 0.03 for Natural Gas
Shares: 90+ popular global stocks, zero commission, leverage of 1:10 for professionals, and the spread for a stock like Apple is 9.25 (pro account only)
Indices: 19 popular indices, zero commission, leverage of 1:125 for professionals, and the spread for the Nasdaq Top 100 stocks index is 5.05 (pro account only)
Metals: Gold, Silver, Palladium, Platinum, and Copper, zero commission, leverage of 1:125 for professionals, and spreads for Silver versus the USD start at 0.36 (pro account only)
The management team at IFEXCapital has started with a basic portfolio offering the most popular asset choices in each of the supported categories. The offering will more than likely grow as the customer base expands. Additions are likely to occur regularly as demand increases for a broader asset offering.
Platform & Tools
As a new entrant in the global brokerage scene, the management team selected what it felt was the ultimate trading platform, one that had won several industry awards. They chose to go with Match-Trade Technologies and their proprietary offerings of Match-Trader platforms, both Webtrader and its Mobile Application version. With offices in Cyprus, Poland, Malaysia, India, the USA, and South Korea, Match-Trade has supported the global trading community since 2013. To its credit, its platform garnered no less than five prestigious awards in 2022.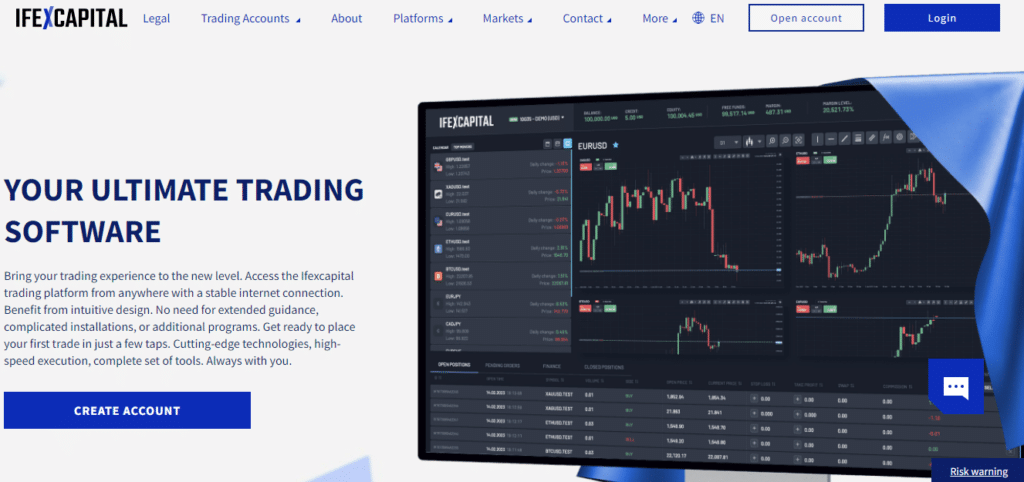 The mobile app is a full-function platform with access to the complete asset portfolio, trading tools and features of the Webtrader alternative. You may download it for free from the Apple Store or Google Play and begin testing its demo system wherever you have Internet access. You can easily review your positions, trade, and execute your orders from your phone.
The IFEXCapital website goes into more detail about the five main functions of the Webtrader platform. The first key attribute is one-click trading for timely command of your positions in a volatile market.

At all times, you are in command. Practice on the free demo until you are comfortable with the system features and tools.

Webtrader enables multiple chart layouts for when you have several active trades in play.

Find the asset you wish to trade from the search bar, along with nine filters available to zero in on your next position.

You can set alerts for any selected asset and update quickly "24X7" and take advantage of the provided news feed and economic calendar.

With Webtrader and its companion mobile app, you may access any asset, use 30+ analytical tools to find the right opportunity and execute with one click without any tricky downloads.
Commission & Fees
IFEXCapital stresses on its "Markets" web pages that there are "0" commission charges on CFDs for forex, cryptos, metals, commodities, shares, and indices. There are also no hidden fees, but overnight swap fees for forex pairs will be assessed, as is the standard in the industry.
There are no fees associated with opening an account or making deposits; however, your payment processor may have a schedule of fees for its services independent of IFEXCapital. Check with your local banker for the most cost-effective funding solution, whether it is a wire transfer, a Visa or Mastercard service, Skrill, or Neteller.
There are no fees for withdrawals, with one exception. If you request a wire transfer for less than 50 EUR, then a fee of 30 EUR will be applied to offset bank charges. Once again, IFEXCapital cannot control what a payment processor might charge for moving your funds to your bank account. Check again with your local banker for the disclosure of these fees.
If you do not open or close a trade or make a deposit in 60 days, IFEXCapital will assess an inactivity fee of 160 EUR. Over 90 days, the cost falls to 120 EUR but rises after 180 days to 200 EUR.
Education
We could not access any training materials at this stage. Under the "About" section of the website, the page speaks of having online courses, tutorials, articles, e-books, and videos on demand, but they were nowhere to be seen. Perhaps, the learning centre is under development or will be farmed out to a third-party supplier. This present lack of training materials is indicative of a startup, and in the interim, an active customer service department can answer any questions you might have.
Customer Service
Customer service representatives can be reached on a "24X5" basis to handle your queries. You may avail yourself of the firm's live chat service or call them directly. If you need to express your issue in detail via email, the IFEX address is [email protected]. Lastly, the "Contact" section of the company's website also offers a preset form for asking your question. The website can also be read in four languages – English, Spanish, German, and Hindi.
Final Thoughts
IFEXCapital is a relatively new CFD broker on the international scene. The firm is in its startup phase, where change is a given, but also when the management team desires to build a loyal customer base via excellent service and specialised bonus programs. The broker operates out of Mauritius, giving the company more flexibility to offer traders features and benefits prohibited in higher-tiered regulatory jurisdictions. The broker is regulated by the FSC in Mauritius and has partner ties in Cyprus. If you are a trader willing to take a risk on a startup and get in on the ground floor, then IFEXCapital may be worthy of your consideration.
Broker Details
IFEXCapital is the trading name of Zenith Origin Holding Ltd. Registration Number: 183397GBC. Suite 4B, Fourth Floor, Ebene Mews, 57 Cybercity, Ebene 72201, Mauritius
Regulated by Financial Services Commission and maintains Global Business Licence and Investment dealer licence GB21026812
The website is operated by Zenith Origin Holding Ltd and Tranzacta Services Limited, a company incorporated under the laws of Cyprus with registration number HE444503. The registered address is Grigori Afxentiou 42A, Egkomi 2407 Nicosia, Cyprus. Tranzacta Services Limited processes payments on behalf of Zenith Origin Holding Ltd.
---
Risk Warning: CFDs are complex investments with a high risk of losing money rapidly due to leverage. You should consider whether you understand how CFDs work and whether you can afford to risk losing all your money. 

---
Contacts
IFEXCapital provides several ways to contact the company if you have a question or need help accessing their portfolio for trading. The direct dial-up number is +442070978456. The support email address is [email protected], or you may fill out the form for contacting them directly at a website terminal. Lastly, the firm provides a Live-Chat service for direct interaction with a customer support representative. The website can be read in English, Spanish, German, and Hindi.
FAQs
1. How can I open a demo account with IFEXCapital?
There are several selection buttons on the IFEXCapital website that ask if you wish to open an account or get started trading. Many will connect you to a page where you can access the firm's trading app from the Apple Store or Google Play. Setting up an account will also give you access to Webtrader, the firm's online web-based trading platform. Both system options support demo trading.
2. Is IFEXCapital regulated?
Yes, IFEXCapital is regulated by the Financial Services Commission (FSC) in Mauritius. The FSC is generally regarded in the industry as a Tier-4 regulator. It maintains the bare minimum of protections available for traders with the brokers it licences, but the flexibility afforded brokers in this country allows for more liberal product offerings.
3. What are the deposit options for IFEXCapital?
As a new broker, deposit options consist of the basic payment methods at this time, but the broker is likely to add new funding and withdrawal methods as it evolves. Wire transfers and payment methods supported by Mastercard, Visa, Skrill, and Neteller are currently available.
4. How do I withdraw money from IFEXCapital?
After logging into your account, select the withdrawal option in the "Client Area" and follow the steps. All withdrawal requests are addressed rapidly and will be processed through the same portal used for funding your account. If you are participating in a bonus program, check any restrictions on your ability to withdraw funds if trading commitments or margin requirements have not been met under your contract. There is no fee unless a wire transfer below 50 EUR is requested.
Please be advised that certain products and/or multiplier levels may not be available for traders from EEA countries due to legal restrictions.
---
---