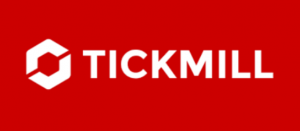 Tickmill continues to grow from strength to strength by offering traders just what they need to be successful in the markets.
This secure framework acts as a base for some of lowest cost trading in the market with trade execution backed up by some very impressive behind the scenes infrastructure designed to offer the best access to the financial markets.
Read the full review of Tickmill
ForexFraud.com does not recommend
GO365
. To see our recommended brokers
click here
.
Company Overview
GO365.io is an online trading brand that wants to solve the issue of accessing the cryptocurrency market in the safest and the most transparent way possible. The website specializes in providing access to cryptocurrency-related CFDs. Clients choosing to open an account will get access to tens of different contracts denominated in USDT, BTC, and ETH, with the main advantage being that all the hurdles encountered with a traditional cryptocurrency exchange platform are avoided and quick trading access is ensured. Trading with leverage (which is both a positive and negative feature) is also possible and will be discussed later in our GO365.io review.

Main Features
Friendly user experience – GO365.io has designed a proprietary platform, available via browser and for Android devices, that's very easy to use and any trader, no matter his/her experience, can trade easily.
Margin trading – At the time of writing, clients can trade with a maximum leverage of 1:20. That enables traders to place big market orders but at the same time makes them vulnerable to countertrend market moves. Using leverage responsibly, though, will ensure that there will be enough available margin at any point, no matter how the market performs, reducing the chances to get a margin call.
Fiat and crypto deposits – at io clients can deposit fiat funds using a credit/debit card or a wire transfer. The minimum deposit required is $200. At the same time, the broker accepts deposits in BTC. Clients must be aware that blockchain fees might apply, depending on the BTC wallet used.
Tens of contracts available – traders can trade popular cryptocurrencies like BTC, ETH, LTC, EOS, XRP, and many others via the GO365.io platform. At present, contracts are denominated in USDT, BTC, and ETH. There are no fiat-to-crypto pairs available.
Fast customer support service – the live chat feature is one of the most important to mention. There is always a representative available during business days. Also, email and phone customer support has been ensured.
Standard account type – all GO365.io clients get access to a standard trading account. They don't have to make bigger deposits for improved trading features. The minimum deposit, though, is $200.
Convenient mobile app – monitoring positions at any time are possible thanks to the mobile app designed for Android devices. There is no app for iOS users at present.
Trading Platform
To provide a customized trading experience, GO365.io developed a proprietary trading platform that's available via any modern browser. Traders will find all the common trading features built in. The most important to mention is the integration of TradingView charts, which provides access to a wide range of technical analysis tools. Drawing tools, common and customized price indicators, multiple charts/time frames, and many other functionalities are possible because of that.
The platform is not only a gateway to the market but at the same time has access to all account functionalities. Traders can see their account summary, make deposits, and view the banking history. Its main advantage has to do with the easy-to-use interface that helps beginners place trades easily without any prior experience. The account manager is also available to assist all clients needing help.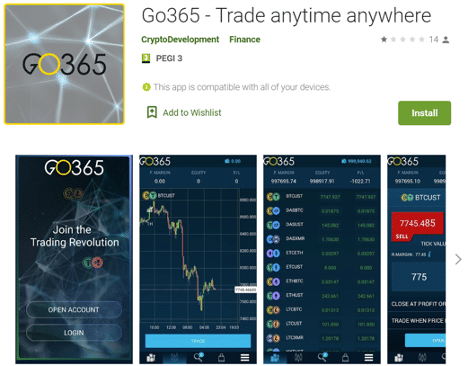 To further enhance the offer, the company has designed an Android mobile platform allowing on-the-go trading at any time. Using it, traders can trade anytime and anywhere, staying constantly in touch with the latest developments of the cryptocurrency market.
Instruments
At the time of writing, there are tens of different cryptocurrency contracts available on GO365.io. From BTC, ETH, LTC, and XRP, to XEM, XTZ, ZEC, and OMG, clients will get to trade a wide range of products. Although there are no fiat-to-crypto pairs, all cryptocurrencies can be traded against Tether, the most popular stablecoin. Also, pairs denominated in BTC and ETH are available, allowing clients to trade weak cryptocurrencies against strong ones, and vice versa.

What's different at GO365.io is that traders don't buy the underlying instruments, but CFDs that track the exact price of cryptocurrencies. They can go short or long, having the ability to profit from both rising and falling markets. Another advantage of trading CFDs has to do with leverage, which is set at 1:20 maximum. Also, we must mention the main trading costs are the regular spreads (the difference between the bid and ask price) and overnight swaps (charged at the end of each business day and charged for three days on Friday).
Pros and Cons
Easy-to-use web-based trading platform and mobile app.
BTC, ETH, and USDT cryptocurrency pairs available for trading.
Standard account with the same trading features for all clients.
High leverage trading can result in high losses if not treated with caution.
A $200 inactivity fee applicable for traders who do not open any trade for 60 days.
Limited access to educational material for beginners who need to learn how to trade.
Go365.io Summary
Although this is a relatively-new crypto trading brand, go365.io has the advantage of providing access to a lot of interesting trading features. Tens of different crypto CFDs, a well-designed trading platform and mobile app, and good customer service are just a few of the advantages. Based on the information available on its website, the company complies with all the regulations set up by the European Union, including the latest GDPR, related to data privacy and security. For more information about their services, please visit the website.
Please be advised that certain products and/or multiplier levels may not be available for traders from EEA countries due to legal restrictions.
---
---