FxPro Review
In many industries, size, experience, and expertise matters, and FxPro.com has it all in spades. It has always been a leader in the forex industry since 2006, and, as such, it has distanced itself from the pack in every way possible. The firm's greeting page speaks to class and breadth of service by first requesting the visitor to choose from 20 languages before accessing the their many service offerings. FxPro is definitely in the top tier of global forex brokers, with a large global footprint, broad client base, and high volume turnover. FxPro UK Limited is authorized and regulated by the Financial Conduct Authority (registration no. 509956). FxPro Financial Services Limited is authorized and regulated by the Cyprus Securities and Exchange Commission (license no. 078/07).
Everything about the company is a testament to its current leadership position in the industry. Awards from prestigious organizations number 35+ and span the previous decade for such things as Best FX Broker, Best FX Service Provider, Best Trading Platform, Best FX Tools, Best FX Service, and more. The firm serves clients in over 150 countries worldwide, and regulatory bodies in both the UK and Cyprus provide oversight, while compliance with MiFiD is also in place for all of the Eurozone. Trust is not an issue with this firm. Full transparency and best business practices are standard. The firm provides a wide range of trading options and is always searching for new, innovative ways to use the latest technology to enhance your overall trading experience.
FxPro is staffed with over 150 employees to serve your interests. Favorable testimonials abound, and the firm is very active in local communities, sponsoring many high level teams, like Fulham FC in the English Premier League, to a variety of other sporting ventures across the globe. According to John Hughman, Editor at Investors Chronicle, "FxPro has out shone the competition in 2014 with its breadth of trading tools and platforms purposely designed to help retail and institutional investors trade the FX markets more successfully. The feedback from readers showed that investors are true believers that the firm goes that extra mile to protect its clients and provide them products and services aimed at making them profitable." Unfortunately, U.S. clients are not accepted at this time.
From August 1st 2018 new ESMA rules regarding stop levels and leverage will come into effect. You can read more about the stop levels and leverage here.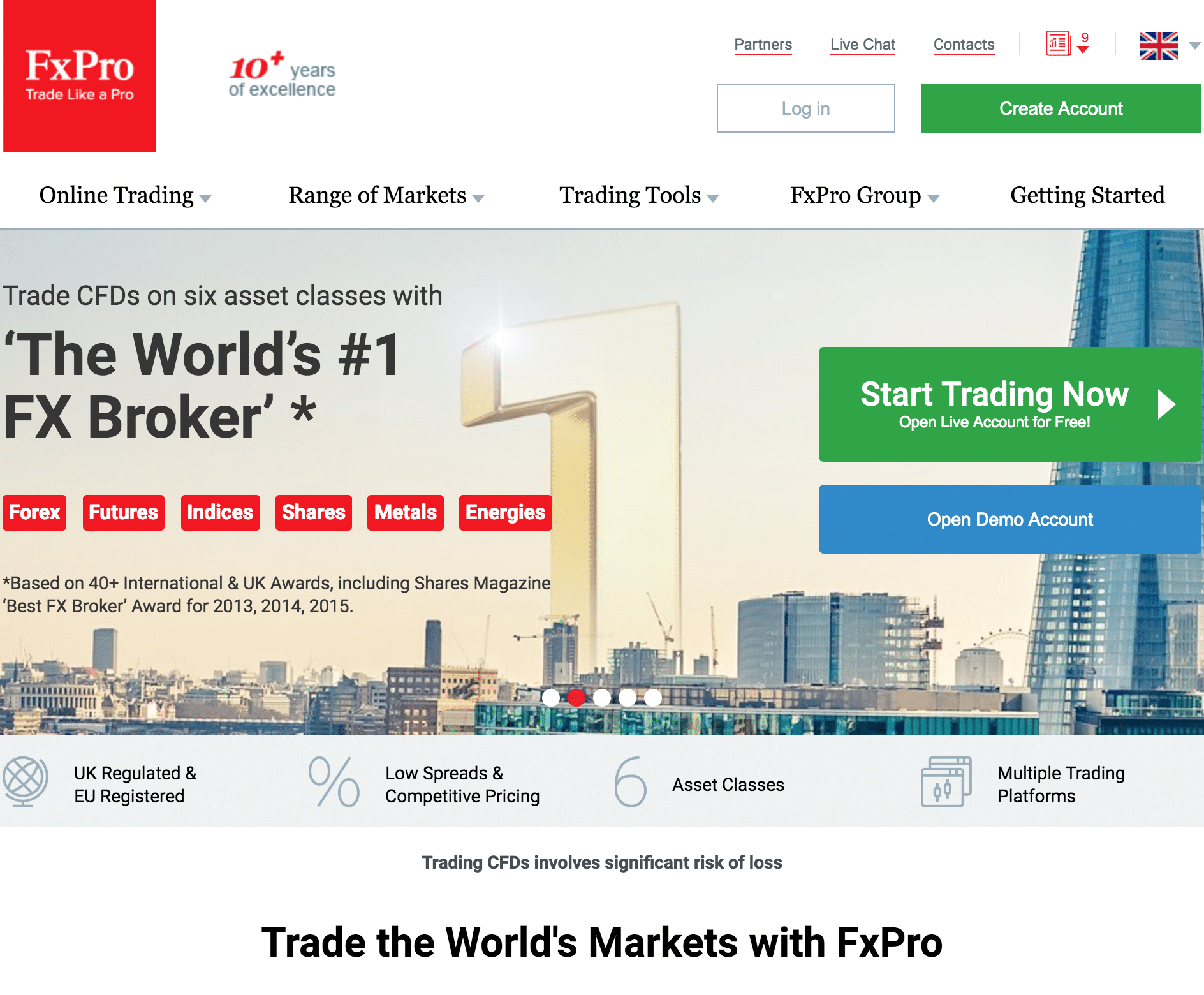 Safety
All client funds are segregated from operating capital in Tier-1 accounts with major global banks.
Account Types & Deposits
FxPro offers MT4 account types with Instant or Market Execution, and also a Fixed Spread option.
MT5, cTrader and Supertrader accounts are also provided.
Free Demo Accounts are Available.
No U.S. clients accepted;
Beginner Support
FxPro is committed to quality and providing the highest standard for customer support. Each rep has been expertly trained to handle a wide assortment of issues and to get you going quickly on to your path for success, 24 hours a day, 5 days a week.
FxPro offers dedicated support in 18 languages.
Advantages of Trading with FxPro
Forex is the primary product, but CFDs are also offered for Metals, Energies, Shares, Indices and Futures;
No dealer intervention;
Tight spreads, high liquidity, no slippage on Instant Execution and no re-quotes on Market Execution;
Metatrader4, MT5 and cTrader platforms offered and FXPro Edge;
Usage of automated Expert Advisors and scalping strategies permitted;
Trading platforms can accommodate a host of environments, and each provides mobile trading apps;
Accounts may be held in EUR, USD, GBP, CHF, JPY, PLN, AUD, ZAR (FxPro Financial Services Limited); EUR, USD, GBP, CHF, JPY, PLN, AUD (FxPro UK Limited); EUR, USD, GBP (FxPro Global Markets MENA Limited); EUR, USD, GBP, JPY, AUD (FxPro Global Markets Limited)
All customer deposits are segregated in Tier-1 accounts with major banks, and further covered by the local Investor Compensation Scheme up to a total of 20,000 EUR;
Negative Balance Protection;
Fast and convenient Deposit/Withdrawal options exist using payment cards, wire transfer, or other local payment methods;
Daily market commentary, network sharing, and technical analysis support ensure that decisions are based on timely information;
Customer Service representatives are on duty "24X5" and cover 18+ languages at present;
The FxPro Academy includes materials ranging from trader-designed webinars, tutorials and videos to market commentary and strategy tips for all levels of trader;
Trading Platform
FxPro allows you to choose your preferred operating environment. In addition to the highly popular Metatrader4 set-ups, the firm also offers MT5, FxPro Edge and cTrader. Additional support is also provided for the trader on the go by means of mobile applications for the iPhone, iPad and the Android devices.
Conclusion
A veteran management team of financial experts created FxPro in 2006, and they have never looked back. Their platforms now process over 5,000 trades per second, and 99.9% of all orders are executed within 50 milliseconds. The firm has won multiple awards for its expertise and leadership in the foreign exchange industry since it entered the fray, and regulatory compliance and best practices are always the rule. As their mission states, "FxPro's mission is to provide superior trading services for all clients, irrespective of the size of their account balances; to educate people about the markets, empowering them to take control of their finances by making forex accessible to all; and to promote transparency and fair trading practices by leading the way and campaigning for their adoption across the entire industry." FxPro has definitely achieved elite status, such that, if you strive to be with the best, then FxPro may be the broker for you.

Please be advised that certain products and/or multiplier levels may not be available for traders from EEA countries due to legal restrictions.