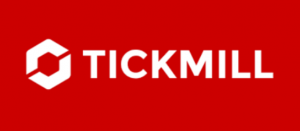 Tickmill continues to grow from strength to strength by offering traders just what they need to be successful in the markets.
This secure framework acts as a base for some of lowest cost trading in the market with trade execution backed up by some very impressive behind the scenes infrastructure designed to offer the best access to the financial markets.
Read the full review of Tickmill
ForexFraud.com does not recommend
FxGiants
. To see our recommended brokers
click here
.

Expert's Viewpoint
Although they are one of the newer kids on the block, established in 2015, FXGiants have nevertheless managed to build up a solid reputation for themselves despite their age. FXGiants are online CFD broker with an international presence who offer high-speed trading in a sleek package. With a customer base spread across over 150 countries, FXGiants have expanded rapidly since first opening. But how do they stack up against the competition?
Trading is delivered primarily through the MetaTrader 4 platform that is well known in the online trading community. There is a good reason for this, as the MetaTrader 4 platform is incredibly stable and offers a high degree of customisability, making it the perfect platform for both novice and advanced traders alike. The MT4 platform also comes with a fully functioning mobile version, which is available both on Android and iOS devices. Additionally, FXGiants have also made a PMAM—or Personalised Multi-Account Manager—available for users of the platform. This allows you to manage several forex portfolios from one central location seamlessly. This includes unlimited MT4 account management, one-click order entry, activity reports generated on demand, and full trading order position monitoring.
Users looking for enhanced security, trading performance, and ease of use can avail of the VPS—Virtual Private Server—FXGiants make available for users of the platform. To gain access to this, a minimum deposit of USD$1,000 to the platform is required. This feature protects you from power cuts, computer failure, and lag in internet speeds.
When it comes to customer support, the FXGiants offering is very much as you would expect from a broker of their size. Members of the customer support team can be contacted via live chat, email, or phone 24 hours a day during business days (Monday to Friday). Multilingual customer support is available. If you would prefer, you can also consult the well-resourced FAQ section of the website, which has answers and guides to many common problems you might run into with your account.
Making deposits and withdrawals to and from the FXGiants platform is a relatively seamless affair, and you definitely get a sense that customer trust and safety is a priority for FXGiants. FXGiants have developed a proprietary interface to make transactions as seamless as possible, which covers transfers by bank transfer, credit and debit cards, as well as a number of e-payment services—such as Neteller, Ecommpay, Safecharge, Skrill, and DotPay. You should note, however, that you may be liable to pay transfer fees depending on the service used. FXGiants, however, will not add on any extra fees.
In terms of customer safety and protection, FXGiants are fully licensed to operate and regulated by a number of different regulatory bodies. This includes CySEC in Cyprus, the FCA in the UK, and the ASIC in Australia. As part of this, FXGiants have put in place various compensation and insurance schemes for clients who deposit funds to the platform. It also means that client funds will be kept in segregated accounts in Top-Tier banks.
Although a relative newcomer, FXGiants have nevertheless put together a solid package that delivers on trading performance, customer safety and protection, and customer support.
Established in 2015 in both the UK and Australia, FXGiants is a registered brand of Cyprus. In the United Kingdom, FXGiants is based in London and is a trade name of 8Safe UK Ltd, while FXGiants is a trade name of GVS Pty Limited in Australia. The two forex brokers were registered with financial regulatory bodies in their respective countries after becoming FXGiants in 2015 and 2016.
In the UK, FXGiants is committed to the highest standard of service to their clients, being fully regulated by the UK Financial Conduct Authority or FCA under the license number 585561, with its official website located at www.fxgiants.co.uk. The Australian FXGiants is overseen and regulated by the Australian Securities and Investment Commission or ASIC under the AFSL number 417482 and its official website is located at www.fxgiants.com.au.
In addition to being completely segregated from company's accounts, customer accounts at FXGiants FCA regulated entities are also protected by the UK's Financial Services Compensation Scheme, in which investors would receive compensation in the event of the broker failing to meet its financial obligations.
Due to the FXGiants name being used by two different entities under the same ownership and offering virtually identical services and websites, this review will consider both of these online forex brokers as one.
FXGiants does not currently accept clients from the United States.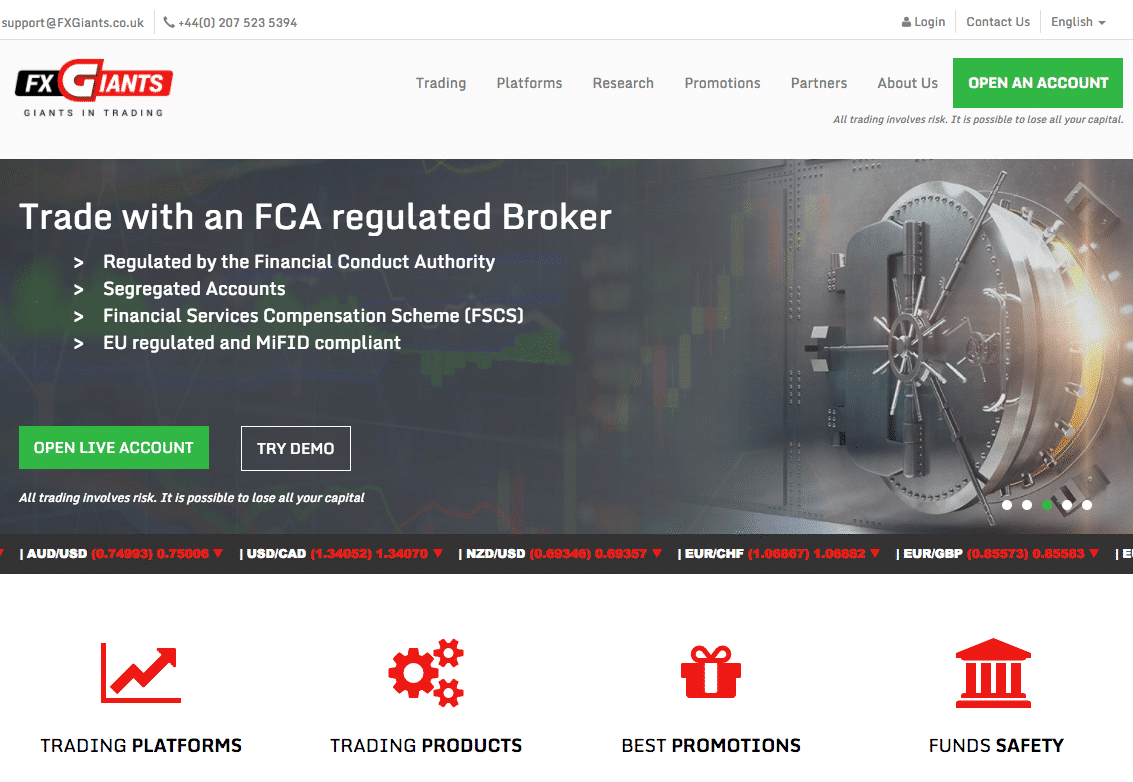 Unique Features Trading with FXGiants
FXGiants is run by a group of professionals with many years of experience in the world of international finance. The team at FXGiants includes market analysts, client business solution specialists, risk management experts and developers.
Furthermore, FXGiants services retail and institutional investors in over 150 countries around the world, offering more than 200 different financial instruments. The broker offers flexible leverage of up to 500 to 1 on some of its trading instruments.
Another interesting feature include a 100 percent "bonus maximizer" and a 20 percent bonus advantage on all deposits up to $2,000.
Trading Software
The trading software used by FXGiants is the standard for forex trading and one of the best forex trading systems currently available: the MetaTrader4 trading platform. The MT4 trading platform is available for PC or Mac desktop computers, and its developer also offers a mobile version for Android and iOS smartphones.
In addition to the MetaTrader platform, FXGiants offers their clients a Personal Multi-Account Manager or PMAM. This software package is a complete risk management platform allowing the user to access and manage multiple trading accounts and create multiple funds. Orders can be entered using a one click entry procedure, and the platform can be used to closely monitor both market and account activity.
Deposits and Withdrawals
To facilitate the funding and withdrawal process, FXGiants has a proprietary interface to make the process easy, fast and secure. FXGiants does not accept cash deposits, but several options exist for automatic deposits such as bank wire transfers, Visa or MasterCard credit cards, Fasapay, Neteller, EcommPay, Safecharge, Skrill, DotPay and China Union.
For withdrawals, the company's payment service providers include Neteller, Skrill and EcommPay, which are all overseen by the UK Financial Conduct Authority. In addition, FXGiants supports DotPay, Safecharge, and China Union.
With the exception of bank wire transfers that depend on corresponding and intermediary banks, deposits made to FXGiants accounts are generally free of charge, while withdrawal fees vary with each payment service provider.
For Visa and MasterCard credit/debit cards, up to EUR 2 per withdrawal transaction is charged with a maximum amount transaction of $50,000. For Skrill withdrawals, a one percent fee is charged on withdrawals that is capped at $10,000 and the service can accept up to a $50,000 maximum transaction amount. China Union has a CNY 20 fee per withdrawal, with a CNY 360,000 maximum amount per transaction.
To withdraw funds using Neteller, a withdrawal fee of $0.29 per transaction is charged with a two percent surcharge capped at $30, with a minimum $1 per transaction and a $50,000 maximum amount per transaction. FasaPay has a withdrawal fee of 0.5 percent per transaction, with a $5 maximum and up to $50,000 per transaction.
Customer Support
FXGiants offers customer support services by email, live chat and telephone support. Having phone support access means you can usually contact them for assistance even when the market is busy and you need help with a transaction issue.
Furthermore, the FXGiants website lists a direct line to their trading desk, as well as several toll-free numbers for the following countries: China, Hungary, Poland, Malaysia, Indonesia, Spain, Portugal, Italy, Russia, Thailand and Korea.
Safety
To address the issue of safety, FXGiants maintains accounts with top tier banks, using the banking and treasury services of Westpac and other world class banking institutions. Customer funds are completely segregated, thereby assuring clients that their funds are held with clarity, integrity and security. Each client account comes with a unique code ensuring it is only to be used for that customer's funding purposes.
As mentioned previously, in addition to the broker being fully regulated, FXGiants customers are protected by the Financial Services Compensation Scheme. This program ensures that customers receive compensation in the event that the broker fails to meet their financial obligations.  Another safety feature that benefits FXGiants customers consists of an automated risk management system that makes sure all client account balances never go negative.
Other Services
For a minimum $1,000 deposit, FXGiants allows clients to connect remotely using a Virtual Private Server or VPS. The FXGiants VPS features optical fiber connectivity for increased security, enhanced performance and ease of use.
Access to a VPS helps traders avoid problems such as power cuts, computer failure and slow internet connection speeds, which can all adversely affect a trader's bottom line.  Also, with the VPS service, customers can install and run an Expert Advisor or EA program in MetaTrader 4 continuously without even having to have their computer powered on.
Conclusion
FXGiants is starting to regain a following due to its tight dealing spreads, transparent trading environment, and its oversight by reputable regulatory agencies. The broker also offers decent bonuses and trading incentives, and provides customer service via email, phone and live chat.
Nevertheless, FXGiants' educational materials and market analysis seem somewhat lacking in depth, so newer traders and those requiring more fundamental analysis tools may wish to look elsewhere.
Please be advised that certain products and/or multiplier levels may not be available for traders from EEA countries due to legal restrictions.
---
---