Expert viewpoint
FXCM is a highly trustworthy broker with strict regulation from top-tier regulators, including the FCA and ASIC. When compared to competitors, FXCM is averagely priced. The broker charges tight spreads plus commissions for the Standard and Active Trader accounts. These account types are highly recommended for intermediate and experienced traders.
Rating Overview
| | |
| --- | --- |
| Overall rating | |
| Regulation | |
| Fees | |
| Range of Markets | |
| Platforms | |
Beginner traders are encouraged to register with the Mini account, which requires a minimum deposit of $50. This account type adopts a market maker model and has spreads starting from 1.5 pips. While the mini-account pricing is not the best in the industry, the comprehensive educational resources and tools that this broker provides make it a good fit for beginners.
FXCM trading platforms include a proprietary Trading System, MT4, and NinjaTrader. Also available is a myriad of third-party tools to enhance trading experience. This makes it a good fit for all trading approaches, including high-volume, social, and algorithmic trading. Most of these trading platforms are accessible through the web and can be installed on desktop and mobile devices. Most competitors do not offer all the platforms that FXCM provides.
Moreover, FXCM appears to provide excellent customer service. It is reachable through phone, live chat, and email. FSCM's customer services are multilingual, available 24/5. Creating an account with this broker is also quite straightforward. Like with most competitors, traders must go through the KYC process when registering with FXCM. The only drawback with this broker is that users may have to wait for up to 48 hours for their ID to be verified.
With over 20 years of experience, FXCM is one of the oldest spot forex and CFDs brokers. The broker is listed in the NASDAQ stock exchange and has headquarters in the United Kingdom. Its main target markets include Europe, Asia, the Middle East, and Africa. FXCM stopped operating in the US in 2017.
This broker is popular with beginner as well as experienced traders. Moreover, it appears suitable for high frequency and algorithmic trading. FXCM provides a wide range of products, which include 39 forex pairs and over 32 CFDs. The CFDs include gold, oil, natural gas, copper, and crypto. FXCM provides direct stock trading instead of CFDs on stock.With over 20 years of experience, FXCM is one of the oldest spot forex and CFDs brokers. The broker is listed in the NASDAQ stock exchange and has headquarters in the United Kingdom. Its main target markets include Europe, Asia, the Middle East, and Africa. FXCM stopped operating in the US in 2017.
Broker Intro
FXCM was launched in 1999 and currently operates in over 50 countries. It is among the most revered brokers across the globe and is regulated in all jurisdictions by top-tier regulatory bodies. The regulators include the UK Financial Conduct Authority (FCA), the Australian Securities and Exchange Commission (ASIC), and the South Africa Financial Sector Conduct Authority (FSC).
With offices in 10 countries — namely London, France, Germany, Israel, South Africa, Australia, Italy, Greece, Hong Kong, and Canada — FXCM provides multilingual support in over 20 languages. The broker has received multiple awards in the categories of customer support, trading platforms, research, and automation.
The minimum deposit with this broker is $50 (€300 for EU accounts), and it does not provide any deposit bonus. Furthermore, FXCM has its proprietary trading platform as well as MT4, and Ninja Trader. All the platforms are available in web, desktop, and mobile versions. Each of these platforms are equipped with a wide variety of tools to enhance user experience.



Free Demo Account
No Deposit Required
Through our efforts in the leadgen campaigns for forextraders.com, we've been finessing the nurturing process through a CRM. We see this working holistically, pulling in the audiences built from social media, PPC and organic traffic (newsletter signups, etc) and segmenting them out in order to best maximise their individual potential.
FXCM's most recent awards include the Best Technical Tools award (2019) by BrokerChooser and Best Customer Support (2018) by FXEMPIRE. Most of the users who have reviewed this broker on platforms such as TrustPilot and ForexPeaceArmy report quick execution and quality pricing. There are also great reviews about its withdrawal process.
FXCM provides a comprehensive educational centre covering beginner and experienced trader education. The introductory materials are available before registration, but users must register to access the advanced ones. Moreover, the broker provides regular webinars for updates on the latest market developments. Traders are also given opportunities to learn by challenging each other through contests with prices of up to $10,000.
Registering with FXCM is straightforward. It involves creating an account through the form on its homepage and verifying identity by uploading a photo of both sides of a government-issued identity card.
Compare FXCM with other approved brokers
| | | | | |
| --- | --- | --- | --- | --- |
| | | | | |
| Regulation | FCA, ASIC, AFSL | FCS, CySEC, FSC | FCA, CySEC, ASIC, Seychelles FSAS, | FSPR |
| Customer Support | email, live chat | email, phone, live chat | email | email, phone, live chat |
| Trading Platforms | MT4, MT5, WebTrader, Mobile Apps | MT4, MT5 | desktop and mobile via brokers own platform | MT4, MT5, WebTrader, Mobile Apps |
| Minimum Deposit | 300€ | $10 | $50 (varying by Country) | $200 |
| Leverage | 1:30 | Flexible | From 1:2 to 1:30 | 1:500 |
| Total Markets | 300 | 252 | 2368 | 182 |
| Total Currency Pairs | 45 | 62 | 49 | 72 |
| Total Cryptocurrencies | 7 | 4 | 37 | 0 |
Spreads & leverage
FXCM provides competitive spreads on both forex and CFDs instruments. According to the broker, 95% of all orders on its platform receive positive slippage or zero slippage. Consequently, all trades are executed at the rate entered by the client or better. FXCM claims its average execution speed to be 0.016 seconds.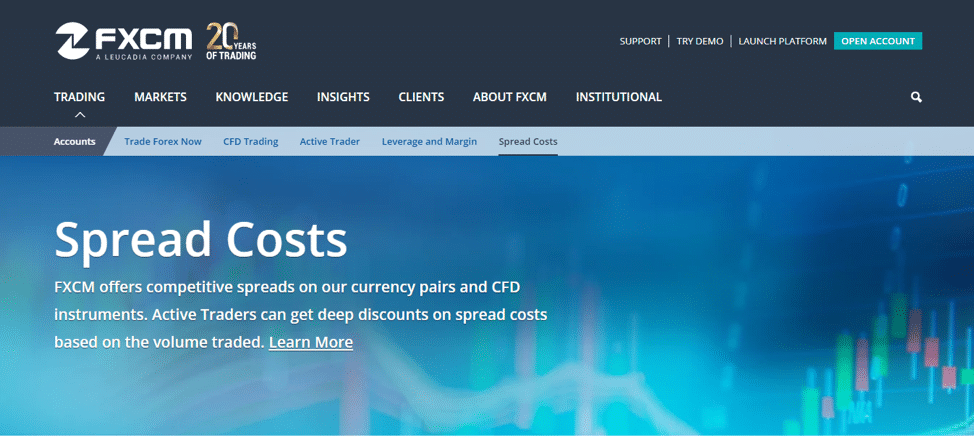 The typical spread for the EUR/USD pair with this broker is 1.3 pips for the Standard account and 0.6 pips for the Active Trader Account. This is relatively low compared to the industry average of 0.7 pips. FXCM charges both spreads and commissions depending on the type of trading account and the instrument traded.
The broker offers three types of accounts, namely the Mini, Standard, and Active Trader account. Each account type comes with its deposit requirements and benefits, with the Active Trader account being the epitome. While the mini account requires a minimum deposit of $50, the Standard and the active trader account require a minimum of $5,000 and $25,000 respectively.
Moreover, the mini account is a dealing desk and hence charges fixed spreads with no commissions. The Standard and Active Trader account apply the STP+ECN by charging a floating spread plus a commission. As mentioned above, the average spread for the EUR/USD pair through the standard account is 1.3 pips. The Active Trader account, on the other hand, has an average spread of 0.7 pips for the same pair.
CFD spreads also differ with the instrument traded and the type of account. The average spread for S&P 500 CFD through the Standard and Active Trader accounts is 0.38 pips. When it comes to crypto, FXCM bitcoin spreads are among the most competitive in the industry. As of March 8th 2020, the broker provides a BTC spread of 30, which is almost half of what competitors offer.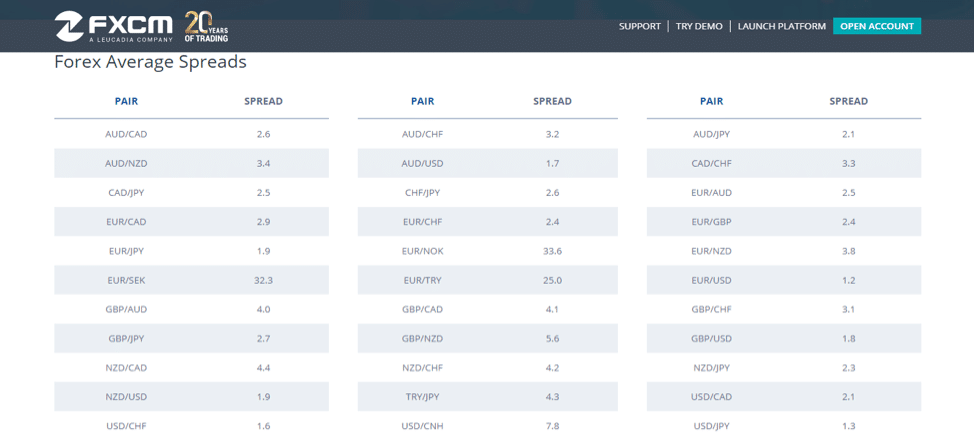 FXCM provides a leverage of up to 1:400, depending on the type of account, instrument traded, and type of client. Retail clients enjoy leverage of 30:1 for major currency pairs, 20:1 for minor currency pairs and CFDs on major indices and gold, 10:1 for minor indices and all other commodities, and 2:1 for cryptocurrencies. These levels of leverage are in line with the European Securities and Markets Authority (ESMA) requirement.
Professional clients enjoy leverage of up to 200:1 for CFDs and 400:1 for forex accounts with a value of less than $20,000. Those with a currency value of more than $20,000 enjoy maximum leverage of 100:1.

Start Trading Today
Simple Sign Up Process
Platforms & tools
FXCM offers its proprietary Trading Station platform plus third-party systems such as MT4 and NinjaTrader. Trading Station is available in desktop, mobile and web versions. The web version comes with Mac-friendly HTML5 integration. Moreover, it comes with a modern and highly intuitive user interface suitable for all types of traders, including complete beginners.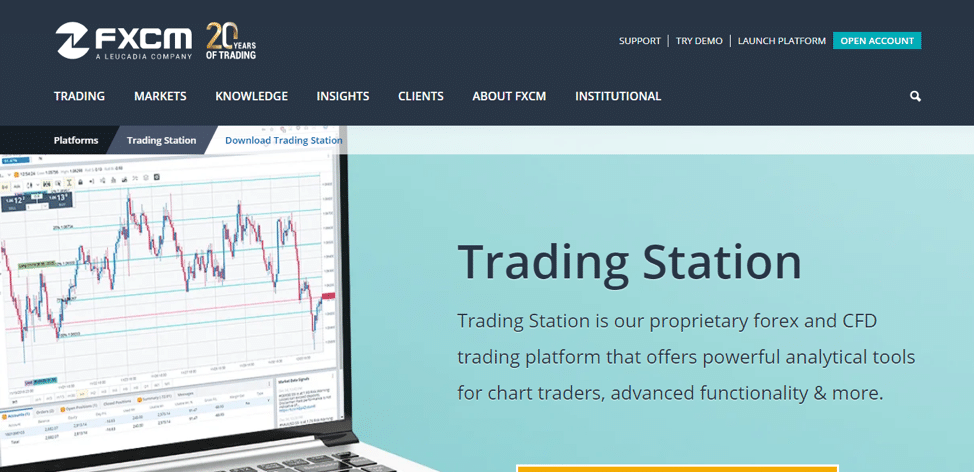 FXCM's features include multiple order types, advanced charting applications and a selection of pre-loaded indicators. The platform allows automated trading and can be customised to fit users' needs. Regarding charting tools, the FXCM Trading Station provides a powerful charting package known as Marketscope 2.0.
Other features available through this platform include a news feed, market data signals, and a wide range of third party education and technical analysis tools. FXCM Trading Station and the Marketscope 2.0 charting package can be accessed from the FXCM website.
MT4, on the other hand, comes with all features offered by most top-level brokers. Among these are customisable 'stop loss' and 'take profit' risk management features. MT4 is also easily customisable and comes with a variety of indicators and advanced charting tools. Furthermore, it supports algorithmic and social trading and provides access to a wide range of instruments.
Even better, MT4 is available in web, desktop, and mobile versions. The desktop version is compatible with Windows, Linux, and Mac OS, while the web-version is accessible through all major browsers. The mobile version is compatible with iOS and Android devices and can be downloaded for free on Google Play Store and App Store.
FXCM also provides the NinjaTrader, a trading platform that is popular with futures trading but also supports forex, stock, and CFDs trading. The platform offers a wide variety of advanced analytical and charting tools and is connected to a myriad of third party trading tools. It also supports automated trading and allows users to create their trading strategies and indicators using Ninja script.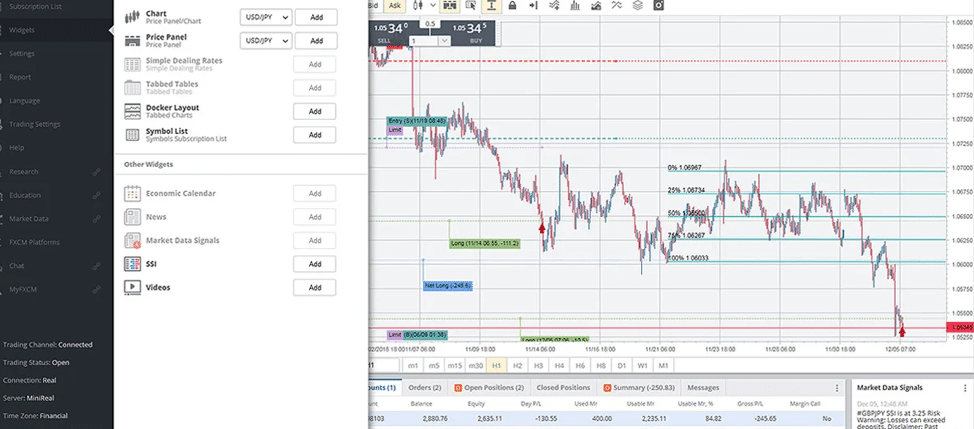 Unlike the Trading Station and MT4, the NinjaTrader is only available as a web-version. However, users can access the platform through the CQG mobile app. Traders are encouraged to contact FXCM customer service to learn more about this option.
All FXCM platforms support automated and social trading. Moreover, the broker provides third-party tools such as Mirror Trader and ZuluTrade. Mirror trading allows traders to copy trades from reputable strategy developers into their accounts. ZuluTrade, on the other hand, enables traders to copy the trades of other successful traders.

Try Trading For Free
No Obligation Demo Account
Commissions & fees
FXCM has an average score when it comes to fees and commissions. While some types of fees are extremely low, others are considerably high. This means that traders must consider the total costs when determining whether this broker is suitable. We have compared them to many competitors, and we find them to be worthwhile.
As explained earlier, FXCM charges tight spreads plus commissions for the Standard and Active Trader accounts. The commission depends on the currency pair traded, type of trading account, and the volume traded. For the EUR/USD pair, FXCM charges a commission of as little as £4 per standard round-turn lot.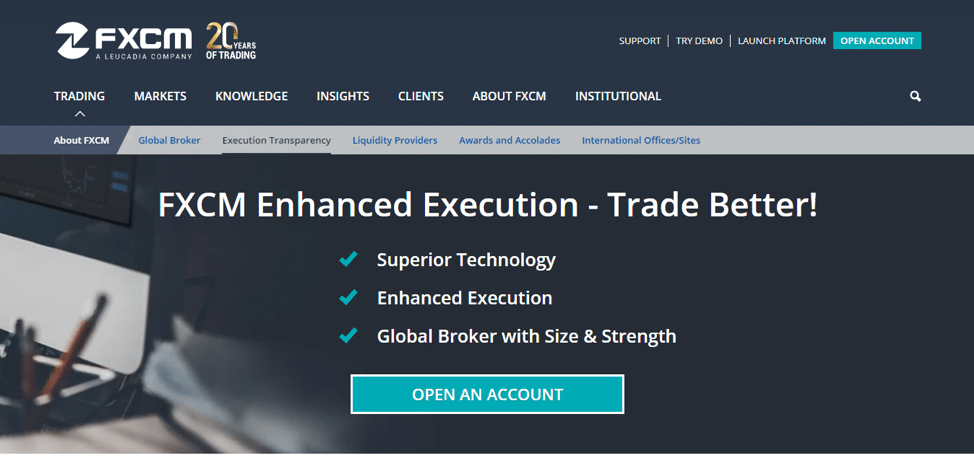 Regarding non-trading fees, FXCM charges an inactivity fee of $50 for accounts that remain dormant for more than a year. This is considerably low but still significant for long term investors. Some competitors do not charge any inactivity fees. FXCM does not charge any deposit and withdrawal fees for bank transfers, major debit and credit cards, and electronic wallets. Most brokers charge withdrawal fees, and hence FXCM has a competitive edge in this area.
However, it is always essential to take into perspective all costs when choosing a broker. FXCM appears to be the right choice for short-term positions.
Education
Since its launch, FXCM has managed to build upon its comprehensive and state of the art education centre. The broker has won various awards for trader education, among them the Best Educational Materials in Forex and CFDs award by Investment Trends.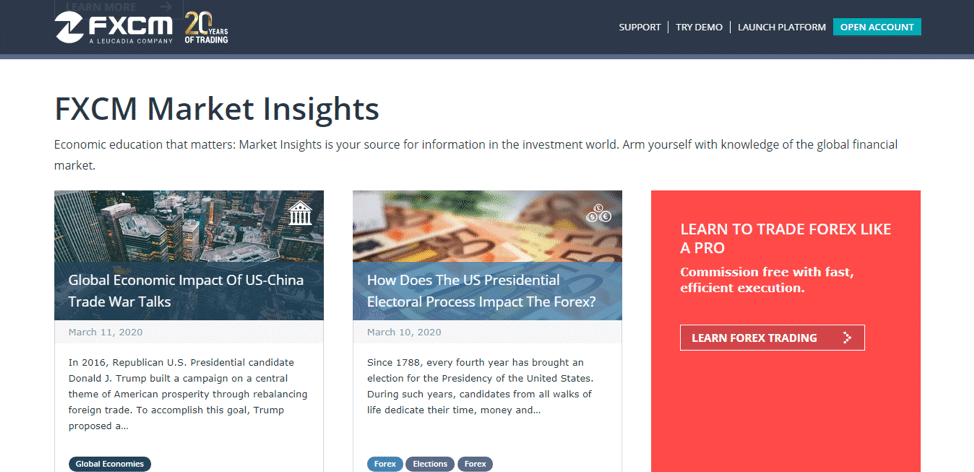 FXCM educational resources cover beginner, intermediate, and expert trading education. Moreover, the materials are available in blogposts, PDF documents, e-books, and video tutorials. Also available are free trading courses, webinars, and trading workshops. The workshops take place at FXCM's offices in all the jurisdictions of operations. They aim to help traders socialise and learn from each other.
Trading webinars, on the other hand, cover market updates and popular trading subjects. They are provided twice a week and are recorded for future reference. FXCM offers a regularly updated webinar calendar to help traders plan. Moreover, FXCM assigns a dedicated account manager to beginner traders to accompany them through the first steps of trading.
It is worth noting that most of the educational materials provided by this broker are only available to registered traders. While basic introductory materials are accessible before registration, most of the advanced materials are only accessible to Standard and Active Trader account holders.
FXCM provides a powerful demo account. Moreover, it regularly sponsors demo trading contests for traders to challenge and learn from each other. Participants can win up to $10,000 in trading capital. Regarding trading research, FXCM provides a detailed economic calendar, a market scanner, and market data signals.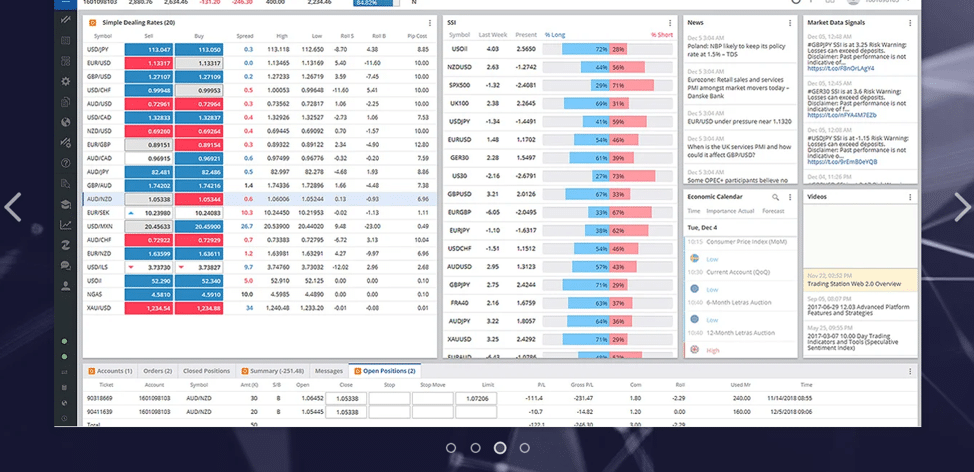 A market scanner is a collection of leading indicators that enable traders to screen forex and CFDs using the technical parameters they like best. The market data signals, on the other hand, provide traders with insights to help them identify potential trading opportunities. FXCM has a proprietary technical analysis tool known as Speculative Sentiment Index (SSI), which is considered to be superior to most technical indicators, including moving averages.
Unlike moving averages, the SSI analyses current data and hence can signal a change in market direction before the change happens.
Customer service
FXCM has award-winning customer service. The broker is the winner of FXEMPIRE Best Customer Support Award 2018 and 2017. FXCM provides 24/5 customer service via phone, live chat, and email. The contact phone numbers are toll-free and based on jurisdiction. Traders can determine the phone number for their jurisdiction by visiting the broker contact us page.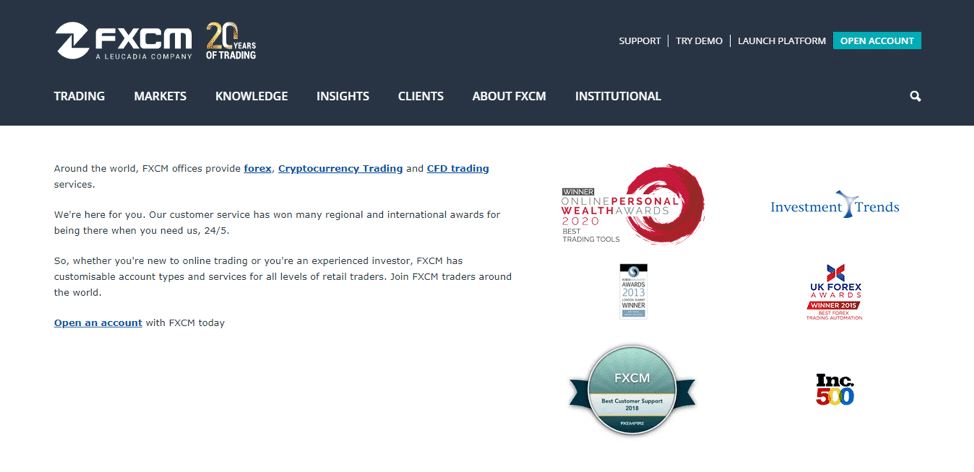 The live chat is also available for 24/5 and is multilingual. FXCM responds to phone calls and live chats almost instantly. Inquiries made through the email can take up to 24 hours to get a response. Moreover, the broker has physical offices in many jurisdictions, including Canada, Germany, Hong Kong, Italy, Greece, France, United Kingdom, Australia, and South Africa. The office visiting hours are 9:00am–5:00pm, Monday to Friday.
This broker also provides a comprehensive and well-organised FAQ page. The FAQ covers topics from basic to the most advanced, including matters relating to tax. Moreover, the page comes with a search box to help users navigate easily. As mentioned earlier, FXCM provides a dedicated account manager to guide beginners in the first stages of trading.
Final thoughts
FXCM is one of the oldest and most reputable spot forex and CFD brokers. This broker provides a wide range of tradable instruments and has competitive pricing. FXCM charges tight spreads plus a commission for Standard and Active Trader accounts. Also available is a Mini Account, which offers fixed spreads with no commissions.
The mini account adopts a market maker trading approach while the Standard and Active Trader accounts are STP+ECN. FXCM has limited non-trading fees with no deposit and withdrawal fees. The registration process with this broker involves a few simple steps. However, traders must go through the KYC process.
*Average Spreads: Time-weighted average spreads are derived from tradable prices at FXCM from October 1, 2019 to December 31, 2019. Spreads are variable and are subject to delay. The spread figures are for informational purposes only. FXCM is not liable for errors, omissions or delays or for actions relying on this information.
FAQs
How can I open a demo account with FXCM?
Go to FXCM website and click the 'try demo' button. Follow the account creation process to access the Trade Station demo account. Alternatively, you can download MT4 on your mobile phone, search FXCM on the broker tab and create a demo trading account.
Is FXCM regulated?
Yes. FXCM is regulated by top-tier bodies, including the EU Financial Conduct Authority (FCA) and Australian Securities and Investment Commission (ASIC).
What are the deposit options for FXCM?
FXCM account funding options include debit/credit, wire transfer, Skrill, Union Pay, and Neteller. This broker does not charge any deposit fees.
How do I withdraw from FXCM?
FXCM supports withdrawals through debit and credit cards and Bank Wire. You can watch a video that explains the process on its website.

Open Your FXCM Account
Five Star Forexfraud Broker
CFDs are complex instruments and come with a high risk of losing money rapidly due to leverage. 69.66% of retail investor accounts lose money when trading CFDs with this provider. You should consider whether you understand how CFDs work and whether you can afford to take the high risk of losing your money.
Please be advised that certain products and/or multiplier levels may not be available for traders from EEA countries due to legal restrictions.
---
---