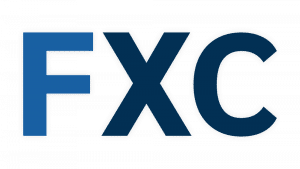 After a thorough review and investigation into FXCentrum, we can reveal that ForexFraud is happy to sign off on the broker as a firm that can be trusted.
We understand that there is some concern when trading with offshore brokers – particularly those new to the industry – but we can offer two mitigating factors to consider.
The first is that FXCentrum is regulated by the Financial Services Authority (FSA). The FSA might not be a top-tier regulator; however, it is stringent enough with its rule-making to provide complete peace of mind for traders that their chosen broker will have to adhere to the highest standards.
The flip-side of FXCentrum being authorised by the FSA is that the Seychelles regulator takes a more relaxed view to leverage and promotions than other regulators such as CySEC. This means clients can access leverage of up to 1:1000 and take part in trading competitions. The 100% First Deposit Bonus is also worth considering. Anyone who is eligible for this offer can deposit $100 into their new trading account, and automatically receive a $100 bonus.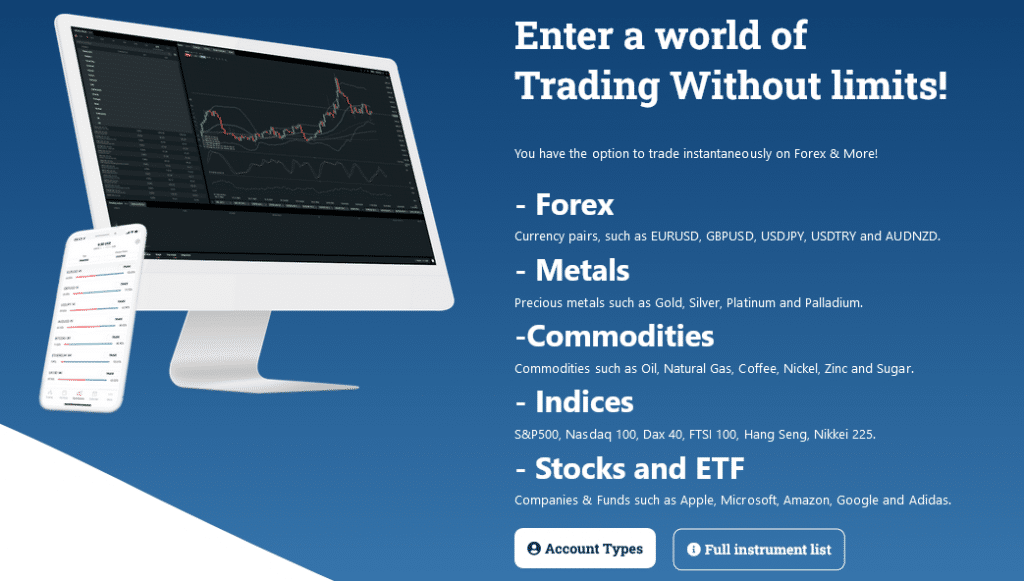 FXCentrum also incorporates an affiliate Partners Program, which includes a high CPA and 50% revenue share amongst its offerings.
The unique selling point of FXCentrum is its proprietary software platform, FXC. It's rare for a broker to be bold enough to build a platform rather than simply licensing MetaTrader. In this case, it's a decision that has paid off for the broker.
The FXC platform is nicely streamlined and is a breeze to use. It offers just as many charting options and technical indicators.
There are more than 3,000 tradeable assets on the table, from forex and stocks to indices and commodities and crypto. What's more, you'll find leverage of 1:1000 available if you enjoy high risk/reward trades, with tight spreads as low as 0.1 on some assets.
FXCentrum provides two different accounts for traders to choose from. Indeed, FXCentrum delivers exceptional trading conditions for clients of all budgets and experience levels.
Broker Summary
FXCentrum is a broker established in 2019. The business is based in the Seychelles and regulated by the Financial Services Authority (FSA). It offers a bespoke trading platform – FXC – via which clients can trade more than 3,000 different instruments and assets, including forex, stocks and indices. There are low spreads as tight as 0.3 pips and leverage of up to 1:1000 available.
Clients of FXCentrum can access customer support during regular office hours (CET time) via phone, email and live chat, which is manned by a human being rather than an algorithm.
Broker Introduction
While it might be a relatively new broker into the market, FXCentrum has already shown an aptitude for delivering a safe, reliable and value-adding service for its clients.
Established in 2019, the broker is regulated by the Financial Services Authority (FSA) through the Seychelles. While some traders are wary of so-called 'offshore' brokers, at the time of writing this FXCentrum review, the signs are that the firm has gone the extra mile to build trust with its clientele.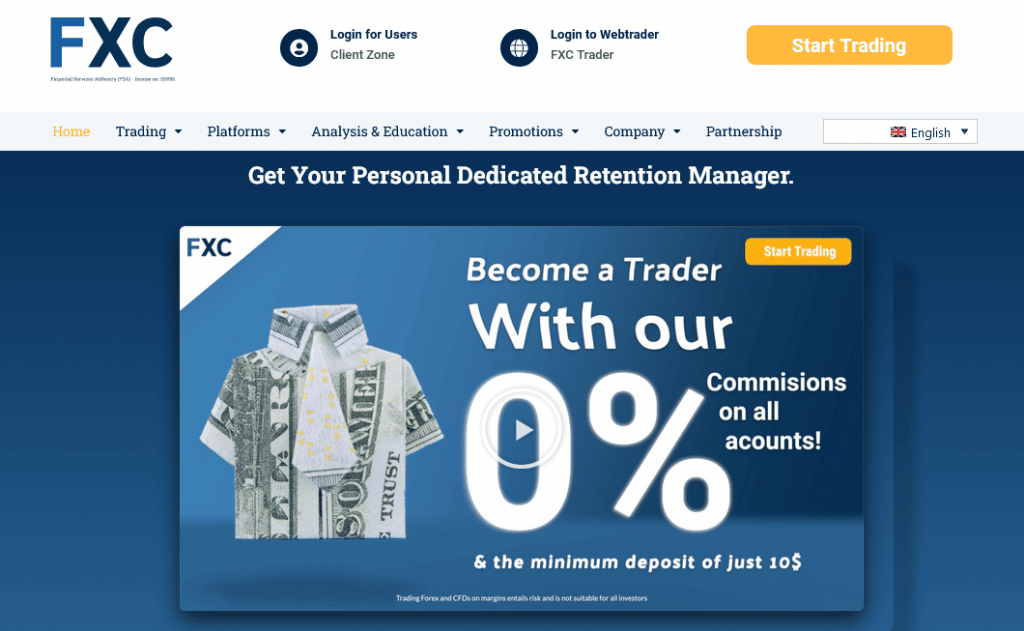 So, the question of is FXCentrum safe can be answered with a resounding yes. But what else can traders expect from the broker?
Pleasingly, FXCentrum can offer clients leverage of up to 1:1000, which is an extraordinarily generous position. There is risk inherent in that, of course, but the opportunity to utilise such a springboard in your trading is welcomed.
With spreads as low as 0.1 pips, and zero commission charged on all positions, it's fair to say that FXCentrum is providing excellent trading conditions for clients.
Spreads & Leverage
With access to more than 3,000 tradeable assets and CFDs, there's a wealth of options available at FXCentrum.
Happily, that extensive library is backed by agreeable trading conditions, with leverage of up to 1:1000 available on many of the instruments – this does represent an opportunity to scale up on risk-return.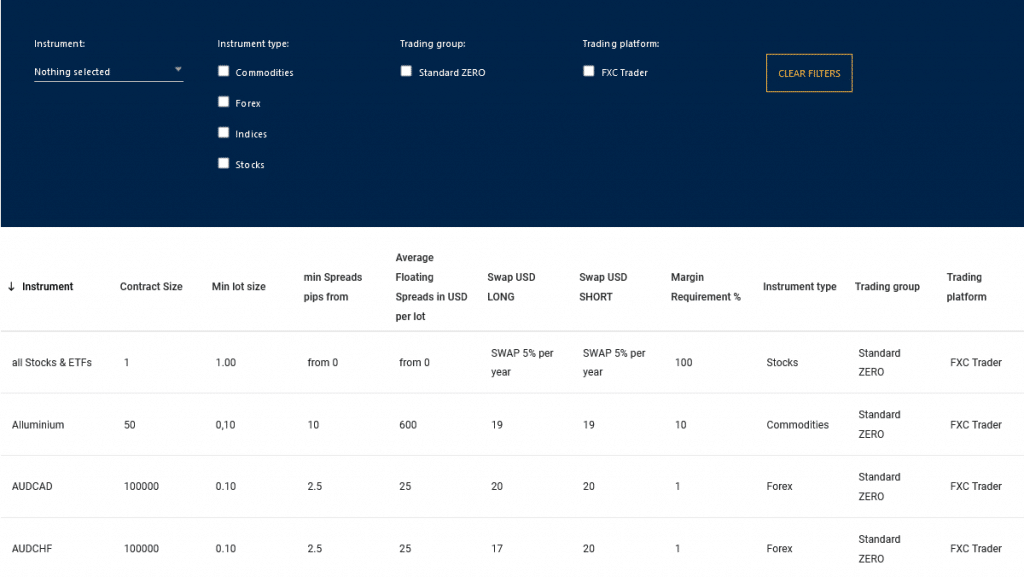 With high market liquidity comes low spreads – as little as 0.1 pips, actually, on many of their markets. So already, we are building a picture of FXCentrum as a broker that is happy to create a robust trading environment for its clients.
However, note that some forex pairs have higher spreads, including USD/EUR, which is flexible around the 2.0 pips mark.
Platform & Tools
As mentioned, FXCentrum has built a proprietary trading platform for clients to use – much more on that shortly, but first, we should mention the comprehensive array of assets and markets that you can trade.
The broker offers more than 3,000 assets and instruments to trade. These cover all the key areas, including forex, stocks, indices, commodities, metals, cryptocurrencies and much more besides.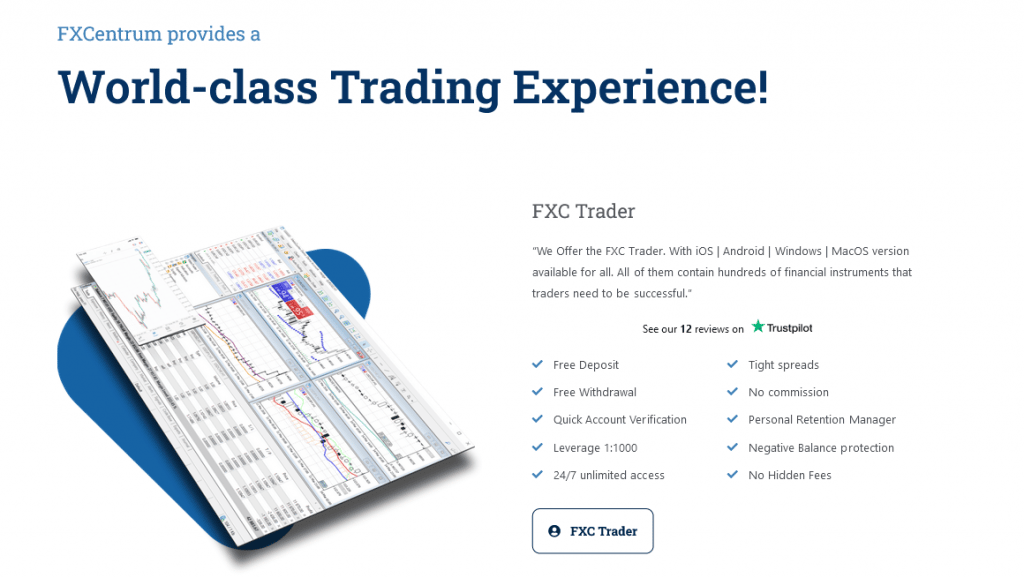 Execution of all trades is via STP and ECN, which helps to ensure reliable and low-cost trading. There are large liquidity pools to tap into without the hassle and delays of having to go through dealing desks, etc.
Now, back to the platform. Those 3,000+ assets can be traded using the in-house FXC platform, which has been designed to offer greater flexibility for traders.
The software is nicely designed and is a doddle to use, with each trading option shown clearly on screen and easily navigable. All of those crucial account functions are available but are neatly hidden away behind the menu button.
The beauty of the FXC platform is in its real-time monitoring tools, and you can easily track your P&L plus the progress of any market orders that you might be waiting to be fulfilled.
You can easily search and filter the markets/instruments you wish to trade, and with just a few clicks, you can execute trades and open stop-loss and take profit positions and much more besides. There's also a handy informational section that details market opening times, minimum and maximum lot size, available leverage and so on.
The handy 'side by side' guide to the FXC platform on the broker's website, comparing it directly to MetaTrader 5 and other popular programs, reveals more. Even a glance reveals that FXC is on a par with MT5 when it comes to technical indicators, but FXC goes above and beyond when it comes to analytical tools and charting options.
You can trade with FXC via the web browser and desktop solutions or download the dedicated mobile app. Available for both Apple and Android devices, the mobile app features all the critical functionality of the FXC trading platform in an application designed for use on smaller screens. You can execute trades in one click and take profit and trailing stop-loss positions at your leisure.
The increasing popularity of copy and social trading has resulted in FXCentrum recently making renowned copy trading platform Zulutrade available to its clients. This is great news for those who want to take a more hands-off approach to trading. They can use the trading ideas of more experienced traders and apply them to their own account. There are more than 100,000 talented traders to choose from and following their signals is free of charge.
Charting & Tools
As mentioned in the Platform section of this review, the FXC software is powerful in charting and analysing the markets.
It has as many, if not more in some cases, technical indicators as MT5, and the upshot of this is that you can make more informed trading decisions.
You'll find 34 unique technical indicators installed in the software, plus an array of analytical tools. When used in conjunction with FXC, clients have a powerful platform at their disposal.
You can switch between the five different chart types when analysing an instrument, and there are nine different time zones built into the software, so you know which cycle the market is in at any given time.
There are many tools to play around with, and a couple certainly worth flagging in this review are the Stock Scanner and Heat Map options – they are unique to FXCentrum.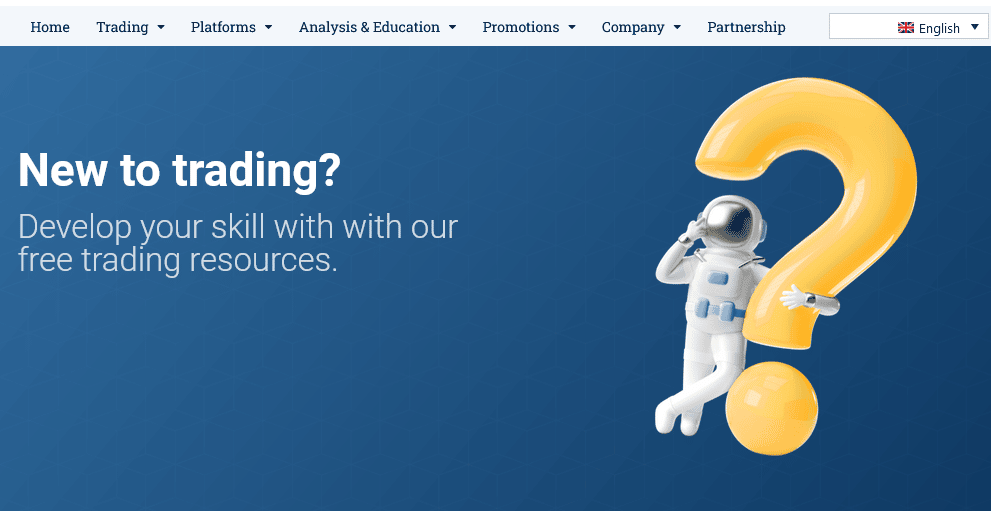 These two tools are a great way to monitor a market/asset and determine at what point to enter or exit. The advanced market depth and sentiment indicators also offer an overview of trading conditions at any specific time.
Some traders might prefer more advanced options when it comes to reporting, but the FXC platform has been designed for those who want instant market intelligence at the click of a button – something that they can deliver as well as MT5, if not better.
Commissions & Fees
As is now commonplace within the trading industry, FXCentrum charges no commissions on executed trades.
It doesn't matter whether you dip into forex, stocks or commodities; the zero-commission stance is in place across the board. That makes it so much easier to calculate the profitability of your position without having to consider extra fees.
The good news is that there are no fees on deposits and withdrawals. However, trading costs are applicable in some cases. For example, you will be charged up to $10 per month should your account lie dormant.
One of the things we like about FXCentrum is the commitment to their customer's financial wellbeing, which is represented by their offering of negative balance protection. With this, even if your balance drops below zero (if you have an open position that takes your bankroll into minus figures), FXCentrum won't charge you for your loss – your account will essentially reset to zero.
Not all brokers have such a principle in place, and it is to FXCentrum's credit.
Education
One of the critical areas of consideration for new traders when shortlisting potential brokers is the provided educational content and support. The good news is that FXCentrum has recently upgraded this area of its service.
There is a blog that is a useful source of economic news and market updates, and a selection of written and video based tutorials on how to trade. The economic calendar is also helpful because you can plot dates that might be of trading interest and free of charge account managers are on hand to help new traders take their first steps into the markets.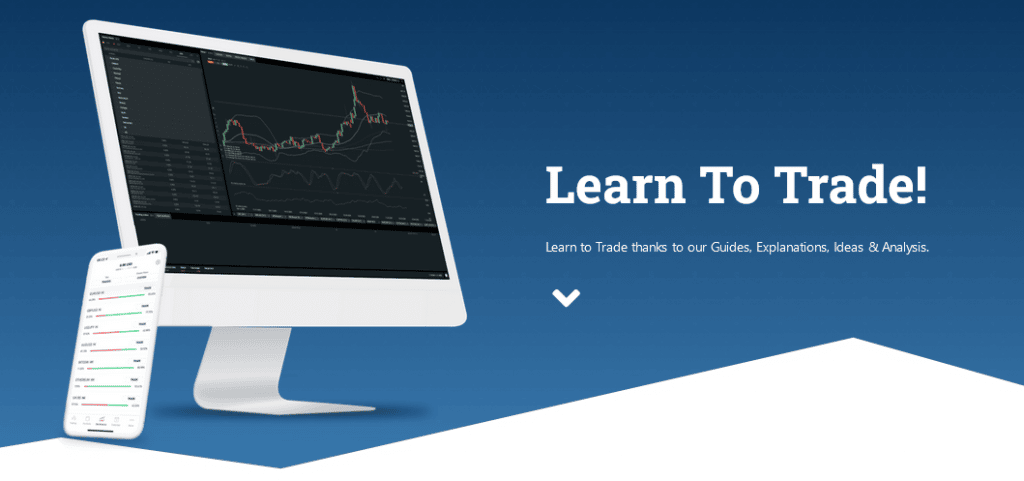 Experienced and novice traders can often find it difficult to identify the optimal time to enter into a trade. The FXC trade signals service helps with that and is free to clients who have made a deposit, but non-clients will need to find $99 per month to pay for the service.
Maybe the best way to learn about trading is to execute positions in a no-risk but real-world environment – to that end, it is easy to open a demo account with FXCentrum. In less than a minute, you can have a live demo account that enables you to bet with a stash of virtual dollars, ideal for getting to know the platform and the unique vagaries of trading stocks and forex on a daily basis.
Customer Service
There is a robust customer support provision available at FXCentrum, and you can contact the team with any queries via a freephone helpline or email. Crucially, the live chat feature is manned by an actual human being rather than a 'bot', so you can get tailored support as and when required.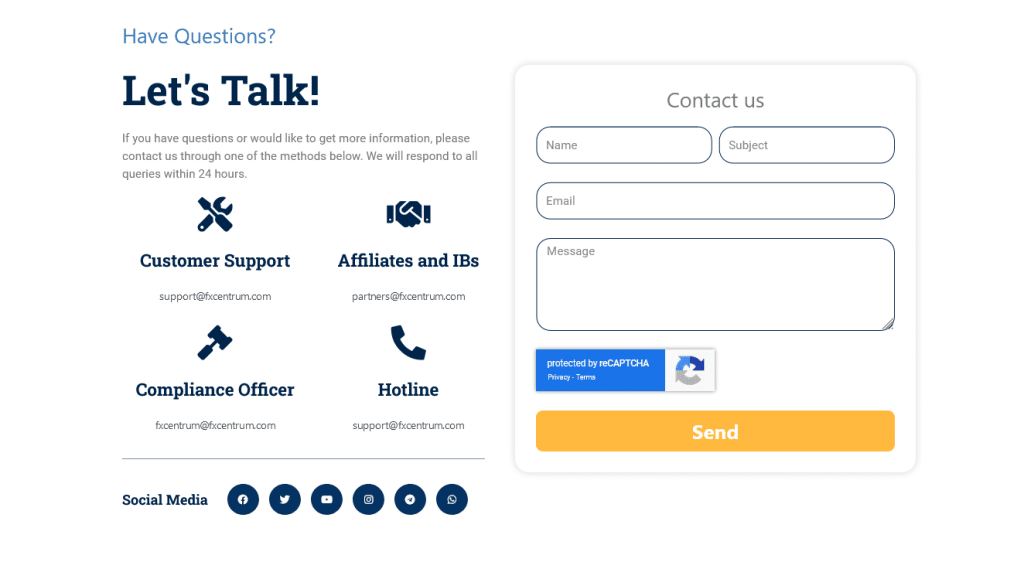 Perhaps, the only downside is that support is only offered during office hours in the CET time zone, but on the other hand, we found the team to be extremely knowledgeable and helpful. If you need help during the hours of 09:00 and 17:00, at least you know that FXCentrum is on the ball.
Finally, it's worth noting that all traders at FXCentrum benefit from having a dedicated account manager.
Final Thoughts
If you have read this FXCentrum review from start to finish, you have probably drawn some conclusions about this broker.
This is relatively no-frills trading, with just one account type and zero commission – what could make trading any simpler than that. And with rigorous regulation to comply with, the question is FXCentrum a scam, can be answered with a no.
With high leverage and low spreads, FXCentrum has got that balance right, and with a low minimum deposit (and no fees), we can say that this broker is an ideal starting point for newcomers to trading.
On the whole, FXCentrum has done plenty to cast aside any doubts given how 'new' the business is and put in place a platform on which traders can thrive.
Broker Details
Name: FXCentrum
Address: Office 5B, HIS building, Providence Mahé, Seychelles
Contact number: +447520642602
Contact email: [email protected]
FAQs
How can I open an account with FXCentrum?
The process of setting up an account with FXCentrum is straightforward – simply hit the 'open account' button and follow the on-screen instructions.
There are verification processes, but happily, they are quick and hassle-free.
Is FXCentrum a regulated broker?
FXCentrum is a registered business in the Seychelles and is regulated by the Financial Services Authority (FSA).
This broker is also currently in the process of securing a licence from CySEC, and the hope is that before long, the brand will be available to traders from the UK, Australia and across the EU.
What fees does FXCentrum charge?
There are no fees at FXCentrum, in essence, with zero commission and tight spreads on many different assets. Deposits are free as well, although some inactivity fees are charged. There are no withdrawal fees for every first withdrawal in a month. The second withdrawal in a month is charged with 10 USD and the third Withdrawal in one month, and any more withdrawals in a month after being charged with 2,50%.
How do I withdraw money from FXCentrum?
All of the standard account functions are available via the FXC platform, and as you explore the menu, you will see various banking options. Select the 'withdrawal' option, choose your amount and payment method and then wait for FXCentrum to complete the process.
Please be advised that certain products and/or multiplier levels may not be available for traders from EEA countries due to legal restrictions.
---
---