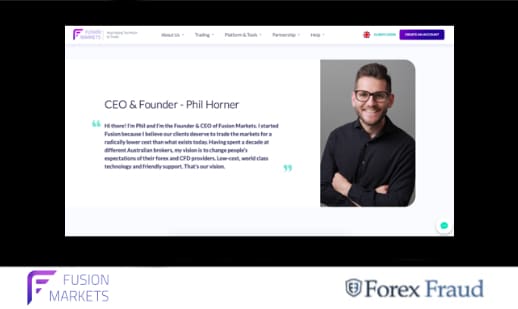 Fusion was founded in November 2017 and began trading for customers in June 2019. It is 100% owned and operated by veterans of the Australian forex industry.
Fusion Markets is an online broker that provides services for trading in financial markets such as Forex, CFD, Commodity. For beginners, a demo account is available to try yourself in the financial markets without investing in personal funds. For real trading, the broker does not have a minimum deposit requirement, but usually, the trader will replenish the account with 1,500 US dollars.
Rating Overview
| | |
| --- | --- |
| Overall rating | |
| Regulation | |
| Fees | |
| Range of Markets | |
| Platforms | |
It is subject to Australian law. Fusion Markets is the trade name of Gleneagle Asset Management (GAML), which holds the Australian Financial Services License (AFSL), 226199. Gleneagle Asset Management is regulated by the Australian Securities and Investment Commission (ASIC), located at Address: Level 7, 222 St. Melbourne VIC 3000 Exhibition. Fusion Markets offers competitive market access, allowing the user to invest more than 120 current assets. Also, Fusion Markets offers CFD trading options for various assets and classes, including Forex, indices, stocks, and commodities. Fusion Markets gives users access to two trading platforms, one of which is the well-known MetaTrader 4 (MT4) platform, which provides uninterrupted mobile trading via iOS, Android or Windows, and the other is the familiar WebTrader platform, which loads and turns on. in your portal.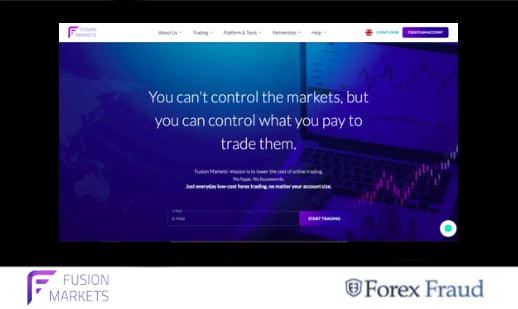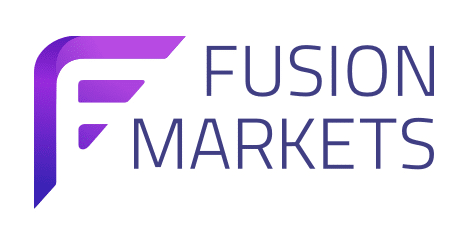 Free Demo Account
No Deposit Required
Gleneagle Asset Management is a subsidiary of Gleneagle Securities. Founded in 2010, Gleneagle is an institutional provider of financial markets that offers services such as asset management, corporate advice, and more. Working with Gleneagle, they can use their strong relationships with liquidity providers to lower costs for all traders.
Fusion Markets has several killer accounts with a ZERO account and a Classic account. All accounts are provided in US dollars, euros and pounds sterling, Japanese yen, Australian dollars with leverage up to 1: 500.
In addition to Forex, the broker offers to trade on its platform with energy carriers, such as oil and precious metals, such as gold and silver.
It should also be noted that recently the broker began offering bitcoins on-demand, and investors can trade cryptocurrency against major currencies.
Like many of its competitors, Fusion Markets offers the MT4 trading platform and a web trader on its platform, as well as the ability to download applications on iOS and Android.
MT4 comes with advanced technical analysis tools, including over 50 indicators, custom charting tools.
Fusion Markets is one of the cheapest on the market for trading. It has a very quick and easy registration process, backed up by the regulatory framework for registration legislation. Among the clients, the broker has positive reviews.
Compare Fusion Markets with other approved brokers
| | | | | |
| --- | --- | --- | --- | --- |
| | | | | |
| Regulation | ASIC, VFSC | FCS, CySEC, FSC | FCA, CySEC, FSCA, Seychelles FSA, Labuan FSA | FCA, CySEC, ASIC, FSA |
| Customer Support | email, phone, live chat | email, phone, live chat | email, phone, live chat | email, whatsapp, live chat |
| Trading Platforms | MT4, MT5, WebTrader, Mobile Apps | MT4, MT5 | MT4, MT5, WebTrader | desktop and mobile via brokers own platform |
| Minimum Deposit | $0.0 | $10 | $100 | 100GBP/AUD/EUR/USD |
| Leverage | 500:1 | Flexible | Tickmill Ltd 1:500, Tickmill Europe 1:30 (retail) & 1:300 (pro), Tickmill UK 1:30 (retail) | 1:30 |
| Total Markets | 187 | 252 | 637 | 1896 |
| Total Currency Pairs | 90+ | 62 | 62 | 61 |
| Total Cryptocurrencies | 12 | 4 | 9 (* CFD Crypto trading is available only to Professional Clients under Tickmill UK.) | 19 |
Features of Fusion Markets
Fusion Markets offers over 120 financial instruments for trading.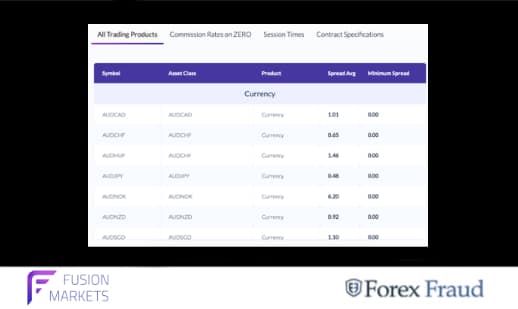 Tools for Forex offer includes more than 90 currency pairs, with a large selection of exotic currencies, such as:
Indian Rupee
South African Rand
Singapore Dollar
Turkish Lira
Swedish Krona
Russian ruble
Polish Zloty
Norwegian Krone
Mexican Peso
Hungarian Forint
Hong Kong Dollar
Danish Krone
In addition to Forex, the broker also offers to trade on its platform with energy carriers, such as oil and precious metals, such as gold and silver.
It should also be noted that this broker offers a trade-in world indices and trading these products, the client receives a cost-effective way to trade the largest world markets along with competitive spreads, flexible leverage and the ability to open long and short positions.
Finally, for cryptocurrency traders, Fusion Markets offers five pairs of cryptocurrencies for trading, including Bitcoin, Dash, Ripple, Ethereum, and others. Without commission and re-quotes, trading these products has never been easier.
Also, it should be added that Fusion Markets is planning to introduce commodity instruments, such as wheat, cocoa, sugar and much more, with competitive Fusion prices and the ability to make long and short transactions without any exchange or trading fees.
Fusion Markets is a broker that has a lot to recommend.
Fusion Markets has many features, and one of the main ones is saving its maintenance. The company shows a commitment to lower the cost of online trading, and this is manifested in the entire pricing policy of the company.
There are many ways that Fusion achieves this goal, but two that are worth focusing on are their forex fees and the lack of fees they charge. First, we look at first.
When companies say they want to make Forex trading more accessible, they mean it, and one way to make this a reality is to offer Australia the lowest Forex advertising fees. Fusion Markets services are 36 per cent cheaper on average than competitors' prices, which represents significant savings right away. Additionally, the broker does not charge any commission for depositing and withdrawing a deposit.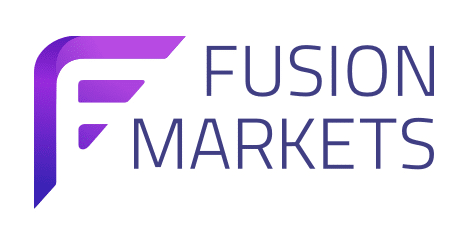 $0 Minimum Deposit
Simple Sign Up Process
Fusion Markets Spreads and Leverage
There are various spreads depending on the account created by the client. Fusion Markets offers two types accounts: the ZERO account and a classic account.
The ZERO Account is the most popular account with Fusion traders. With spreads from 0 pips and our industry leaders, commission rates are noticeably low. For example, if you were trading one standard lot of forex and precious metals, you would pay only 4.50 Australian dollars for this. This figure represents the lowest advertised Forex commission in Australia – or, on average, 36 per cent cheaper than competitors Fusion. This one is for people who have traded before, understand how the determination of the size of commissions works, and, as a rule, are more active.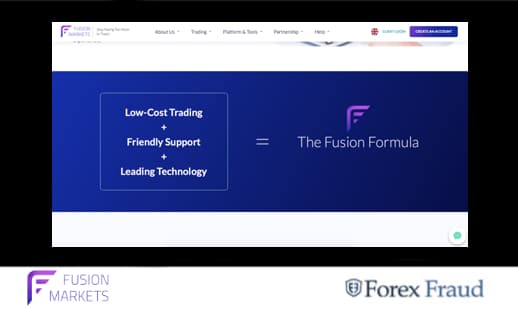 A classic account is an account if you are just starting and want to simplify the task by avoiding calculating the commission before each transaction.
The broker offers a minimum spread of 0.00 for several popular currency pairs, including various exotic currency pairs.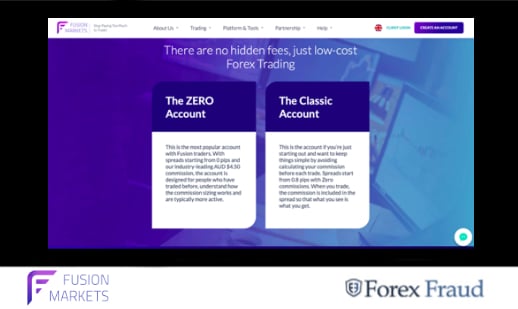 Fusion Markets prides itself on being the cheapest trader in the business, and a brief overview of its spreads and commissions seems to confirm this.
This means that if you are looking for a discounted alternative to most other brokers on the market, they may well be the company you were looking for.
Leverage offered by the broker:
For Forex & Metals: from 20: 1 to 500: 1.
For CFDs, the maximum is 100: 1.
For cryptocurrency, the maximum is 1: 5.
This applies to all levels of accounts indicated above and complies with the latest Australian law.
The Fusion Markets Trading Platform
Fusion Markets offers two trading platforms. The web platform Web Trader is well-known and user-friendly. There is also an MT4 platform for PC and phone, which ensures uninterrupted mobile trading via iOS, Android and Windows. This gives users the ability to quickly and transparently complete transactions. Each platform offers important metrics, educational tips, technical indicators, and tips to help all types of traders come to a more informed decision before investing.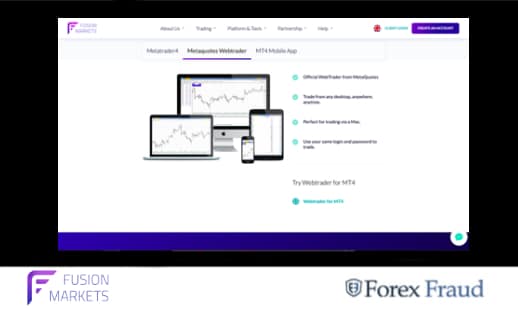 WebTrader can be opened without logging in or creating an account by selecting "Trade" on the main navigation panel. There are risk management options on the Web Trader platform that allows you to use the Stop Loss and Take Profit levels.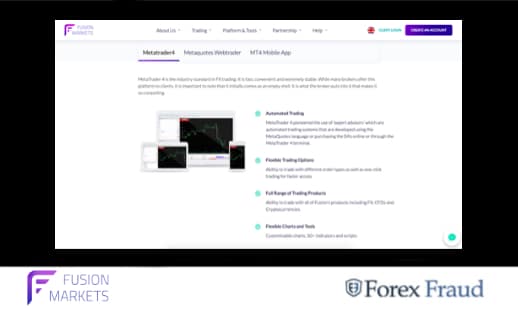 MT4 is a popular trading platform. As part of MT4, the Fusion Markets portal can customize it according to user needs. MT4 is a third-party software product developed by MetaQuotes.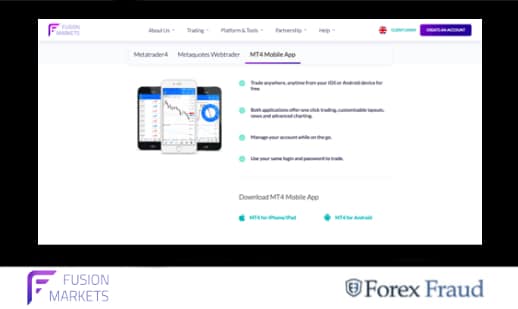 For mobile trading, Fusion Markets MT4 is available in versions for iOS and Android. Traders can download apps for free on the Apple App Store and Google Play Store. MetaTrader 4 mobile platform can be installed on various mobile devices, for iPad and iPhone. The terminal is perfectly protected, and the user can be sure that no one else will have access to his data. All transactions are safe and mobile. How fast Metatrader 4 will work on a mobile device depends on the connection speed.
Advantages of Fusion Markets Mobile Trading Platform
Great interface with different languages. Since the terminal is Russified, a trader can configure it more deeply and carefully, thereby improving his work and his trading.
The platform is effective but at the same time simple and understandable, suitable for both beginners and experienced traders. There is a news feed, the ability to select a signal to alert you about important events for the trader.
Not every platform allows the use of technical indicators. Analysis and MT4 allow them to be used in a wide variety. Therefore, the trader easily makes transactions and analyzes the market.
There are no big requirements on the system resources of the phone, thanks to the VGA mode it can be used for high-resolution display.
The app is compatible with iOS 4.0 and later and is installed on the iPhone, iPod touch and iPad.
Also, the Android version is compatible with Android 2.1 and higher and can be installed on an Android phone or tablet. The mobile platforms of this broker are equipped with almost all the features of the desktop version. Some features available through the mobile app include a demo account, over 30 technical indicators, as well as fully interactive candlesticks and bar charts. Mobile platforms also make it easy to view prices and place orders.
Also, the broker offers several additional features:
Multi-Account Manager (MAM / PAMM) If the client is a professional trader who manages money for other clients.
The Fusion Markets MAM system offers money managers high-performance multi-account solutions through the MetaFX platform. The platform is known for its stability, flexibility and fast execution speed.
Virtual Private Server for Forex Trading:
Fusion Markets customers can register with the MT4 Forex VPS hosting service at a discount from recommended third-party providers. VPS allows you to connect your transactions 24/7 in a virtual machine. This ensures that traders are never interrupted by connectivity issues.
If you trade more than 20 lots per month, Fusion charges you standard VPS commissions at the end of each month.
Fusion Markets works with NYC servers and provides a personalized solution with fast order execution. for traders.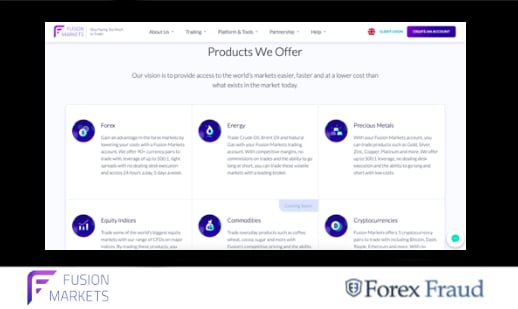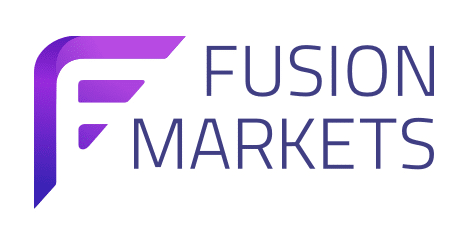 Free Demo Account
No Deposit Required
Fusion Markets Deposits and Withdrawals
Fusion Markets does not have a minimum limit on replenishing a deposit, however, as a rule, clients open a deposit of $ 1,500 or more, opening an account.
The broker provides the opportunity to replenish your account with a credit or debit card – Visa or MasterCard (no commission) or by bank transfer. If the client is from Thailand, Malaysia, Indonesia, and Vietnam, He can also use the local bank transfer method.
Fusion Markets does not charge a client for the replenishment of a client's account if a client replenishes with Visa or Mastercard.
Also, commissions replenished with a bank transfer from Australia to the Australian broker account are not charged.
But if a client transfers funds using an international bank transfer to an Australian broker trust account, the commission will be 20-30 US dollars.
Of course, by international rules, there is a requirement to verify your account. This is all part of any broker's compliance with anti-money laundering (AML) regulations and knows your client (KYC). To complete the verification process, confirmation is required that you have a bank account associated with a broker.
Also, an identification card and address are required. This is a standard procedure, usually requiring a valid government-issued ID and a bank statement or utility bill for the past six months as proof of address.
A client can deposit funds and start trading without a verification process, but cannot withdraw funds until the process is completed. Keep in mind that the client must withdraw their funds in the way that they deposited them. All withdrawals and deposits can be tracked using the Pending Requests tab on the Fusion Markets website.
All users will find that transaction transparency is high and that both inputs and withdrawals are fast.
Fusion Markets Beginner Trader and Customer Support
Fusion Markets has excellent customer support. This is a key indicator when choosing the right broker for the needs of the client, especially if he begins his activities as a trader. Like many of his colleagues, Fusion Markets has a chat feature. You can contact support by calling +61 3 8376 2706 or by email at [email protected]
Fusion Markets is open around the clock from Monday to Friday. Session times vary depending on the hours of operation of their products, but all of them are clearly listed on the company's website in the Trading Conditions section.
As for helping novice traders, Fusion Markets does not offer any training materials or anything useful so that novice traders can get a knowledge base to improve their skills in trading. However, for all types of accounts there is a glossary that includes a number of important definitions for CFDs and Forex trading. This is due to the policy of the company, the broker believes that this should be the personal experience of each client.
But, as mentioned above, for beginners, Fusion Markets offers demo accounts that are no different from real ones, only a beginner will perform trading operations through virtual money.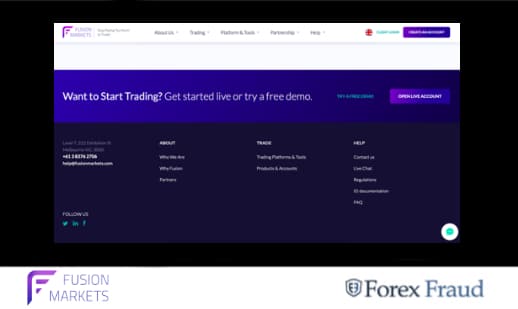 Forex, commodities and stocks have a special approach when they engage in trading through CFDs. However, the main risks and opportunities are very similar for all asset classes and are well explained on the Fusion Markets portal.
Fusion Markets Review Conclusion
Fusion Markets is a broker that offers many financial instruments for investments, at one of the lowest prices among competitors, the broker seeks to reduce costs for any trader.
Fusion Markets has a fundamental theme of transparency, especially with regard to the process of depositing and withdrawing funds and a number of market-leading features that allow this online trading portal to offer strong competition with existing peers. It has a wide coverage of assets on the world stage.
As stated above, the broker offers the lowest forex commission in Australia, and their rate is 36 per cent lower on average than their competitors. This represents a significant savings for traders.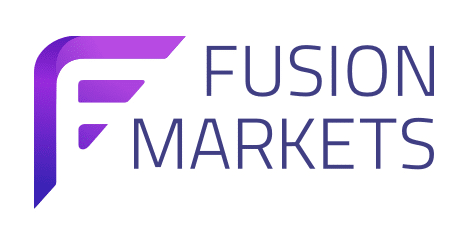 Open Your Fusion Markets Account
Forexfraud Trusted Broker
A noticeable drawback of the broker is that additional functions are limited: event calendars, blogs, etc. Are completely absent on their website. However, for people who are looking for a broker that covers all the basics of the budget, there is no better company out there.
Fusion Markets is a regulated broker, regulated by ASIC, and licensed to conduct financial services business in Australia in Australian Financial Services License No. 226199

Fusion Markets offers several types of accounts, depending on the amount of the deposit placed with the broker and the choice of trading. There is a free demo account, which is recommended as a starting point in order to fully evaluate the capabilities of the portal – this allows users to trade virtual currency in the amount of $ 100,000 and any other. Unlike some of its counterparts, Fusion Markets demo accounts have the same prices and functionality as on real accounts.
It is fair to say that the commission for withdrawing funds from credit and debit cards is completely absent by the Fusion Markets, which is better than that of many competitors and the service itself is very transparent.
In addition, some of the spreads, especially for cryptocurrency trading or pairs, are quite high, and partly this may be due to the fact that the currency execution is embedded in the transaction.
As stated above, Fusion Markets cannot accept customers from Burma, Côte d'Ivoire, DPRK, Democratic Republic of the Congo, Eritrea, the former Federal Republic of Yugoslavia, Ghana, Iran, Iraq, Lebanon, Liberia, Libya, Japan. New Zealand, USA, Somalia, Sudan, Syria and Zimbabwe.
Despite the fact that little time has passed, for such a short period, Fusion Markets has certainly made significant progress in a short period of time. It is fully regulated and manages a technologically advanced trading platform.
Please be advised that certain products and/or multiplier levels may not be available for traders from EEA countries due to legal restrictions.
---
---