FP Markets Review
Indeed, while FP Markets is one of Australia's leading CFD and Forex brokerages, the operation is about much, much more. It essentially offers a full suite of trading-related services, not only for the retail traders, but for other online trading startups and money managers as well.
Reputation
While one cannot state that FP Markets' reputation is "spotless", it is certainly as close to that as a 12-year-old operation could possibly be. There are some complaints about their services here and there, but overall, the trader feedback is massively positive.
Over the years, the brokerage has accrued no fewer than 35 awards, granted by various organizations and trading media outlets. These awards cover almost every operational aspect, from client satisfaction to trade execution and actual costs involved, and thus they offer a rather accurate picture of FP Markets' place in the trading industry.
Besides their experience and the appreciation of various industry authorities, FP Markets are liked by the public for the transparency which defines the corporate background of the operation as well as the price making process. The massive range of markets covered by the brokerage has to be mentioned as well: more than 10,000 assets can be used for trading in various forms.
The company behind FPmarkets.com is First Prudential Markets Pty Ltd, a registered Australian company, which provides full legal documentation about its identity as well as its activity, through the About Us section of the FP Markets site. The operator is licensed by ASIC, to this day one of the most serious and demanding financial regulatory agencies world-over.
In the above mentioned legal documentation, the issue of conflicts of interests is touched upon too, though there aren't many details provided in this regard.
The head office of First Prudential Markets is located at Level 5, Exchange House, 10 Bridge St, Sydney NSW 2000, but the company has offices in Shanghai and Beijing too. There's an obvious focus on the Asian markets as far as this operator is concerned, hence the presence of two offices in China.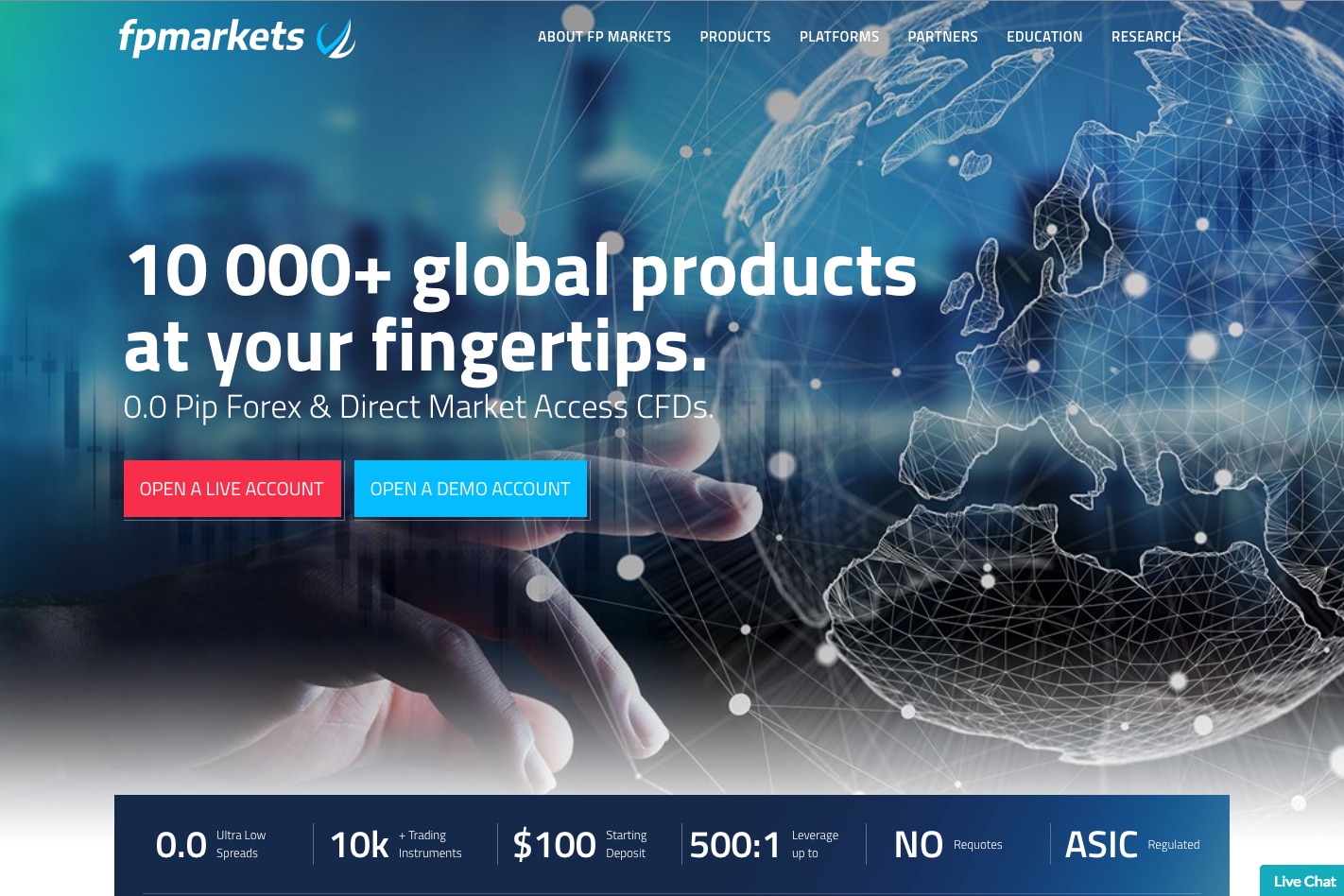 FP Markets' Products
This is where things turn serious with FP Markets, as this is where it is revealed that we're dealing with much more than a simple brokerage, although even in that respect, the site is very solid indeed.
As far as retail traders are concerned, there are two main categories of products on offer: CFDs and Forex trading.
The CFD section is the one which plays host to most of the 10,000+ underlying assets supported by FP Markets. Within this category, the shares-based CFD one is where there are literally thousands upon thousands of assets available for trading. The site boasts "global access" for the CFD section, and in this instance, that is indeed the perfect way to describe the situation.
Besides shares and ETFs, there are index-based CFDs available too (some 9 of them) and there are 3 CFD-tradable commodities too: WTI, Gold and Silver.
Share trading does appear as a separate category here and there at the site, but it has to be made clear that these are all shares-based CFDs and not trading involving the actual buying of shares.
CFD trading is hosted on the IRESS platform, which is web-based and different from the MT4 one used for Forex. Three different account types are available for CFD traders.
Forex covers a handsome selection of 45 currency pairs, and – as said above – this type of trading happens entirely on the MT4 platform.As hinted at above, FP Markets have a few products for corporate actors and money managers too. For the first of those to categories, we're obviously talking about the White Label program the brokerage runs.
For money managers, the MAM/PAMM accounts are potentially very useful. Through them, they can manage several clients on different trading accounts, setting individual stop losses and profit targets for each of the concerned accounts. MAM/PAMM accounts offer access to all the 60+ assets tradable through the MT4 platform.
Trading Platforms
There are two trading platforms featured, for the two-major product-classes detailed above.
CFD trading is done through an IRESS platform, more precisely through the latest, Iresstrader iteration of the platform, which features cutting edge charting technology, and a surprisingly massive selection of analytic instruments.
When we're talking about top-notch charting, we're not talking about pretty colors and visually appealing layouts, although that too is part of the package. What we most liked though were the 59 technical indicators that are also included, together with no fewer than 50 drawing tools. Technical analysis is indeed a pleasure to do on the Iress platform, especially when it results in due profits.
In addition to all the above, traders can choose from a large selection of time frames, and they can fully personalize their charts. Templates can also be saved for later use.
As far as the MT4 platform is concerned, there are no surprises here. The technical analysis capabilities of this platform are well-known and in this instance too, we have some 50+ technical indicators already included in the package, with the possibility to install more. The Expert Advisor section of the platform is very popular, and to run such EAs properly, traders need access to a reliable VPS service, which FP Markets does indeed promptly deliver.
MT4 also comes with one-click trading, various alert features and trading signals.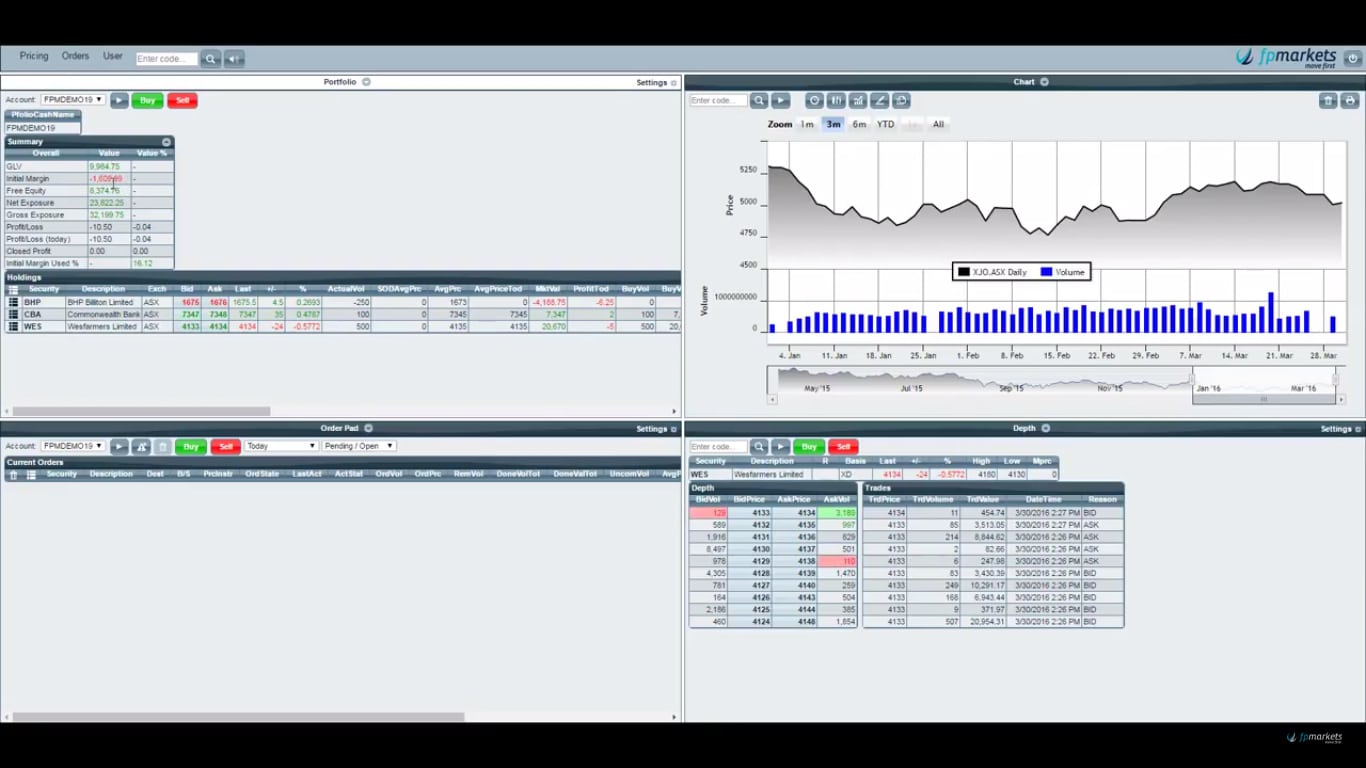 FP Markets Account Types
As said above, Forex-wise, FP Markets offers two account types. The cheaper one of these is the Standard account, which requires a minimum deposit of just AUD/EUR/USD100. For that money, traders will get spreads starting from 1 pip, and maximum leverage of 1:500.
The ECN Raw account offers spreads from 0 pips, a similarly generous 1:500 maximum leverage and the same STP trade execution. To open such an account, traders are required to deposit at least AUD 1,000.
A Demo account is available on the MT4 platform too.
On the CFD front, the account situation is a bit more crowded. Three account types are on offer here, starting with the Professional, which requires a $1,000 deposit. This account type comes riddled with all sorts of fees, most of which are waived though, provided the trader hits certain monthly commission targets. The commissions and margin rates are decent though.
For even better commissions and margins, traders can turn to the Platinum account, which requires a $25,000 deposit.
The Premier account is the top-tier account version. It has all the above-mentioned fees waived by default. Aimed at professional traders, this account type is free of brokerage charges and platform fees.
FP Markets Support
The most straightforward way to contact FP Markets support is through the live chat feature, which can be accessed at a click from the homepage. Other than that, there are two phone numbers available: 1300 376 233 for Australians and +61 (0)2 8252 6800 for non-Australian residents. The Chinese branch of the operation offers an email address too: [email protected]
Conclusion
FPmarkets.com is a serious trading destination for retail and institutional actors alike. The spreads are competitive, and for active traders, the various additional fees are not a problem either. Licensed and regulated by ASIC, FP Markets has been around for 12 years now.

Please be advised that certain products and/or multiplier levels may not be available for traders from EEA countries due to legal restrictions.