Expert's Viewpoint
As Forex.com were able to secure such an appropriate website address, you can tell that Forex.com has been in the online trading game for a long time.
With roots stretching all the way back to the early 2000s, Forex.com is one of the most well-established players in the market. It falls under the corporate umbrella of Gain Capital UK, who is a registered UK financial services company who have been in operation since 1999.
Rating Overview
| | |
| --- | --- |
| Overall rating | |
| Regulation | |
| Fees | |
| Range of Markets | |
| Platforms | |
According to the company website, Forex.com pride themselves as being a "Global Market Leader" who offer competitive pricing with lightning-fast execution speeds, delivered in a transparent package that won't tack on any additional fees or trading costs. But how well does it live up to this claim?
With a customer base spreading across over 140 countries worldwide, Forex.com is also one of the most global brokerages around.
Useful added features include a trading alert service which, for an additional charge, provides the latest market updates in simple, jargon-free messages prepared by industry experts. Although not necessarily a necessity, this service is very useful and an easy way to keep up to date with the ebb and flow of the live markets.
In terms of security, trust, and safety, as a company founded on a promise of transparency, Forex.com have clearly put a lot of resources into this side of the business. It adheres to all the industry regulatory requirements we would expect, as well as signing up to compensation schemes.
It is licensed to operate by a number of regulatory bodies, which includes the FCA in the UK, the Regulatory Organization of Canada, the Financial Services Authority of Japan, the Securities and Futures Commission of Hong Kong, the Australian Services and Investment Commission, and the Monetary Authority of the Cayman Islands. Details on their regulatory status with these bodies are readily available through the website.
When it comes to trading on the Forex.com platform, the product selection on offer is pretty solid, although not market-leading by any stretch. In total, it gives clients access to well over 200 global markets, which includes over 80 major and minor currency pairs, a range of indices, and shares. Most recently, it has also expanded into cryptocurrencies, although their product offering is quite limited in this regard. Generally speaking, the spreads on offer are pretty competitive, although once again not necessarily market-leading for a broker of their size.
To execute trades with these instruments, there are a number of options available. This includes a proprietary trading platform developed in-house, a web-trader platform, mobile apps, and the classic MetaTrader 4 trading platform. Their proprietary Forex.com trading platform is a real standout and offers a powerful, fully customisable trading environment.
Although not offering the best trading conditions around, Forex.com has nevertheless put together a serious package that easily competes with numerous similarly sized brokers. In addition to their market-leading proprietary trading package, the Forex.com platform is packed full of extra features which make for unique trading experience. For this reason alone, it is well worth checking out.
Forex.com prides itself on offering Bitcoin-based CFDs, which let traders speculate on the cryptocurrency, without the need to go through the often-tedious process of acquiring ownership. What else does the brokerage offer though and how does it shape up in regard to trading conditions and user trust?
Before we delve into the details of Forex.com's overall offer, we need to make it clear that this is a trusted and regulated operation. We wouldn't even bother reviewing it otherwise.
The corporate backdrop of the Forex.com brand is provided by GAIN Capital UK Ltd., a registered UK company, based at 16 Finsbury Circus, London, EC2M 7EB. The registration number of the company is 1761813. As a UK-based operator, the forex broker is registered with and licensed to offer financial services by the FCA. Its FCA registration number is 113942. Whether or not Forex.com observes all the directives set forth by MiFID is unclear at this point. What we do know is that it does not accept clients from Belgium, which presumably means that traders from other EEA countries are indeed accepted.
The recently introduced Bitcoin trading seems to be one of the main current selling points of the operation. Given the high volatility of the underlying asset, the trading of the world's most popular and biggest (by market cap) cryptocurrency is not for the faint of heart. Forex.com's offer allows traders to take positions without significant exposure, to trade both the rise and the fall of the price, and to essentially have a little fun with cryptos, without actually securing ownership in any shape or form.
The only problem with the Bitcoin deal is that it is not available on the MT4 platform. In all honestly though, Forex.com's other platforms are powerful and capable enough to essentially negate this theoretic drawback.
Why would you want to trade Bitcoin at Forex.com though? First of all, the addition of this new asset and asset-class is an opportunity to broaden your trading portfolio. Due to its CFD-based nature, this sort of trading literally allows you to "do more with less". The spread on BTC/USD starts from $100, but this is not etched in stone. This rate is subject to change, based on the evolving market conditions.
Why would you want to choose Forex.com as your primary trading destination, if you're not much of a Bitcoin enthusiast?
The offer of the site is solid across the board. Founded way back in 1999, the brokerage has the experience and the reputation to back up its claims of being a "Global Market Leader". According to the official site of the operation, transparent and competitive pricing and quality execution are its most attractive assets. Forex.com's product selection covers some 200 markets and rebates are offered on monthly trading volumes.
Maintaining an active presence in no fewer than 140 countries worldwide, Forex.com is indeed a truly global operation. The trading platform selection is great, and the trading conditions on the most important currency pairs and other underlying assets, are very attractive.
The brokerage features a trading alert service, which is a paid setup, but which gives new Forex.com traders the opportunity to sample it for free, for 45 days.
As far as security and trust are concerned, Forex.com has to adhere to a large number of regulatory requirements. It maintains liquidity well in excess of the minimum regulatory requirements and it keeps its traders' funds in segregated accounts. User funds lost due to a predetermined number of issues are subject to compensation, through the Financial Services Compensation Scheme.
One Click Install EA Packages
Alarm Manager – Customize alarms for balance, margin, P/L, consecutive wins/losses, and more
Correlation Matrix – Assess hypothetical scenarios, highlight strong or weak correlation between all markets
Correlation Trader – Inspect historic correlation between symbols in more detail and watch for, and trade, emerging differences in that correlation
Market Manager – Current open position and profitability for each symbol, quickly switch between different groups of symbols, ability to place new market and pending orders
Mini Terminal – Simple fields for setting orders in pips, open position marker, templates, and risk calculators, and more
Sentiment Trader – Current long/short sentiment for a market, dashboard of current sentiment for multiple symbols. Sentiment data is from FXBlue.com
Session Map – Shows current active session with the user's local time as a reference point. It also includes an integrated economic calendar and key market changes.
Tick Chart Trader – Simple tick chart which updates every time the ask or bid price changes, tick chart plus tick speed: shows bars indicating how long the last N ticks have taken to form, indicating market activity, and more
Trade Terminal – Pop-up dealing form for creating pending orders as well as market orders, ability to create templates for quick order entry, displays key symbol information (pip size, value per pip etc)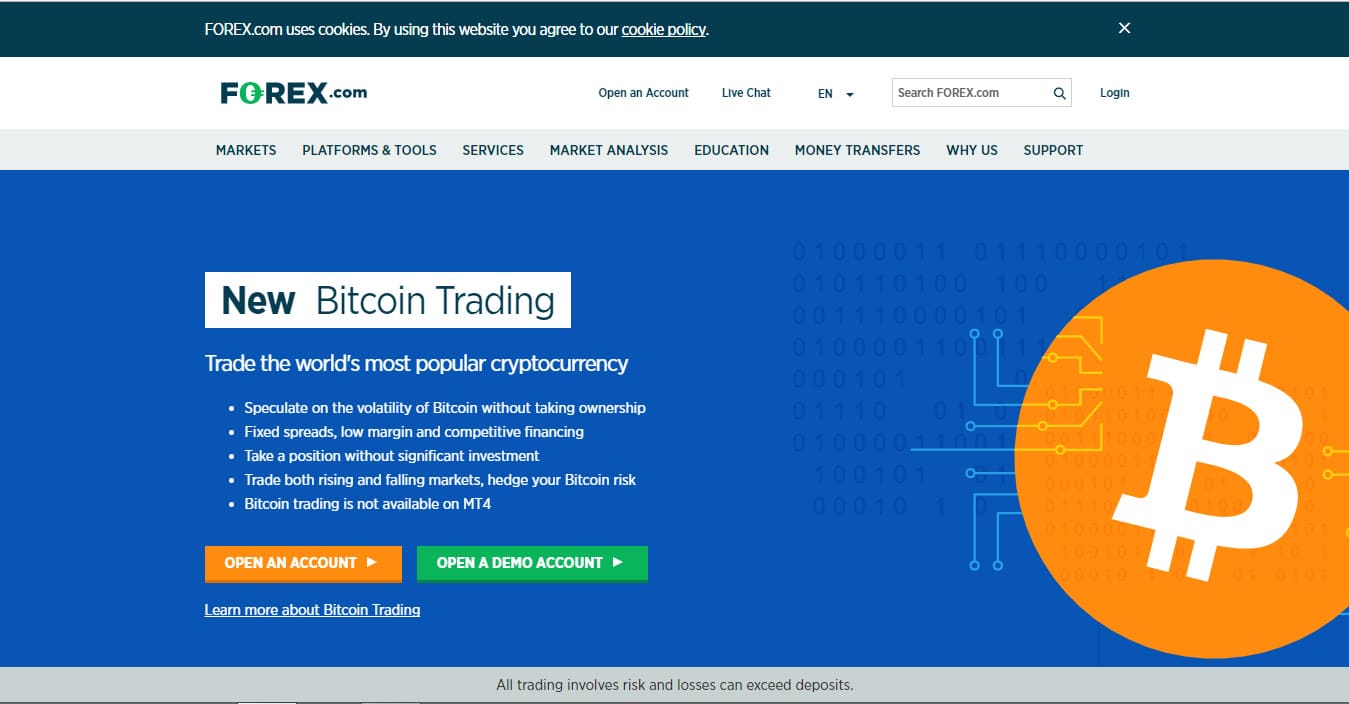 Forex.com Regulation
We've already stated above that Forex.com is registered with and authorized by the UK's FCA. Given that it is a global operation we're talking about, it is no surprise that the brokerage performs its activities through a number of affiliates. These affiliates are all regulated and licensed within their own jurisdictions too.
Thus, the operation is regulated by the Investment Industry Regulatory Organization of Canada, the Financial Services Authority of Japan, the Securities and Futures Commission of Hong Kong, the Australian Services and Investments Commission (ASIC – one of the strictest such regulatory agencies in the world), the Commodity Futures Trading Commission of the US and the Monetary Authority of the Cayman Islands.
As you can see from the above, from a regulatory perspective, Forex.com have built a very solid case indeed.
Forex.com Product Selection
The product selection offered by Forex.com may not stand out from what one would consider the industry standard in this regard, but it is still rather solid. It covers 200 global markets, including 84 currency pairs, from majors to minors and exotics, 17 indices covering every relevant nook and cranny of the global economy, and 65 shares. Shares trading is apparently not available through the MT4 platform.
Forex.com Trading Platforms
The Advanced trading platform is the centerpiece of Forex.com's platform offer. It is a very powerful and capable environment, which gives traders scores of drawing tools, advanced charting features, and more than 80 technical indicators. Users are able to code and use their own custom indicators. Scores of integrated trading strategies are available through the Advanced trader as well.
The Web Trader may be optimized for speed and compatibility with a large array of browsers, but it has not traded in versatility and power to facilitate the aforementioned advantages. It too offers advanced charting, with an impressive suite of drawing tools. Technical analysis-wise, it features more than 70 indicators. Full Account management is available through this platform, including deposits and withdrawals.
Features of Web Trader:
Smart trade ticket with advanced risk management option
Pre-defined and customisable layouts
Powerful charts with integrated one-click dealing
The Mobile traders, which are configured for Android and iOS compatibility, provide access to multiple order types, and they too come with integrated news and market analysis sections. Real time trade alerts and notifications are delivered through these platforms, but also through email and SMS.
MT4, the gold standard in Forex/CFD trading, is also supported, and it can be downloaded directly from the Forex.com website, for free. Besides its usual set of features pertaining to analysis and charting, Forex.com's MT4 supports EAs, and free EA hosting is apparently part of the Forex.com package, too.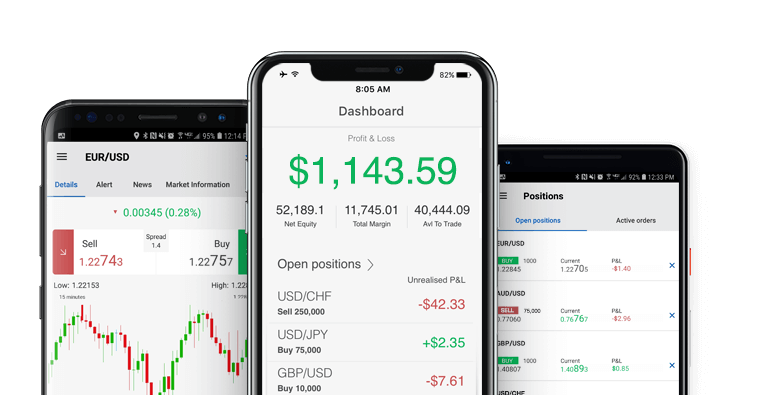 Forex.com Trading Services
As briefly mentioned above, Forex.com offers a number of potentially useful and certainly very interesting trading tools and services.
The trade signals deal is a paid service, but for newly registered Forex.com users, it is available for free, for their first 45 days. The signals are generated by the operator's team of in-house experts.
The FX Rebate deal is a 4-tier setup, which is only really useful for those generating trading volumes in excess of GBP 25 million per month. The rebate rates start from GBP 10 per million and go all the way up to GBP 40 per million.
In-house market strategists are available too, to help traders realize their maximum potential. This program is mostly about personalized guidance and support, covering various aspects of the trading activity.
Compare Gain Capital UK with other approved brokers
| | | | | |
| --- | --- | --- | --- | --- |
| | | | | |
| Regulation | FCA, NFA, CFTC, IIRO, FSA, CIMA | FCA, CySEC, ASIC, FSA | FCS, CySEC, FSC | ASIC, MiFID, FSA, FSCA |
| Customer Support | email, phone, live chat | email, whatsapp, live chat | email, phone, live chat | email, phone, live chat |
| Trading Platforms | MT4, WebTrader, Mobile Apps | desktop and mobile via brokers own platform | MT4, MT5 | MT4, MT5, Mobile App |
| Minimum Deposit | $100 | 100GBP/AUD/EUR/USD | $10 | $100 |
| Leverage | up to 1:400 | 1:30 | Flexible | 400:1 |
| Total Markets | 5,500 | 1896 | 252 | 1260 |
| Total Currency Pairs | 80 | 61 | 62 | 55 |
| Total Cryptocurrencies | 0 | 19 | 4 | 17 |
Forex.com Conclusion
Everything accounted for, the conclusion that Forex.com is a legitimate and solid Forex/CFD brokerage, is an obvious one. The platform offer is outstanding, the product selection is decent (and with the addition of BTC, it may actually have exceeded that designation), and the regulatory profile is quite flawless.

Please be advised that certain products and/or multiplier levels may not be available for traders from EEA countries due to legal restrictions.
---
---