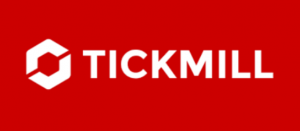 Tickmill continues to grow from strength to strength by offering traders just what they need to be successful in the markets.
This secure framework acts as a base for some of lowest cost trading in the market with trade execution backed up by some very impressive behind the scenes infrastructure designed to offer the best access to the financial markets.
Read the full review of Tickmill
ForexFraud.com does not recommend
ETX Capital
. To see our recommended brokers
click here
.
Launched back in 2002, ETX Capital is without a doubt one of the veterans of the online Forex/CFD industry. Over the years, it managed to accrue plenty of trader feedback – the usual internet negativity regarding some withdrawal issues, that later got handled, but most of it is good.
The quality of the ETX Capital support is also quite often criticized on various trader forums/message boards. All-in-all, we'll have to say that other than the suspicious preponderance of negative feedback, there's nothing really out of the ordinary happening in this regard at ETX Capital.
The corporate owner of the ETX Capital brand is Monecor (London) Ltd, an entity listed at the London Stock Exchange. The operation is licensed by the FCA, its license number being 124721. It might be worth noting that until 2007, the brokerage operated as TransIndex. Its current name came into effect later, when it was re-launched.
While its FCA regulation gives the broker the right to peddle its services in most of the EEA, there are a few countries that are excluded from its list of accepted jurisdictions. These countries are the US, Canada (no surprises there, really), Belgium and Singapore. The official website of the broker makes it clear though that the above-mentioned FCA license is only really valid for the UK.
The broker keeps its traders' funds in segregated bank accounts, thus, if there ever is an insolvency problem, these funds will not be used to reimburse the creditors of the operation.
The brokerage is also a member of the Financial Services Compensation Scheme, which means that it offers its clients guarantees up to a maximum of GBP 50k on their deposits.
ETX Capital recently won 2 awards at the Online Personal Wealth Awards 2019. Best Trading Platform for Professionals and Best Trading Tools.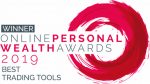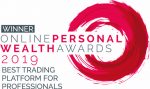 Knowing the above, why would you want to open an account with ETX Capital and begin trading there? What are the main selling points of the broker?
While its reputation may not be spotless, at least the broker is honest and upfront about the prospects of those trading there. It states on its website for instance, that some 79% of those who take advantage of its spread betting and CFD services, end up losing money. That is hardly a selling point though, is it? But needed due to new ESMA rules that came into place August 1st 2018.
The broker boasts support in scores of languages, including Spanish, German, Polish, Czech and Mandarin Chinese. It features great client fund safety – as detailed above – and it offers good trading conditions, meaning low spreads and plenty of leverage.
The market coverage of the broker is decent as well and it makes trading available to its clients on the go.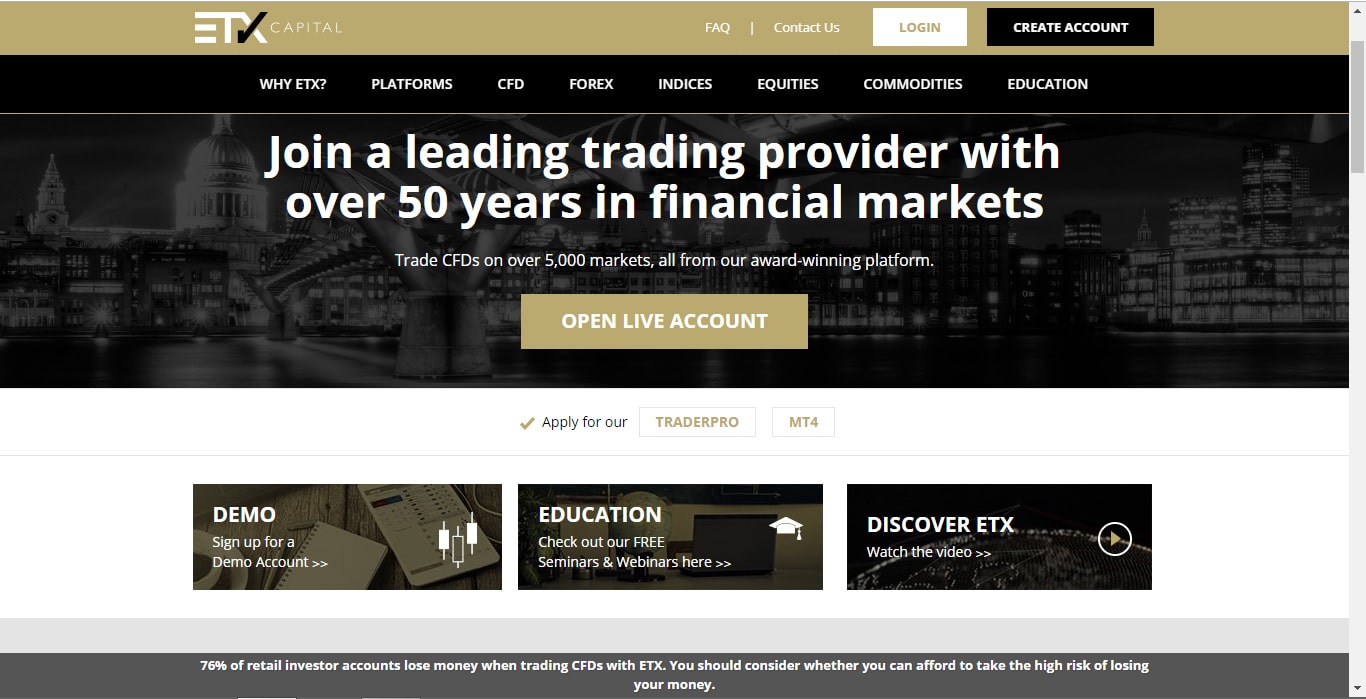 Account Types
In this regard, the broker has chosen not to set up several different options for its traders. Long story short: there is only one type of real money account, which requires a minimum deposit of $100. Once you make this deposit, you're in. That's all there is to it.
The maximum available leverage on this real money account is 1:200.
ETX Capital Trading Platforms
The broker features two trading platforms: its own, in-house built ETX TraderPro and MT4.
Interestingly, of the two, TraderPro is considered to be the flagship platform of the broker. As such, it offers advanced charting, various trading tools and technical indicators, as well as access to over 5,000 markets.
There's a handy pip calculator available on the platform too, as well as an interesting deal ticket drag and drop feature.
Overall, the TraderPro platform is definitely not a disappointment, not even when tossed into the water with the likes of MT4.
MT4 on the other hand still rules the roost in regard to usability and utility. It is a fully customizable trading environment after all, which lets traders code their own technical indicators, custom scripts and EAs, or install new ones from 3rd parties.
The EAs are obviously among the most popular features of MT4. It has to be noted though that EAs work best with a proper VPS service, that lets them run around the clock. To request VPS access, traders are required to contact the ETX Capital Support, through email or phone.
ETX's MT4 version can be downloaded for free from the site. It comes with an impressive number of preinstalled technical indicators, and it has a mobile version too, which can be used for on-the-go trading.
MT4 supports a massive range of order types and it supports micro lots as well as hedging.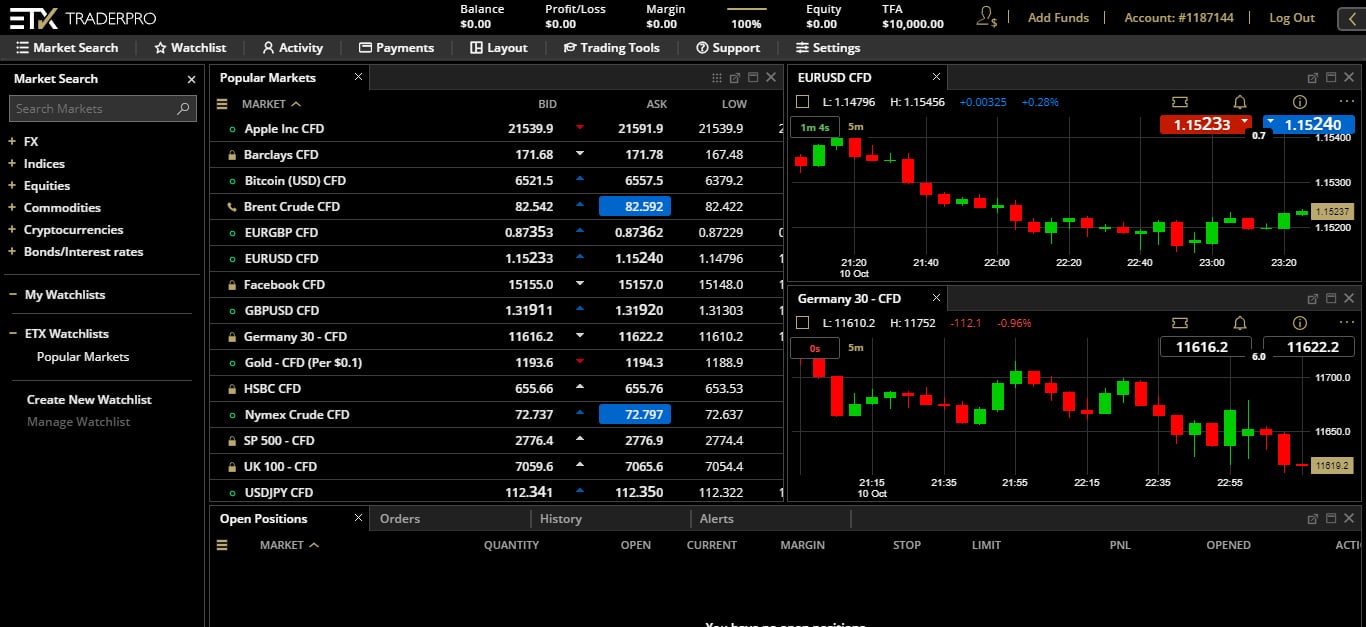 Market Coverage 
As already mentioned above, the market coverage of the broker is excellent. It offers more than 50 currency pairs, and the trading conditions on the majors are very attractive indeed. To put that into perspective: the spread on the EUR/USD pair starts from 0.6 pips, and the leverage from 1:30.
The CFD offering of the broker is focused on stocks, though it is safe to say that one won't actually have to enter possession of any physical assets in the case of commodities either.
The trading conditions on CFDs span a relatively wide range. On UK and US stocks, the spreads start from 1 pip or even 0.5 pips. On Chinese and South African stocks on the other hand, they start from 16-20 pips, so there is quite a difference indeed.
Deposits/Withdrawals 
The broker supports a surprisingly large number of currencies and it does in fact charge inactivity fees on accounts which are not used.
The first line of accepted deposit/withdrawal methods is made up of bank wires, online bank wires and various credit- and debit cards. All major cards are accepted, with the exception of AMEX.
Skrill, Neteller and China UnionPay are also accepted. Money deposited through these methods takes 3-5 business days to settle in trader accounts.
Those looking to deposit EUR can also resort to Sofort and Giropay.
The broker does not charge any extra fees with any of the above listed deposit/withdrawal methods.
ETX Capital Support
The ETX support staff seems knowledgeable and eager to help, though it is also true that we didn't put them to the test on a highly litigious affair, such as the withdrawal of massive profits.
The available support channels are the usual ones: there is email ([email protected]), as well as phone (+44 (0) 20 7392 1494). The actual address of the operation is One Broadgate, EC2M 2Q​S, London.
The Bottom Line
ETX Capital is a bit of a tough nut to crack. The broker is regulated (by the FCA no less and not by some back-alley, two-bit organization) and everything about it looks to be very legit indeed. This makes the above discussed negative client feedback all the more confusing.
Other than that, though, the services of the broker seem to meet our quality standards, and in some cases, they even exceed them…
Please be advised that certain products and/or multiplier levels may not be available for traders from EEA countries due to legal restrictions.
---
---