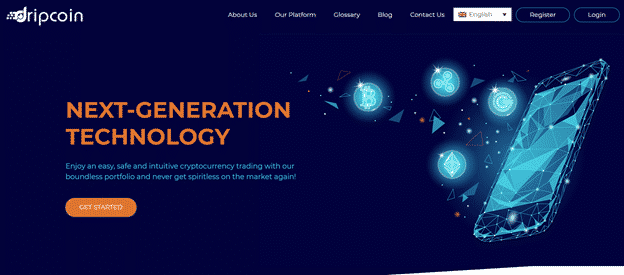 Dripcoin is an online cryptocurrency trading platform. It incorporates some of the next-generation trading technologies to create an environment where customers can take advantage of crypto using easy, safe, and intuitive software.
Devoted to maintaining the highest security level, Dripcoin is not facilitating the purchase of underlying assets. Instead, it allows customers to speculate on the rising or falling prices, given there is persistently high volatility.
As a trading platform designed for the wider public, trading with Dripcoin will allow access to a personal assistant to provide guidance each time it is needed. Because trading crypto is not yet a very popular activity and many beginners are joining the industry, this company ensures that adequate support is available.
But the most important trading benefit when using Dripcoin is the crypto-asset coverage. This is a dedicated crypto provider so that customers can access a broad range of altcoins as well as Bitcoin.

Unique Trading Features at Dripcoin
Fast execution – trade execution plays an important role when dealing with crypto since this is one of the most volatile markets in the world. Using advanced technologies built into its platform, this provider ensures all trades are executed within milliseconds.
Customer support – Dripcoin keeps close communication with customers or any person interested in finding out more about its services. Once you open an account, as well as the usual customer support service, there will be a personal assistant able to provide guidance or relevant trading-related information when needed.
Cryptocurrency coverage – traders can be involved in high-profile trading of cryptocurrencies, including Bitcoin, Ether, Litecoin, or XRP. Also, the coverage is much diversified and includes other tokens such as EOS, Ethereum Classic, Chainlink, Monero, Dash, or IOTA. With flexible margin and tight costs, traders can become involved when markets are trending up or down.
High security – using common-sense policies, some of the most trusted payment methods, and transparency, Dripcoin is a platform ensuring one of the most secure places to become involved in the challenging crypto market.
Easy sign-up process – opening an account is convenient for any user since there are only a few easy steps to complete. The infrastructure is very intuitive, and even those with no trading platform experience can handle it.
Compliance – all customers interested in opening an account need to be aware of the compliance requirements. This means they will need to provide ID to be verified to trade.
Dripcoin Platform
The Dripcoin trading platform stands out due to ease of use and the rich pack of features built-in to offer a unique and optimised trading experience. This company relies on a web-based solution because it wants to ensure a greater degree of flexibility.
You can use it on any type of device and benefit from all its features via a browser without worrying about high hardware requirements or lags. Integrating advanced charting means it is possible to use any type of strategy to analyse price action developments.
With additional tools like one-click trading, price alerts, and favourite lists, traders can enhance their trading experience and keep up to date with the market movements.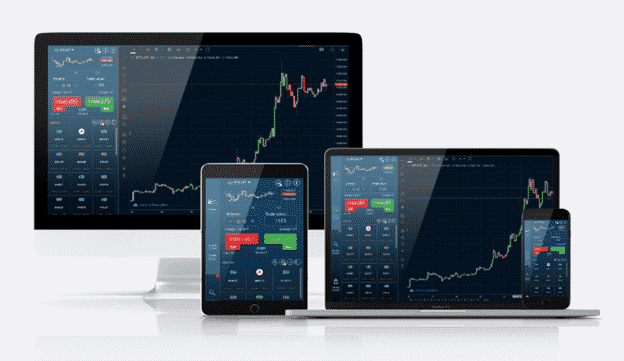 Dripcoin Deposits and Withdrawals
Fiat deposits via credit/debit card or wire transfer are currently accepted at Dripcoin. Customers can choose between three different account currencies (EUR, USD, or GBP) based on convenience and geographical location.
According to the company's withdrawal policy, the same methods for making deposits can be used to transfer funds from a trading account. At the same time, Dripcoin can process cryptocurrency transactions and send tokens to a customer's wallet. Withdrawal requests are processed and completed within a maximum of ten business days.
Beginner Trader Support
Aware of the large influx of beginners joining the cryptocurrency markets, Dripcoin offers several significant benefits. First, any person interested in the services can get guidance via the customer support service. Also, once a live trading account is open, a personal assistant will be available.
Thirdly, there is a Dripcoin blog where content is constantly added for traders to learn more about trading, cryptocurrencies, security, and other relevant topics. Most of the materials are designed for beginners, so that's good news for them. However, there are limited resources available for advanced traders.
Is Dripcoin Safe to Use?
The usage of next-generation trading technologies, combined with some of the world's safest payment methods and transparent services, makes Dripcoin a safe to use online trading platform. People can take advantage of cryptocurrency price movements without necessarily holding a cryptocurrency wallet. Large daily ranges create a proper environment for short-term trading, and that's precisely what Dripcoin enables its customers to do.
Cryptocurrency derivatives are negating some of the top vulnerabilities associated with dealing with tokens, such as storage, custody, or hacking attempts.
Other Services
Dripcoin is mainly focused on providing high-quality cryptocurrency trading services, and most of the effort is allocated in that regard. However, traders joining this platform have access to reliable customer support, educational resources, and enhanced security.
Pros
Dripcoin has a very competitive cryptocurrency asset coverage
The platform is easy-to-use even for beginners
All registered customers get to benefit from a personal assistant
Cons
Dripcoin services not available in certain countries
Website available in just two languages
A standard trading account for all customers
Dripcoin Review Conclusion
Favourable conditions in the cryptocurrency market continue to drive retail interest. As a result, more and more people are getting involved in crypto and want to take advantage of its volatility in the hope of making significant gains. Dripcoin is proving to be a reliable trading partner since it offers a competitive crypto assets list, a user-friendly trading platform, and an overall customer-centric infrastructure that promises to be efficient even in one of the most challenging industries.
Trading cryptocurrencies with Dripcoin unlocks a full range of possibilities for those that want to have a trading account focused solely on this market. Its global coverage means residents in many countries worldwide can sign up and start trading crypto using reliable trading tools.
Please be advised that certain products and/or multiplier levels may not be available for traders from EEA countries due to legal restrictions.
---
---