Digital Currency Market Expert Summary
Founded in 1994, Digital Currency Market provides online trading services in over 160 countries. There are more than 175 products to trade on, through your phone or desktop, and traders have three platforms to choose from.
They offer a variety of assets such as foreign exchange, CFDs, commodities (oil, gold, silver, rubber, sugar, soybeans, pork, and coffee, to name a few), equities, world indices, futures and FX options. This broker also offers traders the option to buy and sell Bitcoin, the most successful cryptocurrency today, as well as many Altcoins.
Digital Currency Market's website is bilingual – English and German versions are available. As for customer service, traders can reach the broker and consult with experts via email and phone, with details clearly listed on the website.
Main features
This online trading service provider adheres to a strict anti-money laundering policy. It follows the UK's Joint Money Laundering Steering Group protocol, taking into account that the UK is a member of the Financial Action Task Force (FATF).
Trading tools
To help traders fulfil their personal potential, Digital Currency Market offers the popular social trading tool. With it, traders are exposed to trading ideas, and can share their own. You can also watch live trading results or see ongoing market situations at all times. This way, you can truly be a part of a trading community.
This broker also offers a forex calculator, with which anyone can quickly and securely understand the potential of every possible forex trade. A financial calculator is also in place, set to calculate different parameters such as future value, interest rates, annuity payment and the number of compounding periods. Other than that, there is an economic calendar with real-time and automatic announcements which may make trading-related decisions easier.
Platforms
Traders get to choose between different platforms. MetaTrader 4 (MT4) is available to all traders, regardless of account size, and can be downloaded to iOS, Android, and desktop, or accessed directly from any browser. It has 30 indicators and over 20 graphical objects for technical analysis.
WebTrader, also available to all traders, is an intuitive interface for both beginner and advanced traders. You can open it directly from your browser, for fast order placement.
Account Types
digitalcurrencymarket.io offers seven types of accounts, as well as five more special savings accounts. Access to them is a function of your initial investment. Amount of tradable assets, number of free educational sessions with senior analysts, and VIP signals, are just some of the features granted according to account size.
The seven accounts clients can choose from are Basic, Bronze, Silver, Gold, Platinum, Diamond and Black. The basic plan comes with a minimum investment of $250 and grants account holders three free valuable educational trading sessions, as well as over 100 tradable assets.
On the other hand, the Black account is for traders with a balance of $50,000 or more. Educational sessions with senior analysts, VIP signals, free withdrawals and free express withdrawals are unlimited, along with numerous other benefits granted to Black account holders, such as over 200 assets, high leverages, financial advisor services and minimal spreads on all assets.
Free withdrawals are granted to Gold, Platinum, Diamond, and Black account holders. Clients who sign up for the Silver account get access to over 200 assets, as well as free educational services provided by an analyst.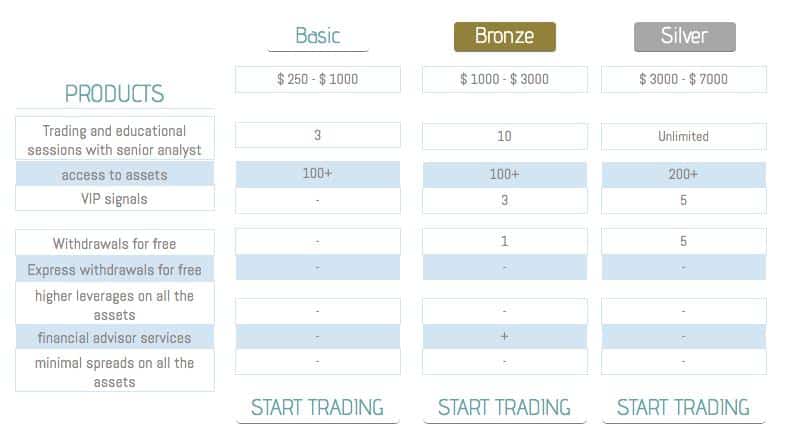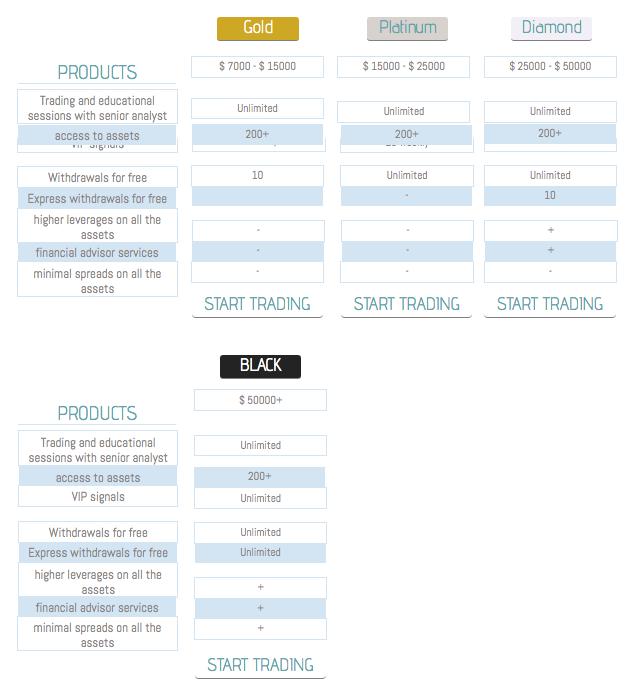 Digital Currency Market also allows shared accounts. This means that two or more individuals can jointly operate an account and are allowed to access the funds.
These are the attractive savings accounts offered by this provider: a crypto savings account, a dedicated portfolio (where you can commit to only one asset), a diversified portfolio, hedge fund savings suitable for uniting with other traders, and a personal bank account. For any question regarding these savings accounts, Digital Currency Market's customer support team is at traders' disposal via phone or email.
Digital Currency Market Fees, Deposits and Withdrawals
Deposits
Once you have your account and are ready to deposit, you can do it using your credit card or debit card, an e-payment, or a bank wire transfer. The broker takes all measures to verify that the transaction is authentic and complies with all policies, before crediting into your account. Deposits are free of charge.
Withdrawal
Withdrawals are executed with the same method you chose for depositing. You may need to provide additional information, such as a valid ID, as part of the company's high security protocols. Not all withdrawals come with a fee, and the amount depends on the type of account and the withdrawal method. Withdrawals take three to five business days to process.
Other fees
Digital Currency Market has an inactivity fee, called a "dormant fee". This fee is only charged if a trader does not access his accounts for 90 consecutive days. No commissions are charged for opening and closing deals.
Digital Currency Market Review Conclusion
Digital Currency Market's greatest advantage is the fact that it offers twelve accounts you can choose from, making trading there suitable for all kinds of budgets, strategies and expectations. They also offer different platforms, so you have the ability to trade on the one that seems most user friendly to you.
The social trading tools is also definitely a bonus with Digital Currency Market, since it grants the ability to stand on the shoulders of giants. Overall, it seems digitalcurrencymarket.io is a trustworthy brand, making great efforts to keep a high level of customer satisfaction. Despite some shortcomings, such as the lack of eBooks and webinars, we still recommend this broker.
Please be advised that certain products and/or multiplier levels may not be available for traders from EEA countries due to legal restrictions.
---
---