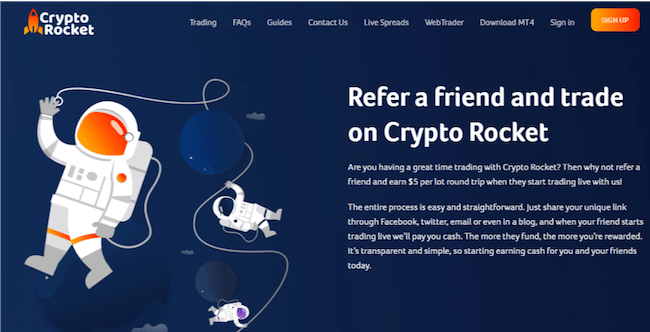 CryptoRocket is a multi-asset broker which approaches the subject of trading with a fresh pair of eyes — founded in 2019 means that some of the firm's innovative features directly address current issues. Customer support, for example, is offered on a 24/7 basis, and a lot of traders appreciate the anonymous style of trading which the platform offers.
In other ways, such as by offering the tried and tested MetaTrader MT4 platform, it works on the basis of 'if it ain't broke don't fix it'. Another nod to their desire to get the basics right is the firms focus on fast, reliable and accurate trade execution using tight spreads.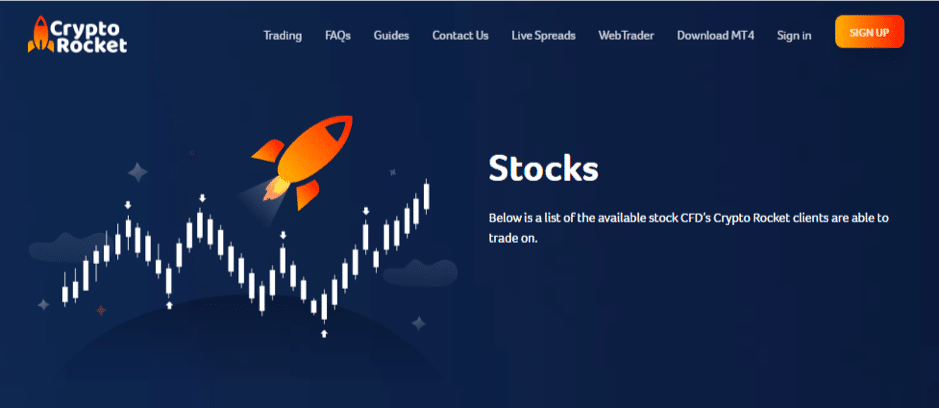 Although CryptoRocket stresses the 'Crypto' aspect of their offering, it also offers traders the ability to access a range of other markets. The blend of old and new is finding success with positive feedback coming from the trading community.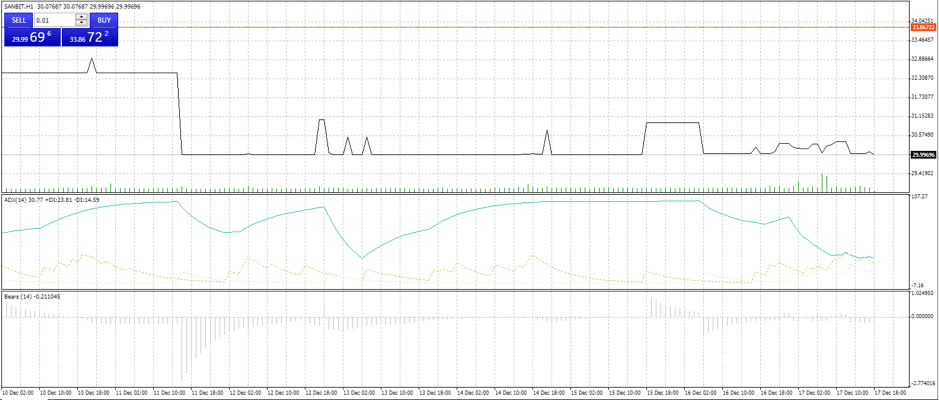 Features
Ease of use – traders can start with just a computer and internet connection. A smartphone or tablet may also be used to trade but dedicated crypto-wallets are not required
Leverage up to 1:500 This is one of the highest possible leverage rates available in the market. Being unregulated has its downsides, most notably in terms of client protection, but does allow the wriggle room for CryptoRocket to offer very high leverage levels to clients. By not signing up to regulatory constraints, such as European Securities and Markets Authority (ESMA) which limits forex leverage at 1:30, the broker has more freedom to set the leverage caps where they think is best. Traders should note that utilising maximum leverage is an option rather than a requirement and that increased leverage terms result in increased risks as well as increased returns.
Cryptocurrency Wallets – These are both public and private online "wallets" which are used to both store and spend cryptocurrencies. Use of a wallet allows clients to write in the open blockchain ledger and carry out desired transactions. CryptoRocket can communicate with a client's specific cryptocurrency wallet.
Robo and systematic trading is possible through the MT4 Expert Advisors (EA) facility.
CryptoRocket does not provide an abundance of information about its operations. They are the 'new kids on the block' so the temptation is to cut them some slack on this as they decide what direction they intend to take. It's slightly confusing that the 'About Us' section promotes the firms approach to being "transparent", but then doesn't appear to be very transparent about the corporate structure, firm's timeline etc.
Trade directly within the provided trading platform in Crypto. Simply deposit or withdraw directly using Bitcoin, Bitcoin Cash, Ethereum, Litecoin etc.
Referral and Affiliate schemes are available to clients. Potential additional income streams include: "refer a friend" to earn $5 per lot round trip when they start trading live on the platform. Cash returns are proportionate to the amount of capital which friends allocate to their trading. Linking referrals to the site is as easy as clicking on a link which maps to one of the major social media platforms.
Mobile trading is available through free iPhone and Android apps. The mobile service allows for trade execution, analysis and strategy testing and account administration.
No transaction fees and the use of a distributed ledger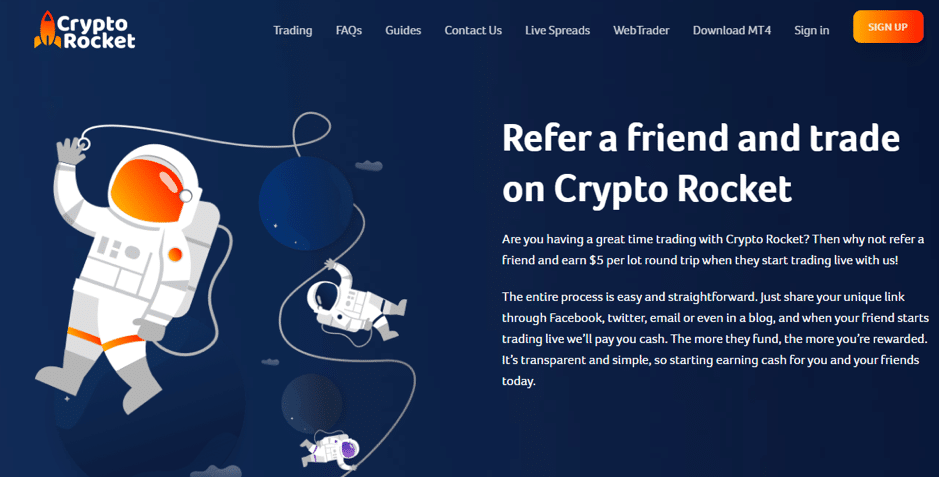 Spreads and leverage
 The broker space is a very competitive one and to catch the eye of traders CryptoRocket has done well to address the key feature of trading costs. The firms declares its aim is to "offer the very best performance available in the marketplace … so that our clients can rest assured that they will have access to consistently fast and accurate pricing".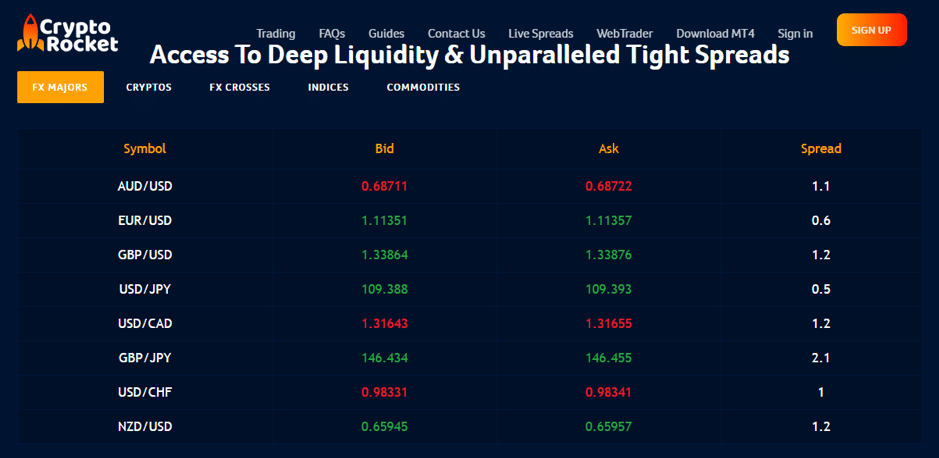 The Live Spreads page of the CryptoRocket site allows traders to run-up to the minute price comparisons. Given the degree of transparency offered, it's no surprise that the figures back up the brokers claim to be part of the leading pack in terms of spreads.
In the forex markets, EuroDollar spreads can be as low as 0.6 pips, and even Kiwi has a spread of only 1.2 pips. There are, of course, some brokers who focus entirely on price and who register tighter spreads than CryptoRocket. But CryptoRocket are not too far off the pace of that small group who provide tight spreads. It's always prudent to carry out detailed analysis of comparative costs to ensure like for like are being compared. Trading commissions which could typically be 6 USD per standard lot (round trip) need to be factored in to ensure the pricing schedule on offer is as good as it sounds.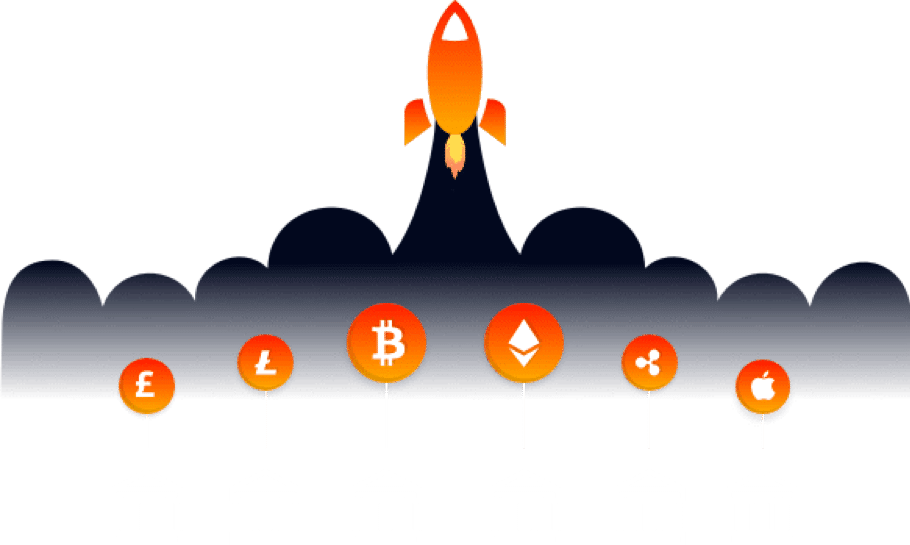 The one pair which did stand out as often being wider than it might be was GBPUSD and traders who specialise in that pair might want to check if the spreads do come in tight enough for their strategies. Some of the peer group are reporting spreads of < 0.5 pips at the same time that CryptoRocket are posting 1.2 pips. Their site claims to support the headline rates with "reliable" and "deep" liquidity. There is little exact detail provided as to how this is achieved but even recognising it to be an aim is a good thing.
Trade on Institutional Grade Liquidity: "At CryptoRocket, users interested in cryptocurrency trading and forex trading will be presented with the opportunity to trade on institutional grade liquidity from major global investment banks, as well as from fully transparent liquidity execution providers. What this means for the trader is that you will have access to excellent rates, along with the ability to trade on ultra-tight spreads."
STP (Straight Through Processing) does apply. This is typically welcomed by traders. It cuts out the need for a dealing desk (which often results in lower trading costs) and mitigates execution risks relating to re-quotes or price manipulation. STP though can have its disadvantages as well as it's advantages, it can, for example, limits scope for Negative Balance Protection, and it would be beneficial for the site to share more information on the detail of what is on offer.
The site does share that "All trades are processed via our aggregator" which ensures that you get the very best rates, as these come directly from institutional grade major global investment banks and fully transparent liquidity execution providers.
Platform
Clients of CryptoRocket can take advantage of the most popular trading platform in the world. The MetaTrader, MT4 platform offers high-speed, robust trading and top-end charting and analytical tools.  First released in 2005 it has since then been tested to destruction and provides traders with everything they need and nothing that they don't.

The CryptoRocket platform provides over 100 markets.  There are 55 currency pairs which is a number which ensures they cover all major, minor and exotic pairs. The number of stocks and indices on offer is also near the top end for brokers who use MT4. It is, however, in terms of Crypto-trading that the broker really stands out. Offering 30 Crypto pairs moves CryptoRocket into a group of dedicated crypto brokers.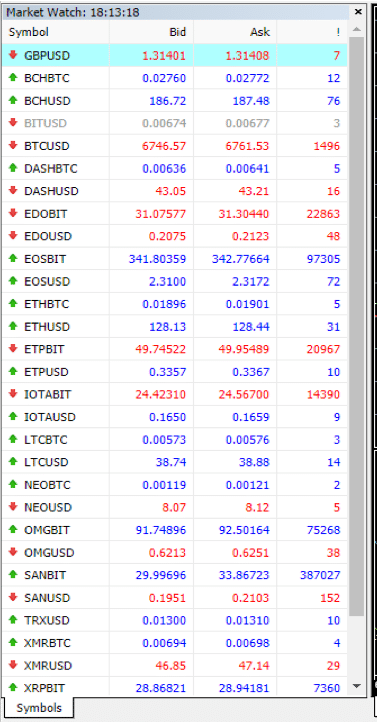 The MT4 platform is available in downloadable Desktop or Webtrader format. Both provide a range of analytical and charting tools which is hard to beat. There are Technical indicators which offer a mathematical manipulation of a security price or volumes with the intention of forecasting of future price changes. They are broken down into 'trend indicators' and oscillators. The former assesses the price direction and report the turn in trend post-event whilst oscillators aim to find the turning moments ahead of time.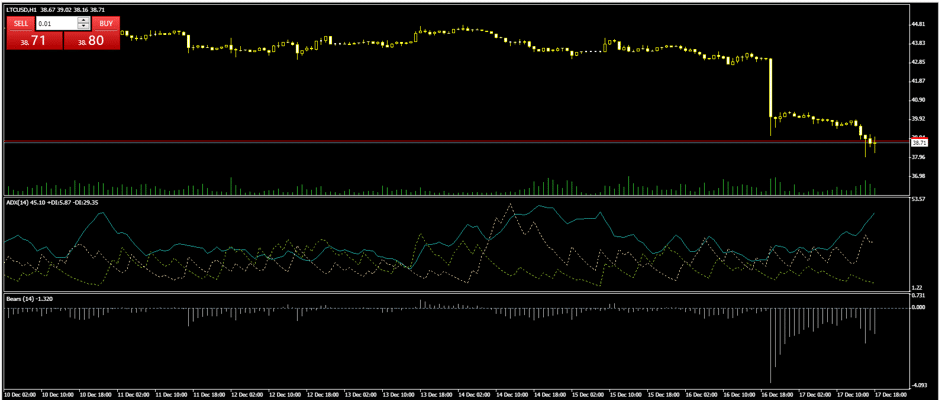 MT4 graphics are razor sharp, which helps when developing strategies. The distinctive 'clinical' aesthetic being something of a hallmark of the MetaTrader platforms.
There is a lot on offer in the MetaTrader platforms. More experienced traders can take advantage of hotkeys to set up and test new strategies, but beginners will also find even the most basic approach reaps benefits. Those getting to grips with the process would benefit from the very helpful advice provided by MetaTrader themselves which compliments that support provided by CryptoRocket. The extensive handbook and glossary are available at https://www.metatrader4.com/en/trading-platform/help/analytics/objects_control/line_studies. The detail provided goes down to quite a granular level, but the below provides an idea of what is on offer.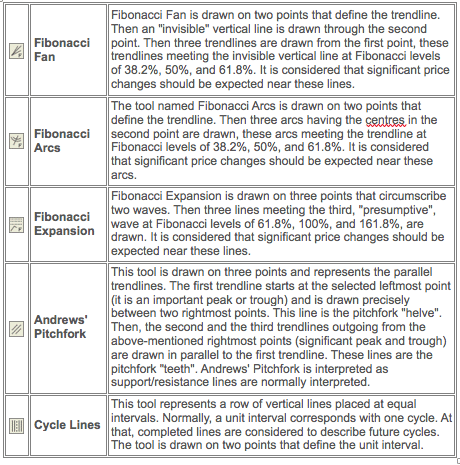 Deposits and withdrawals
One stand-out feature for clients of CryptoRocket is that there are no minimum required balances. It really is possible to start trading with a $1 deposit though, of course, the practicalities of trading on leverage requires a sufficient balance to be held to act as collateral to any potential losses.
Deposits and withdrawals can be made through the InstaCoins and Coinbase networks using credit or debit cards, but for many, the appeal of CryptoRocket will be that accounts can be funded using Bitcoin. This means that trading can be done anonymously.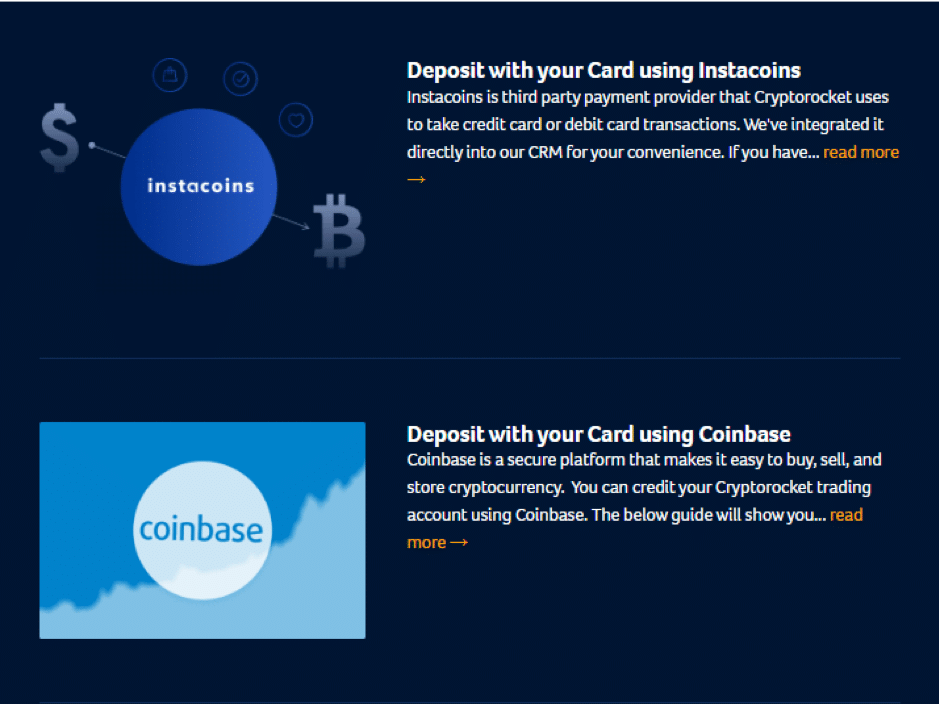 Fund transfers are processed at a fast pace and some payment methods are reflected in the account almost immediately; others can take up to an hour. Withdrawals are subject to a minimum transaction size of 0.001 BTC and are processed in under 24 hours which compares well to the peer group.
CryptoRocket doesn't apply any charges on deposit or withdrawal transactions but the small print still needs to be checked as there is the possibility that third parties might.
Beginners and customer support
CyrptoRocket deserve special recognition for offering their Customer Support on a 24/7 basis. Having such exposure to Crypto markets means seven-day access makes sense but it's also useful for traders of other markets to be able to access support over weekends. When testing the CryptoRocket Live Chat function, we found the response times to be market-leading regardless of the time of day. Chat transcripts are also available so that queries can be logged and referred back to if need be. Telephone support is available on a 'call-back' basis and whilst this means response won't be immediate, it is possible to express a preferred time at which the call should take place.
Some of our testers found that response times to email queries were particularly long; in some instances, there was no response at all. This could be due to a variety of reasons, even down to user rather than broker error but it does need to be flagged up. Not least because clients have to bypass the email Help function to access the more direct Live Chat area. Being relatively new to the space there is limited feedback posted from the trading community, so we're not sure if this is a known issue with users of CryptoRocket.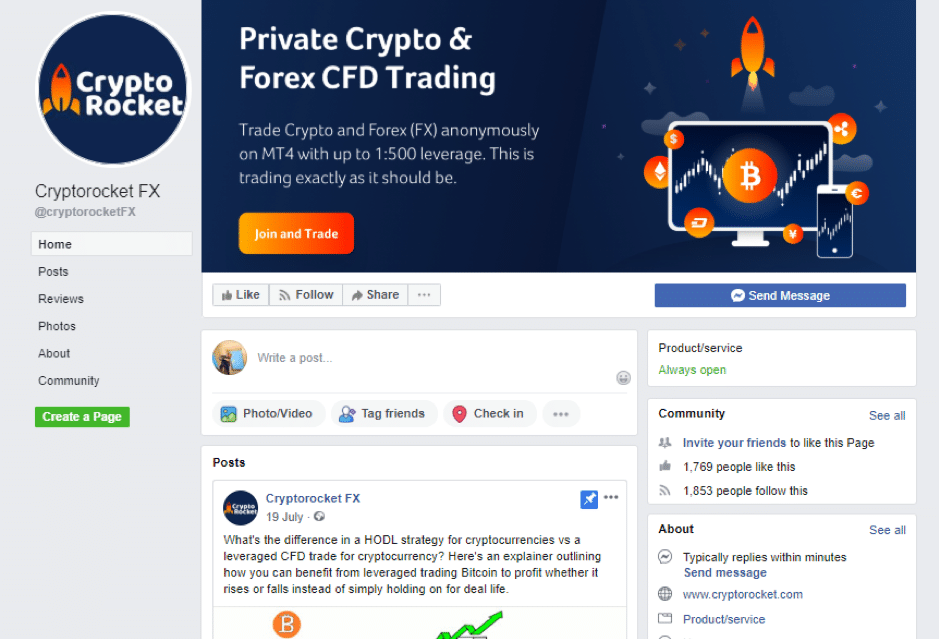 Facebook: https://www.facebook.com/CryptorocketFX/
LinkedIn: https://www.linkedin.com/company/cryptorocket-ltd/
Twitter: https://twitter.com/cryptorocket4
YouTube: https://www.youtube.com/channel/UCMzhqXcCTSikFSpObYAx4SA/
We go above and beyond by offering 24-hour support, ensuring that our global clients can get the answers they seek, regardless of the time of day or night.
Feel free to complete and submit the form below to contact us via email, or make use of the live chat function to speak with an agent here on the site. There is also the option to have a chat via phone with any of our helpful agents.
At CryptoRocket, we take the role of customer support very seriously and pride ourselves in ensuring that each and every individual who trades with us receives the very highest level of care!
There was also an instance of the test connection to the help desk breaking down.

There is little on offer in terms of proprietary research or educational resources. The MetaTrader platform does, however, have its own well-established community of traders to share ideas with. The MetaTrader training and learning resources are of high quality and free to access.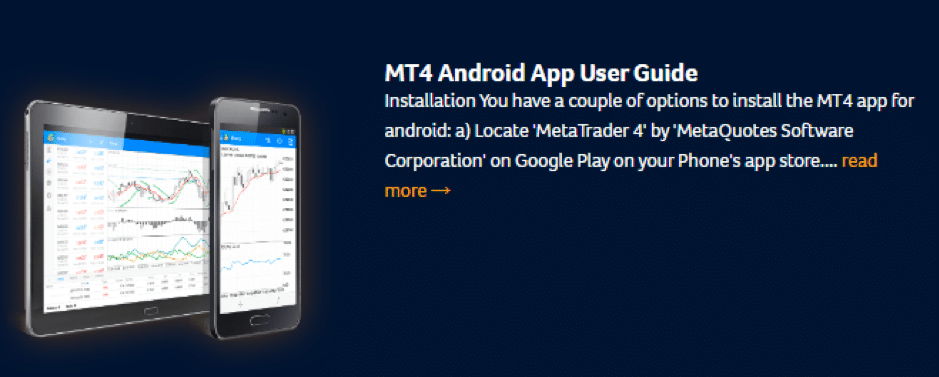 CryptoRocket Trading Conclusion
Being the new kid on the block can have its disadvantages, but CryptoRocket have approached the situation in a way that makes the most of their late entrance. The ability to access the markets anonymously will appeal to a lot of traders. The platform they can use is top-grade, and the costs to trade are also quite punchy.
As with all brokers who only offer the MetaTrader platforms the number of non-forex, or in CyrptoRocket's case non-crypto markets is limited. But not everybody wants to have a choice of thousands of equities to choose from, and many traders are happy to find their research elsewhere.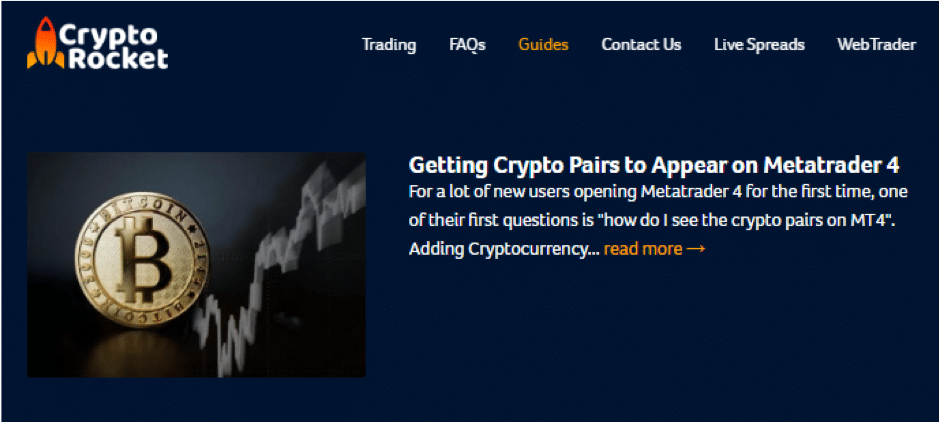 There are some areas where the broker has to be taken at their word. The reference to 'investment bank grade' liquidity providers isn't backed up with names and numbers. Users will be able to make their own mind up as to whether the flow is satisfactory when trading their own account. There are also few protections offered to clients due to the broker being unregulated. The absence of regulatory cover also gives the broker a free hand to offer more generous affiliate programs and trader anonymity, and many in the trading community have already commented on the experience of using CryptoRocket as being a positive one.
Please be advised that certain products and/or multiplier levels may not be available for traders from EEA countries due to legal restrictions.
---
---