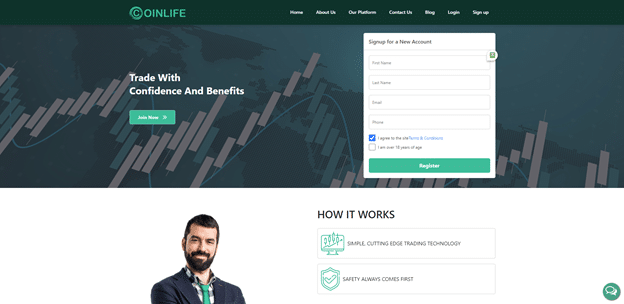 Broker summary
Coinlife is a cryptocurrency trading platform established in 2020. Crypto experts designed it for a growing audience of individuals interested in getting involved in the rising market of digital currencies.
Reliance on secure and trusted software, a client-oriented approach, common-sense policies, and a very competitive trading offer make Coinlife a suitable place to take advantage of crypto price movements without holding or storing tokens.
When trading cryptocurrencies with this brand, traders have access to a wide array of trading tools, which can help when getting involved in both rising and falling markets. Risk management tools, price alerts, and one-click trading are just some of the features of WebTrader, a proprietary software tailored toward the unique characteristics of crypto trading.
Coinlife's approach is governed by multiple policies, setting clear rules and guidelines on various important topics. Transparency is extremely important, which is why the brand offers all the relevant data on its website.

Broker Introduction
Trading cryptocurrencies with Coinlife means access to multiple features, some of the most important ones being:
Tens of cryptos in one place – Coinlife has numerous cryptocurrencies available on its platform. At a time when there is a lack of interest in crypto from other leading brands, tens of cryptos are covered by Coinlife. An all-time high for a relatively new platform. Customers have the opportunity to take advantage of popular Altcoins at the time of writing, including Polkadot, Chainlink, Binance Coin, Monero, and Cardano.
Flexible trading software – trading crypto successfully is a challenging activity. Because of that, Coinlife relies on a flexible and personalised platform. It was developed with the primary goal of facilitating access to the markets for both beginner and experienced traders.
Fast payments – when a trader opens an account, a deposit can be made quickly using a credit/debit card. Coinlife accepts payments in several popular fiat currencies.
24/6 customer service – for any technical issue or question related to the Coinlife offer, a team of representatives is available 24/6. The live chat feature on the website is the fastest and most convenient solution.
Low trading costs – there are no trading commissions charged by Coinlife, meaning the cost of getting involved in crypto has been reduced substantially. Traders can also use margin to increase their positions while at the same time keeping risk balanced with stop losses and take profits.
International brand – trading crypto with Coinlife is possible for a global audience of aspiring and experienced traders. The company accepts customers from around the world, as long as local regulation is not contrary to the provision of such trading services.
Platform and Tools
The Coinlife platform is an industry-leading solution designed to optimise trading speed and efficiency. Equipped with all the trading tools one should expect when performing technical analysis, this solution incorporates multiple technologies to ensure robust security and, at the same time, fast execution.
Relying on web-based software gives the trader increased freedom when trading the markets. There are no limitations in terms of the devices on which it can be accessed as long as a stable internet connection and a browser are available. Traders that need assistance to use the platform receive guidance from a personal account manager once they've signed up for an account.
Coinlife deposits and withdrawals
Coinlife has optimised account management and funding to be secure and fast. That is why it is possible to make deposits and withdrawals using credit/debit cards and wire transfers. The brand is flexible and accepts payments in USD, EUR, and GBP, depending on the most convenient option for each customer.
When it comes to withdrawals, increased attention is on KYC/AML compliance, requiring all traders to verify their accounts. The process is explained more broadly at coinlife.io.
Education – beginner trader support
Not just reserved for experienced traders, anybody can join Coinlife and learn to trade from scratch. The company has a team of personal account assistants who provide guidance for all customers that need help. Also, there is the live chat customer support feature available via the brand's website 24/6. Each time a customer needs assistance, Coinlife responds quickly.
Coinlife is aware that education is a never-ending process and retail traders need updated information to tackle the markets successfully.
Is Coinlife safe to use?
The issue of safety is one of the main concerns among retail cryptocurrency traders. Aware of the importance of ensuring robust security, Coinlife relies on some of the latest mechanisms and cutting-edge technologies in the operation of its WebTrader. All of the common-sense policies now in play have set up clear rules and clearly show how Coinlife does its work.
Given all these security features, it would be fair to assume Coinlife is a safe place to trade crypto, by the nature of the instruments covered and how it continually works to upgrade its services.
Other services
Even though providing high-quality trading services is the main focus at Coinlife, there are other provisions worth mentioning, including:
Multiple resources provided on the Coinlife blog
Personal account assistants for all customers
Useful trading tips
Pros
High-end cryptocurrency trading software
Diversified crypto-asset list
Transparent and reliable trading services
Cons
MetaTrader 5 platform not available
Trading services available in English
Final Thoughts
Cryptocurrencies are now regarded as a solid investment by a growing number of traders and increased demand has been propping up markets for the past year. Coinlife has emerged as a solid crypto trading platform, facilitating easier access and providing a wide array of tools required by retail traders.
Using an innovative trading solution developed by the company, customers can be part of the growth or decline in value of Bitcoin, Ether, Litecoin, and many more Altcoins, all from the comfort of their home. Coinlife's reputation continues to improve and its leading advantages remain the same, considering there is a limited number of brands focused solely on crypto.
Please be advised that certain products and/or multiplier levels may not be available for traders from EEA countries due to legal restrictions.
---
---