Expert Viewpoint
CMarkets Group is a cryptocurrency trading platform specialized in providing access to crypto trading on more than 100 pairs. As compared to an exchange platform, in the case of cryptocurrency trading underlying assets can't be bought and sold. Instead, traders can only profit from both falling and rising markets.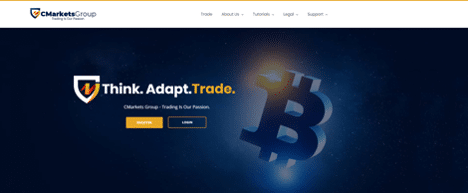 At first glance, the solution developed by this broker is easy-to-use for most of the people, including those with no prior experience. If the cryptocurrency industry looks to be overcomplicated, the SIRIX platform developed by CMarkets Group makes it easier for everybody to start trading.
That happens mainly due to the social trading features integrated into the platform. On the right side of the platform, registered clients can see the top-ranked traders as well as their latest trading positions in the social stream window.
Crypto traders who choose CMarkets Group will be able to make quick deposits via credit/debit cards and trade a wide range of cryptocurrencies with up to 1:500 leverage, depending on the trading account type chosen.
Since high leverage can increase both profits or losses, CMarkets Group had set a lower level for Starter and Advanced Accounts, to ensure that traders will not be hijacked by any unexpected market move.
In terms of trading platforms, the company had developed SIRIX, a proprietary solution that's available via browser, for mobile devices (Android or iOS), as well as in a desktop version. At the same time, there are several insightful educational resources available to introduce beginners into the world of cryptocurrencies.
Broker Summary
Founded in 2020, CMarkets Group is an online trading brand that provides crypto margin trading. Owned by Click World Ltd, its services are for crypto assets only and do not facilitate the purchase or sale of cryptocurrencies.
The offer developed by the company is suited for traders wanting to invest in crypto derivatives without dealing with an exchange platform. It could be the right pick for traders that want fast access to the cryptocurrency market and benefit from trading conditions as with FX, stocks, commodities, or indices

The intuitive user interface had been possible thanks to CMarkets Group's vision to democratize the world of cryptocurrencies and enable a growing number of people to take part in the fast-growing industry of digital money.
CMarkets Group Introduction
CMarketsGroup is a platform that provides leveraged trading for cryptocurrencies, founded in 2019 by Click World Ltd, a company based in the Commonwealth of Dominica. People all around the world, without any restrictions, can open an account and trade 100+ crypto assets.
The services provided by the broker are suited for traders who want to day trade or find opportunities in the short-term. BTC, ETH, XRP, LTC, and USDT, as well as altcoins like OMT, XMR, Dash, and many others, are available at CMarkets Group.
Both beginners and experienced traders can trade with CMarketsGroup, considering the wide range of trading resources available on the official website. The signup process is simple and straightforward, taking less than a few minutes. All traders must comply with KYC and AML Policy, and provide an identification document, as well as a proof of address.
Spreads and Leverage
According to the information provided by CMarkets Group, registered clients can trade cryptocurrencies with leverage from 1:200 up to 1:500, depending on the trading account. As compared to other brokers, the leverage level is among the highest in the industry but should be used with professionalism to reduce risk.
Leveraged trading means that traders can borrow money and trader bigger positions as compared to what they could have traded only with the funds deposited into their account.CMarkets Group also has competitive spreads for all the assests included in the offer. It's important to mention that spreads are variable and fluctuate based on market volatility.
At the same time, spreads are dependent on market liquidity. Popular contracts based on BTC, ETH, or LTC will have lower spreads, while less popular tokens will have higher spreads.
Platforms
SIRIX is the proprietary trading solution provided by CMarkets Group. Available for the desktop, Android/iOS devices, and via any modern browser, SIRIX is the gateway to the cryptocurrency market. The platform provides live quotes and a series of features that are tailored towards meeting the demands raised by the cryptocurrency market.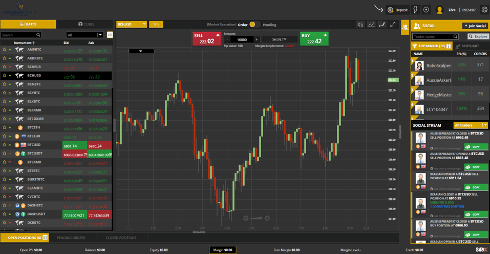 Aside from the usual trading features (advanced charting, technical indicators, drawing tools, risk management tools like Stop Loss or Take Profit), SIRIX stands out thanks to the social trading features integrated into it. That enables clients to copy trades of professional traders that are part of the social program.
The right side of the platform will post the ranking of the most profitable traders as well as a social stream window, where clients can see live all the latest trades opened and copied them.
Accounts
To ensure that any type of client will find the right offer, CMarkets Group had developed 4 different account types. Clients can choose between Starter, Advanced, Pro, and Expert accounts. The minimum deposit required for the most basic account (Starter) is $1,000 and goes as high as $50,000 for an Expert account.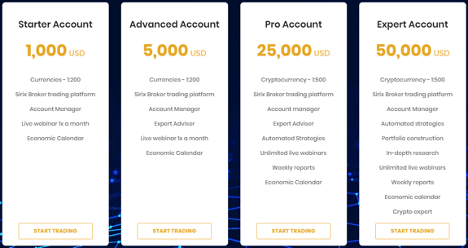 The main differences have to do with the maximum leverage available, as well as a series of features that should enhance the trading process. CMarkets Group provides access to live webinars, expert advisers, weekly reports, automated strategies, in-depth market research, and many other features that can help traders in their day-to-day activity.
Final Thoughts
CMarketsGroup is a broker specialized in cryptocurrencies that have encouraging prospects to grow exponentially over the near-term horizon. That happens because the company had developed an easy-to-use and friendly ecosystem designed to integrate any type of traders, no matter if it's about beginners or professionals.
With a promising proprietary trading software in the form of SIRIX and wide coverage for 100+ cryptocurrency contracts, CMarketsGroup is an option for any trader wanting to get involved in the fast-growing crypto industry. It's also good to see the platform requires clients to comply with KYC and AML policy.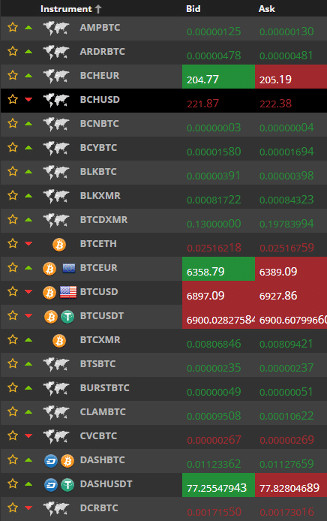 Please be advised that certain products and/or multiplier levels may not be available for traders from EEA countries due to legal restrictions.
---
---