CM Trading is an international brokerage and CFD provider enabling real-time access and exposure to a wide array of international stocks, currencies, commodities, indices and crypto.
While there is no CM Trading bonus, the broker offers entry to the markets through four different account setups, three different trading platforms and a suite of popular applications. Trading interfaces come out of the box for inexperienced traders and facilitate customisation for more experienced professionals.
Rating Overview
| | |
| --- | --- |
| Overall rating | |
| Regulation | |
| Fees | |
| Range of Markets | |
| Platforms | |
Sharing in CM Trading's success are more than one million international clients attracted to the premier customer support, accessible and quality technology, broad market offering and competitive pricing.
The CFD offering to a large number of asset classes around the clock facilitates real-time pricing, execution and risk management. Easy-to-use and intuitive software allows the client to focus on individual strategy and trading goals.
Is CM Trading legit? ForexFraud trusts this broker to provide a reliable and effective brokerage service to its customers and safeguard their funds so that traders can execute their strategy with the utmost confidence, safe in the knowledge that CM Trading is no scam.
CM Trading has been awarded the 'Best Financial Broker Africa' for five consecutive years. The commitment to Africa and the Gulf Cooperation Council (GCC) region is ingrained in its culture and is reflected in its stated aims of uplifting customers through knowledge and providing an excellent platform to trade from.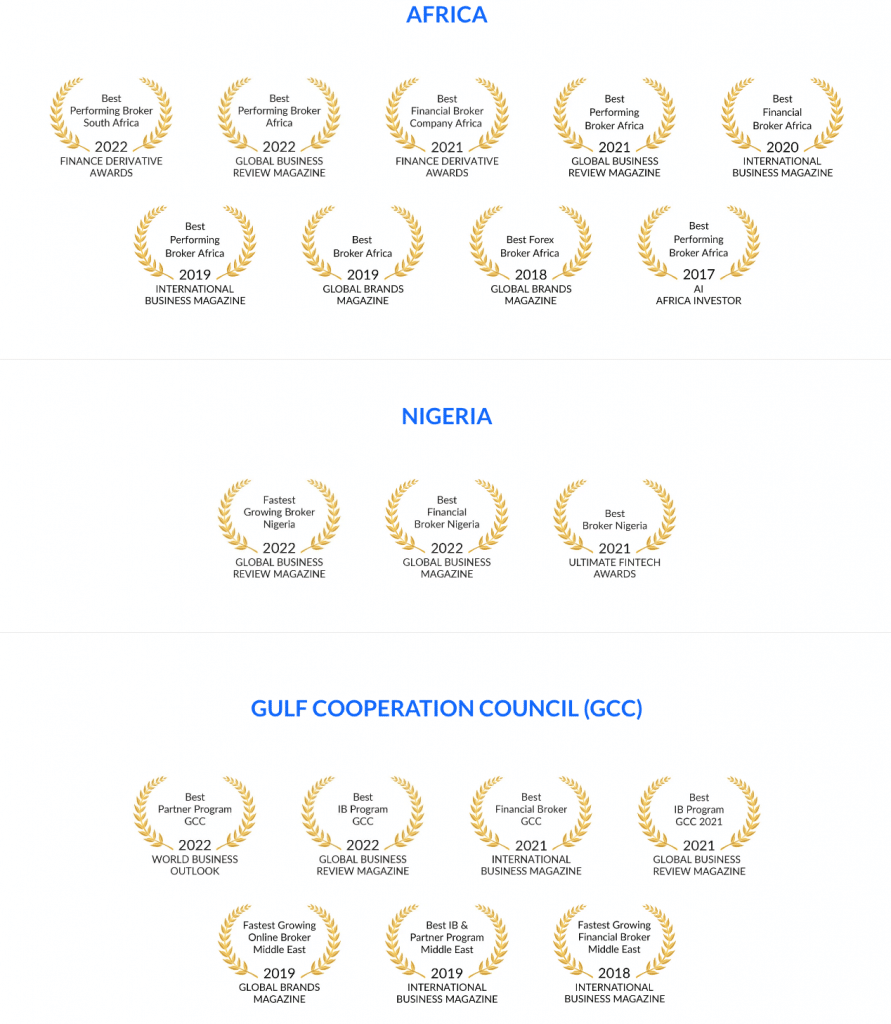 Some of the key features of CM Trading include its stated commitments to trust, fair treatment for all, and the security afforded by complete segregation of client and firm funds.
CM Trading values stretch to all corners of the brokerage firm's operations, including experience and safety. The highest standards in personal data encryption and secure banking policies take the administrative burden from the trader and free them to make the best possible decisions with their trading.
Broker Summary
For more than 10 years, CM Trading has delivered uncompromising performance and excellent service to clients across Africa and the GCC.
With a range of trading platform offerings made available to you, CM Trading opens the door to opportunities for both the complete novice and the experienced professional trader.
How does CM Trading work? With a range of solutions and market offerings, this broker enables customers to reach the most important financial markets in their region. Whether it is for personal speculation or financial risk management, CM Trading has the tools for you to obtain your trading objectives.

Broker Introduction
CM Trading was established in 2012 in South Africa and has expanded its footprint around Africa and the GCC, facilitating access to more than 200 assets across five different classes.
CM Trading is regulated in both its country of origin, South Africa, and by the Seychelles financial regulatory bodies. Your oversight is dependent on the exact country from which you join and your domicile, with some T&Cs variable to each location.
CM Trading was born of market demand to provide highly efficient, low-cost access to financial markets that impact the daily lives of its customers.
Through hard work and technical know-how, CM Trading has delivered upon its stated objectives and has grown to a client base of more than one million traders.
Spreads & Leverage
CM Trading spreads and leverage are tailored to the customer trading requirements. Irregular traders starting from a smaller deposit will see EUR/USD spreads as low as 1.2. Larger, more experienced and frequent traders will see EUR/USD spreads as low as 0.9.
Leverage up to 200:1 is made available on forex. The leverage on commodities, indices and stocks ranges from 10:1 on stocks to 100:1 on precious metals.
Given the extreme volatility and at times lower liquidity in crypto, the leverage is kept at a more manageable range of 2:1 to 5:1.
CM Trading is transparent with its pricing structure and leverage across all of its offerings, which is presented in an easy-to-read table on its website.
Platform & Tools
A CM Trading demo account can be created in a few short steps. Open the webpage at cmtrading.com from the browser on your mobile phone or desktop, click on 'Register' at the top right of the screen, and enter your details.
Now, you can start to familiarise yourself with some of the features that won CM Trading 'Best Broker in Africa' five years running.
Organised and functional commands, advanced charting capabilities, and a wide array of available markets are presented in a tidy and accessible manner.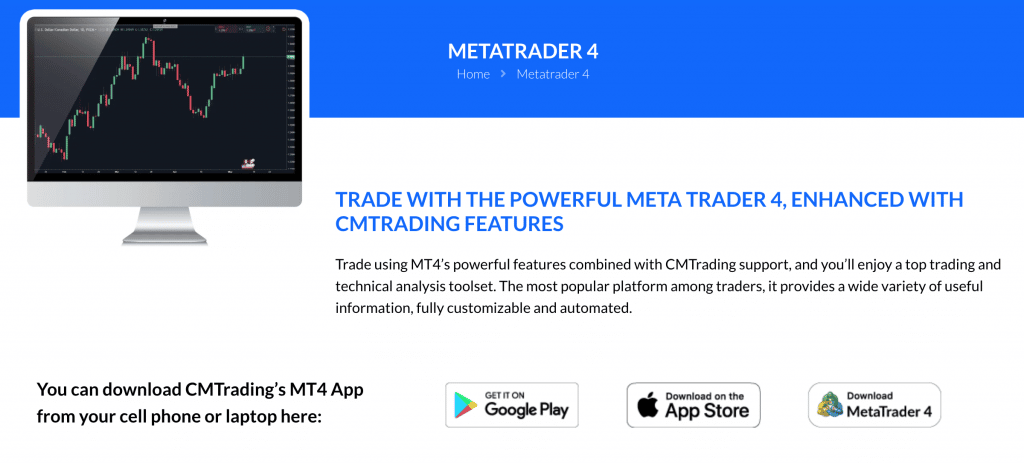 The overall feel of the layout is professional and gives the user a sense of command and control. The theme can be switched to dark depending upon your preference.
When you're ready to progress to a CM Trading live account, there are four accounts to choose from Bronze, Silver (Most Popular), Gold, and Premium.
How much and how often you wish to trade, along with the size of your initial deposit, will determine which account you open.
Novice traders may wish to go with the Bronze or Silver option. There are fewer add-on trading insights and analyses provided to you, but you will find all that you need to commence your trading journey.
Gold and Premium accounts feature cashback rebates, lower spreads for more frequent trading, three risk-free trades, and proprietary trading support.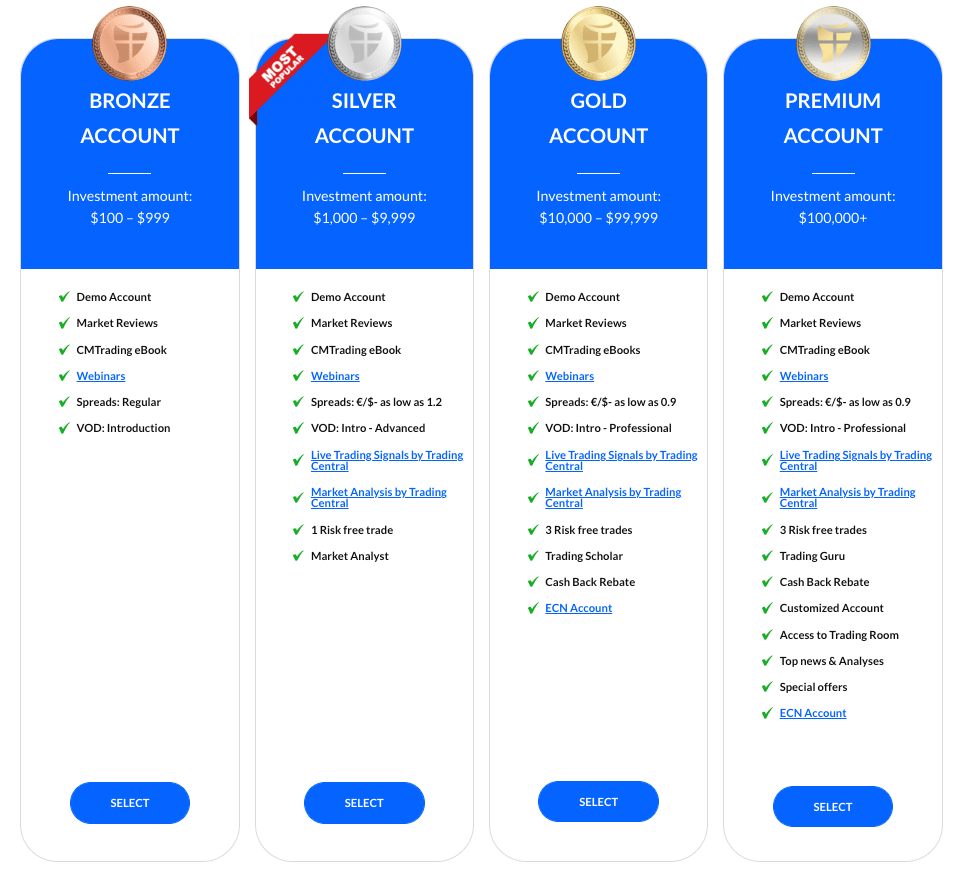 Account Alternatives
ECN Account
For experienced professionals, an electronic communication network (ECN) is the most cost-effective way to connect directly to major liquidity providers. This solution will be made available to traders executing large volumes frequently. If you are an algorithmic, institutional or high-frequency trader, an account manager is available at the end of a phone line.
CM Trading Islamic Account
CM Trading operates in a number of marketplaces in Africa and the GCC and is committed to providing the most appropriate solutions for its diverse customer base.
The CM Trading Islamic account meets all of the requirements of Sharia law and the principles of Islamic finance. These accounts are swap-free and are not subject to rollover interest on overnight positions and withhold cryptocurrency trading.
Opening your account
When you've decided which path you want to take, it's time to verify your account and deposit funds.
From the top right corner of the screen, you should see the name that you registered with. Click on the Verification Centre. This should take no longer than five minutes to complete and is a regulatory requirement to protect you and your money.
Once you have completed verification, you can proceed with depositing and you will be underway.
The minimum deposit for CM Trading starts as low as US$100 or equivalent in another currency.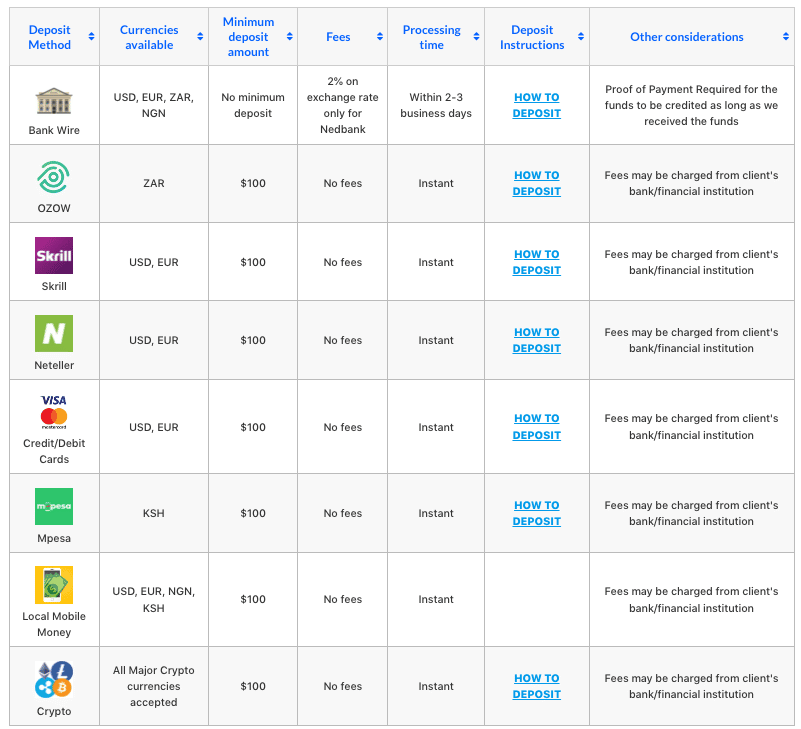 There are a number of low-fee, instantaneous deposit options, and the website provides easy-to-follow instructions on how to complete your transaction and how to trade with CM Trading.
CM Trading MetaTrader 4
Once you have decided upon the type of account you wish to proceed with, it's time to decide how you'll interact with the markets and execute your trades.
CM Trading has worked hard to provide its customers with the best in trading software and has a wide array of offerings to suit everyone.
The most popular CM Trading platform is MetaTrader 4 (MT4). MT4 is available to download on both laptops and mobile from Google and Apple stores. Alternatively, you can perform a CM Trading MT4 download directly to your computer and set up the application yourself.
MT4 is an advanced trading platform that is a powerful enough tool for the expert trader to effectively execute their strategy and is simple enough to use that the novice trader won't feel overwhelmed.
MT4 is configured to work on both iOS and Android for mobile and tablet and both Windows and Mac for desktop. The simple user interface, limit orders, real-time quotes, technical indicators and analytics functionality enable fast, real-time decision-making and easy execution.
Additional features include automated trading, news feed streaming, one-click trading, multiple order management, plus much more.
CM Trading Webtrader
An alternative to downloading and installing software is the go-anywhere web solution. The CM Trading Webtrader enables the customer to trade anywhere they have a browser, be it mobile, desktop or tablet.
The around-the-clock availability to markets, easy-to-use user interface, and synchronisation to your other trading platforms make CM Trading Webtrader an important element of flexibility, enabling you to review your positions and trade anytime and anywhere the opportunity presents.
Copykat
The breadth and depth of financial markets can be quite daunting. There are many pitfalls for the unsuspecting trader just learning their craft or entering unfamiliar markets.
CM Trading Copykat flattens the learning curve, allowing you to follow experts in their field and mirror their trades in your account. The function can be set to automatic so that you don't have to follow along at all times.
Copykat provides a safe and regulated investment experience for investors just starting out on their trading journey.
The minimum amount to start on Copykat is $250. Most customers start with $1,000. The system tracks expert traders and will book the same trade that they make into your account. It's an excellent way to understand how the professionals think about and approach trading and will raise your game as you start to walk in their footsteps.

Expert Advisors
CM Trading's proprietary Expert Advisors (EA) allow for automated trading on MT4. If you are an experienced trader with your own set of trading strategies, EA, through the programming language MQL, can automate portions of your trading on MT4.
MQL is a robust computer language that's well suited to algorithmic and high-frequency trading strategies, and CM Trading makes interfacing with MT4 even easier with the Meta Editor, a powerful MQL language compiler.
For the low code option, MT4 comes with two helpful EAs, allowing you to get your feet wet in automated trading.
Trading tools
CM Trading also offers a number of helpful trading tools to assist you in your trading. When setting up your demo account, you can peruse the options from the Trading Tools dropdown.
Daily Trading Signals are signals shared with CM Trading customers on key market developments that every trader should be made aware of.
Helpful calculators that traders will find useful in assessing their own trading ideas and position impacts are made available.
Market-moving economic data events are presented right where you need them so that you don't step into some unwanted volatility.
Commissions & Fees
CM Trading offers fee-free deposits other than a small 2% charge on foreign exchange only for Nedbank bank wires. Outside of bank wires, all deposits are made available to your trading account instantaneously.
The CM Trading withdrawal function is flexible and offers a wide range of payment solutions along with some no-fee options in order to effectively manage outgoings.
Education
CM Trading is an inclusive brokerage and the education offering is aligned to its core principles. From the website, you will find a wealth of training videos, webinars, live seminars and reading materials.
All traders need to keep abreast of the latest trends and developments in markets and trading approaches in order to stay ahead of the game. CM Trading's education suite is regularly updated and curated by experts in their field.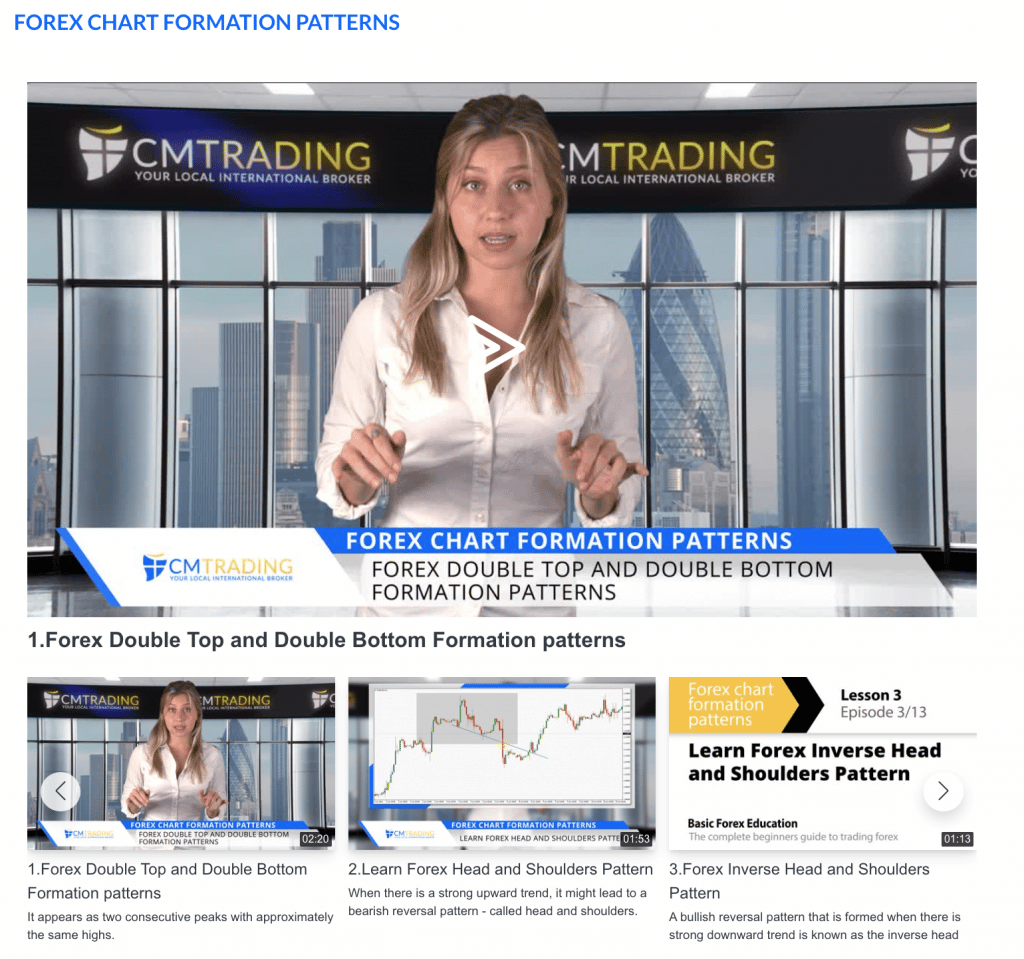 No stone is left unturned for the CM Trading experts. If you are just starting out in the markets and want to better understand how all the pieces fit together, there are some excellent resources available. If you are an experienced trader and want to uncover some new developments or nuance, or even just brush up on a particular topic, there is a wealth of material for you.
The education section dropdown on the CM Trading website is neatly organized and you will quickly be able to find your level and get learning. Training videos are well laid out from the introductory level up to the expert trader courses.
Webinars are particularly useful as in-house experts guide you step by step through the financial markets and trading strategy and give you all the tools you'll need to be a successful trader.
If you prefer taking your time over a topic, then I'd recommend the eBooks and slowly work through the professional material available before developing the trading strategy that suits you.
Compare CM Trading with other approved brokers
| | | | | |
| --- | --- | --- | --- | --- |
| | | | | |
| Regulation | FCSA (South Africa), FSA (Seychelles) | ASIC, MiFID, FSA, FSCA | FCA, CySEC, ASIC, FinCEN, Seychelles FSAS, | FCA, CySEC, DFSA, BaFIN, SCB, CMA & ASIC |
| Customer Support | email, phone, live chat | email, phone, live chat | email, phone | email, phone, live chat |
| Trading Platforms | MT4, WebTrader, Mobile Apps | MT4, MT5, Mobile App | desktop and mobile via brokers own platform | MT4, MT5, cTrader, TradingView |
| Minimum Deposit | $100 | $100 | $200 | $200 |
| Leverage | up tp 1:400 | 400:1 | From 1:2 to 1:30 | 1:30 |
| Total Markets | 100 | 1260 | 2368 | 1200 |
| Total Currency Pairs | 30 | 55 | 49 | 62 |
| Total Cryptocurrencies | 0 | 17 | 37 | 18 |
Customer Service
Customer service is where CM Trading excels. CM Trading aims to deliver quality service and an exceptional experience for traders, time after time.
Through prioritizing investment service and education in a safe trading environment, every trader's goals are a shared vision for CM Trading.
Helpful sales support and account management teams are made available to customers of CM Trading in South Africa, the United Arab Emirates, Nigeria and the UK. Follow the contact us link on the CM Trading website for phone and email contacts.
Final Thoughts
The financial markets are the embodiment of endeavour and spirit. In a short amount of time, CM Trading has prepared the trader for the challenge of the financial markets by delivering an easy-to-use, trader-friendly package and partnered it with the highest levels of customer support.
CM Trading has a principled approach to doing business, with the goal of bringing the market to you reliably and in real time so that you might reach your trading goals.
Traders of all experience levels will enjoy the attention to detail within an intuitive technology package, and supported by excellent customer service.
CM Trading provides access to all of the most important markets in your region, bridging the world of finance to a wider audience and making a more inclusive place to do business and reach your financial goals.
FAQs
How can I open an account with CM Trading?
In a few steps from the webpage, you can create a demo account, complete the verification process, and deposit within a relatively short time. CM Trading makes the onboarding process as seamless as possible so that you can focus on strategy rather than administration.
Is CM Trading a regulated broker?
CM Trading is regulated by both the South African and the Seychelles monetary authorities. The oversight provides additional security and comfort to clients holding funds with CM Trading. CM Trading exercises great caution with client funds and adheres to all regulatory authorities in the management of client money.
What fees does CM Trading charge?
CM Trading has a flexible fee structure depending on how often and how large your trading activity is. CM Trading has dedicated around-the-clock customer support that will assist your education in the fee structures applicable to your account.
You can find all the spreads, commissions and fees applicable to your trading account and funding transactions on the CM Trading website in helpful and easy-to-follow tables.
How do I withdraw money from my CM Trading account?
Processing is performed within three business days and the funds will be made available in your account. There is a variety of methods made available to customers and they are outlined in this table.
Please be advised that certain products and/or multiplier levels may not be available for traders from EEA countries due to legal restrictions.
---
---