Expert Summary
Although it might be headquartered on the Southernmost tip of South Africa, CM Trading has managed to build up a name for themselves in the forex trading space since first opening their doors a little over seven years ago.
Founded in 2013 by a group of experienced industry professionals, CM Trading is an international broker who boasts that they have everything on offer to help you "trade with confidence". But what exactly does it have on offer, and how does it stack up against the competition?
When it comes to customer protection and safety, this is something CM Trading clearly take very seriously. It is currently regulated by the Financial Services Board in South Africa, who provide them with licensing and regulatory oversight. In line with the terms of this license, customer deposits are kept in segregated accounts, away from the rest of CM Trading's working capital in Tier-1 banks.
Additionally, all customer funds are protected by a number of different insurance and compensation schemes. CM Trading also takes the protection of data very seriously, with all personal, financial, and transactional data protected by SSL encryption technology.
Trading is delivered through four unique account types, each of which comes with their own distinct advantages. In addition to a number of different escalating benefit schemes, the spreads get progressively tighter.
The four account types on offer are: Mini ($200-$999), Standard (1,000 to $4,999), Executive ($5,000 to $24,999) and Gold (over $25,000). For those of you looking to try out the platform before committing any funds, a full-featured demo account is available for new users.
Although the exact trading conditions you get offered will depend on what account type you have open with them, the spreads are generally pretty competitive across the major forex pairs and the CFDs on commodities, stocks, and indices. On CFDs, leverage tops out at 50:1, and up to 200:1 on forex pairs.
Trading is undertaken through either the MetaTrader or the Sirix platforms, each of which supports the standard range of advanced features we have come to expect.
Fans of social and copy trading will find much to love about the CM Trading platform. Through their 'CopyKat' trading service, you can set up mirror and social trading, which allows you to match the trades of the top investors on their platform using your own investment capital.
It has also put in place a unique 'Guardian Angel' feature that warns you if the market conditions suddenly change. Additionally, their 'Flexi Analysis' system compiles a number of proprietary analyses and trading signals in one convenient location—with over 100 languages supported.
Although it isn't necessarily one of the biggest names in the online trading space, CM Trading has nevertheless put together a really solid platform.
Packed full of unique trading features and attractive trading conditions, CM Trading is a great choice for newer or intermediate forex and CFD traders. And with a full-featured demo trading account, there are plenty of opportunities to give it a thorough run-through before committing any funds to the platform.
CM Trading is a unique forex brokerage service, operating out of the well-established financial center of Johannesburg, South Africa. It also has an operating center in the Seychelles, and from these two vantage points, it offers a full service trading experience to a clientele of customers spread across the globe. The firm distinguishes itself from its competitors by offering many services and features that are not available elsewhere, and its learning center is easily at the top end in the industry. CM Trading is also committed to innovation, striving always to offer something new to attract your interest and provide an enjoyable trading environment while maintaining quick order execution from major liquidity providers.
The regulatory regime in South Africa is strict and organized in the same fashion as in the UK and Europe. It is known as the Financial Services Board (FSB) and has authorized the firm's operation under FAIS License Number 38782. One of the benefits of strict regulation is that your deposits are safe, segregated completely from operating capital in secure accounts at major Tier-1 banks. Operating standards are also higher, and all personal and transactional data are encrypted instantly by using the latest in SSL technology. CM Trading was founded by "traders for traders" to create a "one-stop shop for online trading". In this vein, the firm also provides alternative asset choices in the form of CFDs for commodities, stocks and indices, along with leverage of 50:1. At this time, U.S. regulators do not formally approve of CFDs, and, therefore, U.S. customers are not accepted at this time.
CM Trading has also received several prestigious industry awards. Metatrader4 and Sirix platform formats are supported to allow for access from any Internet-capable device. The firm's feature set is robust, since the management team is focused on "always looking to give you that bit extra." Their "CopyKat" service permits mirror and social trading. A unique "Guardian Angel" feature warns you immediately of any major changes in market conditions, while their "Flexi Analysis" system assembles all proprietary analyses and trade signals in one convenient place in nearly 100 languages. Lastly, if your account balance is over $500, the firm will send you, at your election, a MasterCard prepaid card that can be used for immediate ATM withdrawals or purchases, using funds from your account. If you desire a cut above, CM Trading is the place for you.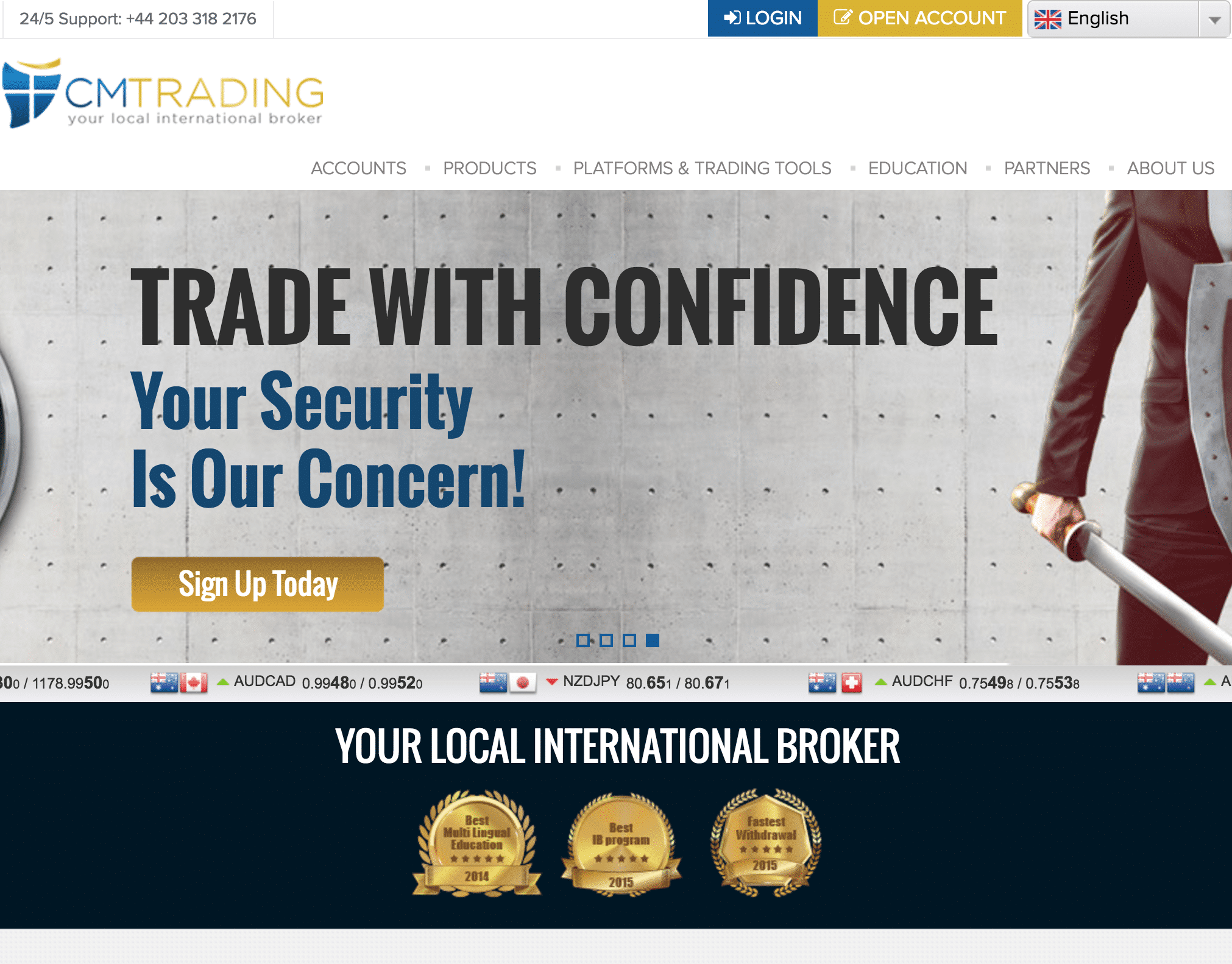 Features
Why trade with CM Trading? The firm lists these reasons:
Founded by a group of professionals, astute in all aspects of the trading industry;
Headquartered in Johannesburg, South Africa, with an operating satellite office in Victoria, Mahe, Seychelles;
Firm offers traditional forex trading, as well as CFDs for commodities, stocks and indices;
MT4 and Sirix trading platforms provide a complete set of access options;
Competitive spreads and leverage up to 200:1 (400:1 on Mini accounts);
Up to 50:1 leverage allowed on CFDs;
Automated "mirroring" service ("CopyKat") and social trading;
Extensive education materials that include one-on-one training;
Four account classifications with escalating benefits, including tighter spreads: Mini ($200 to $999; Standard ($1,000 to $4,999); Executive ($5,000 to $24,999); and Gold (over $25,000);
A free Demo Account comes with all account classifications;
Deposit minimum = $250;
Withdrawal requests are handled within 24 hours, or they can be immediate if you use the firm's proprietary MasterCard prepaid card;
Several promotions and bonus programs that change from time to time;
Institutional players will benefit from partnering with CM Trading's Introducing Broker (IB) Program, which also won the 2013 Award Best IB program;
Bilingual customer service reps are available 24X5 via live chat, email, or by 16 direct international phone lines.
Spreads and Leverage
For "Mini" and "Standard" accounts, spreads for major pairs average between 2 to 3 pips, in line with other competitive traditional forex brokers, but you can get a 1 pip discount on average with the higher account classifications of "Executive" and "Gold". Leverage provided for forex trades is 400:1 for the Mini account and 200:1 for all other account classifications. The firm also allows 50:1 leverage on CFDs.
Platform
CM Trading employs the highly popular Metatrader4 trading platform. For those traders that are on-the-go or do not want to download MT4, CM Trading supports the Sirix set of web-based and mobile trading platform services. All systems exude state-of-the-art order execution, and special proprietary features make sure that each trader is kept informed of market changes by the clever use of free signals and alerts. The latest in 256-bit SSL encryption technology ensures that your security and privacy will not be compromised by any illicit interventions from the hacking community.
Deposits and Withdrawals
CM Trading makes depositing funds an easy task by accepting all major credit/debit cards, bank wire transfers, CashU, and Skrill (Moneybookers). Withdrawals are also a snap, most always processed within a 24-hour period, as long as internationally mandated identity documentation is in order. One unique aspect of this firm is that it is the only broker that we know that issues its own MasterCard prepaid card to its clients. The card can be used at ATMs or the point-of-sale for purchases around the globe.
Beginners' and Customer Support
Customer Service assistants are bilingual and accessible "24X5" during weekly trading hours. Live chat, email, or a direct call from any of sixteen international direct phone lines is all it takes to get professional support immediately. The firm's support reputation is stellar, but it is even better know as one of the best training brokers in the business. Educational materials include Training Videos, Technical Analysis, Fundamental Analysis, Webinars, Guardian Angel, Expert Advisors, CM Trading Signals, Flexi Analysis, Support Resistance, and Trendlines Forex. The "Guardian Angel" service is proprietary and unique. Special communication techniques warn traders of rapidly changing conditions in the market.
CM Trading Conclusion
CM Trading may be on the southern tip of Africa and seem to be far away, but they operate in one of the more developed financial centers of the world, together with another operating satellite office in the Seychelles. The firm's service offering is very competitive, and they have made a point to offer numerous services and features that you will not find elsewhere. Their trading platform options are state-of-the-art and ensure an enjoyable trading experience, for both beginners and veterans, alike. The firm is also not standing in place on its laurels and awards to date. In their introductory section, the management team commits to continuous innovation: "As CM Trading continues to develop and upgrade we look only to arrive at the forefront of the online trading world." They appear on track to achieving this goal and are well worth your consideration.

Please be advised that certain products and/or multiplier levels may not be available for traders from EEA countries due to legal restrictions.
---
---