CFD Global Review
CFD Global fancies itself a global financial operation, though it is currently only regulated by CySEC, which means that it can legally only peddle its services in the EEA (European Economic Area). In addition to its CySEC license, it is also registered with a few of the EEA regulatory agencies. What exactly does the broker offer trading instruments and platform-wise though?
The CFD Global website does not really mention when the operation was founded/launched, but given that its CySEC license was granted in 2016, it cannot really be an industry veteran. That said, it is a more than decent trading destination indeed, focused on the security and safety of client funds. These funds are kept in segregated accounts with top financial institutions and the operation is indeed fully MiFID-compliant. Based at 2 Sofouli Street, Chanteclair Building, 6th Floor, Office 602, Nicosia, Cyprus, CFD Global is the possessor of CySEC license #292/16. In addition to that, it is also registered as a financial service provider with the UK's FCA, Germany's BaFIN and Poland's KNF. As far as we can tell, CFD Global is not actually licensed by any of these authorities though.
In regards to transparency, the brokerage provides a full suite of legal documents which can be downloaded and studied directly at the website. Being a Cyprus Investment Firm, the brokerage is covered by the Investor Compensation Fund, which means that its clients are protected against a sudden bankruptcy or other such unexpected catastrophic events.
The leverage policy, the execution policy and the conflict of interest policy are all detailed in downloadable .pdf documents as well. We recommend that as a would-be user, you take a peek at the Risk Disclosure and Terms and Conditions sections of the site too.
Since the brokerage offers cryptocurrency-based CFDs, you should also read through their cryptocurrency Risk Warning.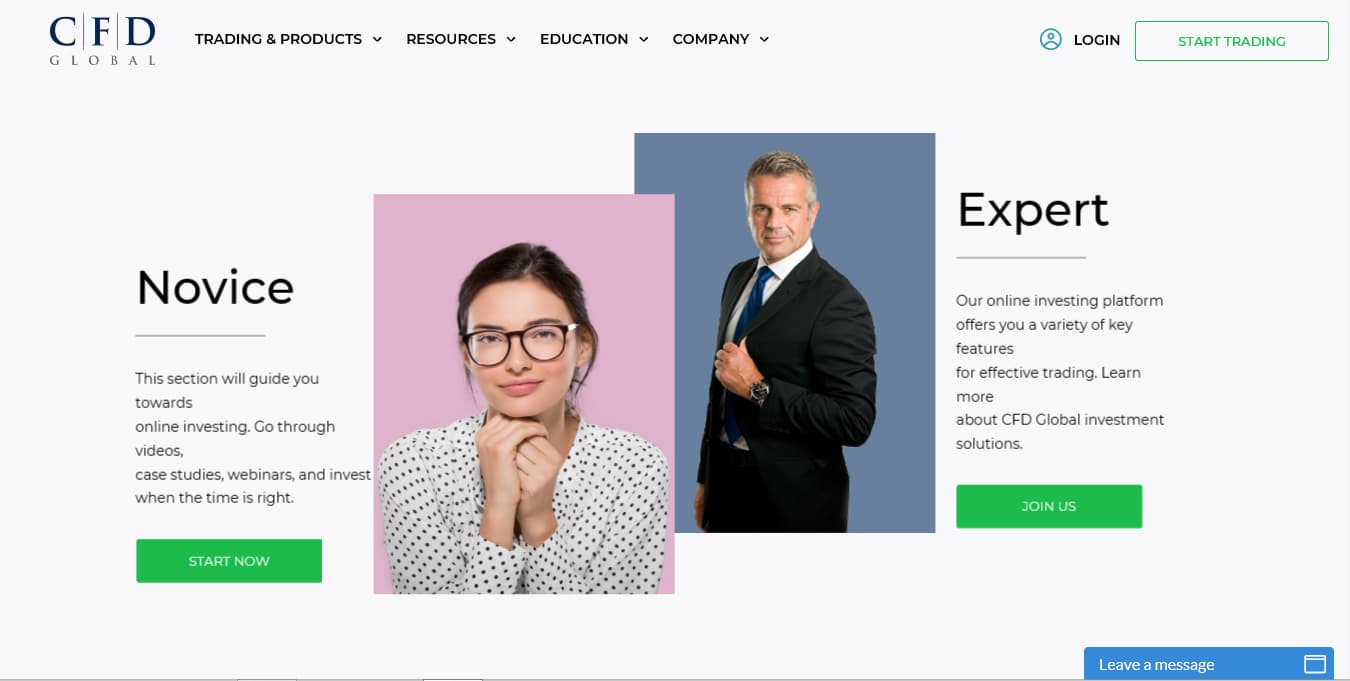 CFD Global Trading Instruments
The trading instrument selection featured by CFD Global is not particularly outstanding, yet it is rich enough to satisfy the needs of all potential traders. The Forex section offers no fewer than 55 currency pairs, among them majors, minors and exotics. Needless to say, the best trading conditions are featured on majors such as the EUR/USD. The maximum available leverage on Forex is 300:1, which is quite outstanding indeed. Trading is commission-free and the spreads are tight. The site offers a special page where the exact spreads and trading conditions are displayed, for every single currency pair.
With commodities like Gold and Silver, the trading conditions are slightly less attractive. Great for diversification, such assets carry zero commission and relatively tight spreads as well. The maximum available leverage on this category is 200:1.
Those trading the fundamentals governing the global economy like indices, and CFD Global offers no fewer than 26 of these underlying assets. The maximum available leverage is 200:1 on these too.
The stocks-selection of the brokerage is nothing short of impressive. Some 20 major markets are covered and traders can choose from more than 2,000 companies. Those who know their fundamentals can really make money on these CFDs, though it is also true that such shares do not lend themselves well to chance-trading. The maximum available leverage on stocks is just 10:1.
Cryptocurrencies represent one of the most interesting asset classes at CFD Global. As with the above mentioned assets, cryptos are traded in the form of CFDs, meaning that those who trade them do not actually get to possess any cryptos. CFDs are financial derivatives, called Contracts for Difference for a reason. Through these CFDs, traders are essentially trading the difference between the entry and the exit values of the contract.
The supported cryptocurrencies are Bitcoin and Ethereum, and wrapping up with Dash, Litecoin, Ethereum Classic, Bitcoin Cash and Ripple.. EUR and USD-based pairs are both supported. Another interesting bit of trivia regarding CFD Global's crypto offer is that despite 24/7 trading in the crypto markets, these assets are only available 24/5 at the site, much like the regular ones.
Bonds feature attractive premiums and trading conditions too. The maximum leverage allowed at the site for bonds is 100:1. There are no commissions charged on this asset category either.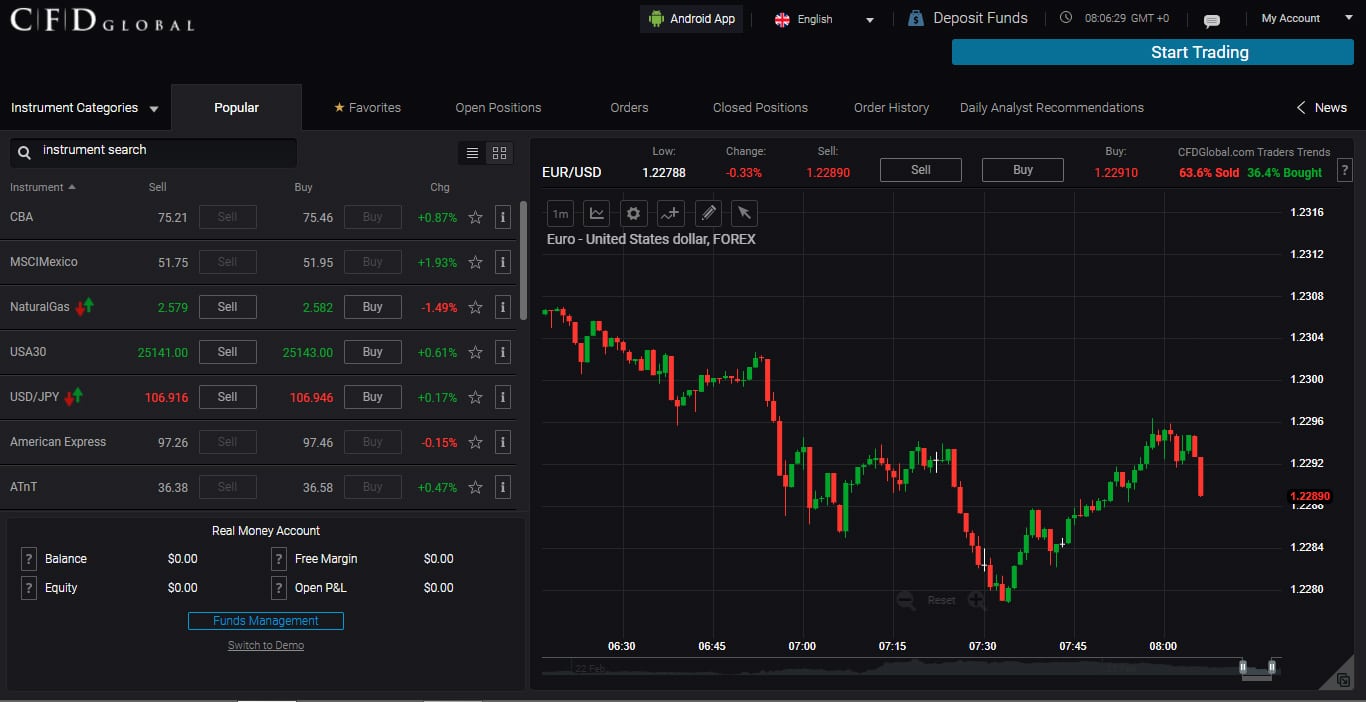 CFD Global Trading Platforms
CFD Global have simplified their platform offer to the point where they only feature two: a no-download Web Trader and a full, downloadable one.
Their Web Trader is surprisingly powerful and intuitive in every regard. Also, it can be accessed through all of the major browsers and from all over the world, at a whim.
The analytic capabilities of the Web Trader are equally impressive. More than 90 technical indicators are included in the package, together with a plethora of drawing tools, 3 chart types and instant access to online help. Streaming live quotes are also part of the Web Trader package. Trading Central offers daily analysis and actual trade alerts from a live analyst.
Compatibility is one of the strengths of the CFD Global Web Trader. It works well on Windows-based computers as well as on Android and iOS mobile devices.
The downloadable platform is none other than MetaQuotes' MT5. An iteration of the MT4 platform, MT5 is indeed a superb trading environment. Its customization-related options are second to none. Users can create their own chart templates and they can even save them, so they can use them again later.
One major improvement delivered by MT5 over MT4 concerns the creation (coding) of custom technical indicators and Expert Advisors (EAs). In this regard, MT5 is indeed the superior of its sibling. For those not really into this coding part, there are some 30 preloaded technical indicators available. What's truly impressive though is that traders can choose from a further 2,000 such indicators, which can also be downloaded and added for free.
The automation capabilities of the MT5 platform far exceed EAs though. Tick charts are embedded and trading signals are delivered together with actual trading position alerts. MT5 also works with desktop computers, as well as Android and iOS-based mobile devices. Up to 10-charts can be viewed simultaneously on iPhones and iPads.
Both platforms support a Demo Account, which traders can use to assess the viability of the actual trading mechanism and the trading conditions.
CFD Global Account Types
Besides the Demo account, CFD Global features no fewer than 3 account options.
The cheapest and most basic of these is the CFD Global Essential account, which requires a minimum deposit of only $1,000. This deal is a pretty attractive one, since for that money, it offers access to the whole range of tradable assets as well as to most of the perks, with the exception of 24/5 dedicated support and trading alerts.
The CFD Global Original account costs some $5,000. It covers the complete CFD Global package, with the exception of 24/5 support.
The top-tier account is the CFD Global Signature one, which costs $25,000. Obviously, this one covers everything the brokerage has to offer, in every regard.
Conclusion
CFD Global features a rather attractive selection of tradable assets, coupled with some great trading platforms. It is regulated and it is quite transparent too, in regards to all the aspects of its operation. The trading conditions it features are reasonable as well.

Please be advised that certain products and/or multiplier levels may not be available for traders from EEA countries due to legal restrictions.