CedarFX Experts Viewpoint
After launching in 2020, CedarFX has started to build a name for itself thanks to its highly competitive fee and commission rates, along with its 180+ trading assets. Veteran traders will appreciate the fact CedarFX includes 38 different types of crypto pairs and 55 forex pairs in its tradeable assets. Novice traders, on the other hand, will be thankful for CedarFX's demo accounts, resources, and helpful customer service.
One thing to note is that CedarFX is licensed under Cedar LLC and is subject to the laws and regulations of St Vincent and the Grenadines, but additional information regarding further licensing and regulation is difficult to find.
While the broker is still new and continuing to grow and change, one area in which it could improve is in its clarity around its licensing and regulations as the information is difficult to find on the site. The broker also does not offer VIP accounts, which some traders may find to be a deal-breaker.
However, CedarFX has garnered a reputation through its dedication to supporting environmental causes and donation of commission on the Eco Account it offers. The platform is still new and growing, but it is definitely one to watch, especially as many millennial traders are likely to be attracted to the platform's dedication to improving the natural world. Arguably the most notable aspect of CedarFX is its dedication to improving the environment.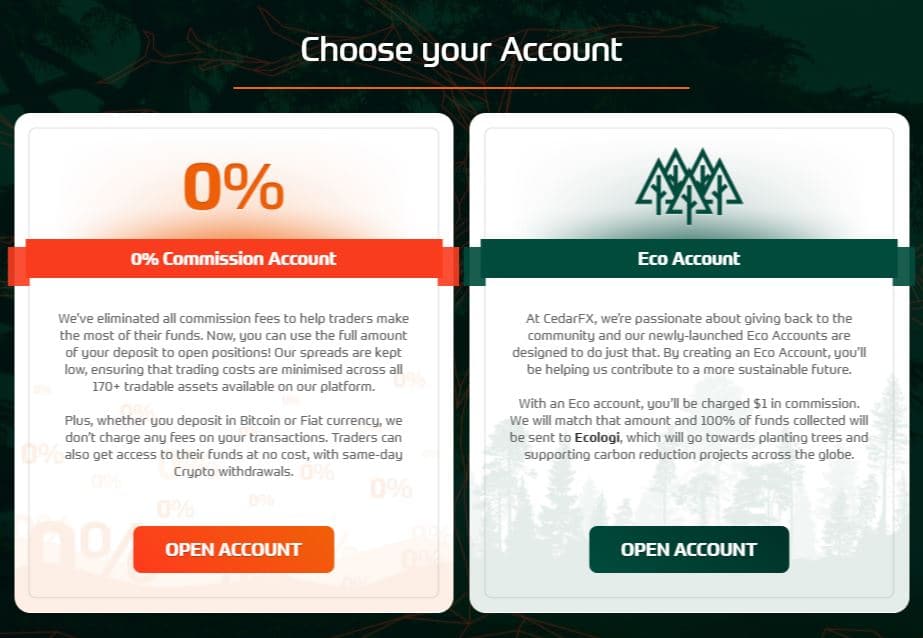 Broker Summary
CedarFX is a new Forex broker, which broke onto the scene in 2020 and caused a splash with its dedication to give back and help the natural environment. Using the classic MT4 platform, traders can enjoy trading on over 180 different assets, including 38 different crypto pairs, 55 Forex pairs, and 73 stocks. The platform keeps traders' interests first and does not charge fees for deposits, transactions, or commissions.
CedarFX has teamed up with the NGO, Ecologi, and if you sign up for CedarFX's Eco Account, the $1 commissions the Eco Account charges will be donated to Ecologi. You can even follow CedarFX's impact on the environment via Ecologi. At the time of writing, CedarFX has been a climate positive workforce for two months and has planted 5,630 trees. So, you can certainly make a difference while placing trades.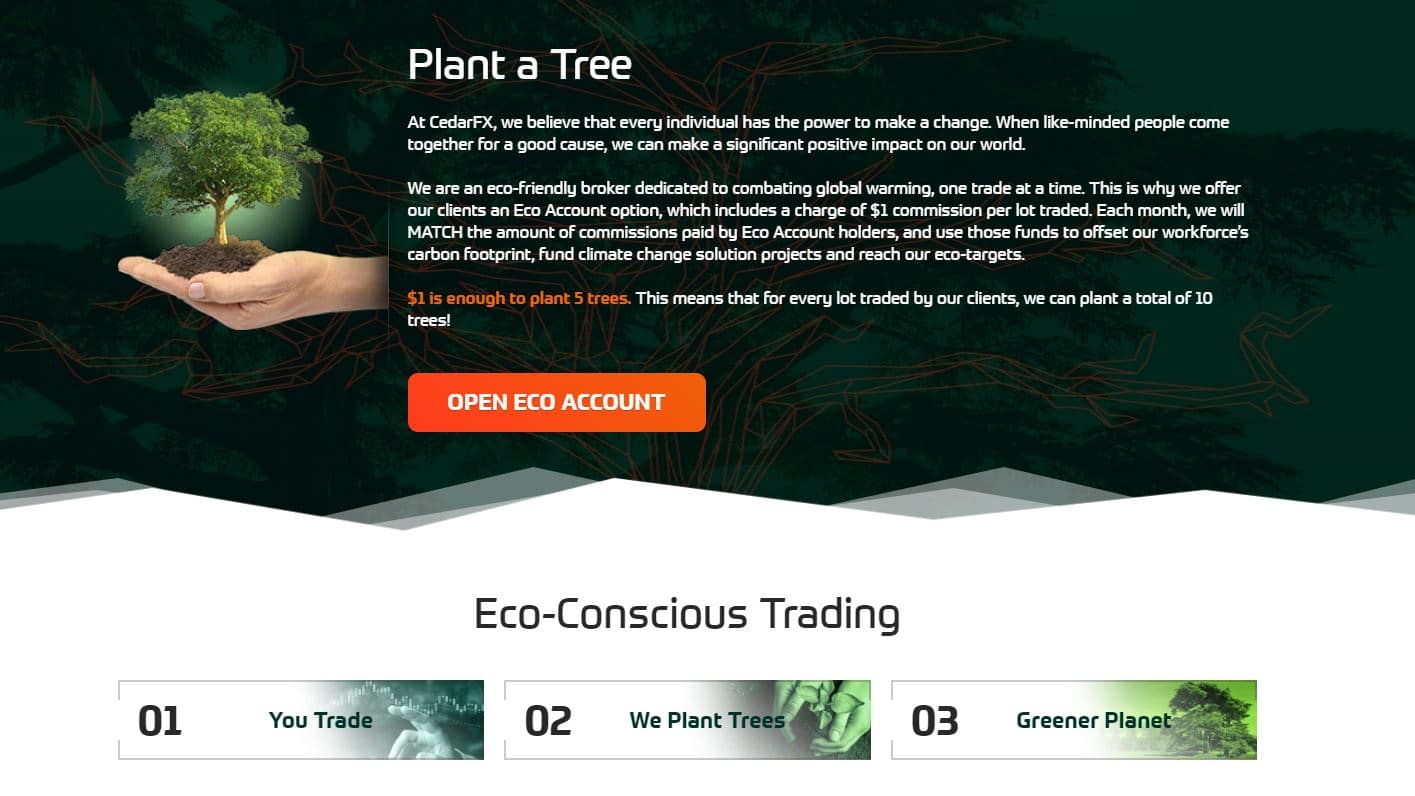 Broker Introduction
Although CedarFX has made a name for itself through its focus on giving back and helping the environment, the broker is also very competitive and offers excellent rates for traders. Traders can take advantage of the low spreads and lack of transaction fees for trades on over 180 different assets, including exciting cryptos.
Established in 2020, this broker is still new to the industry and it poses a very attractive offer to traders with its low spreads and lack of fees and commission charges. The fact that CedarFX also has such a wide range of tradeable assets, and that trades are made using the secure and easy to use MT4 platform, just serves to strengthen its position in the industry. This review will highlight the particular provisions that the broker strives to provide the user, exploring its platforms, tools, fees and customer service provisions amongst its offerings.

Spreads & Leverage
CedarFX offers its users low spreads on six different asset classes for over 180 assets. Traders can enjoy a range of instruments, including metals, commodities, futures, indices, and stocks. Included in the assets available for trading are 55 Forex currency pairings, 73 stocks, 11 indices, metals, and commodities, and 38 crypto pairs. However, it should be noted that the broker does not offer options for spread betting, ETFs, or binary options.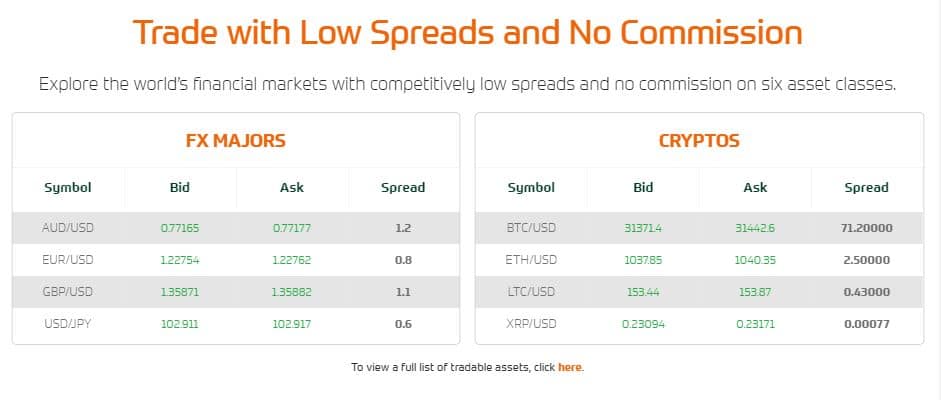 The maximum leverage settings on the platform will vary depending on the instrument which is being traded. CedarFX offers 1:500 leverage for Forex and Metals, 1:20 leverage for stocks, 1:100 leverage for all crypto pairs, and 1:200 leverage for indices and commodities. The spread types are variable and there is no rVPS, VPS, or negative balance protection provided.
Regarding how CedarFX spreads compare to those of its competitors, its spreads are lower than industry benchmarks for forex brokers of its size. Its low spreads, 0% commission options, and lack of a number of additional charges and fees make CedarFX a low-fees broker. It is great to see another new player in the industry offering low fees and prioritising traders and trader experience.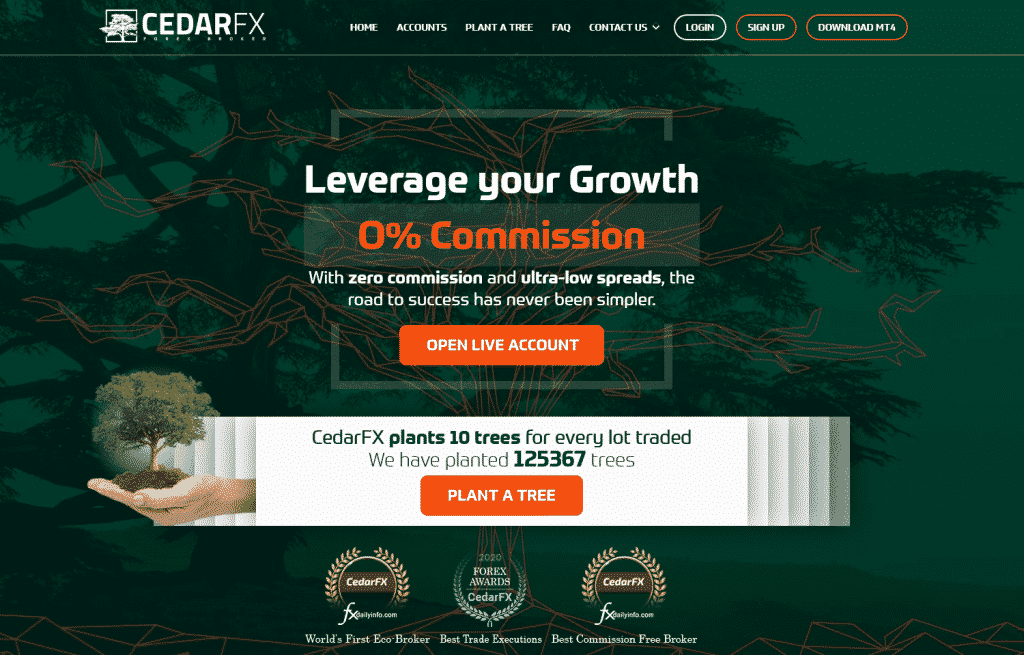 Platform & Tools
Users of both account types on CedarFX can try an unlimited demo account to test the trading platform and tools before they decide to register. CedarFX uses the MetaTrader 4, or MT4, desktop and mobile platform, which is one of the most popular and secure trading platforms currently in use by the industry. It is understandable why CedarFX would choose MT4 as its platform of choice as MT4 is known for its ease-of-use, stability, and security. The platform can also be customised easily and includes a comprehensive range of tools for analysis, interpretation, and charting, which also makes trading much easier.

For traders who enjoy mobile applications, mobile trading on CedarFX is delivered through the MT4 mobile platform. Mobile trading on the CedarFX allows for busy traders to place trades while on the go or away from the desktop. The mobile trades can be made through either the Android or Apple versions and you will not have to download an app specifically for CedarFX, which will hopefully help reduce mobile clutter.
While the mobile trading experience is not as nuanced and detail friendly as desktop trading, it still makes for a decent alternative, particularly for traders who have tight schedules. It is important to note that CedarFX can also be used on tablets as well as mobile applications, for traders who are more inclined to trade via this hardware.
As for tools, both the 0% Commission Account and the Eco Account share identical tools, as do the demo and live versions of each account. Some of the tools that the MT4 platform offers include black box trading, hedging, one click trading, multiple order types, a helpful interface in multiple languages, advisor support from trading experts, and technical indicators.
CedarFX offers the same range of tools for both demo and live accounts, the only difference is that the demo accounts allow new traders to become accustomed to the platform and trading options before using real money. Once you decide that you like the platform and its tools, and you feel confident in your trades, you can switch a demo account for a real account and start using real money for your trades. Demo accounts are unlimited, but they do expire 14 days after inactivity.
Commissions & Fees
CedarFX has set itself apart from many of its competitors with its highly competitive commission and fee offerings. CedarFX offers its users a standard account with a 0% commission. The spreads offered are kept low to ensure that the trading costs are low on the 180+ assets on the platform.
One additional aspect of note is that CedarFX does not charge fees on transactions. Traders on the platform can access their funds and enjoy same-day Bitcoin withdrawals without worrying about any additional fees.

In addition to the standard, 0% Commission Account, CedarFX's Eco Account charges a $1USD commission. CedarFX will match that amount and all of the funds that are collected from the Eco Accounts will be sent to Ecologi — an environmentally focused NGO that is well regarded in the charity sector.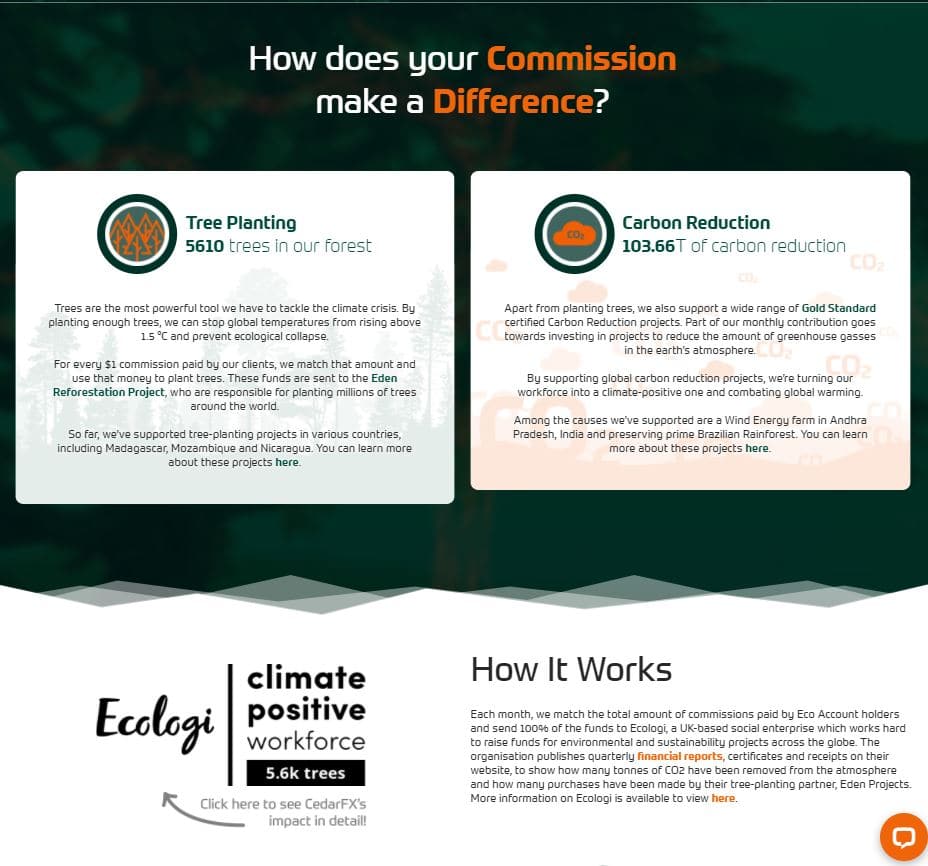 When registering for a live account, the minimum deposit about is $10 and EUR, UAD, GBP, and BTC are the base currencies that CedarFX offers. Deposits can be made through BTC, Visa, Mastercard, and wire transfer, and withdraws can be made through BTC. Also, hedging and scalping are allowed via CedarFX, but arbitrage trading is not allowed. Swap-free accounts are not offered, nor is interest paid on unused margin.
Some users may want VIP account options and feel that the two account profiles offered do not represent enough options. However, the 0% Commission Account is highly competitive, and the Eco Account is both innovative and idealistic — a win-win situation.
Education
CedarFX provides education materials for new and experienced traders to help you develop your skills and find success on the platform. These come in the form of an FAQ, which includes information and guidance. This is are especially helpful for novice traders who want to learn more about trading with CedarFX but are not sure where to start. The free demo accounts offered on CedarFX are also intended for educational purposes. You can open as many demo accounts as you like for free and use the accounts to practice your trading strategies.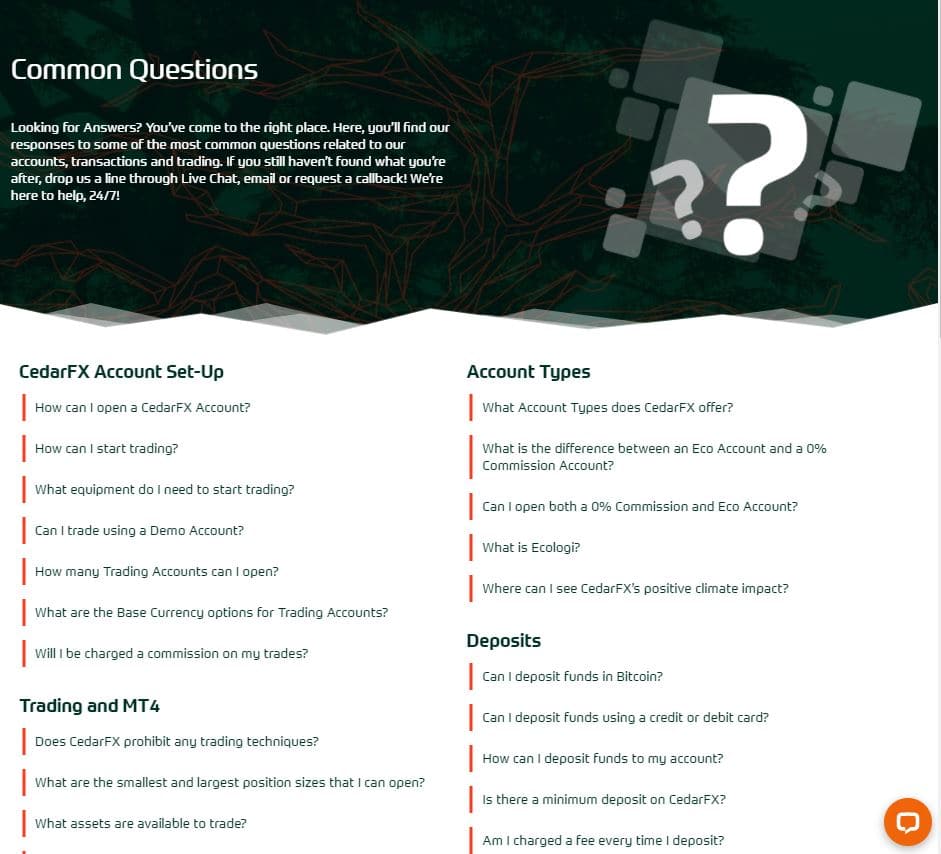 However, that being said, CedarFX does not have the comprehensive library of resources that some other forex brokers in the industry have. As a result, if you are a complete beginner to forex trading and do not know where to start, you may want to do your own pre-research before registering or find an alternative provider that has a large, more varied library of resources.
Instead of bombarding users with information and offers, CedarFX has a more restrained approach and allows traders to slowly acclimatise themselves to the platform. That being said, if you do encounter any issues or have any particular queries, you can always reach out to their customer service team for additional help or clarification.
The MT4 platform also offers its own technical and analytical tools such as Gann-based tools and Fibonacci-based tools for traders to learn from. Some of the indicators and oscillators offered by MT4 include Moving Averages, Stochastic Oscillator, MACD, and RSI, along with others.
Customer Service
CedarFX has a comprehensive range of support options. When it comes to customer service, the CedarFX customer service team is available 24/7 via live chat support and email. For traders who prefer to speak on the phone and discuss their questions directly with a representative, CedarFX has a 'Callback Centre' function in which you can fill out a form and request a call with a customer service representative at a specific time. CedarFX prides itself on taking the extra step to help traders and answer any queries that traders or new users may have.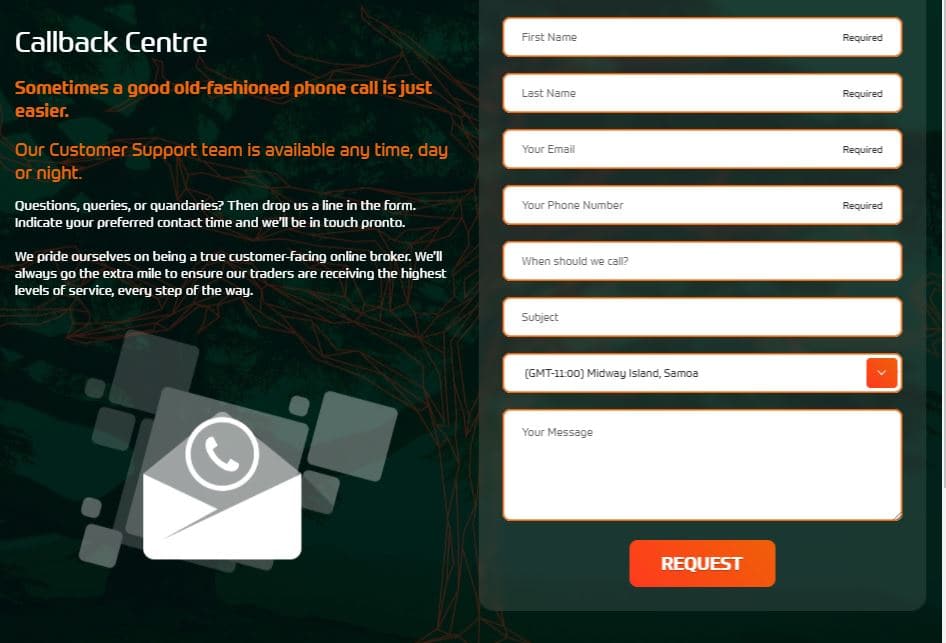 One thing to note, however, is that CedarFX only provides customer service in English, so individuals who do not speak English may need to enlist the help of a translator. This is unfortunate as many other forex brokers provide customer support in a range of different languages and CedarFX has no country restrictions. It is likely that as the site grows and more traders join and ask for varied customer service options, the broker will expand and begin offering customer service support in a variety of different languages.
Final Thoughts: CedarFX Review Conclusion
As a new forex broker, CedarFX has succeeded in making a name for itself and carving out a niche in the industry — something that is quite a feat at this point when the industry has so many different brokers. The wide range of assets and extremely low spreads is are sure to be attractive to any trader, along with the lack of commission and fees on deposits and transactions.
CedarFX's dedication to donating to the environmental NGO Ecologi is notable in its idealism and in the fact that it will attract a certain subset of traders. The charitable innovation of connecting a broker to an NGO is likely to attract similarly idealistic traders and millennials who are concerned about climate change.
As the broker continues to grow and develop, it is likely that it could offer additional, VIP accounts and potentially expand its customer service to include a number of different languages. The broker will likely also provide additional information concerning its regulatory oversight and licensing as it grows and expands.
Broker Details
CedarFX is licensed under the company Cedar LLC. According to its listed Terms and Conditions, CedarFX operates within the laws and regulations of St Vincent and the Grenadines.
One area in which CedarFX could improve is in its clarity around regulations and licensing. It is difficult to find the information listed on the site and any information that you can find is limited. Transparency is important to many traders who want to learn as much as possible about the licensing and regulatory controls over specific brokers before registering.
CedarFX clearly is dedicated to trader satisfaction, and it would benefit by increasing its transparency and clearly listing information related to its regulatory and licensing agreements. The broker is still new, and it is likely that as it grows, the site will grow with it and more information will be provided for traders who are curious about the licensing and regulatory oversight.
Contacts
CedarFX headquarters can be found at First Floor, First St. Vincent Bank Building, James Street, Kingstown, St. Vincent and the Grenadines. You can contact the broker via live chat, email, or its callback service.
FAQ
How can I open a demo account with CedarFX?
It is easy to open a demo account with CedarFX. You need to fill in your details and sign up on the homepage of the broker in order to create a demo account. Demo accounts are designed to help new traders try out the platform and develop their own strategies and trading styles without risking any of their own funds.
There is no limit to the number of demo accounts you can open, so if you would like to experiment with new trades or strategies without risking your own funds, you can do so with a new demo account.
Is CedarFX a regulated broker?
CedarFX is a company licensed under the company Cedar LLC. It is regulated under, and liable to, the laws and regulations of St Vincent and the Grenadines.
What fees does CedarFX charge?
In keeping with its dedication to serving traders and creating a platform that is easy and fun to use, CedarFX does not charge any fees for deposits and does not charge for any commission fees or transaction fees. CedarFX can be considered a low-fee broker as it offers extremely competitive spreads and is notable for its lack of fees and charges on deposits and transactions.
How do I withdraw money from CedarFX?
After you have submitted a withdrawal request, the CedarFX team will begin to process the request within 24 hours of the request's submission. Once your request has been fully processed, your funds will be sent to your bitcoin wallet directly. The time it takes for the funds to reach your bitcoin wallet will depend on bitcoin traffic and processing times.
There is no maximum amount that users can withdraw, but the minimum amount is $10. As long as you have not withdrawn all of the funds from your account, you can continue to trade while the request is being processed. If you change your mind and decide to cancel your request for withdrawal, you can still cancel the request if it is still pending and has not yet been processed.
Please be advised that certain products and/or multiplier levels may not be available for traders from EEA countries due to legal restrictions.
---
---