Trading in Forex/ CFDs and Other Derivatives is highly speculative and carries a high level of risk. It is possible to lose all your capital. These products may not be suitable for everyone and you should ensure that you understand the risks involved. Seek independent advice if necessary. Speculate only with funds that you can afford to lose.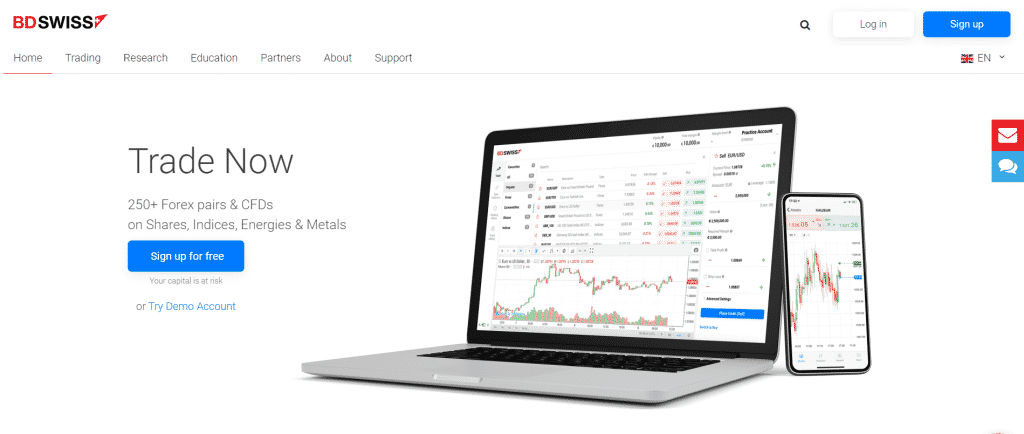 Expert's Viewpoint
BDSwiss is a multi-asset broker that offers a wide range of services to ensure you can find the best fit for your trading style. There are five types of accounts to choose from, three different trading platforms, and an impressive in-house designed trading App. The analysts at Forex Fraud rate BDSwiss as a trusted broker providing extensive regulatory protection for whichever account you use.
The success of this approach is best demonstrated by the fact that the platform now supports more than 1.5 million traders around the world. That large number of clients is because all the major markets are covered, including forex, commodities, indices, stocks, and cryptocurrencies. Leverage terms vary from country to country, but some clients can take advantage of scaling up to 1:1,000 leverage, and the T&Cs on the accounts are impressive, with some trading spreads being as tight at zero pips.
The trading experience at BDSwiss will be very familiar to those who have used the MetaTrader MT4 and MT5 platforms before. These two dashboards are the most popular in the world thanks to their excellent charting and analysis tools, compatibility with automated and robot trading, and the potential to configure functionality to personal preference. They are also known for facilitating some of the fastest tradings in the industry, and BDSwiss have set up their trading infrastructure to make the most of the low latency potential of the platforms.
The BDSwiss platform has recently benefited from a makeover and has a slick, crisp aesthetic, and signing up is quick and easy and completed in a matter of minutes. Behind this impressive interface sit a range of consumer protection measures. The latest tech security features ensure user experiences are safe, and regulatory protection is provided by highly regarded Tier-1 financial authorities such as CySEC.
The comprehensive approach taken by BDSwiss is possibly best reflected in the categories in which it has won awards. In 2021 it picked up industry prizes relating to market research, educational materials, and its mobile trading App. These are backed up by awards in 2020 relating to best trading conditions, its CFD products and its partnership programme.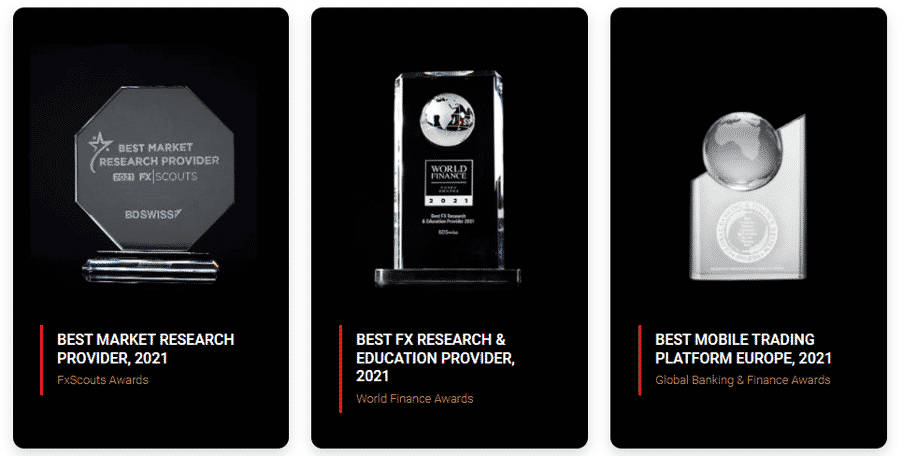 "Best Trading Conditions 2020" by World Finance
"Best Partnership Program 2020" by Global Banking & Finance Review
"Best Market Research Provider 2020" by FXScouts Awards
"Best Mobile Trading Platform Europe 2021" by Global Banking & Finance Review
"Best FX Research & Education Provider 2021" by World Finance
"Best Market Research Provider 2021" by FXScouts Awards
Broker Summary
Whatever market you want to trade or the type of account you want to set up, BDSwiss are in an excellent position to support your trading and get you off on the right foot. Trading profit and loss can come down to having a trading setup that fits your approach and lifestyle, and the versatility offered by BDSwiss is a big plus point in helping you get things just right.

Broker Introduction
The BDSwiss brand was established in 2012 and since then has been providing competitive pricing and fast execution on more than 1000 underlying instruments. Markets available to trade include stocks, ETFs, and CFDs, including forex, shares, commodities, and indices. It's a one-stop shop for traders because it supports long-term investing and short-term trading strategies.
BDSwiss is the brand name of BDSwiss Group; initially based in Switzerland, it has now branched out to operate on a global scale. The exact entity you sign up with, and the regulatory body overseeing your trading, is dependent on where you live. Some of the T&Cs will also vary due to your location. The firm is now headquartered in Limassol, Cyprus and regulated by different financial authorities, including the CySEC, FSA and FSC.
CySEC
BDSwiss Holding Ltd is authorised and licensed by the Cyprus Securities and Exchange Commission (CySEC) under licence number 199/13.
FSC
BDS Markets is authorised and regulated by the Financial Services Commission (FSC), Mauritius, under licence number C116016172.
FSA
BDS Ltd is authorised and regulated by the Financial Services Authority (FSA) Seychelles under licence number SD047.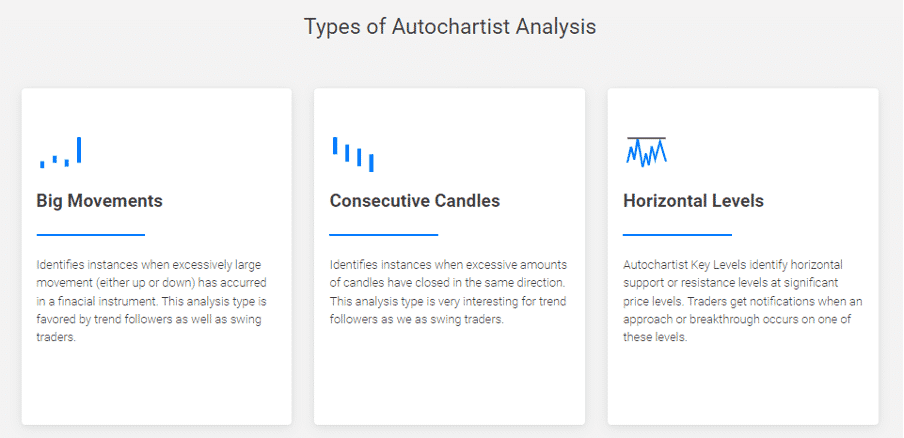 Spreads & Leverage
Spreads and leverage are areas in which BDSwiss is particularly strong. The exact terms vary from account to account, and as there are five different accounts to choose from, running a direct comparison can be challenging.
The Raw account has spreads starting from 0 pips in the major forex pairs. There is no spread manipulation, and trading commissions start at $0. The average spread recorded in EURUSD is an impressively low 0.3 pips.
The BDSwiss Classic Account allows you to trade using some of the most favourable conditions. These include super-tight bid-offer spreads, with the average on EURUSD being 1.5pips. There are no fees on cash deposits, no restrictions on what strategy you might want to trade, minimum slippage and ultra-fast order execution.
The VIP Account and Premium Account continue the theme. The former is ideal for those looking to make cost savings on large trades, and the Premium account is perfect for clients outside of the EU who want to trade with spreads as tight as 1.1 pips but use leverage up to an eye-watering 1:1,000.

A tell-tale sign that a broker is confident about their pricing is when they display all the costs transparently. The table of fees provided by BDSwiss ticks that box with all the incremental fees being laid out, as well as the bid-offer spread. It is a clear sign that BDSwiss are happy their pricing schedule will attract new clients, and the further good news for traders is that it makes calculating the cost-benefit of strategies a straightforward task.
The leverage ratio for EU clients applies as follows:
30:1 for major currency pairs
20:1 for non-major currency pairs
20:1 for major indices
20:1 for gold
10:1 for commodities (excluding gold)
10:1 for non-major equity indices
Platform & Tools
MetaTrader platforms still provide the benchmark by which other platforms are measured. The crisp aesthetic and intuitive functionality are yet to be equalled, and the razor-sharp graphics take chart analysis to the next level.
The platforms can be easily adjusted to fit personal preferences. An almost limitless number of trading indicators can be bolted onto the standard package that comes with the below tools as default.
+80 technical indicators. These include classic trend indicators, volume indicators and oscillators
+40 analytical objects and charting tools, including lines, channels, Gann and Fibonacci tools
+20-time frames from one minute to one month. So that you can set your trading to work on short or long periods
+3 chart types: Bar Charts, Japanese Candlestick Charts (Heiken Ashi) and Line Charts
The platforms can be set to various language options, and risk management features such as stop losses, take profit orders, trailing stops, and GTC (Good Till Cancelled) orders are all available. This impressive range of features means traders can optimise their trade entry and exit points without watching the markets 24/7.
The MetaTrader platforms are so widely used that an online community has sprung up. It helps users share ideas on how to get the most out of the platforms and the markets. BDSwiss has also engaged the services of several third-party analysis services provided to clients to help them improve their chances of success.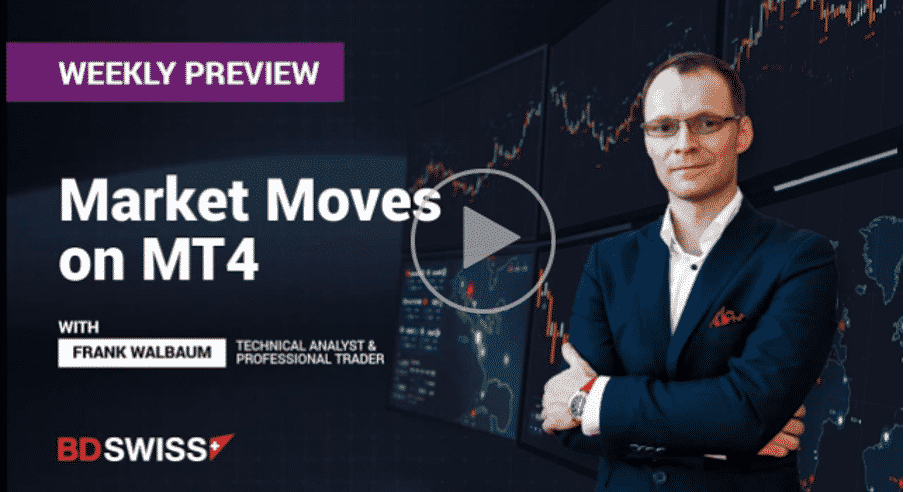 Autochartist
BDSwiss' Autochartist is a powerful market analysis tool that automatically identifies and notifies traders on potential setups and trade entry opportunities. It can be applied to hundreds of the different markets offered by BDSwiss and can be a real time-saver thanks to the program working on an automated 24/7 basis.
Trading Central
Trading Central is a comprehensive suite of trading tools that offer traders the latest market insights. It uses AI indicators, trade pattern recognition technology and analyst research to spot trading opportunities. Features to take advantage of to improve your trading returns include:
Analyst Views: A unique tool that offers traders a directional perspective on the markets. It uses a combination of automated algorithms as well as in-house expert opinions.
Market Buzz: An AI based newsfeed that provides traders with the latest market news. It's filtered according to what topics are trending and allows you to keep up with the hot markets of the moment.
Labs Newsfeeder: All the news, from all the major financial news providers, in one simple feed.
Technical Insights: Pricing analytics and real-time market quotes across various asset classes.
BDSwiss offers all Trading Central market analysis tools free of charge to all traders with a live account.
BDSwiss Mobile App
Mobile trading Apps have revolutionised the investment industry. They allow traders to trade on the move, enabling trading that fits their lifestyle. The BDSwiss App is well designed and has functionality that makes it ideal for beginners and experienced traders.
It is highly intuitive, super-responsive, and can be used to trade the markets or carry out maintenance on your account. Signing up for a new account at BDSwiss can be done using a handheld device. Other service features include real-time market data, interactive charts, educational services, Live Chat customer support and trade execution. All of this is backed up by two-factor authentication.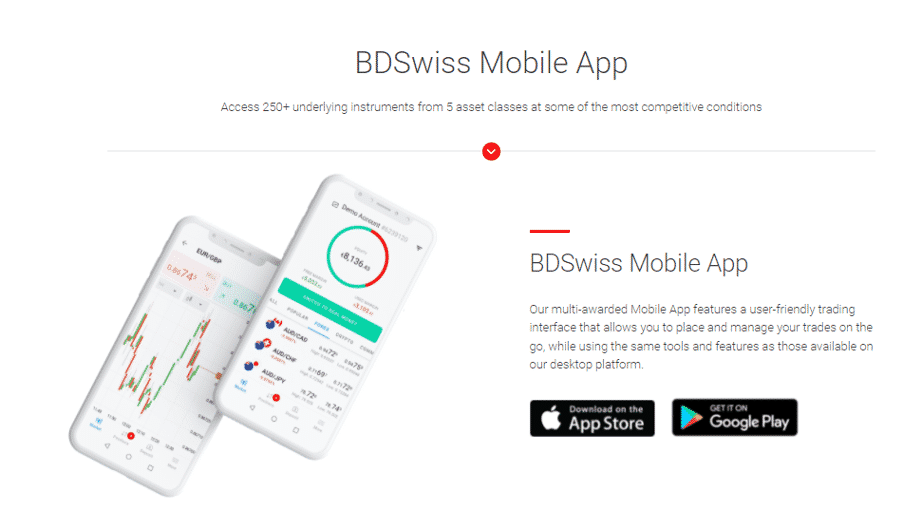 Commissions & Fees
BDSwiss' position as the trader's friend is enhanced by the broker's approach to administrative fees. There are, in total, more than 150 different ways to fund your account, and each of them comes with no transaction charges being applied by BDSwiss.
It is also worth noting that instant transfer payments made to BDSwiss accounts are available immediately, so you can start trading immediately if you select that method.
The user-friendly and cost-effective approach also applies to withdrawals. BDSwiss offers instant withdrawals for up to 2,000 € / $ / £ in size and charges $0 fees on all credit card withdrawals.
Education
The BDSwiss library of educational resources is a standout feature of the platform. Whether you are a complete newbie or an experienced trader looking for new strategies, there is something for you.
The materials are offered as eBooks, educational videos, live tutorials, seminars, and 'how to trade' style guides.
BDSwiss Trading Alerts
The BDSwiss Trading Alerts functionality offers new clients the chance to receive direct and exclusive trading ideas. These are provided by BDSwiss' professional traders who share market insight and ideas on when to buy and sell. Setting up to receive Telegram messages is quick and easy and is an excellent way for beginners to draw on the experience of others.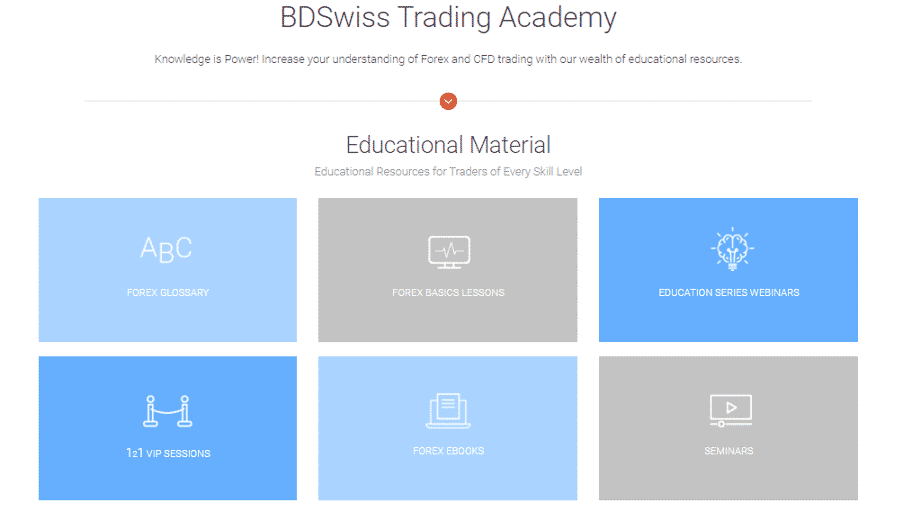 Trade Companion
The Trade Companion service is an excellent tool for those looking to improve their performance returns. Developed by BDSwiss, it is offered exclusively to the broker's clients. The clever software provides a detailed breakdown of trading history and performance. It gives details of their total pay-outs, trading frequency, trade duration, trading volumes, and win/loss ratio. The service can be set to various timeframes and provides insightful feedback on where your trading is going well and not so well and how it can be improved.

Customer Service
BDSwiss has complemented the step up to becoming a global broker by offering 24/5 Multilingual Support. Being able to contact high quality and readily accessible customer support can make a difference to your trading bottom line, so BDSwiss' coverage is a real positive for the broker.
The support is provided around the clock and in more than 20 different languages. Clients can access support via live web and mobile chat or email.

Final Thoughts
BDSwiss has come a long way in a relatively short period, but the development has been well thought out, and all the neat features have improved the service offered to its many clients. Some of those features are unique to BDSwiss, so setting up a Demo account to try out the service is recommended, even just to experience how good the trading experience can be.
The basics are also covered. Trading costs are super-low, the platforms on offer are first-rate, and the regulatory structure is strong enough for Forex Fraud to confirm BDSwiss is considered safe. The broker offers a comprehensive and cost-effective service to those just starting in trading, but there is enough room to grow. The more experienced traders will benefit from using third-party research and analysis tools.
Broker Details
BDSwiss Holding Ltd is authorised and regulated by the Cyprus Securities and Exchange Commission (the "CySEC", licence no. 199/13 and registration no. HE 300153). 
Firms within the BDSwiss Group, trading as BDSwiss, Swissmarkets and BDS Trading, are not permitted to provide regulated financial services to residents of the United Kingdom.
Contacts
Address: Apostolou Andrea Street 11, Hyper Tower, 5th Floor, 4007 Mesa Yeitonia, Limassol, Cyprus.
Registered address: Ioanni Stylianou 6, 2nd Floor, Office 202, 2003 Nicosia, Cyprus.
BDSwiss GmbH (Registration No. HRB 160749B) is the registered Tied Agent of BDSwiss Holding Ltd in Germany.
Registered address: c/o Anna-Louisa-Karsch Str. 2, 10178, Berlin, Germany.
Correspondence address: Mainzer Landstr. 49, 60329 Frankfurt am Main, Germany.
FAQs
How can I open a Demo account with BDSwiss?
It takes moments to set up a Demo account at BDSwiss. Once done, you can enjoy the benefits of the live platform and practice trading using virtual funds. Demo accounts are a great way to familiarise yourself with trading before using real cash and allow you to test-drive a broker.
What fees does BDSwiss charge?
The exact T&Cs of each of the five accounts are clearly laid out. Headline rates such as bid-offer spreads are as low as zero, and the absence of transaction fees on cash deposits and withdrawals is another nice-to-have feature.
How can I change leverage with BDSwiss?
Leverage terms are fixed and set in line with the conditions stipulated by your local regulator. Some BDSwiss account holders will be able to take advantage of leverage rates as high as 1:1,000.

Open Your BD Swiss Account
Forexfraud Trusted Broker
Please be advised that certain products and/or multiplier levels may not be available for traders from EEA countries due to legal restrictions.
---
---
Looking Forward To An Uncertain Few Months
24.05.2022
If the bad news is that major global equity markets are heading towards forming a bear market, then the even worse news is that the increased price volatility looks set to be the dominant theme for the next few months.
Read more