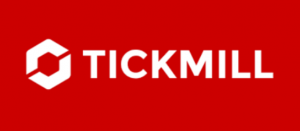 Tickmill continues to grow from strength to strength by offering traders just what they need to be successful in the markets.
This secure framework acts as a base for some of lowest cost trading in the market with trade execution backed up by some very impressive behind the scenes infrastructure designed to offer the best access to the financial markets.
Read the full review of Tickmill
ForexFraud.com does not recommend
AxiTrader
. To see our recommended brokers
click here
.
AxiTrader is an online Forex/CFD broker, which was founded way back in 2007, in Australia. Being well over a decade old is not the main selling point of the operation however.
Licensed in the UK, the brokerage peddles an outstanding selection of complementary services, such as no fewer than three VPS solutions, a trading academy, Autochartist and PsyQuotation.
In its ~12 years of existence, AxiTrader had plenty of time to rack up user feedback. Based on what its actual traders have to say about it, it is safe to conclude that the brokerage is indeed reputable. That said, there are always a few complaints mixed into the feedback flow and it is always worth taking a second look at such complaints.
Some of the disgruntled clients accuse AxiTrader of stop loss hunting. Others allege spread manipulation and decry various problems with withdrawals. Still others call it out on its market making. The gist of the matter is that overall, the feedback is predominantly positive, despite the above mentioned issues.
The corporate background of the brokerage is a very solid one. The name of the parent company is AxiCorp Financial Services Pty Ltd. The headquarters are located at Level 10, 90 Arthur Street, North Sydney, 2060, Australia.
AxiCorp is a registered company in Australia and New Zealand. Its registration numbers are ACN 127 606 348 and NZBN 9429042567608. The Financial Services License Number of the broker is 318232.
The brokerage maintains physical offices in the UK and the UAE as well. It is regulated in no fewer than four jurisdictions: in Australia, by ASIC, in Austria, by the FMA, in the United Arab Emirates, by the DFSA and in the UK, by the FCA.
European clients of the brokerage are mainly interested in the UK side of the operation.
The UK branch of the broker is represented by AxiCorp Limited. The company is registered in England and Wales, under company number 06378544. The FCA registration number of the operation is 509746. The address of the UK office is 55 Baker Street, London W1U 7EU.
FCA regulation probably means that the service is MiFID-compliant. Indeed, AxiTrader is allowed to legally peddle financial services in the entire EU, with the exception of France and Belgium.
The US is also among the countries from which AxiTrader does not accept traders.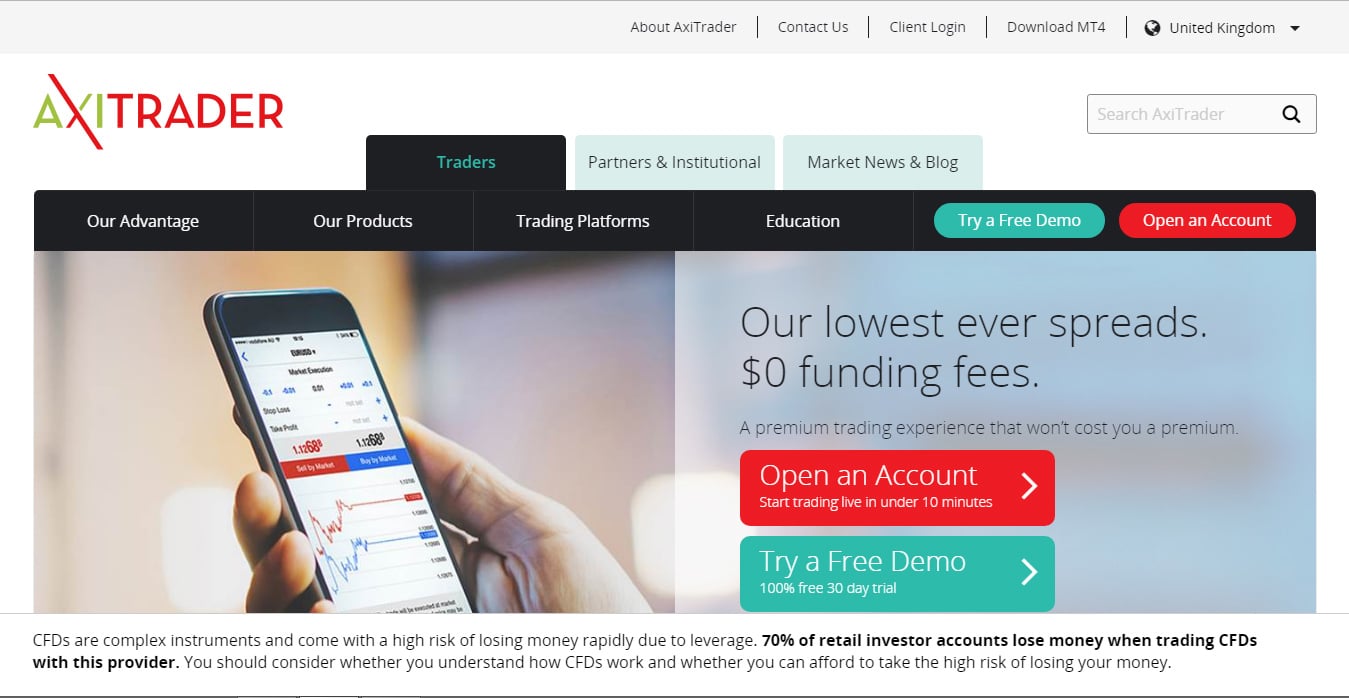 Why should you – provided you live in a country where AxiTrader operates – sign up for an account?
The official AxiTrader website makes a clear case in this regard. Touting global 24h support and segregated bank accounts for client funds, on top of a solid regulatory standing, the website does not fail to mention that AxiTrader is in fact one of Australia's most trusted forex brokers.
The brokerage offers a complete trading experience. It supports MT4, the top Fx trading platform, and it provides mobile trading apps too. Its trading conditions are excellent and its New York-based servers offer lightning-fast execution.
Not only does the broker allow the use of EAs, it offers a bewildering selection of options VPS-wise. VPS are needed for the proper running of EAs.
A Demo account is also available, and there are two account types featured: Standard and Pro.
AxiTrader's Account Types
As mentioned, two account types are currently available: a Standard and a Pro one.
Of these, the Standard choice is obviously the more affordable/accessible.
Interestingly, none of the two account types require a minimum deposit.
The MT4 Standard Account offers access to the complete selection of tradable assets supported by the broker. This means more than 80 currency pairs, as well as metals and CFDs. Crypto CFDs are also available. This new asset class can only be traded through CFDs. The broker does not offer any actual cryptocurrencies for sale. Cryptocurrency CFDs can only be traded by Professional Clients in the UK due to FCA regulations.
Spreads on the Standard Account start from 1 pip, and there are no commissions charged.
The margin is 1:30. The Standard account features a free VPS service, similar to what the Pro Account offers. This service is provided by a third party however. It is also subject to minimum trading volume requirements, so at the end of the day it may not be for everyone.
Free Autochartist is included in the package, together with a 30-day Demo account.
The Pro Account ups the stakes a bit. Its spreads start from 0.1 pips, which is a marked improvement from the Standard Account.
Instead of a spread, the broker uses a commission to make money. This commission is $7 roundtrip.
Both account types support MT4 Nexgen.
AxiTrader's Trading Platforms
The broker only really features one platform: MetaQuotes' MT4. It has several versions of this software available though, including MT4 NexGen, which is a version aimed at professional traders.
AxiTrader's PC version of MT4 features fiber optics and co-located servers for quicker execution. All the tradable assets supported by the broker can be accessed from this version of the trading platform.
One click trading is obviously a given and the platform is compatible with third party EAs.
The charting capabilities of MT4 are well known. The platform comes with an impressive suite of preinstalled technical indicators and Autochartist is an option as well.
The MT4 Web Trader is a handy alternative for those who cannot download and install software for whatever reason. Through it, the entirety of AxiTrader's asset selection can be accessed. One click and real time trading are available. Charting is as advanced as anything the full MT4 platform can offer in this regard.
The Mac version of the platform is essentially the same as the PC-based one. In addition to that, Android and iOS mobile versions are available too.
MT4 NexGen is a version of MT4 tuned for the needs of professional traders. It features a market sentiment indicator, offering traders a glimpse into how their peers trade.
A new terminal window is part of the NexGen package, together with an economic calendar, an automated trade journal and a powerful alarm manager.
The application of complex order types has been made faster and easier with the Mini Manager. A handy session map displays the closing and opening of the world's markets, in real time, on a map.
The platform makes it possible for traders to import their favorite forex news streams. The possibility to follow other traders on social media is also there.
The MAM (Multi Account Manager) feature lets portfolio managers handle multiple accounts through a master account. No fewer than 6 allocation methods are supported, as well as all unique and normal order types.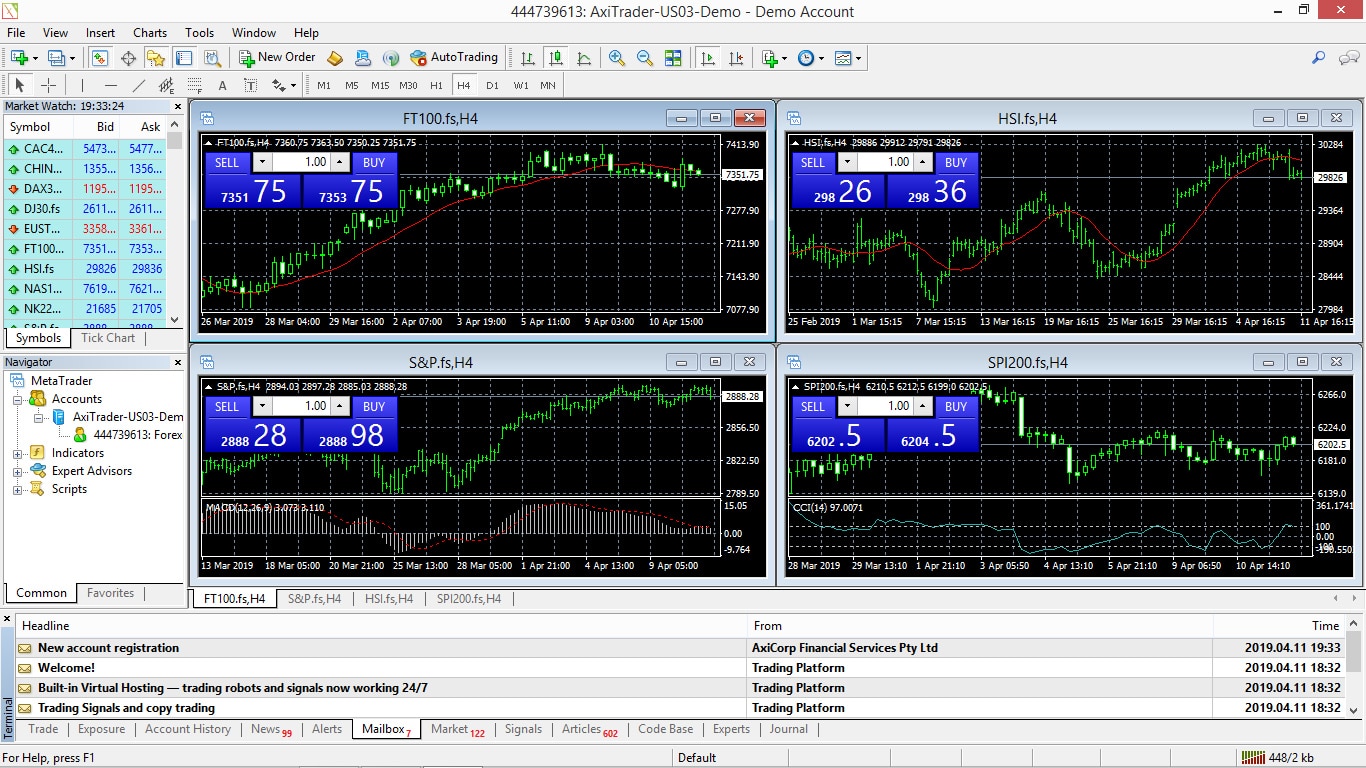 AxiTrader Deposits and Withdrawals
Accounts can be funded through a number of credit and debit cards, such as VISA, Maestro and Mastercard.
Neteller, Skrill, Global Collect (for Australians), UnionPay (for Chinese), bank transfer and broker-to-broker transfers are also accepted.
Most of these funding methods are instant, though Global Collect and bank transfers can take between 3-5 business days to go through.
AxiTrader Conclusion
AxiTrader looks like a serious and reputable FX/CFD trading destination. Its trading platforms are great, its trading conditions (on the Pro Account) likewise, and its account type selection is decent.
The market coverage of the broker is more than decent as well.
There are a few hiccups in terms of user feedback, but with a 12 year old broker, that is a rather natural occurrence.
Please be advised that certain products and/or multiplier levels may not be available for traders from EEA countries due to legal restrictions.
---
---