AssetShot undoubtedly has some on-the-surface plus points. It offers more asset classes than some of its competitors, for example, while it also instils confidence thanks to its decision to offer the respected trading platform software package MetaTrader 4. The presence of a serious customer service outfit with a UK-based phone number is also likely to help people feel positively pre-disposed to the broker. The absence of commission fees is also a plus point.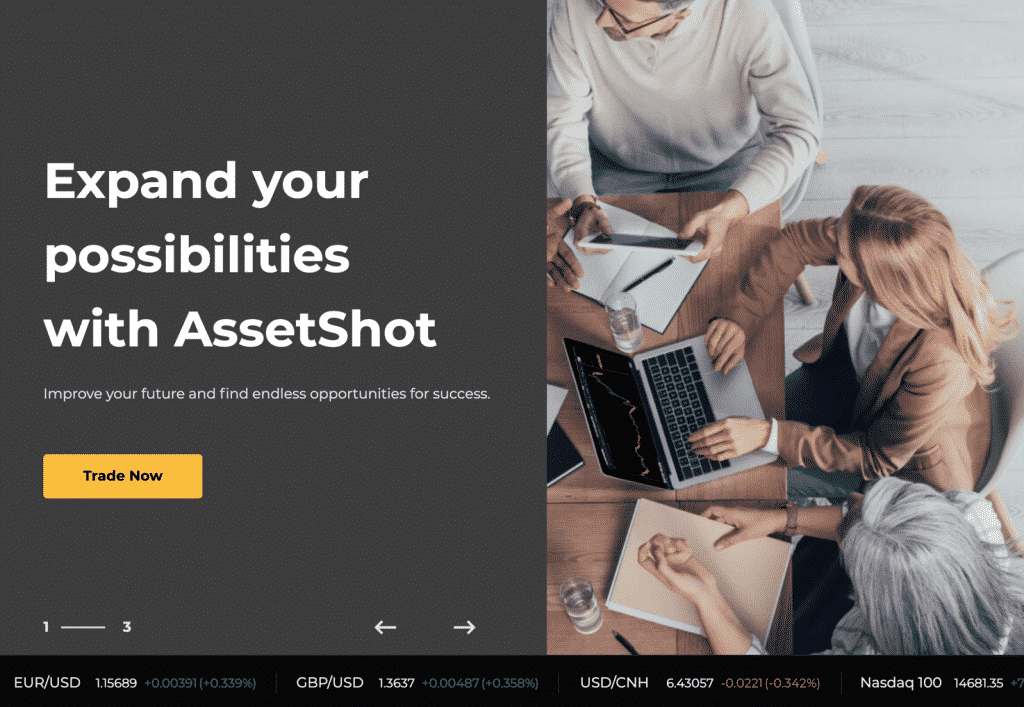 However, there are also plenty of reasons to take a step back and think twice about whether or not to opt for this broker. The lack of regulation is just one reason: traders who are at all concerned about safety are likely to search straight for the regulatory framework in which the broker site operates, and upon finding that this is unavailable may choose to no longer use the site. In addition, the absence of any education section at all (let alone a comprehensive one) is also likely to raise concerns.
However, it's ultimately the decision of the individual trader as to whether or not this broker is right for them. It's a trade-off: for some people, the lack of regulation will be significantly off-putting, while for others, the presence of a high amount of leverage will be appealing. No two people's trading situations are identical, and the aim of this review is to alert users to the pros and cons of the site so that they can place it in their own trading context and make appropriate decisions from there. On the whole, ForexFraud has some reservations about this broker, but recommends that users do a deep dive of research of their own before deciding whether or not this broker is right for them.
Broker Summary
AssetShot is a broker run and owned by Jess Group LLC. Based in Saint Vincent and the Grenadines, it offers currency pairs, indices, metals, energies, futures, shares. It uses the well-known MetaTrader 4 trading platform.
Broker Introduction
AssetShot has a wide range of advantages for most traders to consider: it comes, for example, with a diverse choice of account types, meaning that users can choose the precise combination of leverage rates and spread fees that works for them. Users are also offered trading products anchored around the top trading platform MetaTrader 4, and have the chance to trade either on a terminal, web-based or mobile system. This means that there is a strong level of choice available when it comes to both trading conditions and mechanisms – something that certainly cannot be said for every other broker on the market.
There are no commissions at AssetShot, and there are plenty of customer service options. The broker offers lots of different asset types. In total, the broker offers more than 400 instruments and assets – so there's a lot of choice. The assets offered are contracts for difference (CFDs), meaning that no underlying ownership is transmitted but that the customer can still experience fluctuations in the market, both gains and downsides.
The assets on offer include a range of foreign exchange currency pairs, such as the EUR/USD pair. Futures are also available, including on top commodities such as cotton and sugar. On the energy side, traders can access CFDs for US oil and others. CFD shares in a range of top companies are also available: these include Apple and Tesla. A number of major indices, such as the Dow Jones and the Nasdaq, are also represented.
As is the case with almost every broker, however, there are some downsides. The education section leaves a lot to be desired, for example, while it's also the case that spread fees are more volatile than the account type hierarchy might indicate at first glance. The most updated version of MetaTrader, MetaTrader 5, is not present. There's also a serious red flag about the apparent absence of any regulator. On the whole, it's down to the individual user to make up their mind about how to proceed – and on what is most important to them.
Spreads & Leverage
As tends to be the case with most online brokers, AssetShot makes its money by charging a fee on the difference between the price for which you buy the asset and the price for which you sell it. This differential is known as the 'spread', and the calculated proportion is known as the spread fee.
The spreads on offer at AssetShot vary depending on a number of different factors. The main one, however, is the account type. The more sophisticated the account, the lower the spread fees are likely to be. Spread fees are calculated in pips, and those who have a Bronze account at this broker will find themselves with spreads from 2.8 pips. Silver account holders, meanwhile, will enjoy spreads from 2.5 pips. Gold account holders will see spreads that begin much lower than that at 1.5 pips. Platinum account holders have the most competitive spread fees of all, beginning at just 0.1 pips – which is very tight compared to the wider industry.
It is important to note, though, that other factors can affect the spread fees you're likely to be offered. One such factor is the asset in question: some currency pairs, for example, can provide more competitive fees than other pairs.
In terms of leverage, meanwhile, the same account type principle as above applies. Leverage refers to the amount of what is essentially the borrowing power you have when it comes to expanding the size of your capital: this can lead to higher returns if the investment goes well, but also higher losses if it fails.
At AssetShot, leverage rates begin at 1:100 for those with Bronze accounts. This in itself is not an especially low ratio compared to some others on the market, but it's dwarfed by the amounts on offer at the other levels of account at AssetShot. Silver account holders can enjoy leverage rates of 1:200, while Gold account holders get rates of 1:300. As is the case with spread levels, Platinum account holders can receive leverage rates of 1:400.
Platform & Tools

When it comes to platform choice, the picture at AssetShot is quite mixed. On the one hand, the company offers MetaTrader 4, one of the industry's leading software packages. This comes with lots of useful tools, such as technical indicators and a variety of order types.
MetaTrader 4 comes in a variety of different packages on the AssetShot site. This includes MetaTrader 4 Terminal, which is one of the most powerful of the options. Those who want to trade on the go can opt for MetaTrader Mobile, meanwhile. Traders who want to experience AssetShot's trading options in their browser without having to download software that may take up extensive space on their systems can go for MetaTrader 4 Web.
It's also worth noting that there is a specific option for those traders who want to download a macOS-friendly version of the system. Some traders, however, may be disappointed to see that the most up-to-date version of MetaTrader – MetaTrader 5 – is not represented or offered. Whether this will be enough to make a difference to the individual trader depends largely on what practices they intend to use their trading package for, and which asset classes they intend to trade.
There is little in the way of other tools that are fairly standard for brokers of this nature, which is also likely to disappoint some traders. Many of AssetShot's competitors, for example, are likely to offer tools such as economic calendars, which help traders who use fundamental analysis to be sure of the context in which they are trading.
Commissions & Fees
As outlined above, the main way that AssetShot makes money is through spread fees. There are not many additional fees outlined on the broker's website. In fact, the broker makes it clear that it does not charge account fees. It also makes it clear that there are zero commission trades available – though the broker does also point out that in some cases, the commissions will be "low to zero" rather than just zero.
Education
Education is one area in which AssetShot is seriously lacking. There is no education section available on the site, meaning that many common features offered by brokers – such as video tutorials – are not available to traders here.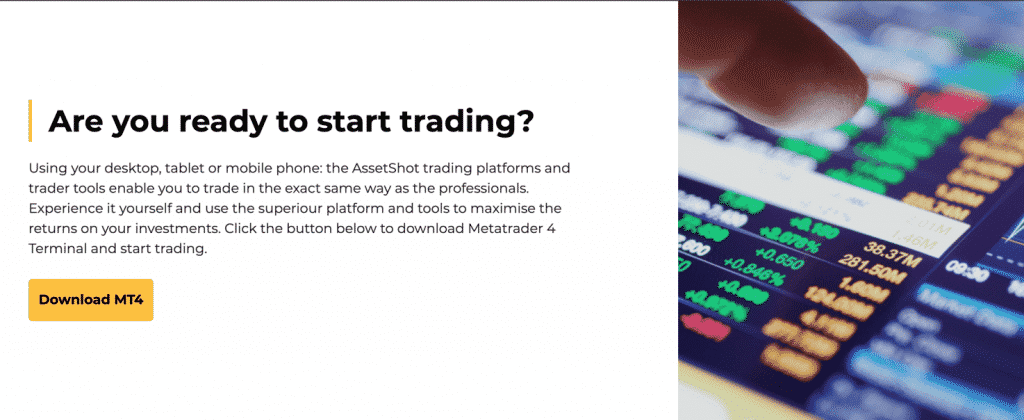 The extent to which this will affect traders is likely to vary depending on individual circumstances. For some people, this will be a deal-breaker, especially if they are new to trading and require some assistance on how to navigate around MetaTrader and so on. Those who are experienced in the trading world are perhaps less likely to feel that they are missing out on something, but it is certainly the case that the lack of an education section could cause experienced traders to think twice about whether or not the broker is legitimate.
Customer Service
The customer service on offer at AssetShot appears to be good. There are several different ways to get in touch with the team if needed. These include telephone and email.
In terms of navigating the site, meanwhile, there are both positives and challenges. On the plus side, the site is well laid out – and it's relatively simple to find the information you are looking for. There is also an option to translate the site if need be, though the presence of just one other language outside of English is disappointing.
The main drawback, however, is that it is not possible to sign up to open an account. There is no obvious 'sign up' button on the homepage or in the header. Clicking on 'Log In' leads to a new page that has a link to 'Create new account', but this simply redirects to the homepage. This could leave some users frustrated.
Final Thoughts
On the whole, AssetShot is an interesting broker that is likely to be able to offer some services to some people. There is a good range of asset classes on offer; there are some respectable customer service options; and the platform option is a good one.
Some traders may find that AssetShot is far from suitable for their requirements though. There is no education section to go through if you're looking to learn, for example, while it is unclear whether the site falls under the jurisdiction of any regulator. This is likely to be a particularly problematic state of affairs for most traders, most of whom will want to know that they are dealing with a reputable company. Ultimately, it's down to the individual trader to decide how to balance these risks and the potential rewards.
Broker Details
The broker is run and ultimately owned by Jess Group LLC. It's important to note that the broker does not appear to be regulated, as it does not carry any prominent information about regulation. This may cause some worry among traders, as it could mean that the broker is not subject to many restrictions on how it can act.
The broker does, however, carry a risk warning along the bottom of each page in its footer. It also has a separate page containing risk warning documents. It implores traders to balance the risks of foreign exchange trading in general. This information can guide traders towards making an informed decision about whether or not this asset class and practice as a whole is right for them.
Contacts
Those who want to get in touch with AssetShot are advised to do so in one of two ways. They can make a phone call using the number +442045252214, which appears to be a UK-based number. Alternatively, they can send an email to [email protected]. It's important to note that the domain in that email address is not the same as the overall website domain name.
It's also possible to contact the broker using postal mail. It may be unlikely that traders will require this option, but it's important to note it just in case it is ever needed. The address listed on the site for AssetShot is First Floor, First St Vincent Bank LTD Building, James Street, Kingstown, P.O. Box 1574, VC0100, Saint Vincent and the Grenadines.
FAQ
How can I open an account with AssetShot?
Opening an account with AssetShot is currently quite difficult due to an error on the site. Normally, it's possible to sign up by going to 'Log In' in the top right, followed by 'Create new account' in the top right on the new page, and then following the instructions. At present, this process is circular – and those clicking on the link to sign up are being redirected to the homepage. It is recommended that traders who want to join AssetShot contact the team via the customer service functions.
Does AssetShot offer an Islamic account?
It's not clear whether or not AssetShot offers an Islamic account. It does not carry the information prominently anywhere on its website. However, it may be worth investigating this further with the customer service team by contacting them through the available contact methods.
What bonus terms does AssetShot offer?
AssetShot offers a range of bonus terms, some of which are quite onerous. It makes this information available in a dedicated section in its documentation, though this can be quite hard to find. It's located in the 'Documents' section of the site. It indicates that AssetShot has a number of terms that some traders may find difficult to accept: it does not, for example, allow bonus profits to be taken out of the account until a minimum trading requirement has been met.
How do I withdraw money from AssetShot?
According to the broker's website, it's possible to withdraw money from AssetShot using an automated withdrawal system. This entails going to the relevant page on the broker's site. In terms of timeframes, it tends to take between 24 and 48 hours for a credit card withdrawal to be processed. For those withdrawing to their bank accounts, however, the timeframe is more like two to five business days. Helpfully, the broker allows you to get in touch via email if you have any difficulties.
Please be advised that certain products and/or multiplier levels may not be available for traders from EEA countries due to legal restrictions.
---
---