Alpari International Review
Launched in 1998, the Alpari brand is without a doubt one of the oldest of the industry. In line with that, one would expect the online brokerage to be a trading heavyweight with outstanding reputation as well.
Unfortunately, that is not the case. The reputation of the brokerage is mixed at best and its regulatory standing is something of a disappointment.
While some of the traders who have bothered to provide feedback have actually praised the operation, there are quite a few complainers as well. Exactly how reliable these accounts of alleged fraud are however, is an unknown variable.
Most of the complaints go above and beyond the usual medley of stop-loss hunting and spread manipulation. Slighted parties claim they have been refused withdrawal requests. Some say they have even had their principal "stolen" by the broker. Again, how reliable these accounts are unknown.
Alpari.org is not currently licensed and regulated in any of the major financial hubs linked to Australia, the UK or the EEA. Instead, it has picked up a license from the Financial Services Commission of the Republic of Mauritius.
Obviously, this jurisdiction is not exactly a prestigious and confidence-inspiring one. However, the number of years the broker has been around balances this out.
The company behind the Alpari International brand is a certain Exinity Limited, which is based and registered in Mauritius. The actual address of the broker is 11th Floor, Maeva Tower, Silicon Avenue, Cybercity, Ebene, 72201, Republic of Mauritius.
The Investment Dealer License awarded to Exinity bears the number C113012295.
The way the broker processes credit card transactions is quite spectacularly convoluted. Al Accept Solutions Ltd, based and registered in the UK, is the main processor. The broker also makes use of the services of FT Global Services Ltd, a company based in Cyprus.
While its credit card processors are indeed located in EEA regulated jurisdictions, Exinity itself is not.
Long story short: it is at least a little difficult to explain how it can legally peddle its services in most of the EEA – the UK included.
The official site of the broker does list a number of countries however, where Alpari's trading services are not available. This list includes the US, Japan, Mauritius itself, Russia, Ukraine and a number of other countries.
To understand exactly what Alpari's FSC regulation is worth, one needs to understand the relationship between the FSC and Exinity – Alpari's corporate component.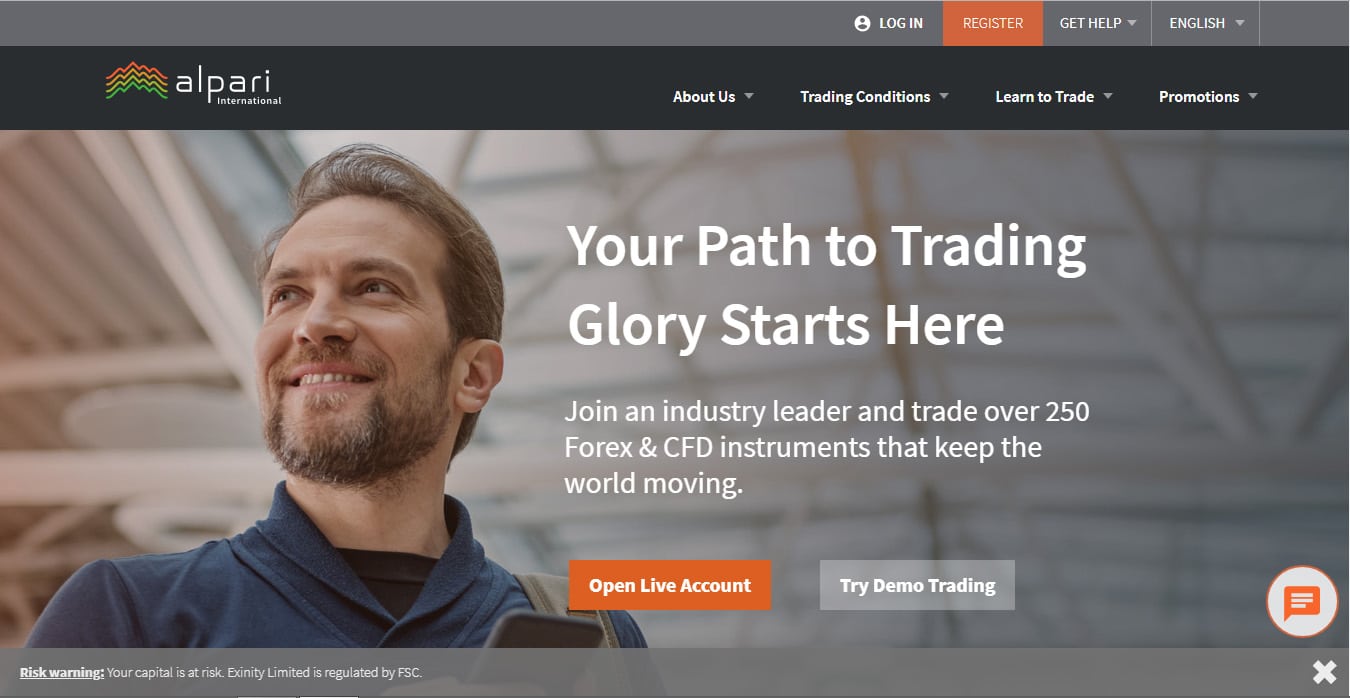 Having been registered with the FSC since 2013, Alpari offers access to a top-notch dispute resolution system/process. Above and beyond that, it also offers its traders protection through membership in the FSC's Compensation Fund.
The compensation fund is kept in segregated bank accounts and it is used as an insurance policy for traders, who fail to settle their disputes with a CF member through the mentioned resolution process.
The maximum coverage under the CF is EUR 20,000 per client.
Knowing the above, why should a trader open an account with Alpari.org?
On top of having 20 years' worth of experience in FX, Alpari serves more than 2 million traders world over.
It maintains offices in some 8 locations in various countries, and it offers more than 250 tradable assets.
The platform selection of the broker is solid as well. It features MT4 and MT5. Alpari's support staff is said to be outstanding, and they do indeed seem to be eager to help and knowledgeable.
In addition to the attractive trading tools offered by the two trading platforms, the broker also features an economic calendar, as well as live financial news and free mobile apps for those looking to trade on the go.
Alpari Trading Platforms
As mentioned, Alpari's trading platform selection covers MT4 and MT5. Both are available in no fewer than 4 different versions: Web Trader, Desktop, iOS and Android.
The MetaQuotes platform suite is beyond a doubt the best in the business. MT4 is a true frontrunner when it comes to technical analysis and charting.
Like MT5, MT4 can be downloaded for free from the Alpari website. This version comes with more than 80 technical indicators. The platform supports a superb range of time frames and drawing tools.
Most importantly however, Alpari allows the use of automated trading via EAs.
Aimed at a slightly different market segment than MT4, MT5 offers 38 technical indicators, MQL trading signals and 4 execution modes.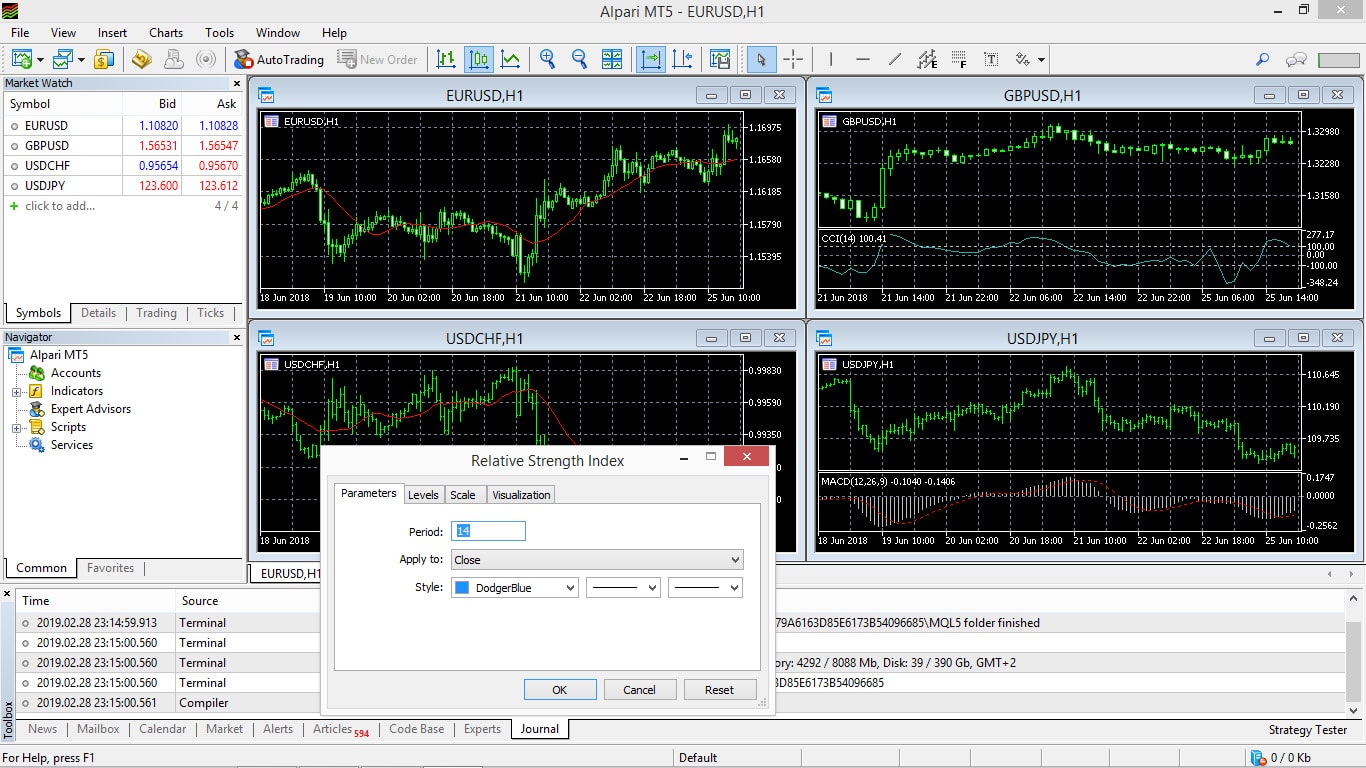 Alpari Account Types
Besides the Demo account, which can be accessed at a few clicks, the broker features 4 real money account types. Two of these are Standard Accounts and two are ECN ones.
The MT4 Micro Account only requires a minimum deposit of EUR/USD 5. Those who opt for such an account are obviously recreational traders.
Spreads on this account start from 1.7 pips on major FX pairs. The maximum available leverage is 1:400.
Micro Account traders get instant order execution, margin calls set to 50% and stop outs to 30%.
Those looking for more substantial action will probably opt for the Standard MT4 Account. This one requires a minimum deposit of EUR/USD 100. For that money, traders get spreads from 1.2 pips on majors, as well as instant execution and margin calls at 60%.
The maximum available leverage on this account type is 1:1,000.
The two ECN Accounts take the trading game to a new level.
Traders of more meager financial means will most probably settle for the Standard ECN Account, which requires a minimum deposit of EUR/USD 500.
The spreads here start from just 0.4 pips. There is however a commission of $1.5/lot/side charged.
Margin calls are at 100%, and a swap-free option is available on MT4 only. Pending orders are limited to 300. The maximum leverage is 1:1,000.
The ECN Pro Account represents the top of the account type ladder. Those looking to get such an account going have to cough up at least EUR/USD 25,000.
Market execution is part of this package, together with spreads starting from 0.4 pips. What's most interesting however is that these generous spreads are not accompanied by commissions in this case.
The margin call is 120% on this one, with the stop out set to 100%. While there is a swap-free option for users of this account who also use the MT4 platform, traders need to understand that there is no such option available on exotic FX pairs.
Market Coverage
Alpari covers an impressive range of FX pairs and spot metals. More interestingly though, it offers cryptocurrencies. There's CFD-based as well as actual crypto trading happening through the broker.
Alpari International Conclusion
Beyond its reputation and the technical details of its services, Alpari is a dealing desk broker. Traders need to know that about it, given that it means they will mostly trade against the broker. Yes, indeed, there is a conflict of interest here.
Other than that, what Alpari offers seems reasonable. Support can be contacted through phone and email. The support number is +442 080 896 850.
Given its regulatory status, the broker can afford to offer promotions. It currently has a loyalty cash rebate deal running.
Please be advised that certain products and/or multiplier levels may not be available for traders from EEA countries due to legal restrictions.