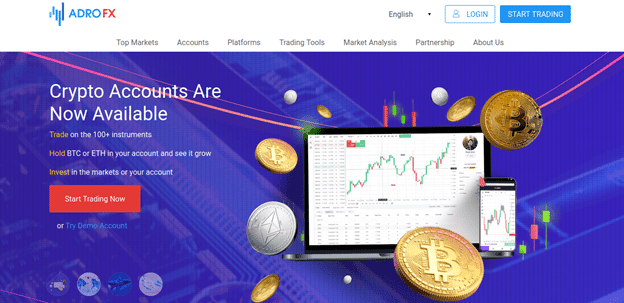 Expert's Viewpoint
AdroFx was founded in 2018 and offers its global clientele a wide range of trading services and products.  Traders say this broker is straightforward to use, containing excellent tools and instruments. We recommend using this broker if you're just getting started with forex trading, stocks, indexes and social trading.
AdroFX is trusted and provides excellent services for clients worldwide. The company has experienced professionals that have been trained to provide the best services for investors..
There are several tools that beginners can access on the platform. They include educational videos and e-books compiled by professionals to help you on your investment journey. Additionally, everything is mobile-optimised, meaning you can trade on the go and monitor your investment portfolio with ease.
Overall, AdroFx is regulated by two different financial authorities offering protection to its clients depending on where they reside. This broker is a market innovator and industry leader, which is demonstrated by its broad offering of products and growing popularity.
Broker Summary
AdroFx employs over 100 experienced staff and has a track record of delivering solid financial results and consistent growth for its clients.
It provides one of the most popular CFD and FX trading platforms and excellent trading conditions, and expert assistance is available 24 hours a day, five days a week.
With the swift deposit and payment system, it is easy to withdraw funds. The broker has a variety of accounts on offer with sign up offers to get you started.
To fulfil the demands of retail and institutional clients, AdroFx blends strong financial experience with cutting-edge technology. A large selection of trading instruments, a high degree of security, regular cash incentives and contests for customers, cash protection, free training materials, low spreads, and no commissions for deposit and withdrawal of funds or trade operations are just a few of the broker's benefits.
Broker Introduction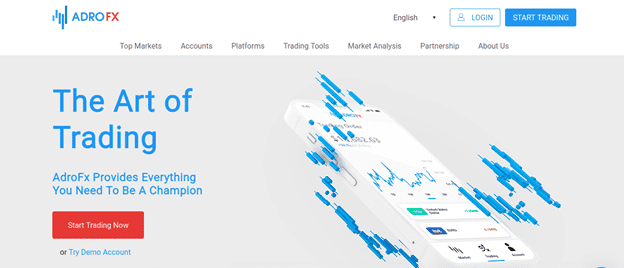 AdroFx is a worldwide financial broker with clients in over 200 countries. It offers a variety of products on one of the world's most widely known trading platforms – MT4.  AdroFx has a solid history of excellent financial outcomes and sustained growth for its clients, thanks to a staff of over 100 specialists with market expertise.
Clients of AdroFx have access to two separate trading platforms. The first is MetaTrader 4 (MT4). MT4 has various features, such as custom charting choices, market analysis tools, technical indicators, and support for advanced algorithmic and social trading strategies.
AdroFX also offers Allpips, a multi-asset terminal that integrates design and technology to give consumers unique experiential learning and a productive trading environment. Numerous chart formats, technical indicators, and analytical tools are also available, plus support for multiple trading windows and custom watchlists.
All of these tools are available on PC and via mobile browser.
AdroFx is a regulated forex broker that accepts new traders worldwide. Several brokerage businesses make up the AdroFx broker group:
Adro M Group LLC, registered with the Financial Services Authority in Saint Vincent and the Grenadines.
The VFSC, or Vanuatu Financial Services Commission, regulates ADROMKT Ltd, based in the Republic of Vanuatu.
Adro Markets Ltd is a company based in Saint Lucia governed by the Business Services of Saint Lucia Act (BSSLA).
Many of the most widely known financial markets, such as forex, stocks, cryptocurrencies, indices, and commodity CFDs, are covered by AdroFx. Over 117 financial instruments are available for trading, allowing for a diverse range of risk management strategies, profit opportunities, and market exposure.
On both iOS and Android, clients may download the MetaTrader 4 app. The MT4 program, which has over 8,000 5-star reviews, allows customers complete control over their accounts, quick on-the-go trading, and various analytical features.
Spread & Leverages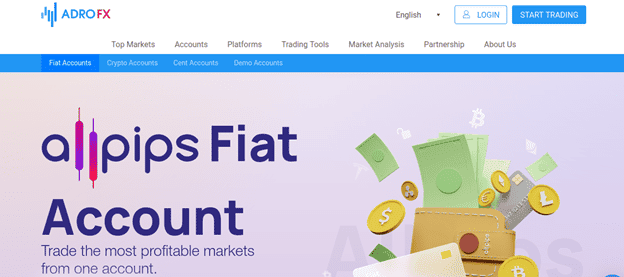 Spreads start as low as 0.3 pips for pro-account holders and are kept minimal in all other accounts. The minimum spread is 1.2 pips for the standard account or 0.4 pips for the premium account.
All AdroFx accounts have maximum account leverage of 1:500. While this can be beneficial in boosting position sizes and earning possibilities, it also increases the danger of losses; therefore, caution should be exercised while trading on margin.
Note that, depending on local regulations, leverage rates for traders in different financial jurisdictions may change.
Platforms & Tools
Platforms
AdroFx has a wide range of platforms for clients to use. They have a range of different features to cover all your trading needs. They include:
1. Web Platform Allpips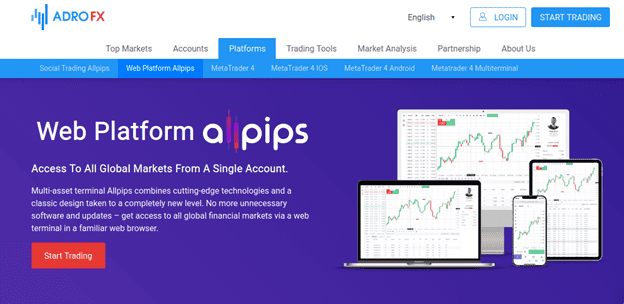 AdroFx is a proprietary Web trader. It's simple to use and works with a variety of devices. Traders may use Allpips to gain insight into financial markets.
All personal accounts and strategies are kept safe and secure by the Allpips cloud terminal, which is available for free
All trades are tracked in the trading dashboard, including complete information on margin, profit, balance, etc
One-Click-Trading enables traders to safely enter their positions, making trading processes easier
2. MetaTrader 4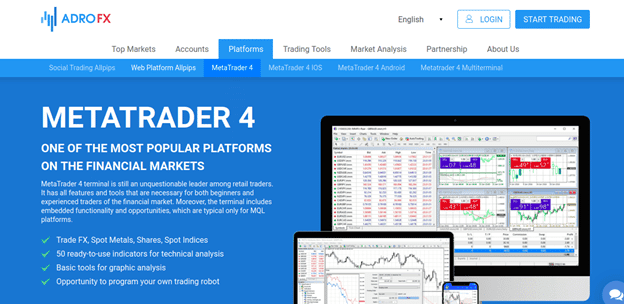 MetaTrader 4 (MT4) is a more popular and complex platform with a wide range of indicators and charting options. Because MT4 is not proprietary, it provides the highest level of security. Trading on the MT4 platform is possible on both a desktop and a mobile device.
One-Click-Trading allows you to enter and exit financial markets with a single click
Algorithmic trading aids in developing MQL4 trading robots and their execution on the trader's terminal
Support for VPS accounts is accessible for all types of accounts and is free for Pro accounts.
3. MetaTrader 4 IOS / Android
Those who prefer to trade from their mobile phone or tablet may install the MetaTrader 4 platform for iOS and Android devices and begin trading on the move with ease. It offers the following features:
Provides traders with complete control over their accounts
Three chart types – bars, broken lines, and Japanese candlesticks
24 analytical objects, 30 technical indicators
Execution modes, order types, trading history, and interactive symbol charts are all available
4. MetaTrader 4 MultiTerminal
AdroFX also offers a MultiTerminal platform, which is excellent for traders who want to easily handle several MetaTrader 4 accounts from a single terminal using a single Master login ID and password.
Manages multiple accounts at the same time
Performs operations on all trader's accounts
Monitors and controls the status of pending orders and open positions
Trading Tools
AdroFX also offers several tools for clients to use. The tools include:
1. Trading Signals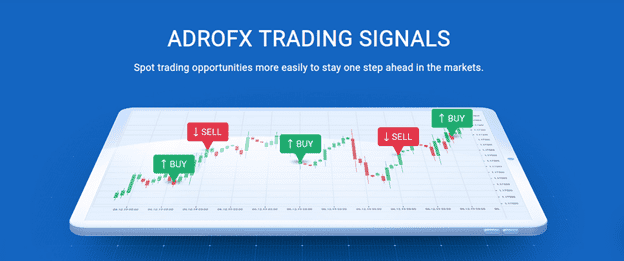 AdroFx's talented market experts have carefully designed AdroFx Trading Signals to interpret the movements of critical assets based on pricing data. The tool factors in alternative scenarios, popular technical indicators, signals for top markets, and long and short positions. To get started, register and log into MyAdroFX, access the trading signals tab, and agree to the terms of usage.
2. VPS for Trading
A Virtual Private Server (VPS) runs its operating system and is given access to server resources on a bigger server. VPS are remote servers that work independently, much like a physical computer, but with aspects tailored to the needs of individual users. A VPS is great for traders who want both stability and flexibility since it provides high-quality technical circumstances that make trading safer from a technical standpoint.
Traders can use a virtual machine to execute automated algorithmic methods, including Expert Advisors, 24 hours a day, seven days a week. As a result, the possibility of system downtime is reduced, as are unplanned power outages, Internet outages, physical challenges, computer shutdowns, and other causes. To use the VPS option on AdroFX, seek approval to join their network.
Once confirmed, you'll receive a username and password to access its IP address and connect to the server using a remote desktop app. Once the connection to the VPS is live, you will be directed to a desktop environment. You can then log in to your trading platform and continue your regular trading activities. However, this feature is not free; there are three packages on the platform, with $10 being the minimum package price.
3. Forex Calculator

AdroFX Forex and CFD trading calculator helps you decide your trade's specifics before acting. You can compare your results for different opening and closing rates, calculate the required margin for your positions and get details about pip and point value.
Commissions and Fees
AdroFx charges a $5 inactivity fee. If a trader seeks a withdrawal after a period of inactivity of six months, the broker will levy a banking fee of 3% of the withdrawal amount. AdroFx does not charge a fee for deposits; nevertheless, a variable cost may be charged for withdrawal requests.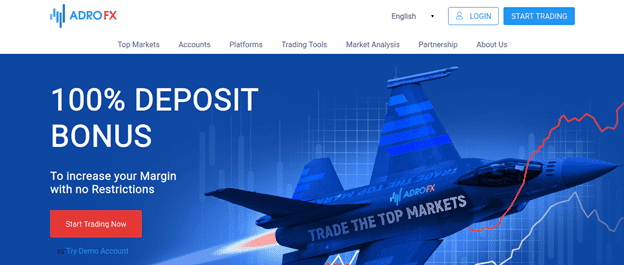 Education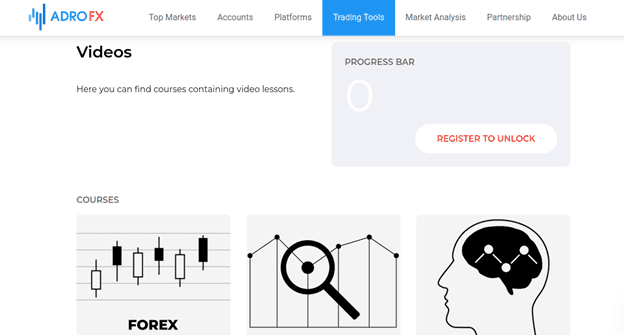 AdroFx has educational tools that can be useful for both beginners and experts. They include:
1. Forex Glossary
AdroFx has compiled a list of forex-related definitions for clients to familiarise themselves with since the terms are a bit tricky to keep in mind. With this forex dictionary, you will never get confused! It is also an easy way to begin your forex education as a beginner.
2. Educational video
AdroFx also has excellent courses that can help you increase your learning in forex trading, trading psychology, market analysis, and social trading. It is straightforward to use; you just have to register to unlock the courses.
3. E-books
Professional traders write e-books for traders to equip them with the necessary skills to profit from online FX trading. You will quickly gain enough knowledge to begin a career in the foreign exchange market with the aid of these thorough and easy-to-follow e-books.
Customer Service
AdroFx provides customer service via various methods, including phone, email and live chat. The service team is available 24 hours a day, five days a week.
Final Thoughts
AdroFx is an international broker that prides itself on its customer-focused approach.  It is regulated by two authorities and provides 24/7 support five days per week via multiple methods. The platform has a global clientele spanning over 200 countries which is underpinned by an international workforce.
Traders who choose AdroFx will benefit from zero fees, narrow spreads, and top platforms that provide the best trading opportunities.  There is a wide range of client accounts available to suit different trading profiles that will appeal to beginner and more experienced traders. The provision of Allpips in its platform offering provides the added service of social and copy trading which will really benefit less experienced traders.  Finally, AdroFx accepts a wide range of payment options, including wire transfer, bank transfer, various e-wallets, Visa, Mastercard, and cryptocurrencies.
AdroFx is a popular broker currently in Germany, France, and many other European and Non-European offshore locations.
 Contact
All clients in need of assistance can contact the support team via:
FAQs
How can I open an account with AdroFX?
Opening an account with AdroFx is straightforward; just follow these steps:
Go to the AdroFx main website
When you click the Start Trading option, a registration form will appear on the screen to complete
Fill in your personal information as well as a secure password.
Enter the code issued to your registered phone number to confirm
To confirm the terms and conditions, tick the box and click Register Now
The website will validate all the information you've supplied in approximately one to two minutes, and your account will be established instantaneously
AdroFx accounts need digital verification of KYC criteria, and you may begin trading forex and CFDs after placing a $25 minimum deposit
 Is AdroFX a regulated broker?
Yes, AdroFX is a regulated forex broker.  It is comprised of two entities, ADROMKT Limited and Adro M Group LLC.   ADROMKT Limited is regulated and licensed by Vanuatu Financial Services Commission and Adro M Group LLC is registered by the Financial Services Authority.
What bonus terms does AdroFX offer?
A popular 10% deposit bonus and a massive 100% loyalty bonus are among AdroFX's frequent promotional offerings. Registered AdroFx traders may also profit from the 'Refer a Friend' programme, which offers an exciting method to boost their account balance while giving them more freedom.
How do I withdraw money from AdroFx?
Withdrawing money from AdroFx is quite simple, just click on the withdrawal button and wait for your payments to be processed. Withdrawals are processed during the standard business hours of 9 am – 6 pm GMT +2 (GMT+3 for DST), Monday – Friday.
Please be advised that certain products and/or multiplier levels may not be available for traders from EEA countries due to legal restrictions.
---
---