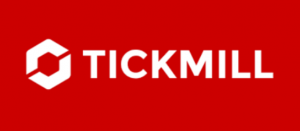 Tickmill continues to grow from strength to strength by offering traders just what they need to be successful in the markets.
This secure framework acts as a base for some of lowest cost trading in the market with trade execution backed up by some very impressive behind the scenes infrastructure designed to offer the best access to the financial markets.
Read the full review of Tickmill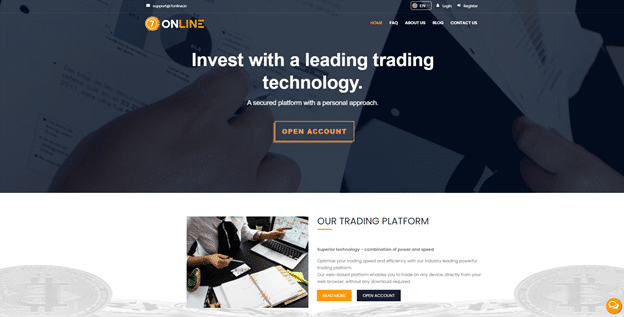 Experts' Viewpoint
7Online is a cryptocurrency trading platform addressing retail traders worldwide who want to be part of the growing industry of crypto. Massive inflows into Bitcoin and Altcoins continue to act as a self-reinforcing pattern, attracting ever-increasing numbers of investors.
Aware of the growing need for personalised services, 7Online has designed an infrastructure specifically for crypto trading, addressing key issues like high volatility, liquidity, and transparency.
Fortified with the latest and most advanced security measures in the industry, 7Online wants customers to have complete freedom when trading cryptocurrencies without having to worry about custody issues or hacking vulnerabilities.
At the same time, traders benefit from tens of different cryptocurrencies currently part of the offer. There is growth potential in Bitcoin and across a broad range of Altcoins, with underlying projects promising various blockchain implementations and increased probability for a growing adoption.

Broker Summary
A trading community you can trust
7Online is a place where dozens of industry veterans have gathered, with the sole goal of creating an environment where retail crypto traders can take advantage of market fluctuations with proper tools and features.
Your privacy and online security are always protected, thanks to the tireless work done by 7Online. Negating any potential vulnerability is possible thanks to advanced technology and its commitment to some of the highest values.
Cutting-edge trading technology
Things are moving very fast in the cryptocurrency world, and thus, traders need access to tools and resources that can enable them to get in and out of the market at the desired price. 7Online relies on a proprietary platform that promises both a user-friendly interface and state-of-the-art performance.
Trading on tens of cryptocurrencies is possible at 7online.io because it is solely focused on this innovative market. If you want to trade not just Bitcoin, Ether, and XRP, this is where Altcoins like EOS, Tron, Stellar, Dash, Ethereum Classic and Monero are covered as well. Trading can be done on margin and with flexible costs, without any commissions charged.
The 7Online security and AML policies set out clear rules on how each customer is required to verify a trading account. There are also other common-sense policies for privacy and withdrawals. Transparency for its services is granted by all the relevant details on the official website.
Platform & Tools
Combining technology with both power and speed, the 7Online trading platform is a web-based solution available via any modern browser. Customers can use it as they wish, on both a desktop and mobile device, without any special hardware requirements.
As any retail trader would expect, this solution does not fall short when it comes to integrating all the useful tools and features. You can use advanced charting and a wide selection of indicators to spot new trading opportunities. With one-click execution and multiple order types, 7Online wants customers to be in complete control of their trading accounts.
The brand also offers a Google Play app for Android users who wish to keep close track of their account on mobile without having to access the platform via a browser.
7Online Deposits and Withdrawals
Financial security is a crucial requirement when getting involved in the cryptocurrency market. Because of that, 7Online accepts payments using credit/debit cards and wire transfers, two of the most trusted solutions in the industry. Traders can deposit fiat in USD, EUR, and GBP, depending on their choice. This is an international trading brand, offering a diversified range of options.
When it comes to withdrawals, there is a comprehensive set of rules determining which steps are to be taken, with the sole goal of preventing unauthorised financial operations and ensuring compliance with AML/KYC requirements.
Beginner Trader Support
With a customer support service available 24/6, 7Online makes sure traders get assistance whenever they need it. Because the trading schedule is 24/7, customers can get involved in the market even during the weekend, and there is a representative able to provide help. Also, beginners get support via various resources, including articles published regularly on the 7Online blog.
Is 7Online Safe to Use?
The combination of cutting-edge trading technologies, security protocols, a customer-oriented philosophy, and a wide range of trading tools makes 7Online a safe place to get involved in the cryptocurrency sphere. Keep in mind that the instruments provided don't require holding the underlying instruments. Traders only take advantage of price movements.
This is the most important feature when working with a brand like 7Online. Increased volatility in the industry is generating opportunities across a broad range of tokens daily. With the diversified crypto-list available on this platform, traders can find precisely what they need.
Pros
Access to multiple cryptocurrencies, all in one place
Versatile trading software with many features built-in
Multiple common-sense policies setting clear guidelines
Cons
7Online is a trading platform focused only on cryptocurrencies
Services are available in English and German
Only the Google Play app is currently provided
Other Services
Alongside the usual trading services, 7Online is aware traders need additional support, especially since the cryptocurrency market is unknown territory for the broader public. The brand boasts an inclusive approach, and to bring in new people it is offering various educational resources on its blog, as well as assistance via well-prepared account representatives for each customer, regardless of the initial deposit.
Final Thoughts
7Online is a transparent, secure, and user-friendly cryptocurrency trading platform designed for the wider public, as well as for professionals who want to get involved in the fascinating world of crypto. Short-term trading opportunities arise as a result of increased volatility and thanks to the services provided by this brand people can take advantage of both bullish and bearish conditions.
As the cryptocurrency industry continues to grow, 7Online holds a leading competitive advantage over other brands, given it has one of the most diversified crypto-asset lists in the industry.
Please be advised that certain products and/or multiplier levels may not be available for traders from EEA countries due to legal restrictions.
---
---