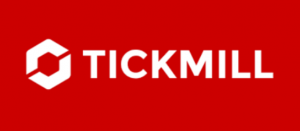 Tickmill continues to grow from strength to strength by offering traders just what they need to be successful in the markets.
This secure framework acts as a base for some of lowest cost trading in the market with trade execution backed up by some very impressive behind the scenes infrastructure designed to offer the best access to the financial markets.
Read the full review of Tickmill
ForexFraud.com does not recommend
24Option
. To see our recommended brokers
click here
.

Expert Summary
Based in Limassol, Cyprus, 24Option is one of the new generations of online brokers who have burst onto the scene in the last decade. Since being founded in 2010, 24Option have gone from strength to strength, and it is now one of the leading mid-size brokerages. Although initially establishing itself as primarily a full-service forex broker, it has since expanded their service offerings as of 2016 to include a wider range of forex, CFDs, commodities, stocks, and indexes.
But how does 24Options perform when it comes to actually trading on the platform? In general, the trading conditions are very favourable across the four different account types, which include Basic, Gold, Platinum, and VIP. No matter what type of trader you are, there is an account type to suit your trading style and approach. The VIP account type offers the most competitive spreads of the four, with the Basic account type having spreads slightly higher than the industry average, although it benefits from relatively low minimum account deposits.
Trading is conducted using the MetaTrader 4 (MT4) platform that has become all but standard issue across the industry. As such, there are no real surprises here! Having said that, 24Option also provides an option to use the 24Option Desktop Platform, which makes a nice break from MT4 for those of you looking for something a little different. For those of you hoping to take your trades on the go, a number of different options are available, including both the MT4 mobile app as well as a native mobile app.
As a broker committed to expanding the trading opportunities for their clients, 24Option had put in place a comprehensive education and learning system.
The system includes a well-rounded library of video-on-demand webinars, daily news reports and analysis, an economic calendar, trading eBooks, as well as technical and fundamental analysis resources. As such, 24Option is an excellent option for those newer traders amongst you looking to level up your trading skills.
When it comes to customer trust and safety, as it is registered in Cyprus, 24Option come under the regulatory oversight of the CySEC regulator—one of the most prominent financial regulators in the European Union. As such, 24Option are required to abide by all the customer protection regulations we would expect from a CySEC regulated entity, including keeping client funds in segregated accounts.
As an extension of the high levels of customer safety measures in place, 24Option also have a comprehensive system in place for customer support, and the customer support team itself is incredibly professional and responsive. Additionally, 24Option also has a comprehensive FAQ section of their website, which should solve most basic account queries you might have.
With that said, 24Option packs a lot of punch for a broker of their size. Although the trading conditions are about what we would expect for a mid-sized broker, the provision of a comprehensive library of learning materials and educational resources, as well as the professional customer support team, help to elevate the trading experience significantly.
Based in Limassol, Cyprus, award winning online broker 24Option has been providing trading services since 2010. 24Option is a full service forex broker that recently expanded their services in December of 2016 to include trading in forex, CFDs, commodities, stocks and indexes.
24Option is owned by Rodeler Limited, which is regulated in Cyprus by the Cyprus Securities and Exchange Commission or CySEC under the CIF License number 207/13.
The company offers its services on a cross border basis to EU member states, which permit the provision of its services in their jurisdictions. Due to the company's regulatory obligations, client funds are safeguarded by being deposited in segregated bank accounts.
The company is located at #39 Kolonakiou Street, Ayios Anthanasios Limassol, CY-4103 in Cyprus.
24Option is not currently active in the United States, so 24Option does not accept customers based there.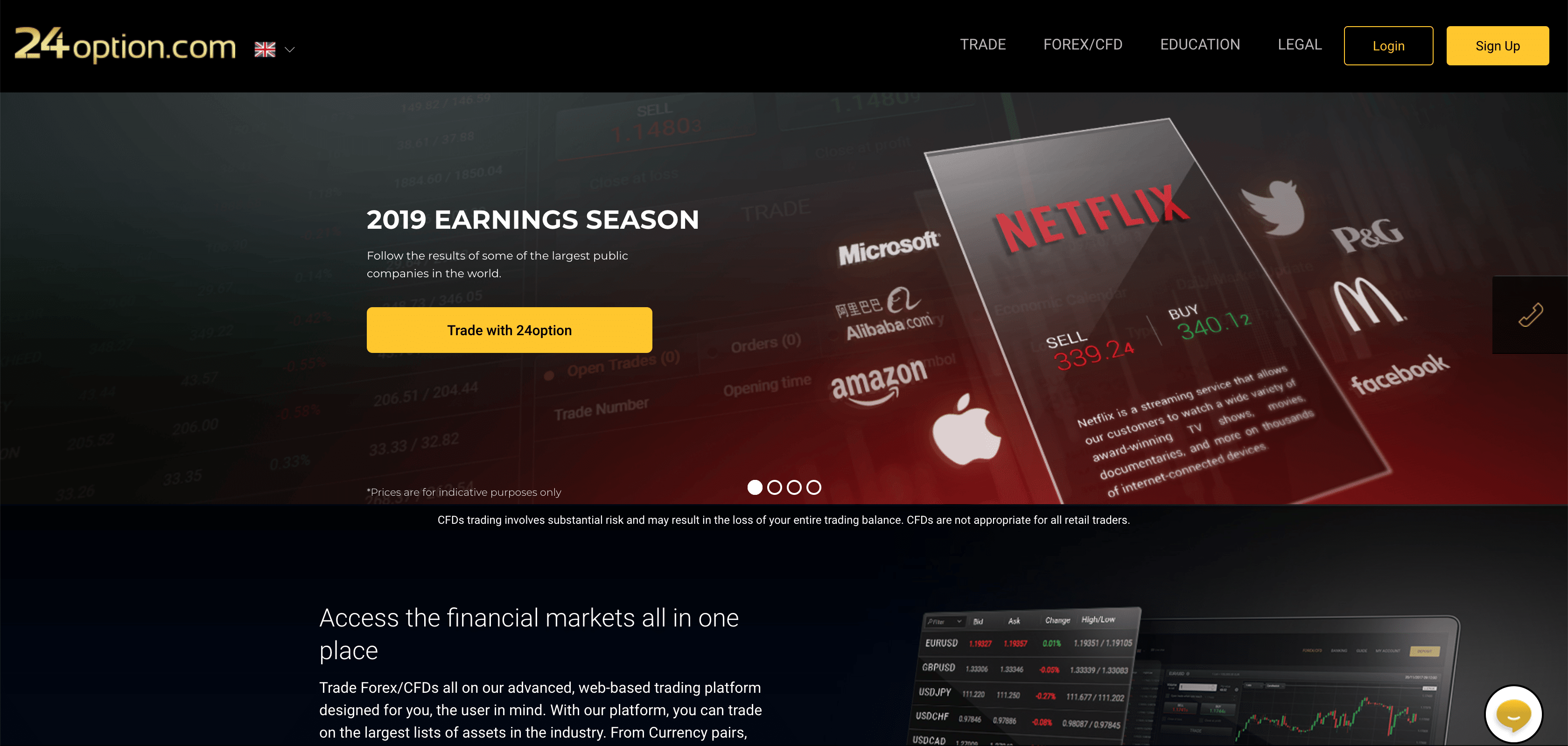 Unique Features of Trading with 24Option
24Option offers traders a wide range of underlying assets carefully selected to accommodate traders from around the world. The list includes CFDs on equity indexes from the world's biggest economies, including the Dow Jones Industrials, NASDAQ, DAX, FTSE, MICEX and TADAWUL. CFDs are also offered on popular U.S. technology stocks like Google, Facebook and Apple, as well as on the stocks of the largest banks in Europe and Russia, such as Barclays, Deutsche Bank and Sberbank.
The company's recently added a forex and CFD brokerage service, offering up to 400:1 leverage for forex trades, although restrictions apply on trading some currency pairs. 24Option offers trading in all major and minor currency pairs that include key currencies from nations around the world, like the EUR, USD, JPY, GBP, AUD and CHF, as well as exotic currency pairs. Traders with 24Option have the ability to trade via its proprietary platform, in addition to MetaTrader4 and on mobile devices using the iOS and Android operating systems.
Much like other forex online brokers, the company does not charge its clients commission, relying instead on widening a currency pair's dealer spread to compensate themselves. 24Option offers quite competitive dealer spreads that depend on the customer's account type.
Trading Software
In addition to allowing traders to use the popular MetaTrader4 platform developed by MetaQuotes, 24Option has developed their own dedicated trading platform in-house, which includes many interesting features not found on other trading platforms and that were previously unavailable on the company's previous web-based platform.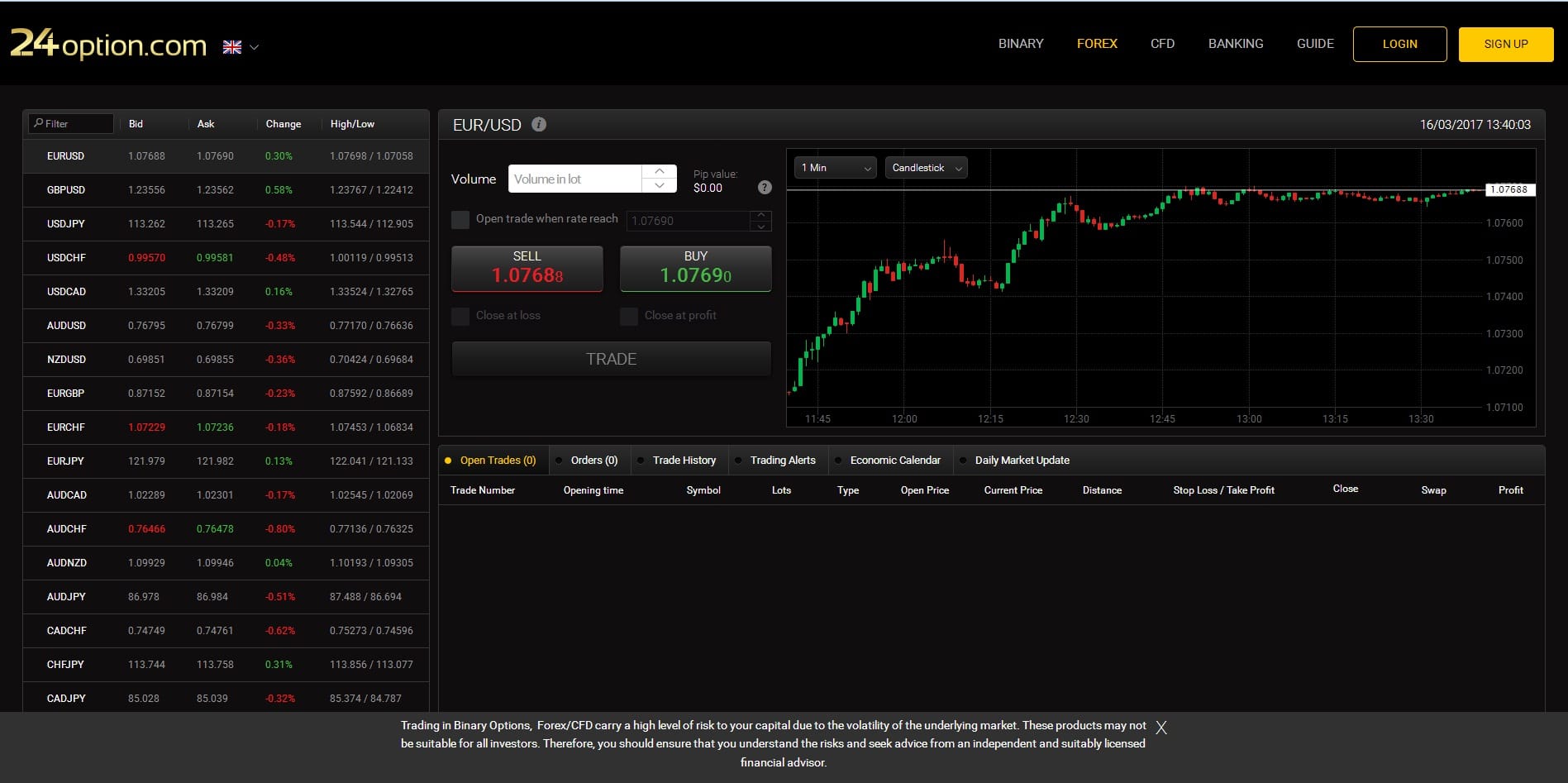 Deposits and Withdrawals
The various 24Option account types are assessed and upgraded for each client according to an account manager's evaluation. They include these types:
Basic – the 24Option Basic account requires a minimum deposit of €250, £250, ¥25,000 or RUB 10,000. Offers 1 basic lesson, daily news, trading central with sms alerts. EURUSD pips are at 2.3 and the leverage is 1:30. Outside of EU the leverage is 1:500 for all accounts.
Gold – The minimum deposit is EUR/GBP 5,000 Offers 2 basic lessons, 1 monthly webinar, daily news, trading central with sms alerts. EURUSD pips are at 1.8 and the leverage is 1:30.
Platinum – min deposit for Platinum account is EUR/GBP 10,000. In addition it offers 3 advanced lessons, 2 monthly webinar, daily news, trading central with sms alerts. EURUSD pips are at 1.4 and the leverage is 1:400.
VIP – minimum deposit is EUR/GBP 50,000. In addition it offers 5 advanced lessons, 5 monthly webinar, daily news, trading central with sms alerts. EURUSD pips are at 0.9 and the leverage is 1:400.
Outside of EU the leverage is 1:500 for all accounts.
The minimum deposit to open a live 24Option forex account is  250 EUR, 250 GBP, 1200 ZAR, 10K RUB and 250 USD, with a minimum transaction size of  EUR/GBP 0.01 lot. Deposits to fund a 24Option live account can be made via credit card: the company accepts Visa, MasterCard and Discover, through Skrill electronic payment and through bank wire transfers. The company also accepts UCash, Neteller, Qiwi, Sofort, WebMoeny and PaySafe, to name just a few, but they do not accept PayPal payments.
The minimum deposit for a credit card is 250 EUR, 250 GBP, 1200 ZAR, 10K RUB, 250 USD. Deposits can be made in the following currencies: EUR, GBP, USD, RUB, ZAR. For an electronic payment minimum deposit amounts are: €250, £250, ¥50,000 and RUB 10,000, while for a bank wire transfer, they are £1,000, €1,000 and ¥100,000.
24Option also has some maximum deposit amounts, which is a daily limit of 10,000 Euros or Sterling and ¥100,000 for credit cards, and a monthly limit of 40,000 Euros or Sterlingand ¥4,000,000.
For withdrawals, the customer must first verify their account with a copy of a government issued identification such as a passport or driver's license, proof of residence in the form of a utility bill and a copy of both sides of their credit card if that is where the withdrawal is being made to. This verification process needs to be repeated every time a new payment method is used.
Withdrawal requests are processed during normal Cyprus business hours from Monday through Thursday between 9:00 am and 4:00 pm and between 9:00 am and 1:30 pm on Friday. Basic account has 1 free withdrawal fee. Gold has 1 free monthly withdrawal. Platinum has 3 monthly free withdrawals. VIP has no fees at all.
Customer Support
24Option's customer service department offers 24/5 live chat and email support, with telephone assistance in 12 countries. Their proprietary trading platform is also translated into 13 languages. The live chat attendant seemed rather slow to respond when tested several times.
In addition to its customer support department, the company offers a wide range of educational materials, such as daily market news and updates, live webinars and interactive eBooks. Their Trading Central feature allows clients to access third party market analysis and historical data. 24Option also provides videos on demand, with available topics including courses for intermediate and advanced trading in CFDs and forex.
Safety
In addition to its CySEC oversight, which ensures the broker is regulated in the European Union, 24Option is also a member of the Investment Compensation Fund, which gives each trader protection of up to €20,000 if the broker cannot fulfill its obligations.
The broker did have a recent issue with CySEC that reportedly resulted in a fine and citation in January of 2016, although it appears that they have now addressed most of those problems.
Conclusion
24Option is a well-established and regulated forex and CFD and commodities broker with an extensive array of tradable underlying assets and a unique, secure, state of the art trading platform. The company offers telephone support in 12 countries, and its trading platform has been translated into 13 languages.
In addition to offering traders, the customer service personnel is courteous and professional, although they seem rather slow to answer their live chat service.
The company's trading platform has an intuitive interface. Also, the broker offers novice traders an extensive educational program. Nevertheless, the company does not extend its services to traders in the United States. To try 24option for free the demo account is accessible with no deposit and free.
Please be advised that certain products and/or multiplier levels may not be available for traders from EEA countries due to legal restrictions.
---
---