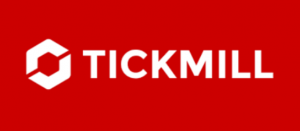 Tickmill continues to grow from strength to strength by offering traders just what they need to be successful in the markets.
This secure framework acts as a base for some of lowest cost trading in the market with trade execution backed up by some very impressive behind the scenes infrastructure designed to offer the best access to the financial markets.
Read the full review of Tickmill
ForexFraud.com does not recommend
1Market
. To see our recommended brokers
click here
.
Pros:
Regulated by CySEC
Innovative new trading features
Choice of two high-spec trading platforms
Neat Social trading ideas
Cons:
The high minimum account balance needed to unlock some features
Still building its total number of markets
Experts' Viewpoint
An increase in the number of people looking to trade the markets has resulted in many new brokers entering the sector. One of the new entrants, 1Market looks particularly well equipped to stand out from the crowd and to build market share. Launched in 2021 it matches innovative features with a strong regulatory framework. Operating under licence from CySEC means, at least as far as EU based clients are concerned, that it's hard to find a broker with a more diligent approach to financial regulations.
The Forex Fraud team rate 1Market as a trusted broker but it's more than a safe pair of hands. The 1nsight is a next-generation sentiment tool. Powered by powerful algorithmic models it scans the trading activity of thousands of traders across a variety of asset groups to provide 1Market clients with a feel for the markets.
The broker's platform has a neat user-friendly functionality that will appeal to beginners and is also equipped with enough powerful software tools to make it attractive to more experienced traders. Whichever of the two trading platforms you choose the trade execution process is straightforward and reliable. To top it all off the T&Cs are in line with the peer group and the broker also supports copy trading.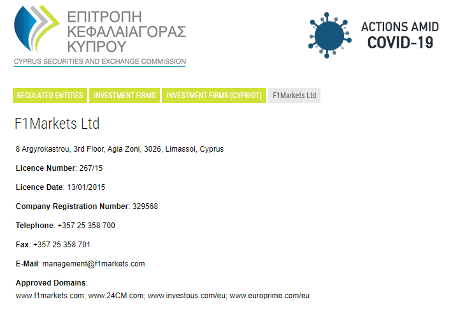 There are some elements of the 1Market package which look like they might be adjusted as and when the business settles into a rhythm. They aren't major concerns, and all start-ups need room to grow. 1Market could well develop into a broker with a very specific and highly appreciated niche.
1Market operates under CySEC licence no. 366/18. A link to the regulator's site, for up-to-date information on the firm's status, can be found here. As a lot of new entrant brokers don't start with approval from a Tier-1 authority it's safe to try out the free Demo account on offer. If only to get an idea of the fresh take to trading that 1Market provides.
Broker Summary
1Market is a Cyprus based and CySec regulated online broker which entered the EU broker market in 2021.
1Market is a brand owned and operated exclusively by Cyprus based firm Exelcius Prime Ltd. It adheres to MiFID II (Markets in Financial Instruments Directive) standards as laid out in European Union law that oversees safe-practice regulations and standards for financial and investment firms within the EEA.
As a European financial services provider, 1Market is also regulated and licensed by the Cyprus Securities and Exchange Commission (CySEC) under L. 87(I)/2017. That licence permits it to provide investment services and take part in investment activities.
Part of compliance with the terms of its CySEC licence involves 1Market adhering to laws relating to Anti-Money Laundering (AML). This supplies a layer of added protection for clients. Rules state that funds paid into your brokerage account at 1Market can only be returned to the account from which they came. The broker is not allowed to forward funds to anyone else. That tackles the tricky problem of money laundering but also reduces the risk of a scammer getting into your account and diverting funds to a fraudulent account.
Broker Introduction
1Market has worked hard to position itself as a legitimate broker. The licence from the Cyprus regulator means 1Market has to comply with a strict set of rules and regulations, not least that the firm has to maintain a minimum balance of operational capital of EUR 730k. That is intended to ensure it can meet any demands from clients in terms of outstanding payments on trade. The reporting it has to carry out as part of its compliance procedures also provides clients with a sense of security and includes audits of the entire business being carried out by external parties. As CySEC is an EU based regulator a range of broader consumer protection rights such as the Investor Compensation Fund also applies.
In terms of user experience, the social trading area of the site is particularly useful. It helps clients formulate trading ideas and to spot trade entry points in the market. Following the herd isn't a guaranteed way to make profits but the 1nsight feed at least allows traders to spot the direction in which the markets are heading.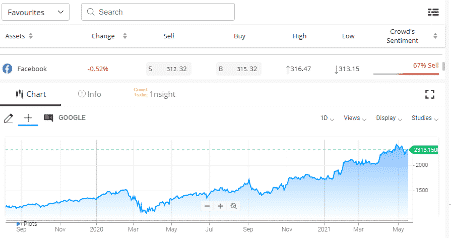 Spreads and Leverage
1Market isn't a no-frills broker – it doesn't set out to compete with brokers which offer marginally lower trading costs but little else. Even so, its market pricing is in line with the peer group and some traders will appreciate that fixed rather than variable spreads are offered. Fixed spreads do tend to be slightly wider than variable ones, but they do have the benefit of being constant. That means that regardless of market conditions, users can trade with confidence and know what their costs are going to be. One of the knock-on effects of this is that it's easier to design well thought out strategies that factor trading costs into the cost-benefit analysis.
Leverage terms can be set on a trade-by-trade basis which scores 1Market significant points in terms of tailoring its service to meet the needs of clients. This is a useful feature and reflects the broker's appetite for making the most of recent upgrades in terms of what trading platforms can offer traders. Risk management suddenly becomes a lot more effective when the tools to implement it are readily accessible.
1Market offers traders the chance to access a range of asset groups including, Forex, Stocks, Crypto, Commodities, ETFs and Indices. There are more than 600 instruments to trade: an impressive starting point for a new broker.
Platform and Tools
There are two first-rate platforms on offer at 1Market as well as a selection of high-grade third-party research services.
MT5
The ever-popular MetaTrader MT5 is well known and well-thought-of in the trading community. Its default settings include more than 30 indicators and there is a dedicated area of the site for traders to develop their Custom Indicators. It's also possible to download indicators that have been developed by other users, often free of charge. The crowd-sourcing feel to platform development has resulted in MT5 users having a dazzling array of technical tools to choose from with these five being our pick of the bunch: Fractal Adaptive Moving Average (often referred to as FRAMA), BB MACD, Market Facilitation Index (or BW MFI), CCI Arrows Indicator and the Trade Assistant MetaTrader Indicator.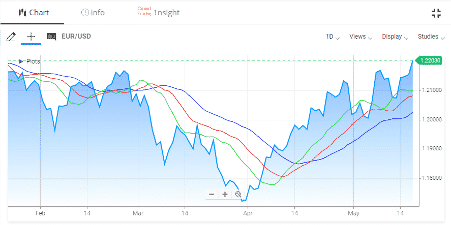 WebTrader
The WebTrader platform is an in-house product that holds its own in comparison to MT5. It just goes about things differently. The aesthetics of the WebTrader platform are very appealing and the studies available on that platform's charts are as high quality as those on the MetaTrader product. The powerful charting and technical analysis tools graphics are presented in a user-friendly way which makes the platform ideal for beginners.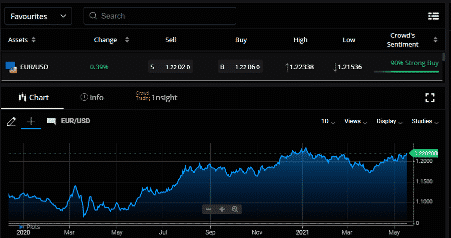 Filters on the WebTrader platform allow clients to sort stocks using a variety of metrics. If you're looking to develop some strategies based on equity yield for example, then the Dividend Yield function will help you to find the names you need for your shortlist. The final plus point for this impressive proprietary platform is that it offers excellent trade execution speeds.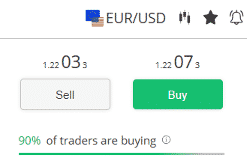 Mobile Platform
Both desktop and phone App versions of the WebTrader platform have a crisp and clear appearance and navigation around the platform is highly intuitive.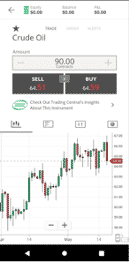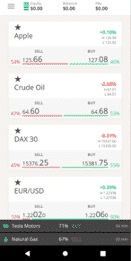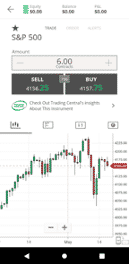 The market sentiment indicators which are one of 1Market's strongest selling points are available on the desktop platform but they come into their own on handheld screens. They supply an instant snapshot of market mood and time-stamp results so you can see who is buying and selling and how that number has changed over time. The powerful algorithms behind the service do a lot of the heavy lifting for 1Market clients and allow users to trade with confidence while on the go.
Research
The third-party research service, Trading Central, is provided to 1Market clients who deposit $1,000 or more. Trading Central is a high-end product that provides detailed, trade-orientated technical research on a range of markets and asset groups. It's easy to use and specialises in identifying trade entry and exit points – something which all traders need help with.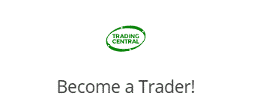 Commissions & Fees
Trading the markets can be tricky and giving up hard-earned gains on administrative costs is to be avoided. For that reason, 1Market's approach to cash transfer fees is most welcome. The broker doesn't apply charges on cash deposits or withdrawals (though your third-party payment agent might).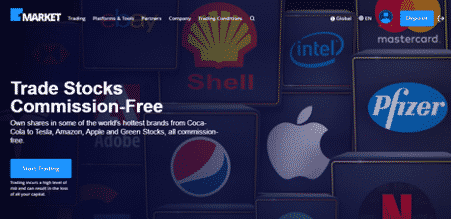 Overnight financing fees are part and parcel of CFD trading but once again the 1Market T&Cs are in line with the competition. The fact that they offer ETF trading, which is typically longer-term in nature, is a sign they're well-positioned to offer cost-effective exposure to the financial markets.
Education
There is a lot of support material available on the 1Market site. As with many other features, they've added a few twists which make it stand out from the standard package. It's possibly fair to start by mentioning the positives.

The Economic Calendar is something of a game-changer. That's not often said because the standard template is just a list of upcoming events. Demonstrating their willingness to give traders what they want, 1Market have added into their calendar a 'Consensus' number based on analyst forecasts and 'Previous' for the last reported numbers. Trading activity off the back of an announcement depends on whether the number exceeded or missed expectations and how much it's changed since last time. 1Market's lead on this is a simple upgrade but a really useful one, which other brokers would do well to follow.

The Financial News report provides up-to-date market insight in a handy video format. This appears designed to appeal to those who commute. It will certainly help that group catch up with the markets while on the move. The written Daily Market Reports also covers market events but introduces charts and key technical analysis indicators. Both reports cover a variety of asset groups and the financial markets in general.
There isn't as much basic educational material as at some other brokers. Nor are there broker led webinars designed to develop trader skills and knowledge. The FAQ section of the site goes some way to filling the gap and clients can always search other sites to find free learning materials. It might be that 1Market is looking to develop this area of the site in the future. It is worth remembering the broker is a new entrant and most firms do take months and years to build a full suite of educational resources.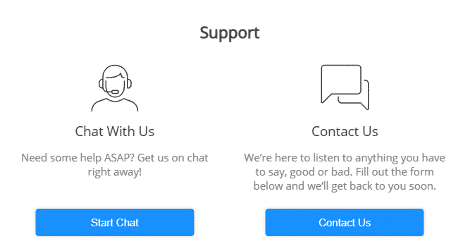 Customer Service
Customer support is offered round-the-clock during market hours. The 1Market support team can be contacted via telephone, Live Chat and the site online messenger service. The team are available on a 24/5 basis. That is a plus point and is the level of service associated with bigger and more established brokers. During testing we found the staff to be knowledgeable and professional.

Final Thoughts
1Market is an impressive new entrant. There have been a lot of broker start-ups of late but 1Market stands out from the group. It has designed its operations to be secure and reliable. There is also a range of innovative features which some clients will find particularly useful. The high minimum balance of $1k required to unlock all the features might put some off. If you do have those funds available and are looking for a trusted broker, then 1Market is worthy of being on your shortlist of candidates.
Broker Details
1Market is regulated by the Cyprus Securities Exchange Commission (CySEC), an authority recognised globally as being Tier-1. Non-EU/Global clients fall under the regulatory protection of the Global Financial Services Authority (GLOFSA), in the Marshall Islands.
1Market.com is owned by Podora LTD, Trust Company Complex, Ajeltake Road, Ajeltake Island, Majuro, Marshall Islands MH96960.
1Market.eu is a trading name of Exelcius Prime Ltd, a Cyprus Investment Firm authorised and regulated by the Cyprus Securities Exchange Commission (CySEC) with licence number 366/18, incorporated and found at 254 Archiepiskopou Leontiou A, MAXIMOS COURT A, Floor 7, Office 73 & 74, 3020 Limassol, Cyprus.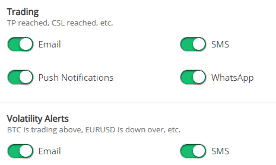 Contacts
Contact Information Telephone: +447723861200
Contact Information email: [email protected]
Live chat is available on the 1Market site.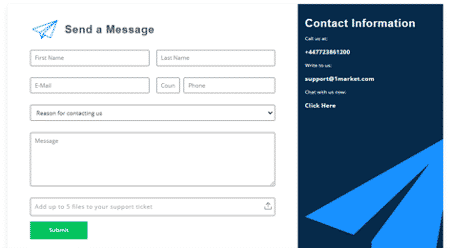 FAQs
How can I open an account with 1Market?
The account opening process is completed online and the first step involves clicking here. To comply with regulatory rules the broker will ask you to supply certain information about yourself and to upload proof of identity. Once your account is verified, usually by email, you are then in a position to send funds to it and start trading.
How do I withdraw money from 1Market?
To withdraw funds, simply log in, head to the administration area of the platform which is found on the left-hand side of the screen. Enter the amount you want to withdraw and click to confirm. Funds can only be returned to the account from which they were initially received and 1Market does not apply charges on withdrawals.
How can I change leverage with 1Market?
You can set your leverage on a trade-by-trade basis. So, if there is market volatility you can scale back on risk by scaling back on leverage, and vice versa. To make adjustments, go to 'Additional Position Settings' and select 'Leverage', then choose the level of leverage that matches your risk preference.
Is 1Market a regulated broker?
Yes. Clients in the EU will be protected by CySEC licence no. 366/18 which the broker holds. The Marshall Islands regulatory authority covers global clients.
Please be advised that certain products and/or multiplier levels may not be available for traders from EEA countries due to legal restrictions.
---
---