---
We last reviewed the USDCAD and USDJPY Forex rate on 29th April here and highlighted intermediate-term bullish themes for both currency pairs.
However, an early May shift to a "risk off" phase, with global equity markets significantly selling off, has seen the Japanese Yen rally as a safe haven, pushing USDJPY lower through key 109.69/66 supports, for an intermediate-term bearish theme.
However, recent rebound activity by global equity averages sets a positive recovery bias for USDJPY.
The USDCAD FX rate has retained a positive consolidation theme since late April and keeps bot the short- and intermediate-term risks to the upside.
USDJPY correction bias higher
A dip and a rebound Friday through 110.05 resistance, building on Thursday's firm advance (then driven higher by strong equity market recoveries) after last week's rebound from new 108.99 support, keeping the bias higher Monday.
The May surrender of 109.66 set an intermediate-term bear trend.
For Today:
We see an upside bias for 110.19 then quickly aims for 110.27; break here aims maybe towards 110.67/73.
But below 109.47 opens risk down to 108.99 and 108.85.
---
Intermediate-term Outlook – Downside Risks: We see a downside risk for 108.47.
Lower targets would be 107.74 and 106.72/55.
What Changes This? Above the resistance gap at 110.95-111.04 shifts the outlook back to neutral; above 112.40 is needed for a bull theme.
---
Resistance and Support:
| | | | | |
| --- | --- | --- | --- | --- |
| 110.19 | 110.27* | 110.67/73* | 110.95-111.04*** | 111.70** |
| 109.47 | 108.99/85* | 108.47*** | 107.97* | 107.74* |
---
4 Hour Chart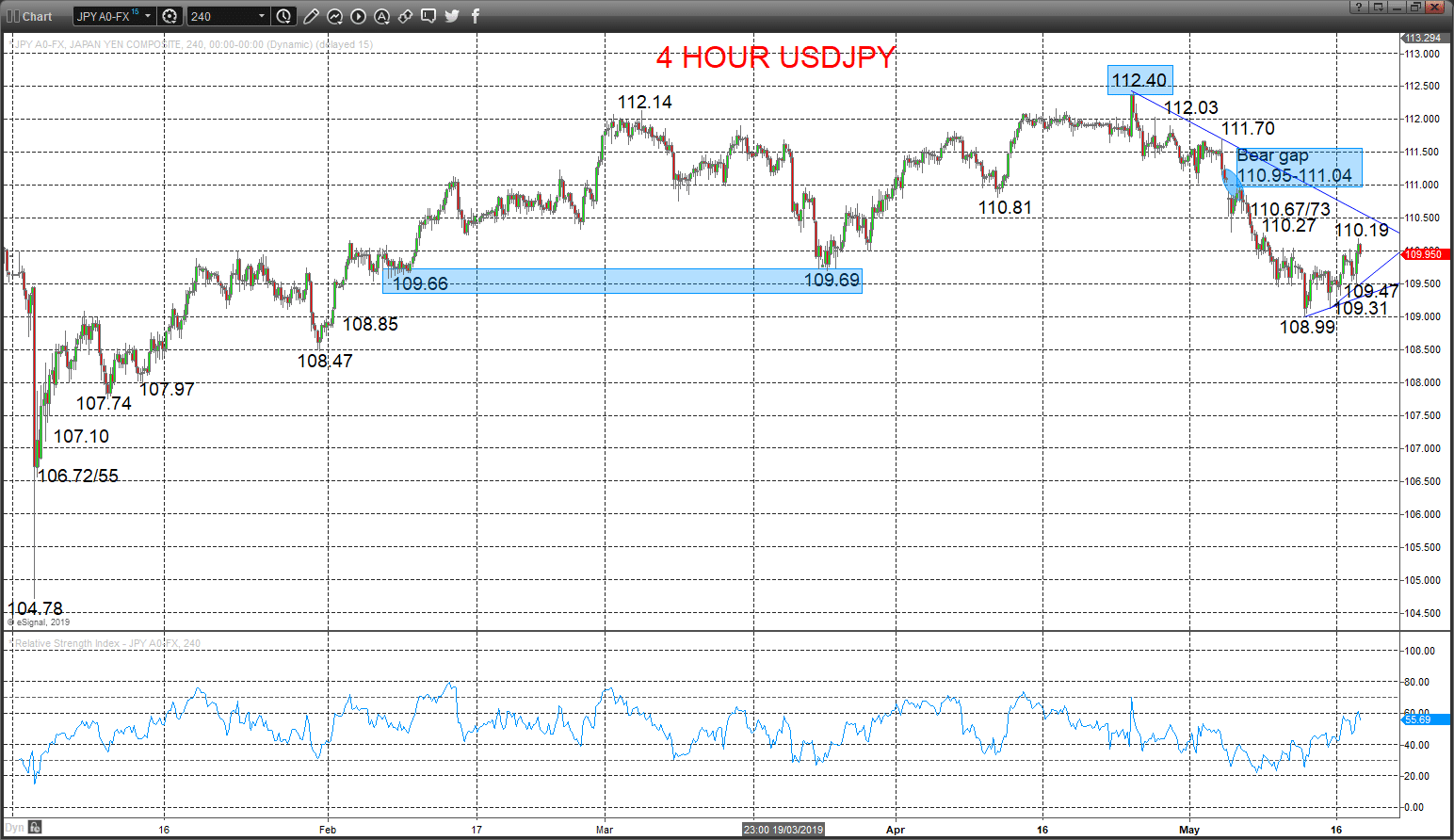 USDCAD still a positive theme
A whipsaw session Friday with a surge up through 1.3505 to then stall and setback from just below 1.3521 (from 1.3513) but sustaining upside pressures from the rebound from above the 1.3374/71 support area (from 1.3394), to keep risks higher for Monday.
The early March surge through 1.3375 set an intermediate-term bull trend.
For Today:
We see an upside bias for 1.3483/85; break here aims for 1.3513/21.
But below 1.3394 aims for 1.3374/71 and maybe 1.3331.
---
Intermediate-term Outlook – Upside Risks: We see an upside risk for 1.3665.
Higher targets would be 1.3794 and 1.4000.
What Changes This? Below 1.3246 shifts the outlook back to neutral; through 1.3110 is needed for a bear theme.
---
Resistance and Support:
| | | | | |
| --- | --- | --- | --- | --- |
| 1.3483/85 | 1.3513/21* | 1.3567 | 1.3618* | 1.3665*** |
| 1.3394 | 1.3374/71** | 1.3331 | 1.3270* | 1.3246*** |
---
4 Hour Chart