The US Dollar has been under still more negative pressure, that has been emerging throughout March, with more aggressive losses versus the Euro and Japanese Yen since the FOMC Meeting on Wednesday 16th March.
We now see bias for a further EURUSD gains and USDJPY losses through late Q1 and likely into early April.
EURUSD
Despite the corrective, consolidation dip lower Friday, solid support at 1.1204/1.1190 has held, which leaves a rebound bias into Monday.
Moreover, the strong Thursday rally, after the dip and bounce through the FOMC decision on Wednesday from just below 1.1078/76 support (from 1.1055) maintains a bullish tone for latter March.
Short/ Intermediate-term Outlook – Upside Risks: A strong rally through the 10/03 ECB Meeting through 1.1157 shifted the intermediate term outlook to bullish.
We see a positive tone with the bullish threat to 1.1376/95.
Above here targets 1.1495 and maybe 1.1714.
What Changes This? Below 1.0821 signals a neutral tone, only shifting negative below 1.0708.
For Monday/Tuesday:
We see an upside bias for 1.1342; break here aims for the key 1.1376 peak, 1.1395 level, maybe even closer to a key range high at 1.1495.
But below 1.1250 aims for 1.1204/1.1190, which we would look to try to hold.
Daily EURUSD Chart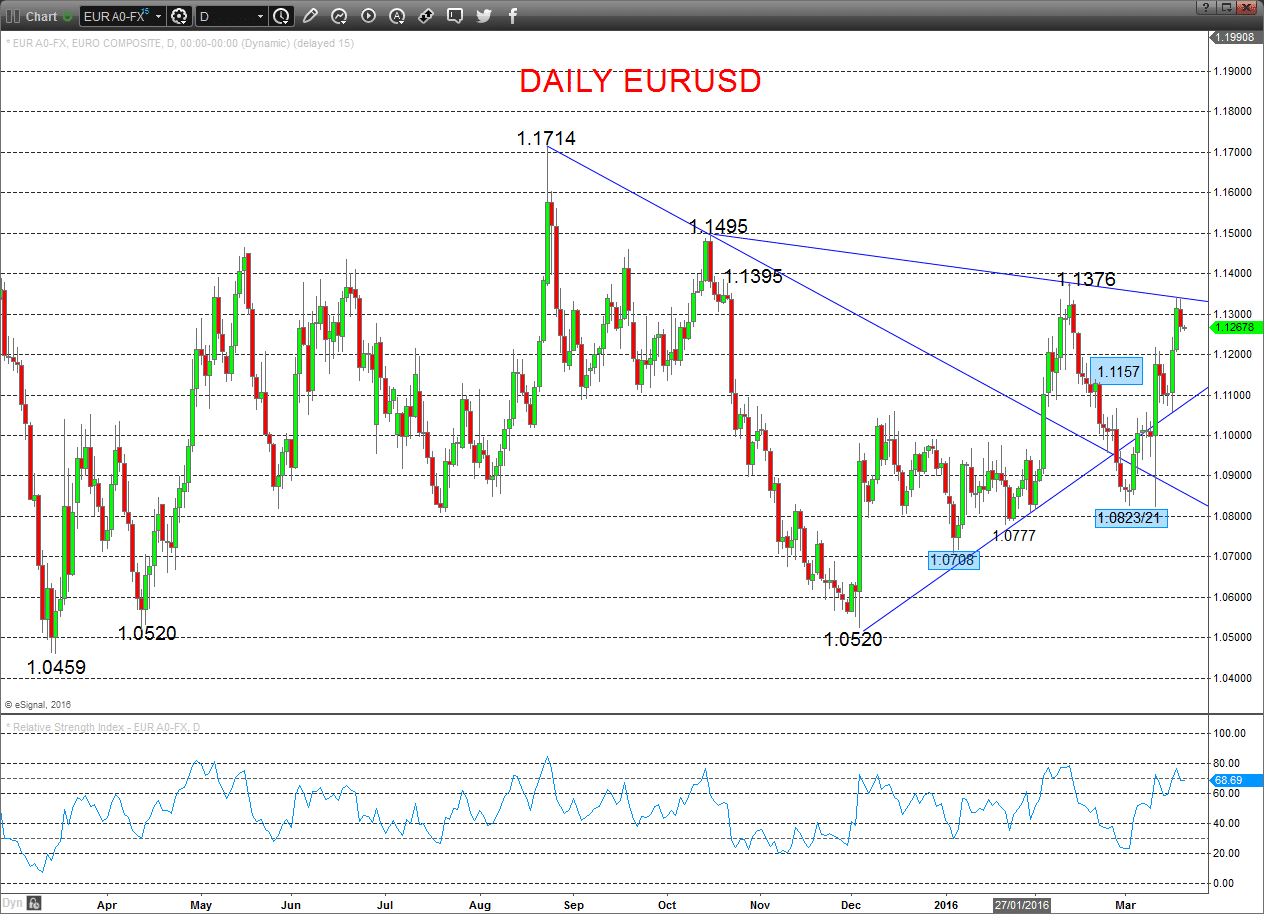 USDJPY
A low level consolidation on Friday of the aggressive bearish breakdown Thursday to surrender the 110.97 cycle low from February, to re-energise the intermediate-term bearish trend.
In addition, the previous setbacks from ahead of 114.14, 114.55 and key 114.88 resistances (from 113.82) leaves the risks lower for Monday.
Short/ Intermediate-term Outlook – Downside Risks:
We see a negative tone with the bearish threat to 110.33/00.
Below here targets 106.65/12.
What Changes This? Above 114.88 signals a neutral tone, only shifting positive above 117.53.
For Monday/Tuesday:
We see a downside bias for 110.63; break here aims for key 110.33 and 110.00 targets.
But above 112.00 opens risk up to 112.96.
Daily USDJPY Chart