---
A strong US dollar tone has emerged since the US Presidential election result on Wednesday (9th November), with the US currency gaining against most of the major global currencies into mid-November. Moreover, this has generally just reinforced an intermediate-term bullish tone, exhibited by the US currency in Q4.
For USDJPY, the aggressive dip and rebound seen through the US election result has highlighted upside risk from the previous Double Bottom pattern and leaves the threat still higher into November (and potentially for year-end).
For EURUSD, the spike higher through the middle of last week (through the election result) and aggressive plunge back lower from 1.1300, leaves risk for a far more negative tone into November and likely on into December.
USDJPY
A dip and a rebound from just below support at 106.20 on Friday (from 105.99 ahead of next support at 105.45), to leave the risk for still further upside pressures into Monday.
Moreover, the aggressive sell-off a rebound through the US Presidential election has left the intermediate-term tone still bullish.
For Monday:
We see an upside bias for 106.95 and a psychological/option target at 107.00; break here aims for a critical peak at 107.49, maybe even higher towards 107.90.
But below 105.99 opens risk down to 105.45, maybe even to 104.93, which we would look to try to hold.
Short/ Intermediate-term Outlook – Upside Risks:
We see a positive tone with the bullish threat to 107.49 and 107.90.
Above here targets 109.26, 110.00, 111.45 and 111.89.
What Changes This? Below 102.97 eases intermediate-term bull risks; through 101.15 signals a neutral tone, only shifting negative below 100.07.
Daily USDJPY Chart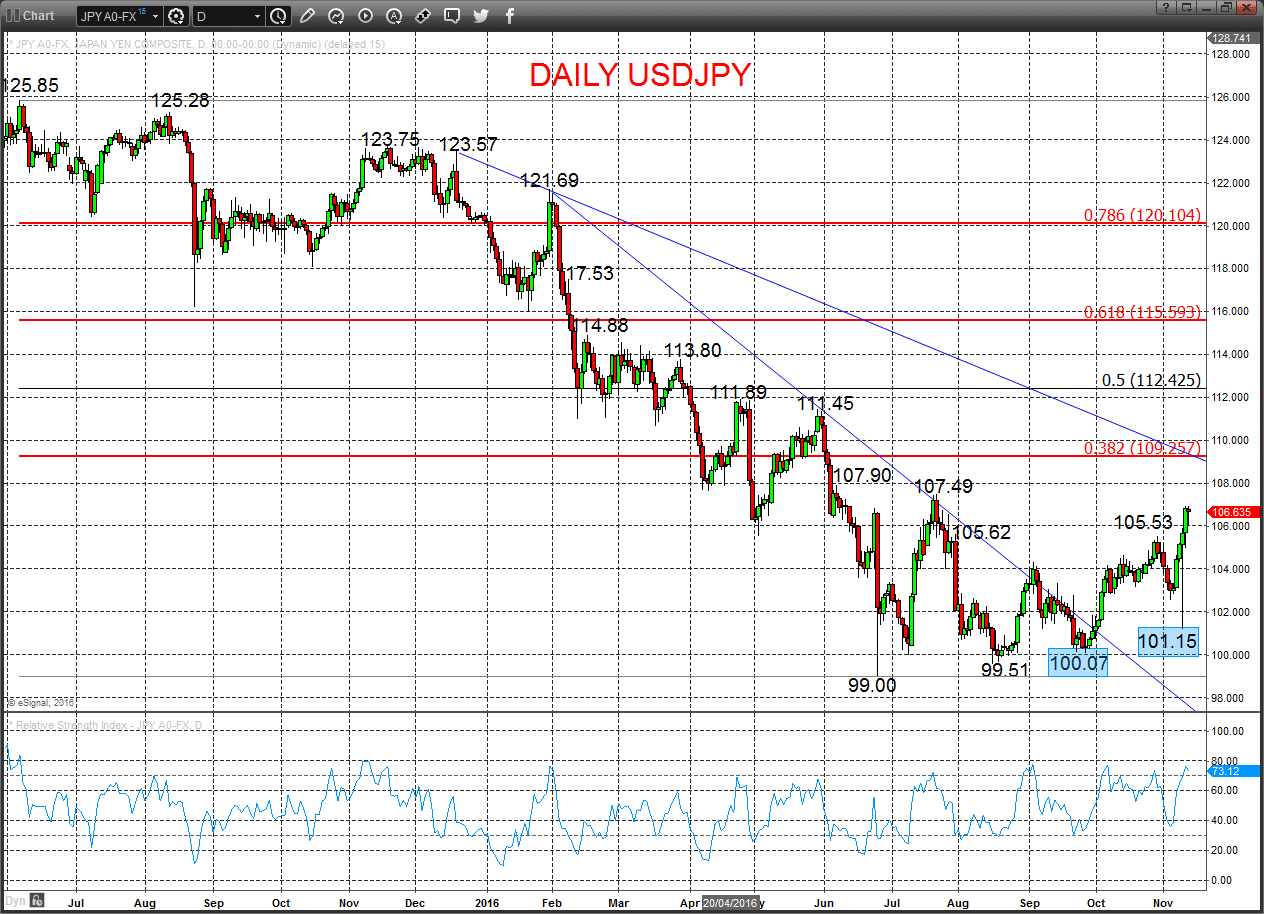 EURUSD
Another push to the downside on Friday as we had indicated through the late October bear move low at 1.0848, with the rebound effort failing ahead of resistance established at 1.0954/60 (back from 1.0920), to leave risk of further losses into Monday.
Furthermore, the aggressive Wednesday sell-off back through 1.0987 signalled an intermediate-term shift back to a bearish theme.
For Monday:
We see a downside bias for 1.0823/21; break here aims for 1.0777, maybe 1.0708.
But above 1.0920 aims through 1.0954/60 and opens risk up to 1.1036.
Short/ Intermediate-term Outlook – Downside Risks:
We see a negative tone with the bearish threat to 1.0823/21.
Below here targets 1.0777/08 and maybe 1.0520.
What Changes This? Above 1.1300 signals a neutral tone, only shifting positive above 1.1366.
Daily EURUSD Chart