---
When last looking at NZDUSD and AUDUSD spot Forex rates on 15th October we highlighted risks for an easing of intermediate-term bear trends and even for bullish shifts.
Latter October and early November "risk on" activity across global asset classes has allowed for firm rallies for both NZDUSD and AUDUSD currency rates.
The NZDUSD surge through the .6618 swing peak has established an intermediate-term bullish theme.
For AUDUSD, the early November rally above .7159 created a double Bottom and an intermediate-term base and broader range theme, BUT with the asymmetrical bias currently towards an intermediate-term bull switch, only on a break up through .7315.
NZDUSD Intermediate-term bull shift and upside risks reinforced
A push still higher Friday above minor .6680 resistance, to reinforce Thursday's surge through the key .6618 level, to leave risks for further gains Monday.
The early November aggressive surge above .6618 set an intermediate-term bull trend.
For Today:
We see an upside bias through .6673/74; break here then aims for .6689 and the key .6696/99 swing highs, maybe even the peak at .6727.
But below .6614 targets .6575, maybe towards .6551.
Intermediate-term Outlook – Upside Risks: We see an upside risk for be .6696/99.
Higher targets would be .7060, .7437 and .7558.
What Changes This? Below .6461 shifts the outlook from bullish straight back to a bear theme.
Resistance and Support:
| | | | | |
| --- | --- | --- | --- | --- |
| .6673/74 | .6689 | .6696/99*** | .6727*** | .6763** |
| .6614 | .6575* | .6551 | .6516/10** | .6489* |
4 Hour NZDUSD Chart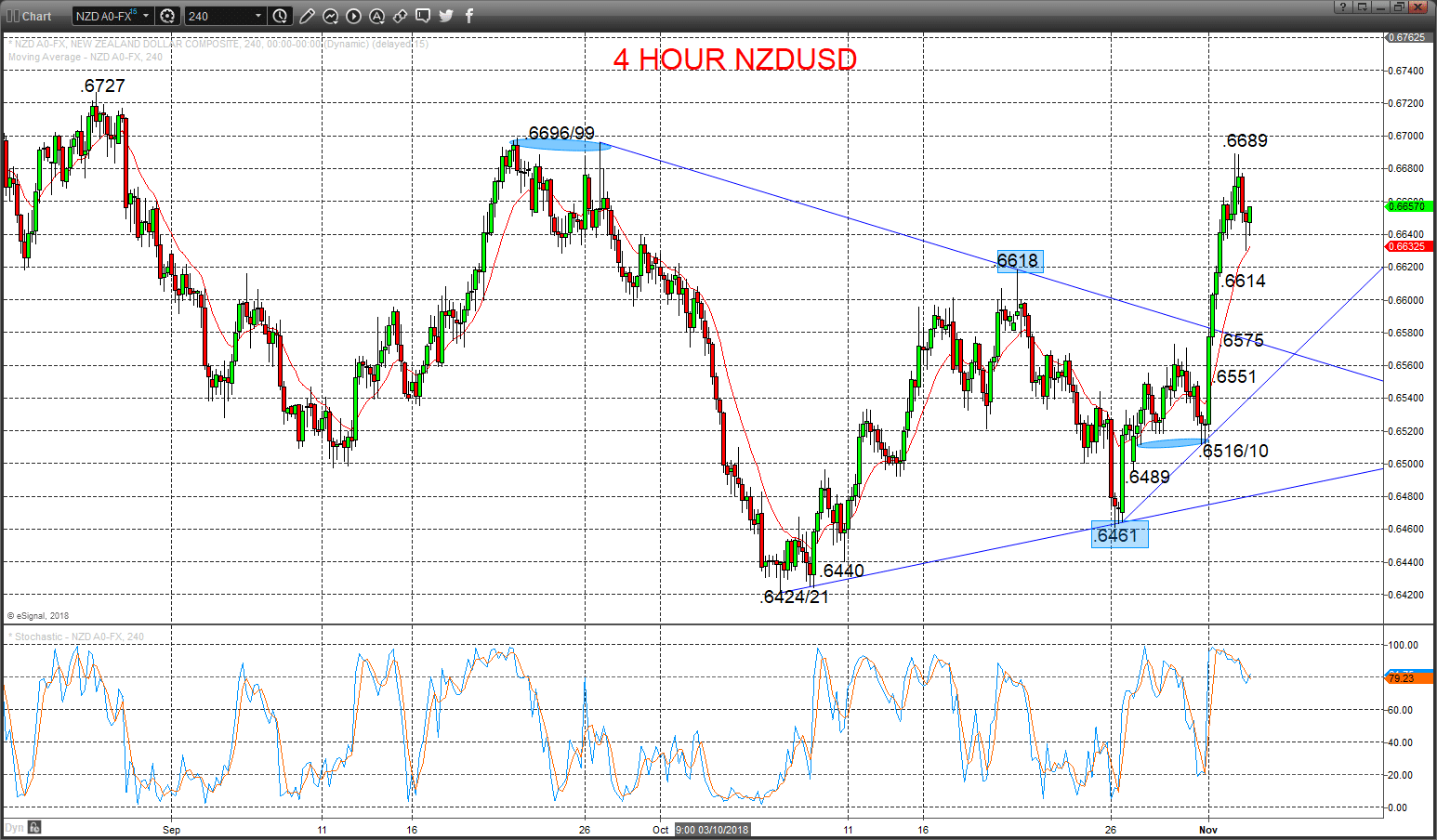 AUDUSD Intermediate-term base reinforced; upside bias
A push still higher Friday to reverse above the down trend line from August, reinforcing Thursday's surging price action through the key .7159 level (for a Double Bottom and intermediate-term shift from bearish to neutral), to keep the bias higher for Monday.
Th early November surge through .7159 set an intermediate-term range defined as .7018 to .7315, BUT with skewed threat for an intermediate-term bullish shift above .7315
For Today:
We see an upside bias for .7219/20; break here aims for 7258 and .7268, possibly towards key .7315.
But below .7149, aims for .7119 and possibly .7077.
Intermediate-term Range Breakout Parameters: Range seen as .7018 to .7315.
Upside Risks: Above .7315 sets a bull trend to aim for .7484, .7668 and .7813.
Downside Risks: Below .7018 sees a bear trend to target .7000, .6825 and .6500.
Resistance and Support:
| | | | | |
| --- | --- | --- | --- | --- |
| .7219/20 | .7258* | .7268* | .7315*** | .7362* |
| .7149 | .7119* | .7077** | .7049/48* | .7018* |
4 Hour AUDUSD Chart