---
On 25th March in our report here on the AUDUSD and NZDUSD Forex rates we highlighted negative outlooks for both the New Zealand and Australian currencies against the US Dollar.
NZDUSD and AUDUSD currency pairs have had mixed fortunes since then, with their central banks shifting slightly more dovish and less dovish respectively.
This has seen the NZDUSD Forex rate push lower to just prod below a key support from February at .6716, but enough to shift the intermediate-term theme to bearish.
Conversely, a move back to a global "risk on" phase into mid-April, alongside the Reserve Bank of Australia stepping slightly away from their previous very dovish tone, has seen a firm rebound for the AUDUSD FX rate, with risks now skewed towards an intermediate-term bullish shift (but only above .7207).
NZDUSD
Intermediate-term bear shift with probe of key .6716 support
We have stressed in recent reports to clients that "we see an intermediate-term range defined as .6716 to .6942, BUT with skewed risk for an intermediate-term shift to bearish below .6716" and despite only a prod below here and a rebound Friday, this is enough to set an intermediate-term bear theme.
A Friday prod below key .6716 reinforced the already negative tone and despite a rebound, whilst contained by .6782 we see the bias lower Monday.
For Today:
We see a downside bias for .6726; break here aims for .6711/03 and maybe .6669.
But above .6782 opens risk up to .6799/6800.
---
Intermediate-term Outlook – Downside Risks: We see a downside risk for .6583.
Lower targets would be .6347 and .6195
What Changes This? Above .6837 shifts the outlook back to neutral; above .6938 is needed for a bull theme.
---
Resistance and Support:
| | | | | |
| --- | --- | --- | --- | --- |
| .6782 | .6774* | .6799/6800* | .6837* | .6875/76 |
| .6726 | .6711/03** | .6669* | .6626/12 | .6583*** |
---
4 Hour Chart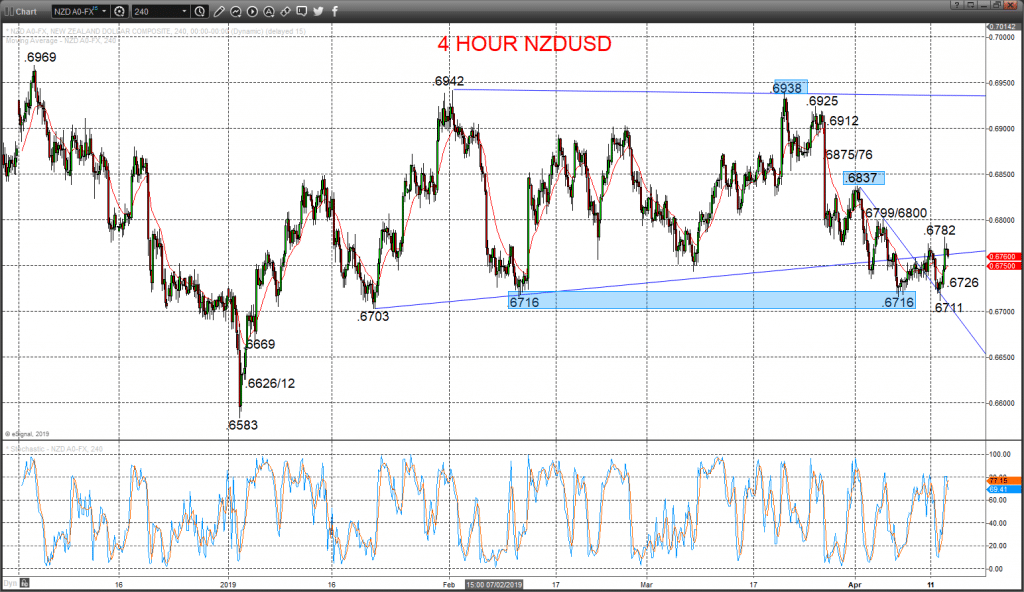 AUDUSD
Bias flips back higher
A strong rebound Friday through the recent peak at .7175 to reject Thursday's selloff (below modest .7129 support), rebounding from just above the better .7107 level (from .7113), to restart upside pressures from the earlier dip and a rebound from here (.7107), to switch risks back higher for Monday.
The early February push .7073 set an intermediate-term bear trend,
For Today:
We see an upside bias for .7192; break here quickly aims for .7199 and key .7207, maybe toward .7246.
But below .7151 opens risk down to .7113/07.
---
Intermediate-term Outlook – Downside Risks: We see a downside risk for .6916.
Lower targets would be .6829 and .6738
What Changes This? Above .7207 shifts the intermediate-term outlook straight to a bull theme.
---
Resistance and Support:
| | | | | |
| --- | --- | --- | --- | --- |
| .7192 | .7199* | .7207*** | .7246* | .7265* |
| .7151 | .7113/07* | .7085* | .7050** | .7039** |
---
4 Hour Chart