Antipodean currencies, the New Zealand and Australian Dollars retain their negative outlooks into this week versus the US Currency.
The NZDUSD violated a key .6805 level over the past week to confirm a Double Top pattern to aim the market lower into the second half of May. The threat is to .6664, through which would see a still more bearish tone.
The Australian Dollar has continued the sell off seen since Reserve Bank of Australia rate cut in early May, to break further support levels over the past week and keep the intermediate-term trend still bearish for latter May.
NZDUSD
A break lower below .6776 support Friday to reinforce the mini Shooting Star candlestick pattern after a rally stall Thursday at our .6848 resistance and enhance the Double Top pattern (completed last Monday) to aim lower this Monday.
Moreover, the Double Top pattern below .6805 produced an intermediate-term shift to neutral, with ongoing risks for an intermediate-term shift to bearish below .6664.
For Monday:
We see a downside bias for .6744 and .6712/11, maybe .key .6664.
But above .6785/90 aims for .6848 and .6881.
Short/ Intermediate-term Range Parameters: We see the range defined by .7054 and .6664.
Range Breakout Challenge
Upside: Above .7054  aims higher for .7232 and .7396/7413.
Downside: Below .6664 sees risk lower for .6572/41, .6418 and .6343.
Daily NZDUSD Chart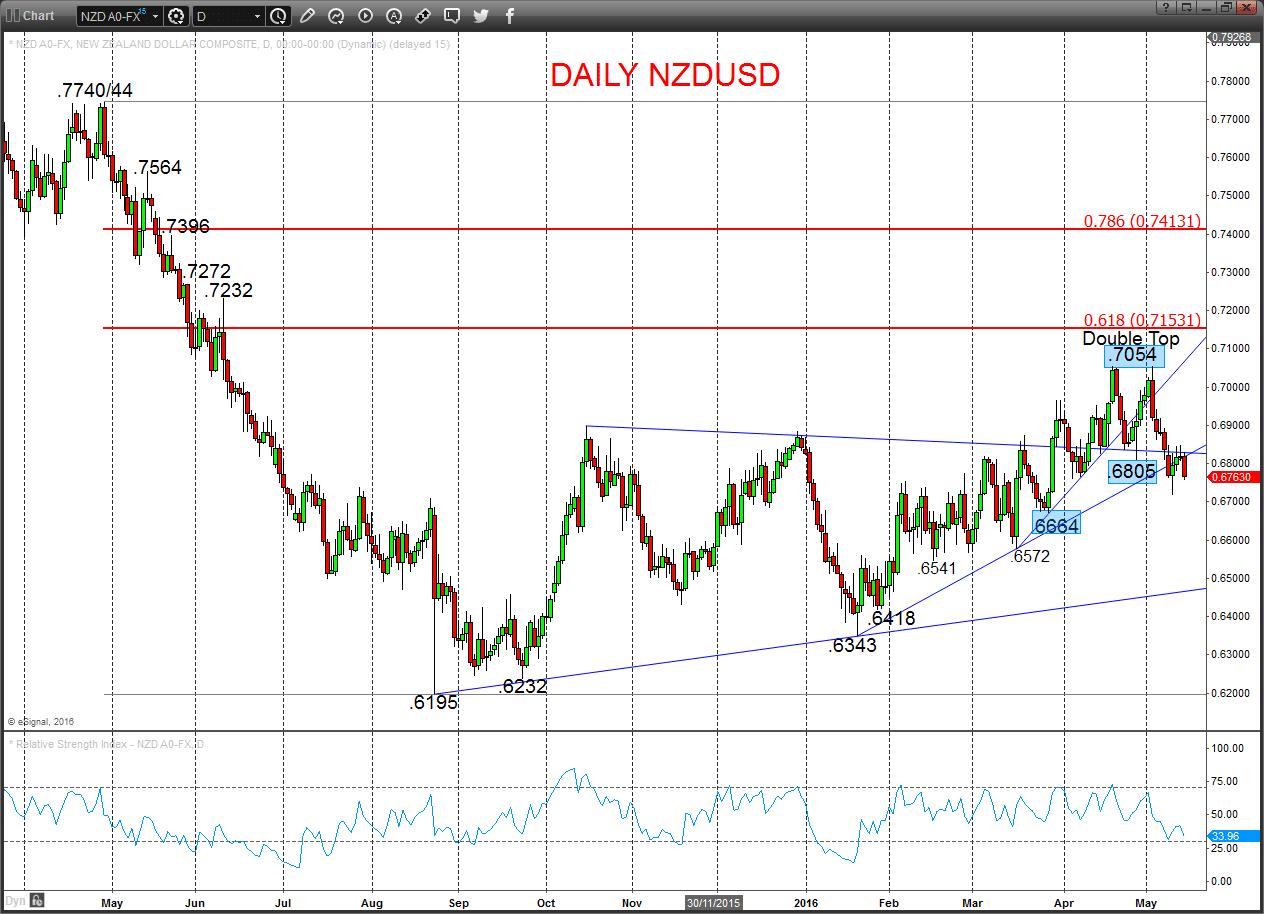 AUDUSD
A new correction and bear move low on Friday through .7297 and .7279 supports, to reinforce the Thursday setback from the Wednesday falter back from .7402 to keep the bias lower Monday.
For Monday:
We see a downside bias through .7240; break here aims for key .7197, maybe .7160.
But above .7290/95 aims for .7324, maybe .7368/73.
The early May break below key .7411 signalled an intermediate-term bearish shift.
Short/ Intermediate-term Outlook – Downside Risks:
We see a negative tone with the bearish threat to .7197.
Below here targets .7106 and .7000.
What Changes This? Above .7719 signals a neutral tone, only shifting positive above .7835.
Daily AUDUSD Chart