Both the New Zealand and Australian Dollars have seen significant setbacks since mid-July (versus the USD), and breaks below supports have tested the intermediate-term up trends.
The NZDUSD push below.6960 has seen a shift from a bull trend to a neutral range theme for latter July and into August.
With AUDUSD above .7403, the outlook from a chart perspective remains intermediate-term bullish, but should this support be violated, the outlook would then switch to a neutral, range environment into the summer.
NZDUSD
A shift in the intermediate-term outlook from bullish to neutral through the middle of last week, with the probe below the key .6960 level.
Furthermore, despite the Thursday-Friday bounce from .6948, the .7033 level has capped (back from .7017) to leave a still negative tone for Monday.
Short/ Intermediate-term Range Parameters: We see the range defined by .7324 and .6676.
Range Breakout Challenge
Upside: Above .7324 aims higher for .7396/7413 and .7564.
Downside: Below .6676 sees risk lower for .6541 and .6343.
For Monday:
We see a downside bias for .6948/45 and .6925; break here aims for .6900 and .6888.
But above .7017 and .7033 opens risk up to 7068.
Daily NZDUSD Chart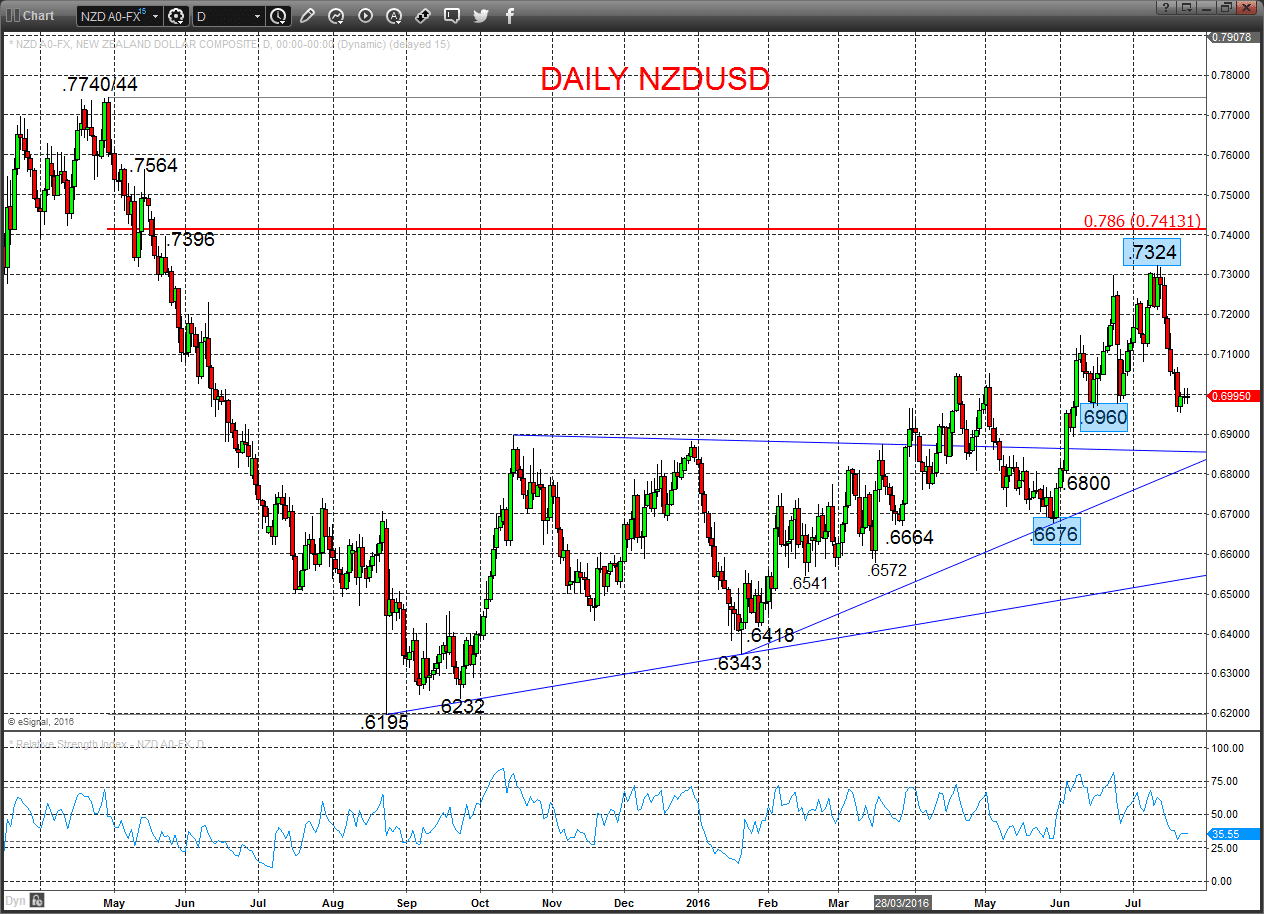 AUDUSD
Another new correction low on Friday through .7450, having again stalled at the initial .7517 resistance level (back from .7514).
This leaves negative pressures from the 15th July bearish outside pattern Friday (from the new cycle peak, .7676), to again leave downside risk Monday.
The new recovery high in mid-July signalled an intermediate-term bullish shift above .7648, but risk is growing for a shift back to neutral below .7403.
Short/ Intermediate-term Outlook – Upside Risks: The mid-July new recovery high above .7648 signalled an intermediate-term bullish shift.
We see a positive tone with the bullish threat to .7676 and .7719.
Above here targets .7835/49/78 and .8000.
What Changes This? Below .7403 signals a neutral tone, only shifting negative below .7284.
For Monday:
We see a downside bias for .7433; break here aims for key .7403, then maybe .7370.
But above .7517 opens risk up to .7606.