---
In our last report here on 8th October for GBPUSD and EURUSD currency rates, we highlighted intermediate-term ranges, but with skewed risks for intermediate-term bearish shifts.
US Dollar strength throughout October in reaction to a boarder global asset class shift to "risk off" has seen both GBPUSD and EURUSD Forex rates pushing lower.
This negative price action, however, is being reinforced for GBPUSD by ongoing Brexit and political concerns in the UK. GBPUSD has already broken below 1.2894, which technically has shifted the intermediate-term outlook to bearish.
And for EURUSD, Italian budget deficit worries are also helping EURUSD lower. The EURUSD FX rate is poised to make a more bearish intermediate-term signal, but only below 1.1300.
GBPUSD
Intermediate-term bearish theme intact
A further setback Friday through notable support at 1.2784, to reinforce bear forces from Thursday's plunge after Wednesday's intermediate-term bearish signal (below 1.2894), to keep the bias lower for Monday.
The latter October break below 1.2894 set an intermediate-term bear trend.
For Today:
We see a downside bias for 1.2775; break here aims for 1.2727 and maybe 1.2696.
But above 1.2873 maybe aims towards the 1.2920, which we would look to try to cap.
Intermediate-term Outlook – Downside Risks: We see a downside risk for 1.2784.
Lower targets would be 1.2661 and 1.2500.
What Changes This? Above 1.3104 shifts the outlook back to neutral; above 1.3258 is needed for a bull theme.
Resistance and Support:
| | | | | |
| --- | --- | --- | --- | --- |
| 1.2873 | 1.2920** | 1.2984* | 1.3044** | 1.3104*** |
| 1.2775 | 1.2727* | 1.2696 | 1.2661*** | 1.2643 |
4 Hour Chart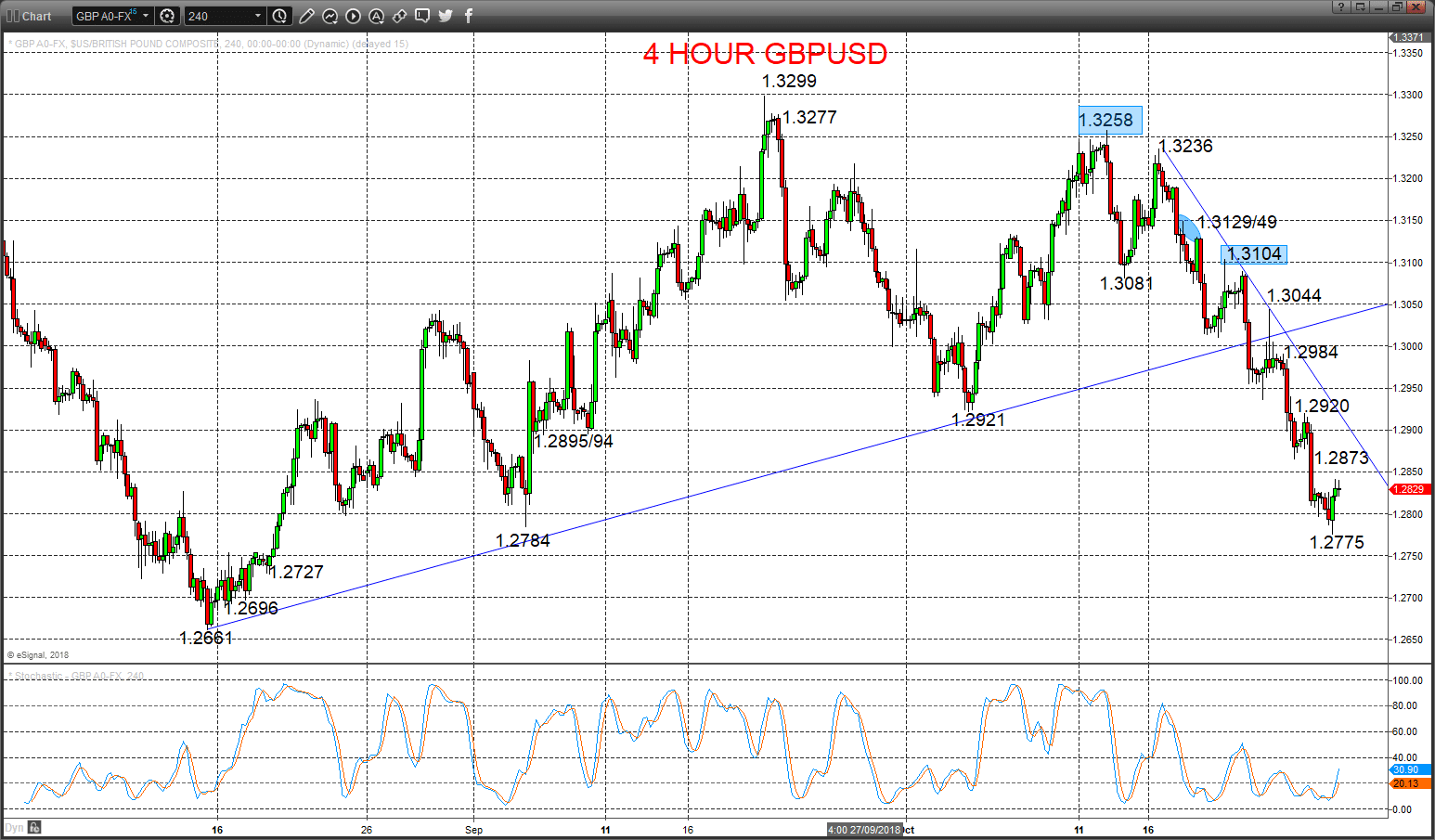 EURUSD
Risk still lower to key 1.1300 (despite bounce)
A push lower Friday through 1.1355 support, but then a rebound from above the critical 1.1300 August cycle low, BUT contained by 1.1433 resistance, to leave negative forces from the selloff from mid-October, to keep the bias lower Monday.
The early October push below 1.1529/25 shifted the intermediate-term outlook to neutral, with the range seen as 1.1815 to 1.1300, BUT with growing risk for an intermediate-term bearish shift below 1.1300.
For Today:
We see a downside for 1.1367 and 1.1334; break here aims for key 1.1300 and maybe towards 1.1277.
But above 1.1433 targets 1.1477 and maybe aims for 1.1507.
 Intermediate-term Range Breakout Parameters: Range seen as 1.1815 to 1.1300.
Upside Risks: Above 1.1815 sets a bull trend to aim for 1.1996/2000 and 1.2476.
Downside Risks: Below 1.1300 sees a bear trend to target 1.1119, 1.1000 and 1.0839.
Resistance and Support:
| | | | | |
| --- | --- | --- | --- | --- |
| 1.1433* | 1.1477 | 1.1507 | 1.1550* | 1.1580/81* |
| 1.1367 | 1.1334* | 1.1300*** | 1.1277 | 1.1251/50 |
4 Hour Chart